For the Escalante Route in the Grand Canyon I carried a lot more weight on my back than on other hikes. Some of the extra load consisted of luxury items, but most of it was absolutely necessary for canyon hiking. The cold night temperatures and harsh wilderness terrain necessitated special gear.
Grand Canyon Hiking Gear
In the past years my gear list has evolved from 18 pounds (9 kg ) base weight to 15.4 pounds (7 kg ). For my hike in the Grand Canyon however I carried a lot more. Not only was my base weight heavier, I carried relatively more food and I had at least 2 extra pounds of clothing on my body. Read my post about Planning the Escalante Route for more background information on the necessary extra canyon gear. 
Luxury items
One luxury item was my camp chair (1.4 pounds / 615 gr) and I praised myself every day for bringing it with me. After long descents or demanding scrambles it was an absolute delight to sit down comfortably at my camp.
Extra food can also be counted as a luxury: I brought some double portions for dinner  to make up for all the strenuous hiking. And to keep up spirits during the long and dry stretches of trail I bought an extra  large chocolate bar and Babybel cheese.
With a base weight of 20.5 pounds (9,3 kg) and a total pack weight (including food and water) of 33 pounds (15 kg) this was one of the heaviest pack I have carried so far.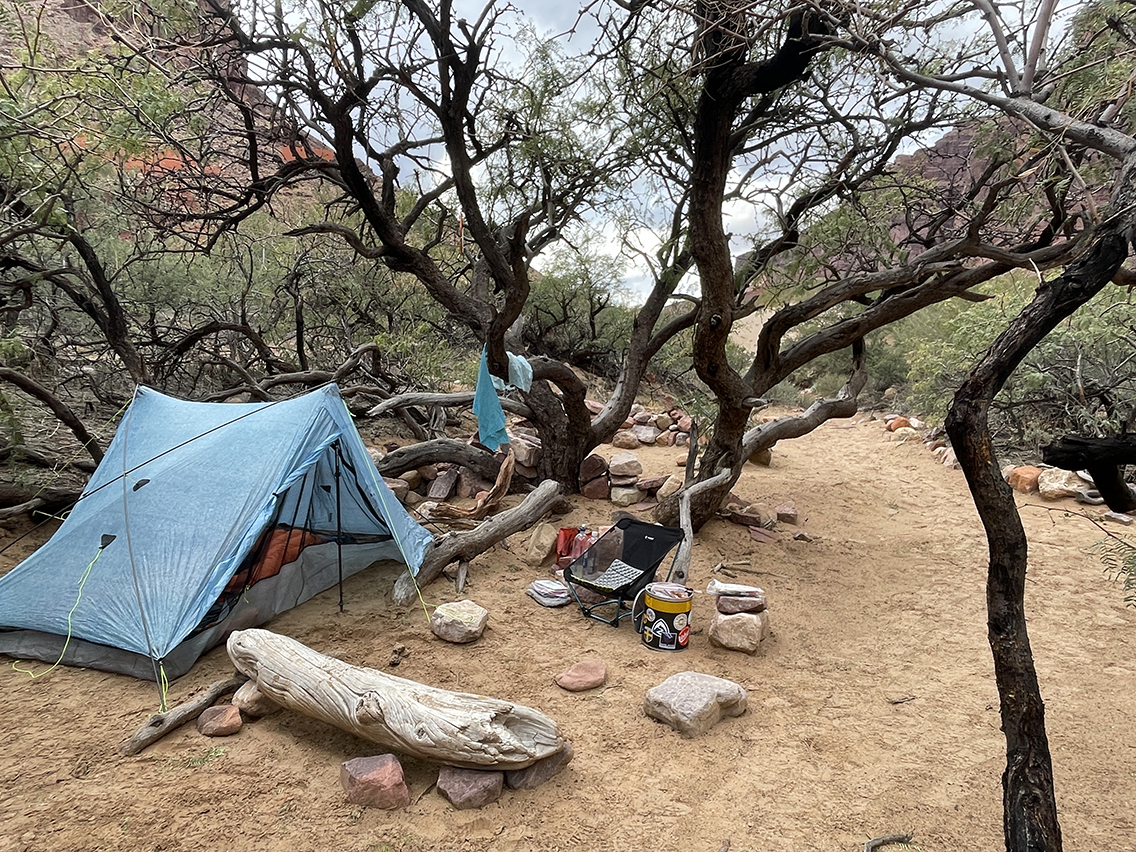 A. Worn Items
Clothing

Hatland Cooldown hat – 54 gr

Sunglasses (prescription) – 44 gr

Arc'teryx Elaho Longsleeve hiking shirt – 172 gr
Rab Nexus fleece jacket – 340 gr
Berghaus fleece sweater – 270 gr

Columbia Silver Ridge zip pants – 265 gr
Eagle Creek All Terrain belt – 70 gr

Under Armour boxerjock – 66 gr

Darn Tough Micro Crew Cushion hiking socks – 74 gr

Hanwag Tatra II GTX Hiking boots – 1.780 gr

Orthotics (custom made insoles) – 92 gr
Other Stuff

Black Diamond Trail Carbon Cork trekking poles – 509 gr

Victorinox mini pocket knife – 21 gr

iPhone 12 camera/phone – 187 gr

Handkerchief – 15 gr
Total weight worn items – 3.980 gr /  8,8 pounds
B. Base Weight
Pack

Z Packs Arc Haul 62L backpack; 2 hip pockets + shoulder pouches – 835 gr

Zpacks liner bag 40 L – 70 gr
Clothing

Haglofs L.I.M. GTX rain Jacket – 230 gr

Berghaus Goretex rain pants – 235 gr

Zpack Vertice rain mitts – 25 gr

Patagonia Nano Puff Jacket (PrimaLoft Gold) – 367 gr
Smartwool Merino 250 gloves – 40 gr


High UV Insect shield buff – 40 gr
Icebreaker merino Chase Beanie hat – 27 gr

Glasses (prescription) – 13 gr

Glasses case – 50 gr

2nd pair Darn Tough socks – 74 gr

2nd Under Armour Boxerjock – 66 gr

2nd Handkerchief – 15 gr
Cooking

Snowpeak litemax stove – 59 gr

Snowpeak Hotlips – 3 gr
Evernew Ti Ultralight 0,5L Mug Pot – 74 gr

Sea to summit spork – 12 gr

Lighter Bic – 11 gr

Cook Pouch Self made (Reflectix) – 26 gr
Bearikade Weekender (10,65L) food container – 930 gr
Sleeping

Zpacks Duplex Tent – 575 gr
Zpacks freestanding flex kit – 290 gr

8 x Hilleberg Y-Peg Stakes – 86 gr

Enlightend Equipment Enigma (20F) down Quilt – 553 gr
Cocoon Mummy Silk bag liner – 170 gr

Therm-a-Rest NeoAir XTherm (R=5.7) Sleeping Pad – 434 gr

ExpedAir Pillow UL Large – 58 gr
Plastic inflatable donut toy knee pillow – 18 gr

Bridgedale Coolmax liner socks – 32 gr

Icebreaker Merino 200 base layer Long Johns – 189 gr

Icebreaker Sphere LS Crewe long sleeves merino shirt – 160 gr

Light sleeve for glasses – 20 gr
Essentials

Osprey Hydraulics SoftFlask Water bottle  0,5 L – 37 gr

Water bottle (disposable Smartwater bottle, 1.5 L), 2 x – 80 gr

Platypus 1 L water container – 40 gr

Platypus Quickdraw water filter – 64 gr
Sea to Summit 10 L collapsible bucket – 80 gr

Repair kit (Therm-a-rest pad kit, Zpacks tape, duct tape, superglue, needle) – 34 gr

Sit pad Therm-a-rest Z Seat SOL – 58 gr

Fox 40 Classic Safety Whistle – 8 gr

Böker Plus Exskelibur foldable knife– 87 gr

Silva ranger 515 compass with adjustable declination – 92 gr
Black Diamond Access Spike microspikes – 106 g
Helinox Ground Chair – 615 gr

Home keys – 15 gr
Papers 

Passport – 39 gr

Creditcard, drivers license, insurance and bank cards –15 gr

Ballpoint – 5 gr

Selfmade 40 pages noteboke – 20 gr

Copies and scans of route from guides, on lightweight paper – 35 gr

Topographic Map cut to smaller size – 41 gr
James Bond pocket book  – 116 gr
Personal care

Sea To Summit Airlite Towel Large – 46 gr

First aid, sport tape, tooth brush, ear plugs, etc.– 230 gr

Prescription medicine – 70 gr

Banana Boat Sunscreen SPF 50 tube – 100 gr

Ziplock (3L) for trash – 11 gr

Adventure Medical Kits Alcohol-Free Hand Sanitizer – 50 gr

Toilet paper 1 roll – 70 gr

Tent lab deuce of spades, cathole spade – 16 gr
Electronics

Garmin Inreach Explorer 2-Way Satellite Communicator– 234 gr

Flybox SQ1 Premium solar power bank/charger – 275 gr
1624 mAh Anker PowerCore+ 13.400 mAh power bank – 300 gr

Cables – 17 gr

Headdlamp Petzl Tikkina – 85 gr

Joby GripTight One Micro Tripod – 45 gr
Total Base weight 9.080  gr / 20 pounds
C. Consumables
Water at maximum 3,5 L – 3.500 gr
Electrolyte drink tablets Nuun –  90 gr
Tea – 10 gr
(Freeze dried or oatmeal) Breakfast 4 x – 440 gr
Lunch (8 tortilla's, tuna fish, babybel cheese) – 450
Snacks (chocolate, salted nuts, dried fruit, ) – 670 gr
Freeze dried dinner 4 x – 650 gr
Total Consumables 5.920 gr /  13 pounds
PACK WEIGHT (B+C)  15.000 gr / 33 pounds