The first 5 days of the GR5 involved a long and steep initial ascent into the Alps and unexpected and extraordinary scenery. I also met a number of other solo hikers. Within a few days a we formed a more or less loose group, hiking and camping together most of the time. Getting to know these wonderful people has enriched my experience on the GR5 tremendously.
GR5 Trail Overview Stage 1 (day 1-5)
The GR5/Grande Traversée des Alpes can be divided in several ways; for convenience I use the 7 stages as defined in the Cicerone guidebook. The first stage consists of 5 days from the start to the Tour du Mont Blanc area: Les Houches.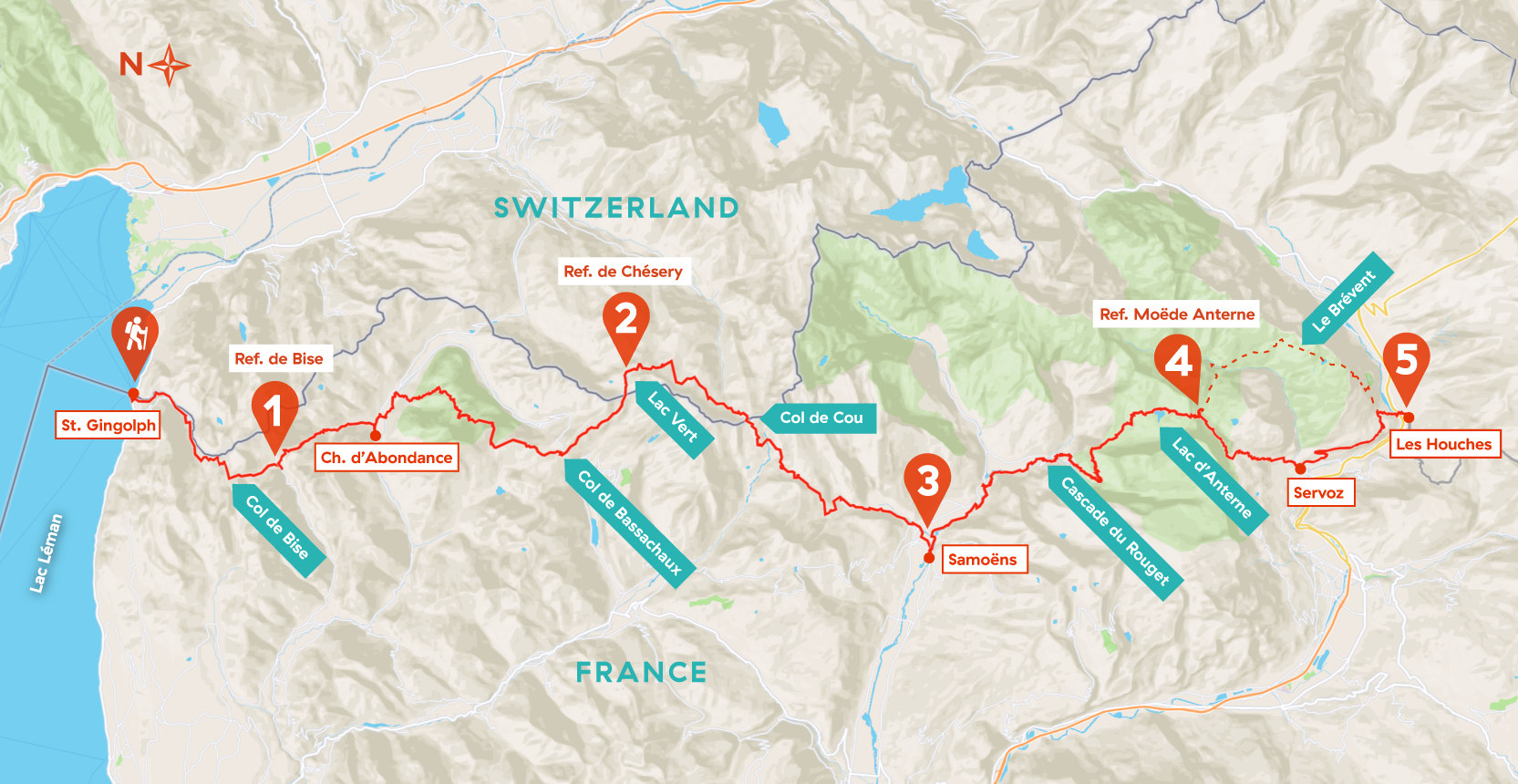 GR5, day 1 to 5:  from St. Gingolph/Lac Léman to Les Houches (note the North is left)
Day 1: St. Gingolph to Refuge de Bise
Start: St. Gingolph, 402 m (1,319 ft)

End: Refuge de Bise, 1.507  m (4,944 ft)

Distance: 14,1 km (8.8 miles)

Elevation gain: 1.519 m (4,984 ft)

Elevation loss: 412 m (1,352 ft)
Highest point: Col de Bise, 1.918 m (6,293 ft)

Time: 4:50 hrs moving time, 6:10 hrs total time

Date: July 31, 2023
Lac Léman
Having left The Netherlands the previous day, all the train travel on this day from Basel to St. Gingolph took up most of the morning. So I wanted to get hiking as quickly as possible when I arrived at Lac Léman. But when I saw the little public beach below the train station, I just had to jump in the lake for a swim. The water was not cold at all and I let myself drift in the water for a while, to wash off 16 hours of travel. By the time I finally began my hike on the GR5 it was almost noon already. 
A fresh start with a swim in Lac Léman/Lake Geneva (Swiss side of the border).
I walked to the official start of the GR5 where a giant red arrow was painted on the road, pointing to Nice/Menton, 620 km away. But instead of following this compelling signpost, I walked a bit further along the lakeshore and went up a metal staircase to the Casino Supermarket for lunch (fruit, chocolate) and a fresh bottle of water.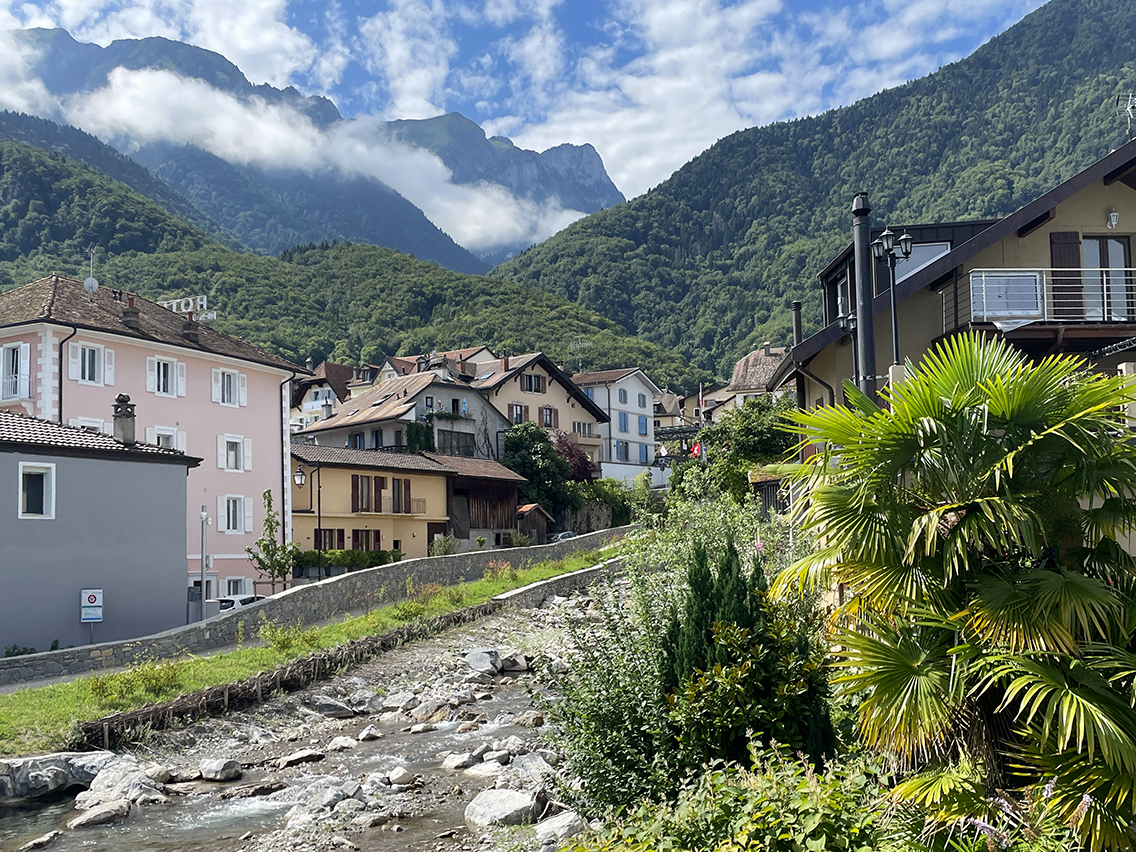 View of the mountains to be climbed as seen from St. Gingolph at the lakeshore, where La Morge empties into the lake.
Buying a bottle of water was a good idea, because the water fountain in the village a few minutes up the road was dry. And it would take another hour of ascent before I found another fountain on the wooded trail to Novel. The path was steep, long and hot. While the trees offered protection from direct sunlight, the humid air made the tail sweltering. I was relieved when after about 3 hours I finally reached higher elevations, out of the trees. Now at an altitude of 1.400 m. (already about a 1.000 m. higher than the starting point) I had a first glimpse of Lac Léman from above. But the views would even be better once I would pass the Chalets de Neuteu.
Chalets de Neuteu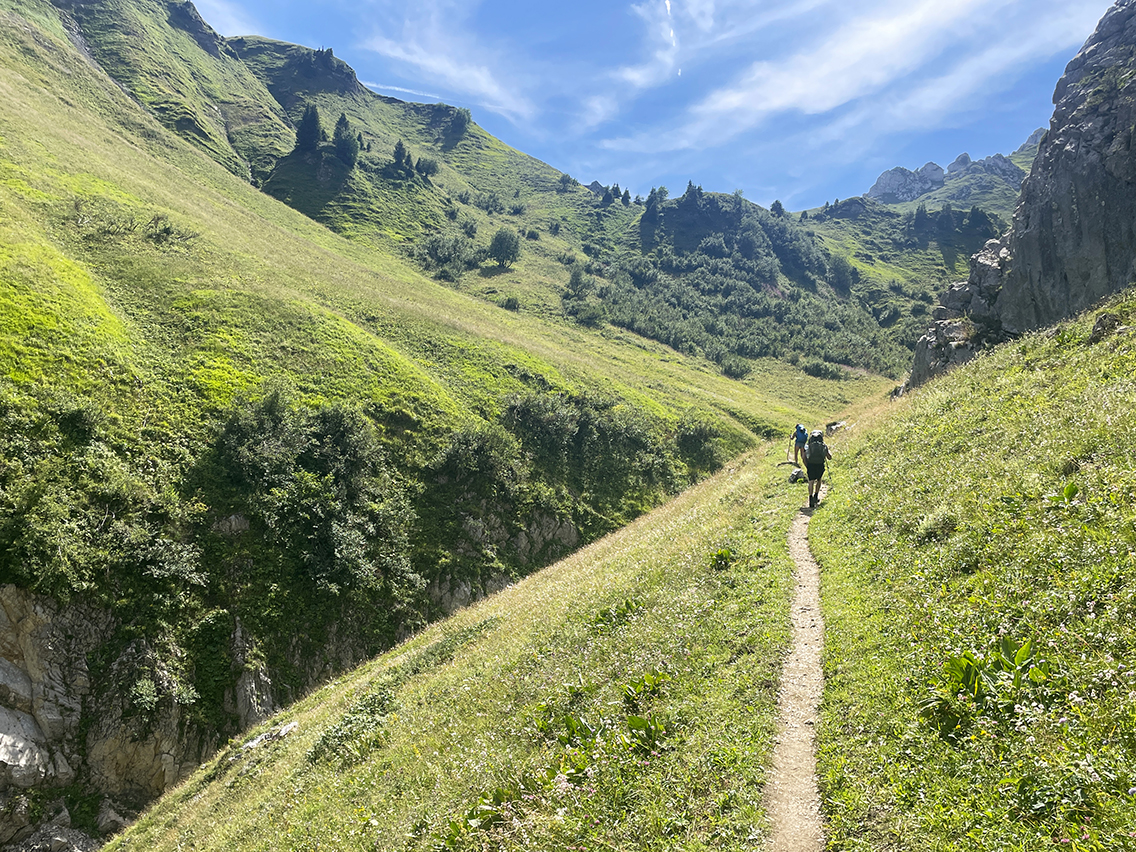 Approaching Chalets de Neuteu, below Col de Bise
Before reaching the actual first col of the GR5 (Col de Bise), I first had to ascend a steep section below the Rochers de Chauffes Floras to a higher plateau, crossing what I always call a false col. I was hiking in the full sun, the last gulps of water in my bottle were warm instead of refreshing and I was hoping that the water source at Chalets de Neuteu on my digital map would exist in reality as well.
Following the narrow trail I encountered two hikers; the girl was going really fast and the guy seemed to be worn out from the hike. I passed the guy (I would meet him again the next day) but couldn't possibly keep up with the girl, who disappeared behind the false col ahead. Later at the Refuge the Bise I met her again – she would be one of our group for the rest of this stage. For now I was mainly obsessed with the water, so as soon as I reached the chalets de Neuteu, I drenched myself in the water reservoir and filled up with 2 liters of fresh and cold water.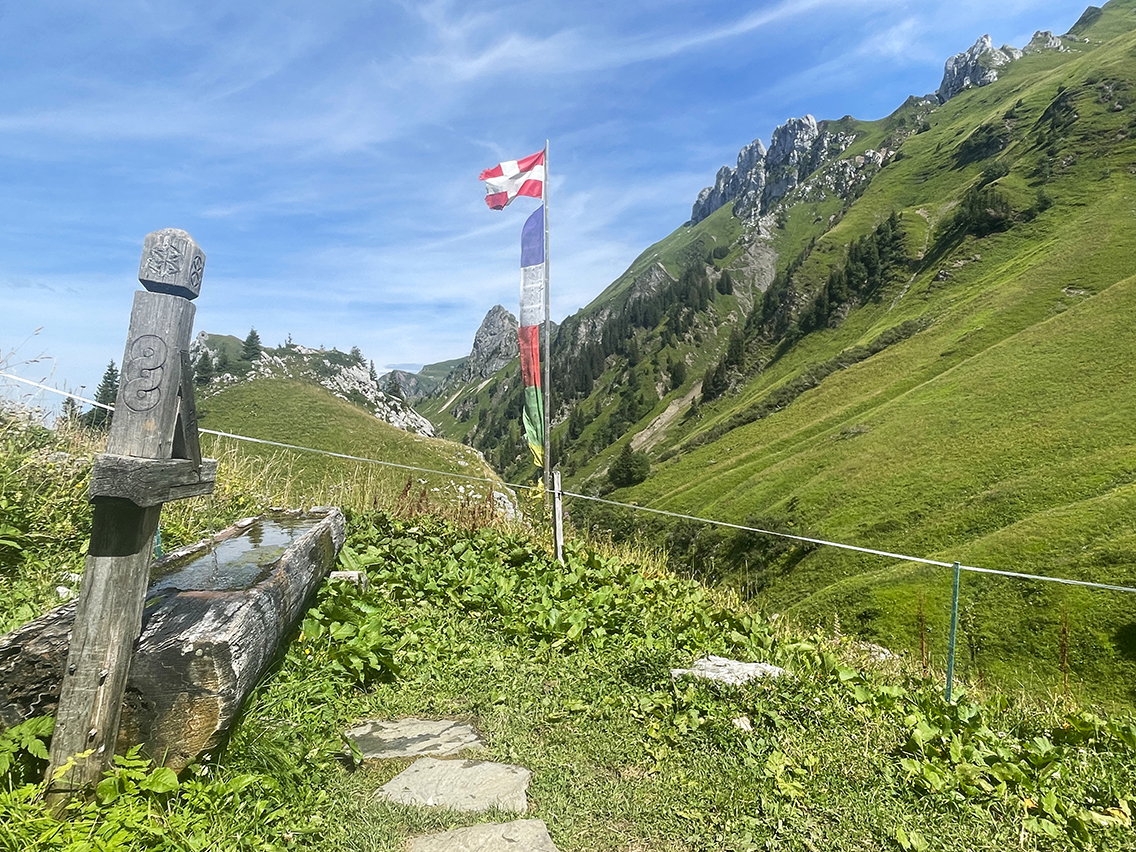 The water fountain of Chalets de Neuteu
Refreshened I started with the final push to Col de Bise. Although the col isn't very high compared to other alpine passes, with 1.915 m (6,293 ft) it differs a mere 1.500 m with the starting point. For a first hiking day, this was a serious ascent.
Col de Bise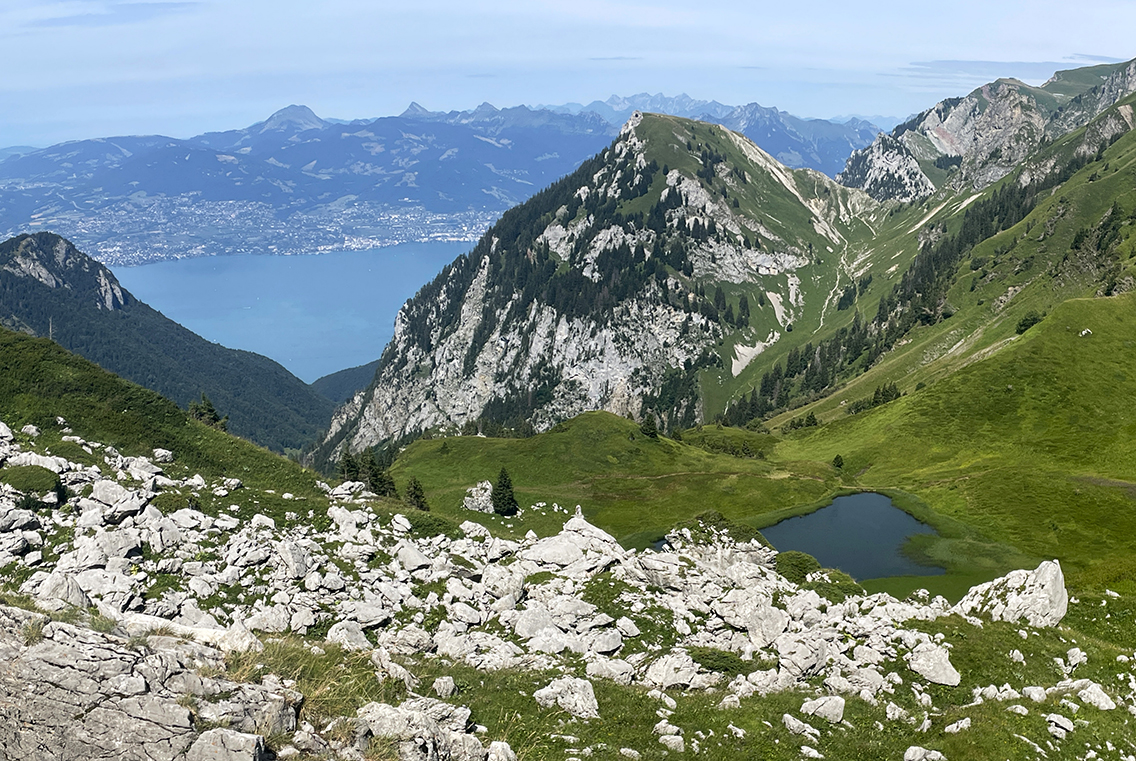 View of Lac Léman and Lac de Neuteu from Col de Bise at 1.915 m
On my left, below the col, I saw a pretty lake (Lac de Neuteu) and I was tempted to go down there and have look, but it had already been a long day and I wanted to reach the pass as soon as I could. The trail was easy and relatively flat now and offered wonderful views to Lac Léman. These are the kind of views that make all the heat, the sweat and the pain worthwhile. I was stunned how far I had walked in one afternoon.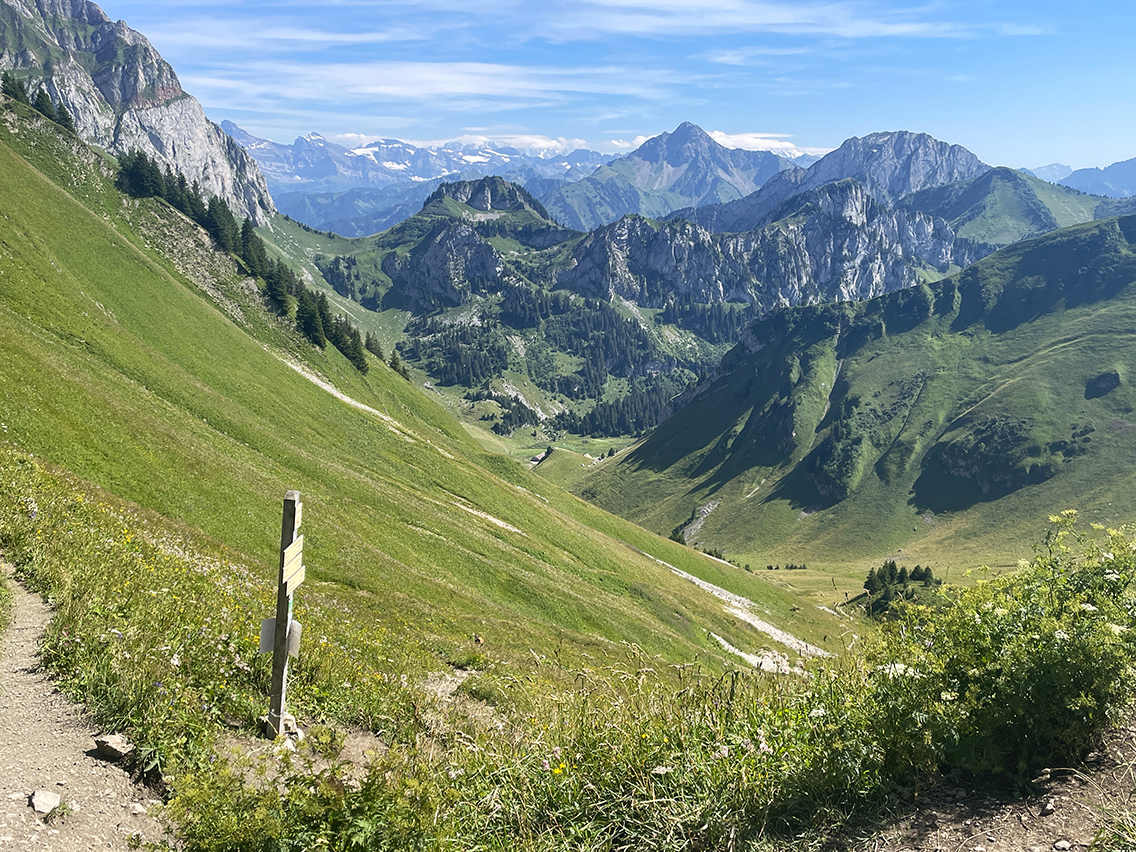 View south from Col de Bise:
The view to the other side of the pass was just as amazing: now I could see all the way to the mountains ranges that I would cross the next week. To the left there was, just visible, the Haute Cime, the highest peak of the Dents du Midi, an impressive mountain range where I hiked in 2022. Right before me would be the Grandes Jorasses from the Mont Blanc massif while the Mont Blanc itself was hiding in the clouds behind another dark mountain unknown to me.
Refuge de Bise
Looking below me from the col, I could see the Chalets de Bise behind a green hill. According to the Cicerone guide there should be an unstaffed refuge among these buildings. But in reality, as I would soon learn, there is a new refuge that sleeps 44 and there are no less than 3 restaurants and a cheese farm among the buildings.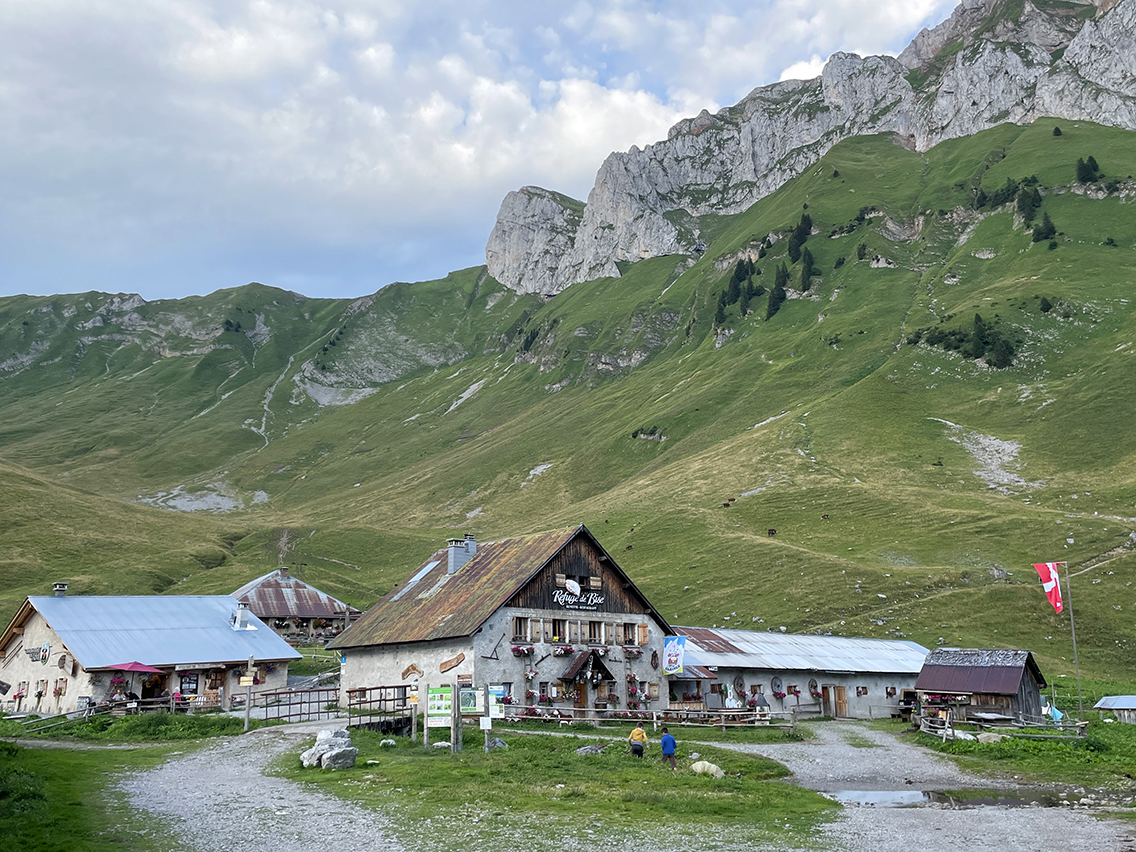 Refuge de Bise, with Les Cornettes de Bise in the background
But first I had to descend from the pass for almost an hour. This gave me time to consider wether or not I would stay at Bise, or hike a bit further over the next pass (Pas de la Bosse), where I should be able to find a bivouac at a chalet behind the pass. But it was already after 5 p.m. when I arrived, the refuge and its surroundings had a good atmosphere and of course, I was more than happy to sit down under a parasol with a cold drink at one of the picnic tables at the restaurant. Bivouac near the hut was free, with €5 for use of the shower, so my decision was made.
At the picnic table I met Gaëtane who was tracing her steps on a big IGN map, and Étienne, who apparently also just arrived from a long hike. Soon Jill, the girl from Chalets de Neuteu, joined in. We learned we were all were doing the same trail and we shared some experiences (I tried French but the others were very helpfull speaking English to me). At that time I didn't know yet how much these people would mean to me in the days to come.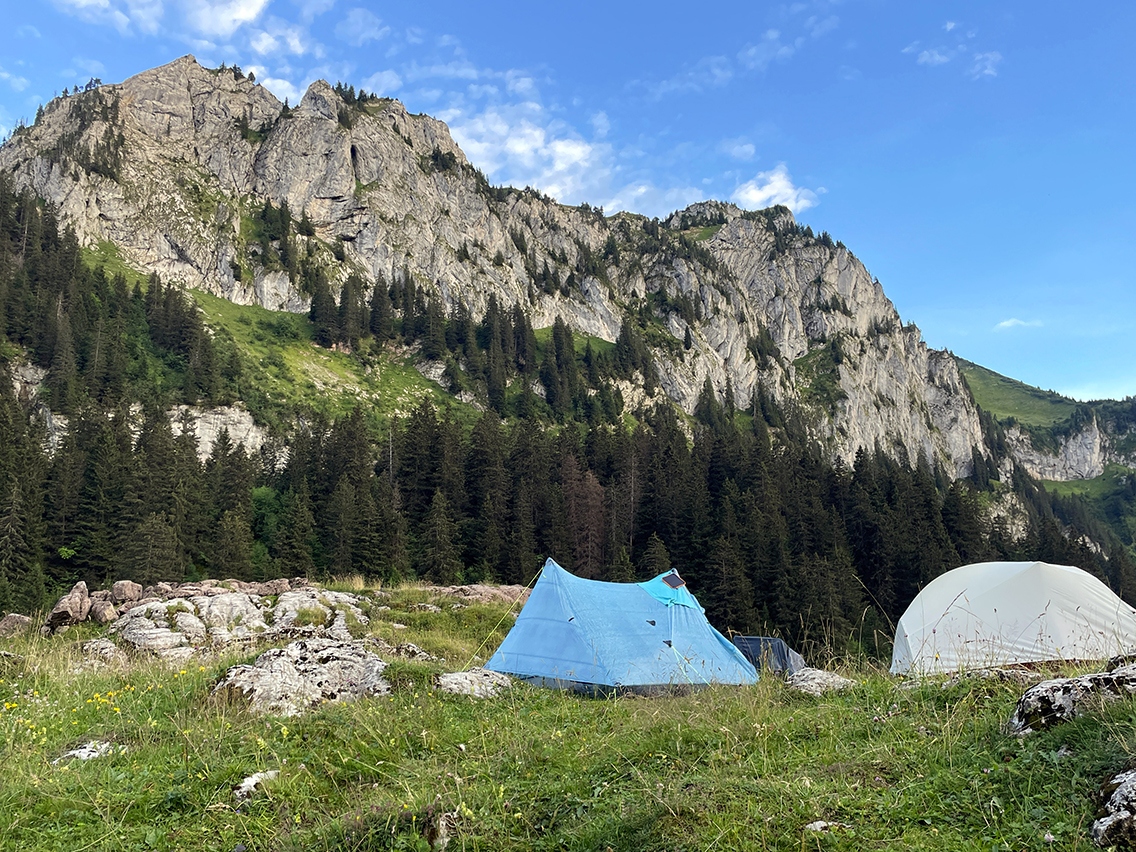 Bivouac at Refuge de Bise
The bivouac field was further down the gravel road, behind a rocky outcrop. We all started pitching our tents when we finished our drinks. Returning to our tents after showering and washing clothes half an hour later, we had to protect our belongings when a herd of cows came marching right through our camp. Later that evening the same cows would continue ringing their bells until dark and they would wake us up again around 5 a.m. I was happy I brought my earplugs.
Day 2: Refuge de Bise to Refuge de Chésery/Lac Vert
Start: Refuge de Bise, 1.507  m (4,944 ft)

End: Refuge de Chésery, 1.981 m (6,758 ft)

Distance: 27,2 km (16.9 miles)

Elevation gain: 1.717 m (5,633 ft)

Elevation loss: 1.234 m (4,049 ft)
Highest point: Col de Chésery 2.000 m (6,562 ft)

Time: 8:35 hrs moving time, 10:45 hrs total time

Date: August 1, 2023
The second day on the GR5 would be the longest (in hours) of my entire 14-day hike. The trail led me into Switzerland, were plans to bivouac at the Lac Vert were cancelled because of a severe rainstorm.
Pas de Bosse
I was awake well before 6 a.m. because the cows were banging their bells as the herd passed our campsite on the way to the meadow. So I got up, still in the dark, for another lukewarm shower in the hut, where everybody was still asleep. On the gravel road below my tent I found Jill, reunited with her lost hiking friend (Le Copain Disparu), who had stayed behind below Col de Bise for the night, but was unable to communicate that due to the absence of internet connection.
Returning to my tent, Gaëtane was already packing her tent even before having breakfast, because the morning clouds promised a rain shower. Following her idea I packed my stuff while I was waiting for my self made breakfast to rehydrate.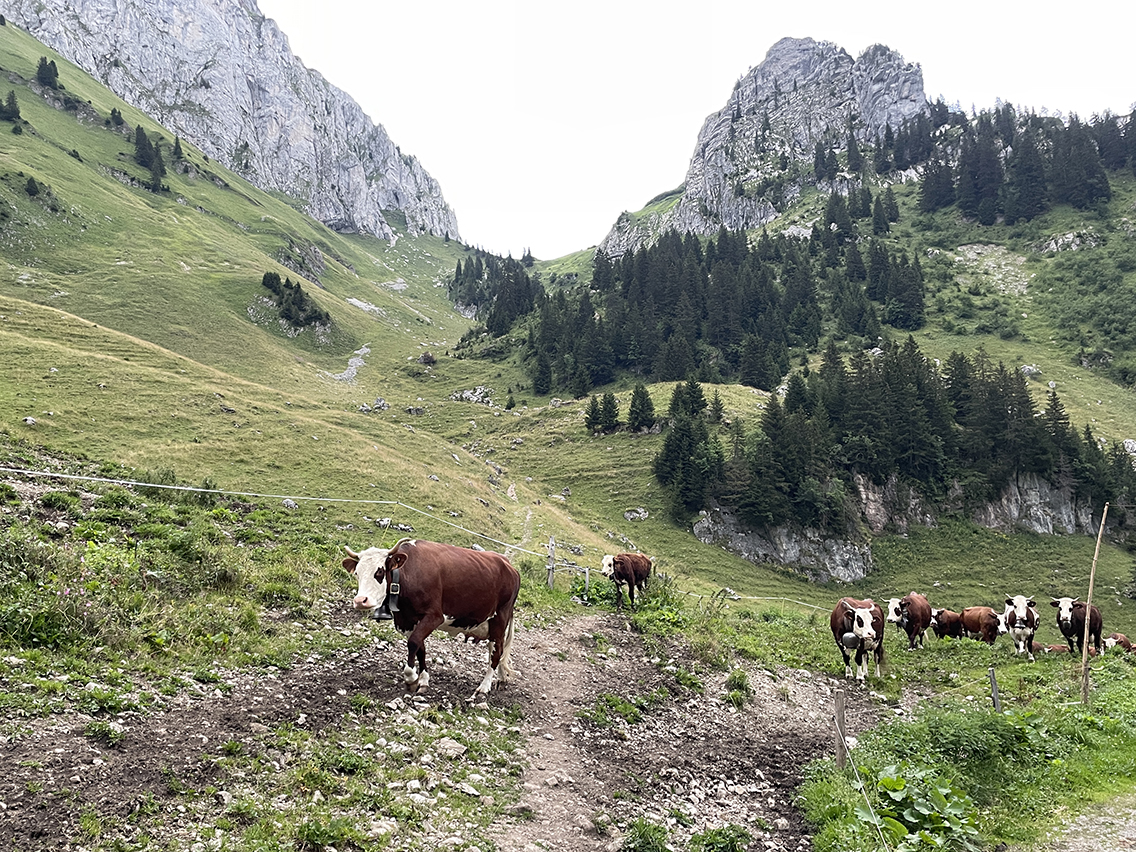 Early morning view of Pas de Bosse (1.816 m / 5,958 ft) above Chalets de Bise
The trail to the first col of the day was steep but short, and with a clear view of the pass ahead it was easily done as a warming up for this long day. Although I had left first, at 6.30, I was soon passed by Gaëtane who was hiking so fast I wouldn't see her again until I arrived in the village of Chapelle d'Abondance.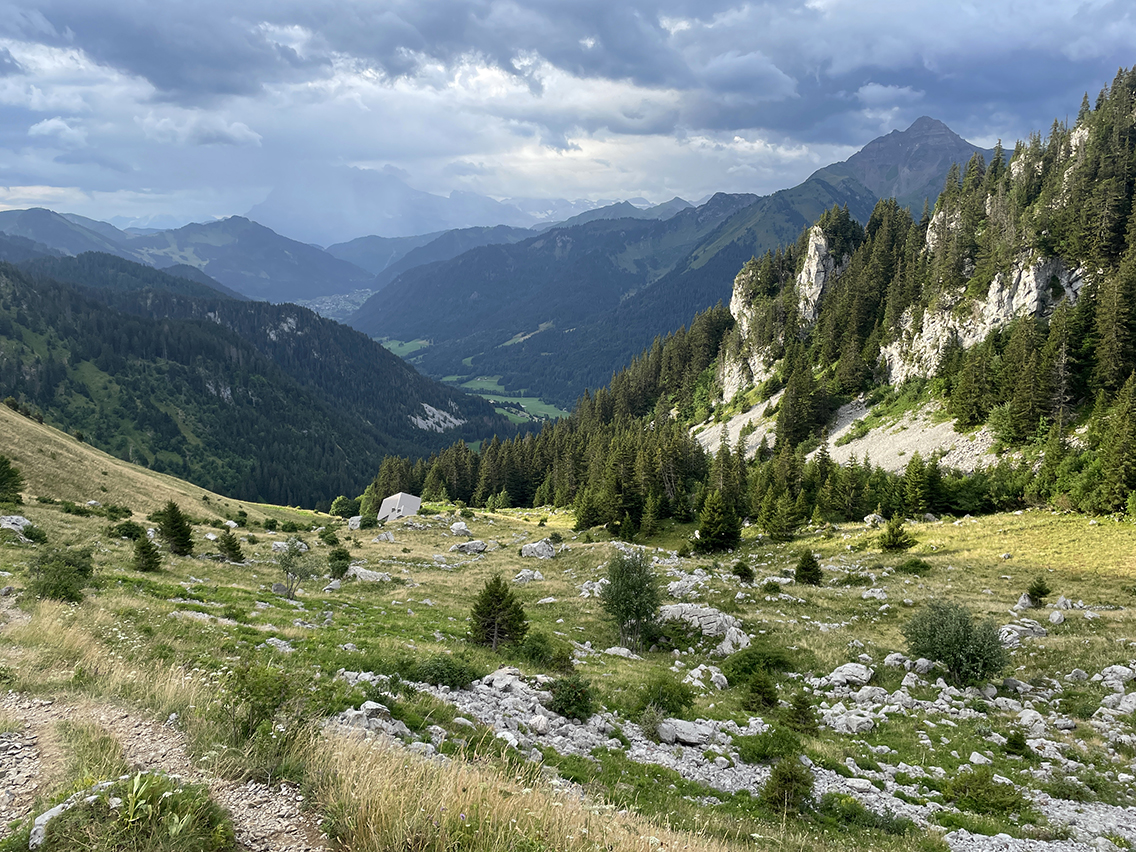 View south from Pas de Bosse towards Chapelle d'Abondance with the Dents du Midi almost obscured by clouds
The rain shower started just below the pass, but didn't last longer than 10 minutes. As I was hiking down, I was peeling off my rain gear again, while admiring the mountain ranges ahead of me.
I noticed that the trail down to the village offered plenty bivouac spots, below the col at the Chalet de la Chenau (with water supply), Abri de Chevennes (an open wooden shelter close to a stream) as well as many spots closer to the village.
Chapelle d'Abondance
After exactly 2,5 hours I reached Chapelle d'Abondance, where I met Gaëtane, Jill and Étienne again but all of us  were going their separate way – I was heading to a bakery first, where I bought a heavenly pain d'amandes. I found this bakery next to the small Proxi grocery store where I stocked up some extra food for the day.
Chapelle d'Abondance with what must be the actual Chapel
Hiking out of the village, I followed the trail along the river (Dranse d'Abondance) before steeply ascending a path into the next mountain range. This was a rather tough trail and in order not to get discouraged I concentrated on a nearby goal: a chalet called Les Crottes, where there should be a water source. On the way a mother and her teenage son asked me in French whether there was anything interesting to see up the track. I answered in my best French that I didn't know – this was my first time here as well. What I didn't know was that there actually was a delightful waterfall not much further, the Cascade sur Bayard.
Les Mattes
Meanwhile Étienne and I had been passing each other all the time until we reached Les Crottes, where we both took a half hour lunch break. After some searching I found the water source about 25 meters below the chalet. Filled up with food and water again, I continued on the trail towards the next milestone: Les Mattes. 
View of Les Mattes, the pass above Chalet de la Torrens
The trail was gradually leaving the forest again. After half an hour I entered a green pasture with a small farm below sharp ridges pointing in the sky. I was close now to Les Mattes, not mentioned as a mountain pass by any guidebook or map, but with an elevation of 1.929 m (6,329 ft) it was the second highest point of the trail today (the highest point being Refuge de Chésery at 2.000 m).
The sky above Les Mattes was, unfortunately, completely clouded. Otherwise I could have seen the Dents du Midi, the Mont Blanc as well as the Matterhorn – all in one view. Now I looked down at a vast green valley with a thin trail snaking through to the next destination, Col de Bossachaux, somewhere far away.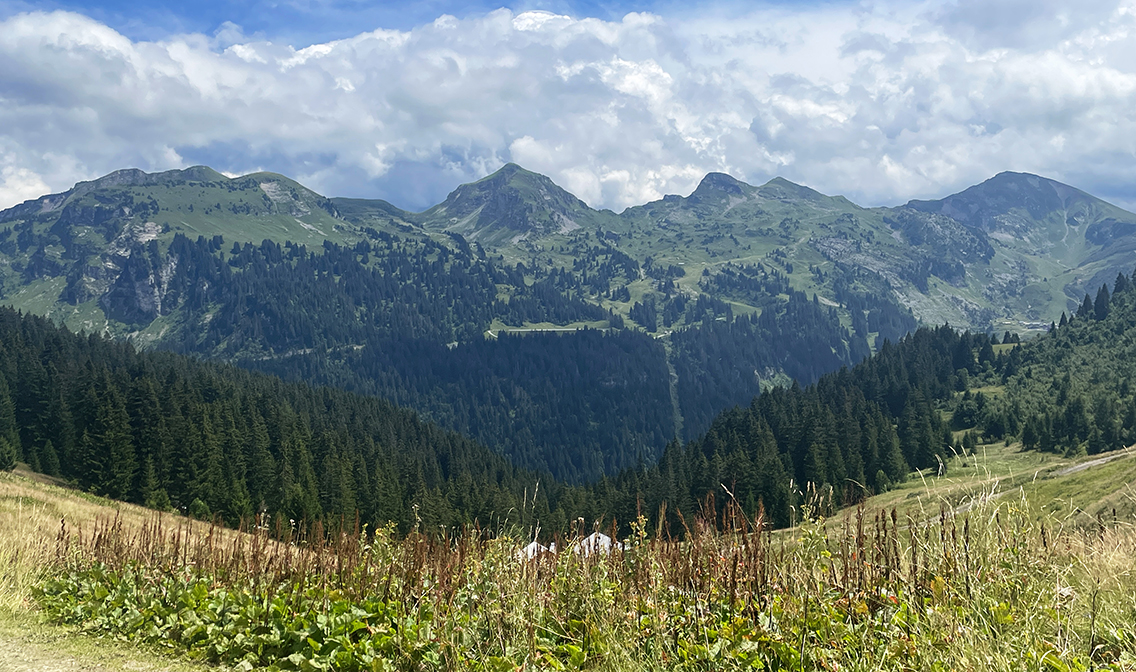 View from the trail to Col de Bossachaux
Descending from Les Mattes to the stream Ruisseau de l'Etrye I lost Étienne again, but then I met Jill with whom I continued the next hours to Bossachaux. The trail was mostly gradually ascending so this section was quite an easy hike. We had lots of time to chat about all the hikes we'd done and the ones we wanted to do in the future. The sun was out, the sights were amazing and pretty soon, without noticing, we had already walked for 2 hours and the col came into sight in the distance.
Col de Bossachaux
Suddenly the sky went dark and it started raining – only a few minutes before we reached the buvette at Col de Bassachaux. We tried to run as fast as we could – which was not very fast at all because we had to climb up a steep and now muddy path. But without getting completely soaked we made it to the restaurant.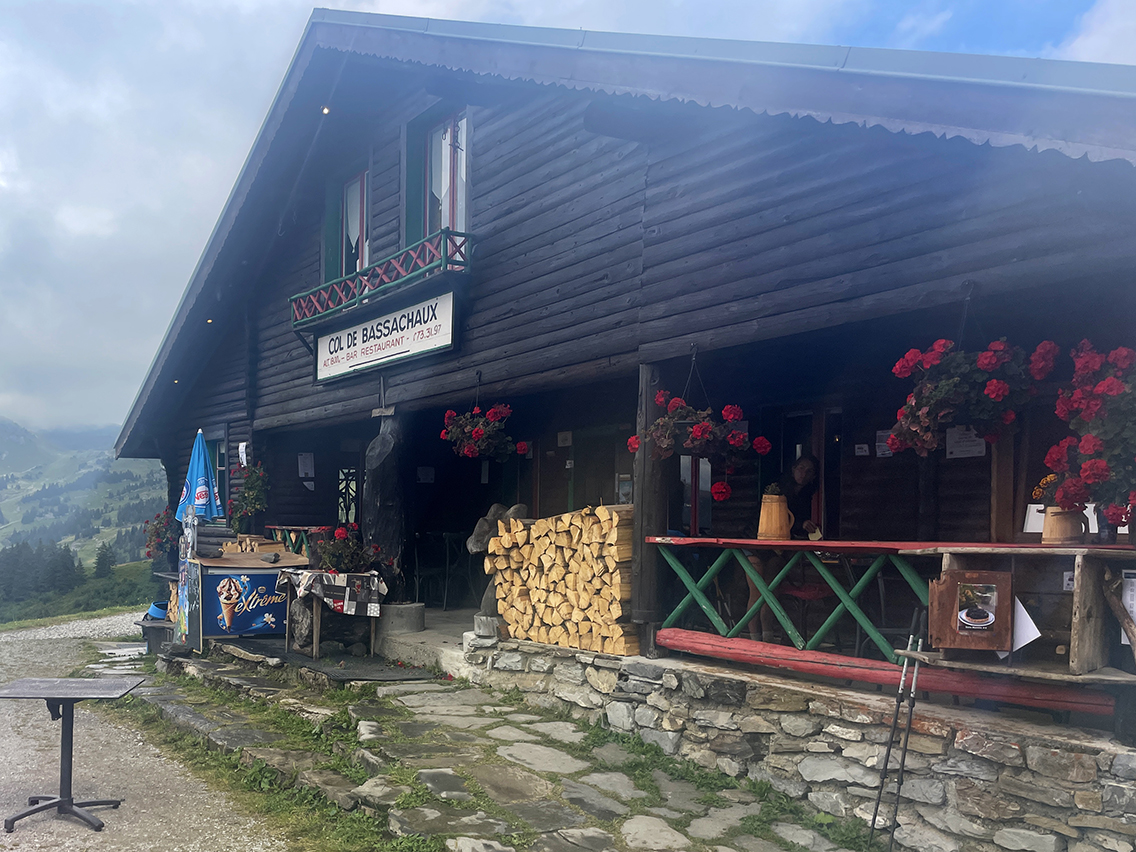 Buvette at Col de Bossachaux (1.777 m)
There, protected from the rain by the large wooden roof, we reunited with Étienne and Gaëtane again. As it was already 3:30 p.m we all were a bit exhausted from the long day. But the buvette had tasty crêpes au sucre to provide for new energy. As I was devouring mine along with a can of Coke zero, Jill hilariously was shaking al the sugar of her pancake on the floor and subsequently covered it in salt and pepper, because she longed for something spicy-spicy. 
We both ordered another crêpe, to take with us in aluminum foil as breakfast for the next morning. Meanwhile the rain was subsiding, so after the break of 45 minutes we could continue our hike for the last hour to Lac Vert and the Refuge de Chésery. 
Gaëtane and Étienne on the trail from Col de Bossachaux to Col de Chésery
Refuge de Chésery
The trail was an easy walk through alpine meadows and after an hour or so we made a short climb towards Col de Chésery, where we entered Switzerland – immediately recognizable by the bright yellow metal trail sign.
We were dead tired after more than 10 hours on the trail when we arrived at the hut. Our idea was to set up our tents next to the lake. The friendly hut warden told us were we could pitch our tents for free and said we could take a shower if we wanted for a few euro's (which are accepted at the hut at a convenient 1:1 conversion rate to Swiss Francs).  
Lac Vert, next to Refuge de Chésery
But before long, the sky was getting darker and darker. Étienne was the first to decide to stay in the hut instead of sleeping out by the lake. Soon we all followed his idea because by now there was not only a downpour but also a violent storm outside. For just € 23 we could sleep in one of the tiny rooms where mattresses were stacked up, under and next to each other – but this was all fine. The atmosphere in the hut was amicable and cosy. We prepared our meals outside on the porch until it got too cold to stay outside. Then we had a drink inside with all the other 30 hikers who were trying their best to fit in the tiny communal room. Two of them would join our 'group' the next day but I didn't know that yet as I went to my bunkbed and fell asleep to the snore of the diesel generator on the other side of the wall. 
Day 3: Refuge de Chésery to Samoëns
Start: Refuge de Chésery, 1.981 m (6,758 ft)

End: Samoëns, camping Le Giffre, 654 m (2,146 ft)

Distance: 25.2 km (15,7 miles)

Elevation gain: 618 m (2,028 ft)

Elevation loss: 1.903 m (6,243ft)
Highest point: Portes de l'Hiver, 2.088 m (6,850 ft)

Time: 6:10 hrs moving time, 8:30 hrs total time

Date: August 2, 2023
On the third day of the GR5 I started early at the Swiss Lac Vert, crossing the French border within 3 hours. With an expanding group of solo hikers I descended an exhausting 1.264 m (4,147  ft) to the village of Samoëns.  
Lac Vert
It was about 5:30 a.m. when I woke up in a completely dark hut. The generator had been shut off at some moment at night. Without the electricity, and an hour before sunrise, it was pitch dark in the dortoir. I had no idea who had been sleeping next to me and I tried my best to climb out of the wooden bunk bed without a sound. I wanted to get to one and only shower in the hut before the other guests had the same idea. After the shower I started organizing my backpack with my headlamp on, while a few others were also packing or dressing. When I saw Jill she was already leaving – she had been awake for much longer because of a snoring fellow hiker.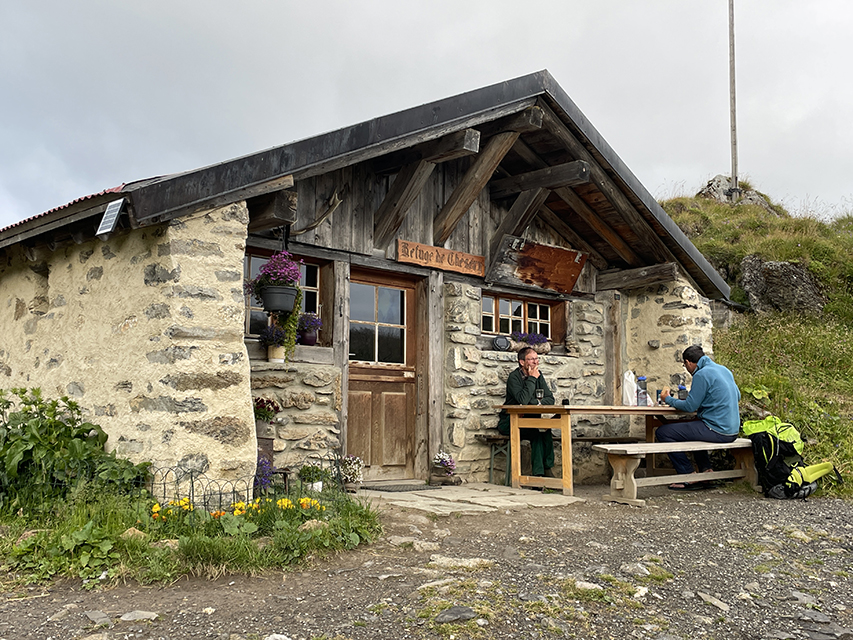 Breakfast at Refuge de Chésery 
I enjoyed my breakfast together with Étienne at the table outside. I finished the piece of yesterday's bread and cheese, plus the delicious crêpe au sucre from Col de Bossachaux that I cautiously unfolded from its aluminum packaging. Meanwhile it got light outside, but the sun was hidden behind thick clouds. It was quite cold at 2.000 m altitude, but I had promised myself to have a swim in the Lac Vert. So when I left the Refuge de Chésery I followed a path close to the lake and when I found the right spot, I slowly slipped into the refreshing cold water.  
Croix de l'Hiver
The first pass of the day was really close, just a short ascend above the lake: Croix de l'Hiver, at 2.088 m. There would be two more passes today, each of them about 200 m. lower than the previous. After Croix de l'Hiver now the trail was easily descending further into Switserland for an hour and a half. There were impressive views of Les Dents du Midi, with the distinctive grey rock layer that is completely warped in places. Just a year ago I hiked on the other side of the valley on the Tour du Ruan, close to these crazy geological features.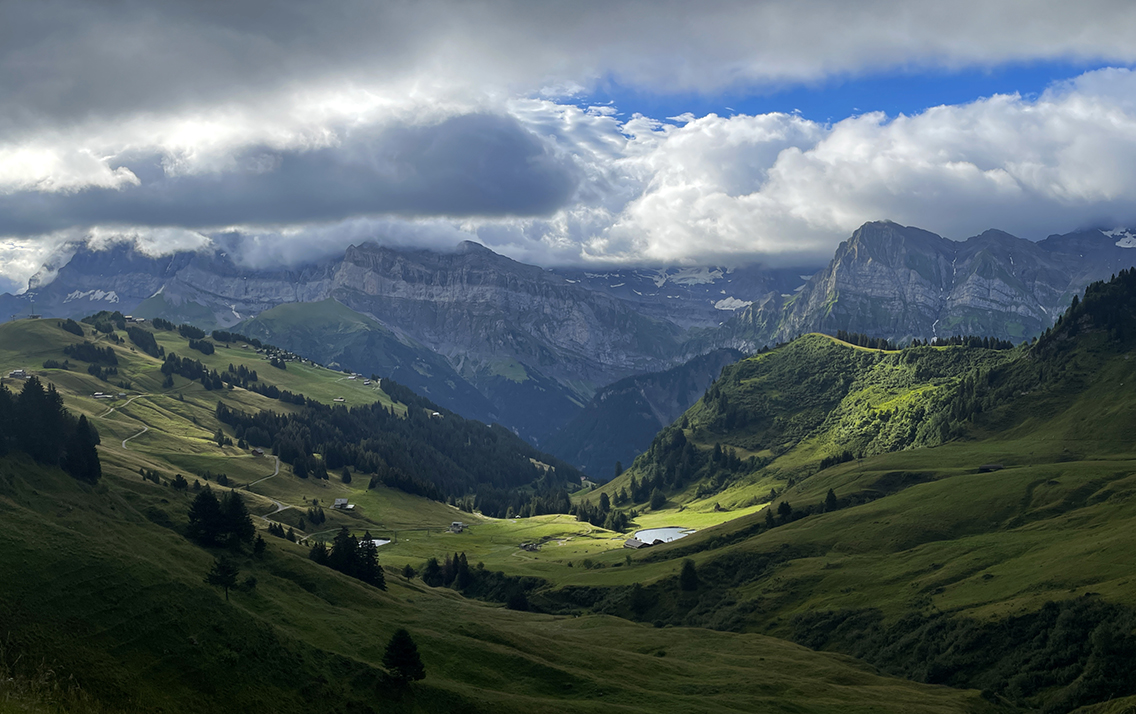 The Swiss part of the GR5 with Les Dent du Midi under a cover of clouds
Meanwhile I was joined by Gaëtane and Vincent, another guest of Refuge de Chésery. We hiked together, changing into rain gear and taking it off again 10 minutes later. Crossing green meadows, the next col was visible: Col du Coux. The weather had gotten a little better and we could see the entire trail ahead of us. 
Col de Coux
We passed by a a small restaurant Lapisa, which was still closed at this early hour. Somewhat later there was a remote little farm where a cheese maker was busy with large buckets of still liquid cheese.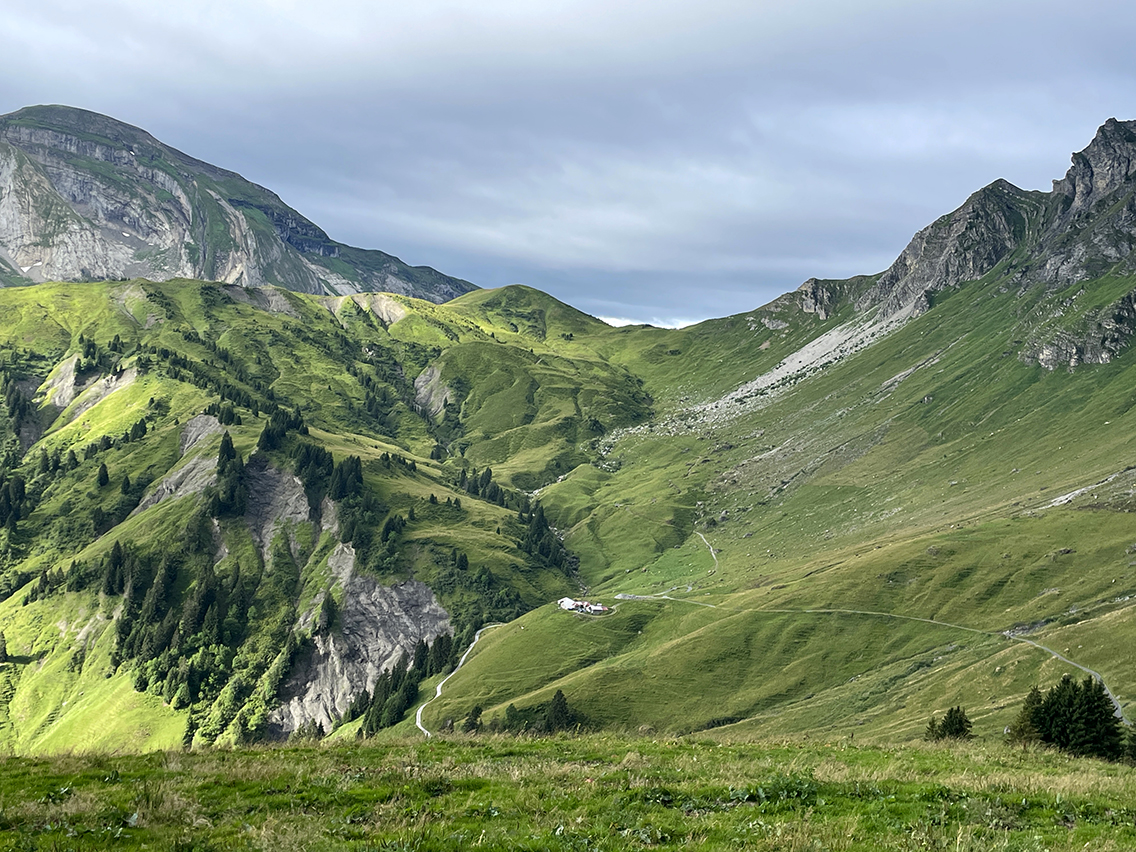 The trail to Col de Coux
As always, the trail to Col de Coux seemed long, steep and impossible but it took us no more than 40 minutes to reach the top of the pass. Col de Coux is the border between Switzerland and France. I expected to see the renovated old toll house, which I had read about. But arriving at the col I only saw the rudimentary remains of the building and a big yellow excavator machine next to it.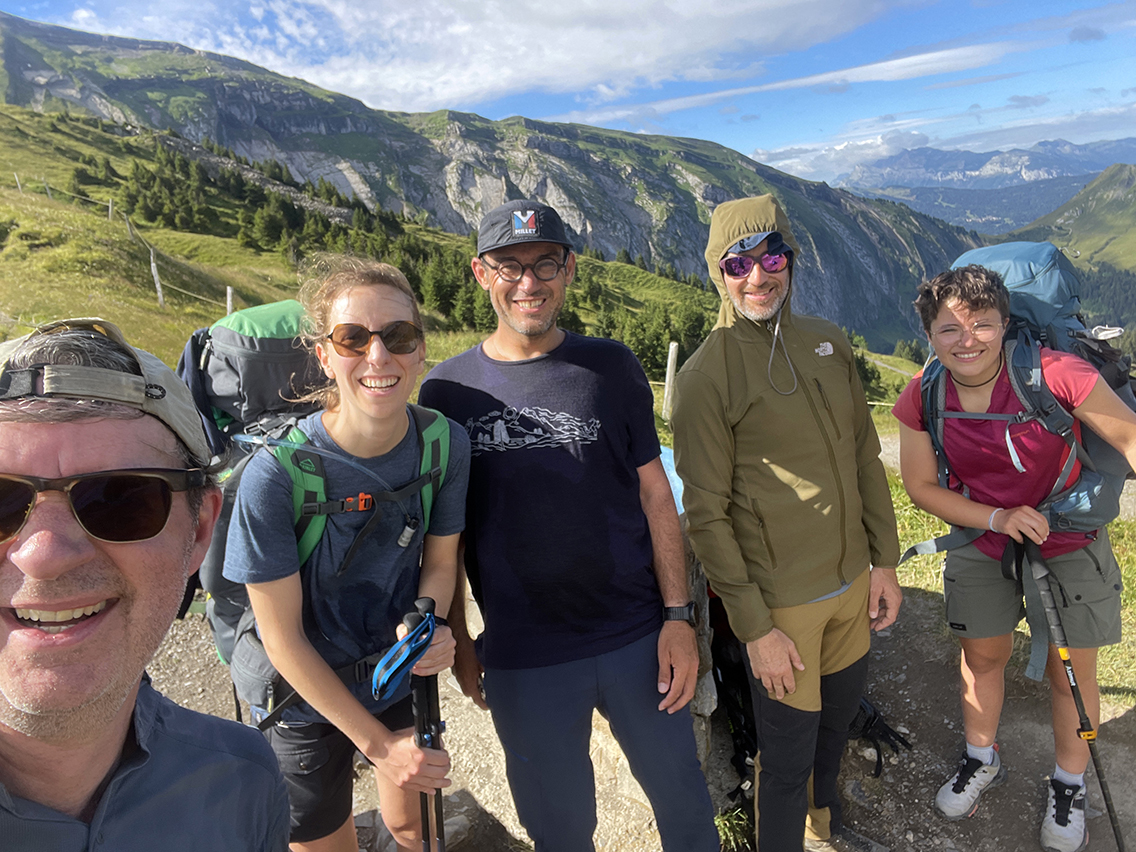 Col de Coux, Swiss-French border at 1.918 m. with Gaëtane, Étienne, Vincent and Maëlys
Nevertheless it was a great joy to reach the col. The sun finally pushed away the clouds and there was a fantastic view into France. In the meantime Étienne and Maëlys reached the pass as well, adding up to a group of 5 now.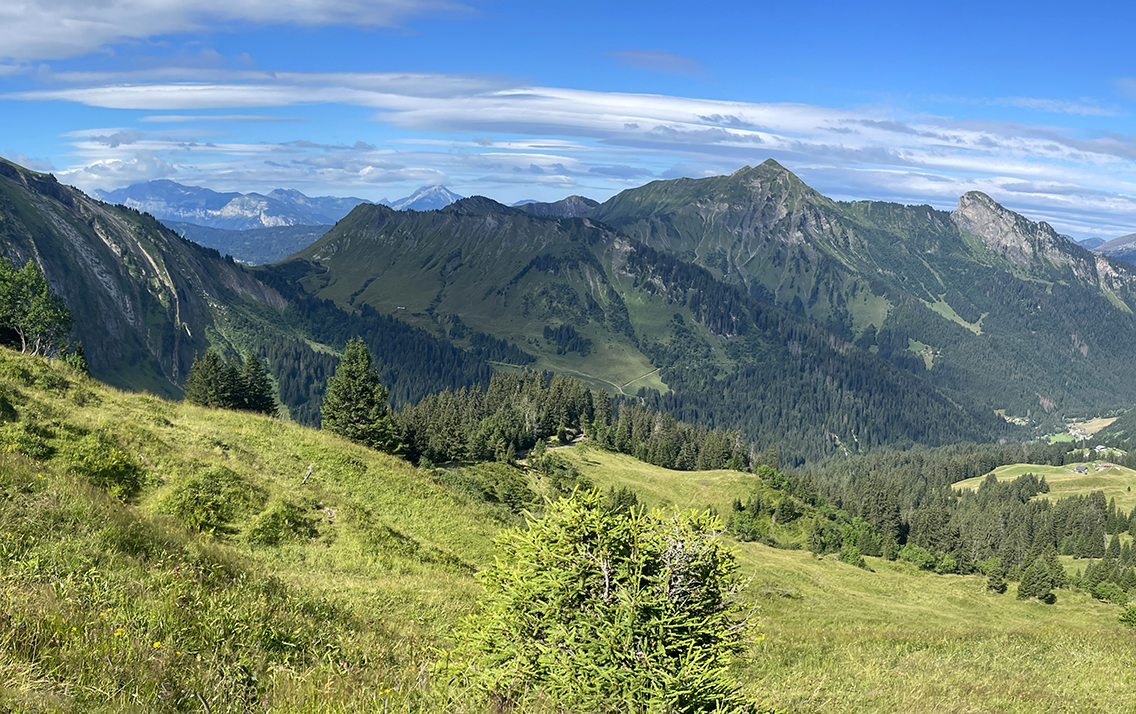 View into France from below Col de Coux: Col de la Golèse is the lower saddle on the left
We made a few photo's of our newly formed hiking group before we left the col into the valley. As slowly as I usually walk when I'm hiking up a mountain, as fast I was now, descending on the zig-zag gravel path. Pretty quickly we reunited with Jill (recognizable by the enormous pink towel around her shoulders) and we continued together. We descended about 500 m before traversing a grassy slope above a green meadow. A short climb brought us to the final pass of the day: Col de la Golèse.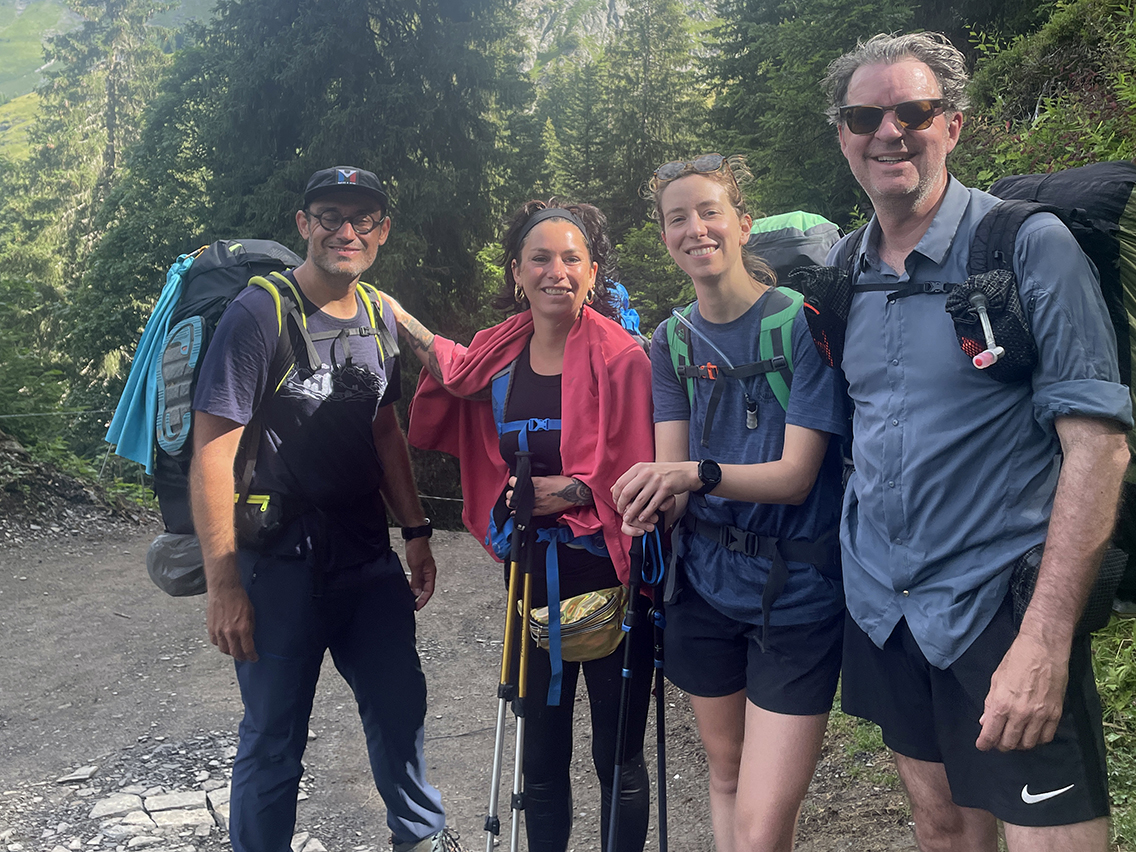 Descent from Col de Coux with Étienne, Jill and Gaëtane.
Col de la Golèse
In no more than 1,5 hour we reached the col. Just a few minutes below the pas sat the refuge with an inviting terrace full of picnic tables. At 11:30 a.m. it was the perfect time for a lunch break. I ordered a crèpe au sucre again while Jill chose an omelette, making a special request for extra spicy spicy. Gaëtane cooked another meal of her macaroni (I believe she was carrying two pounds of that stuff).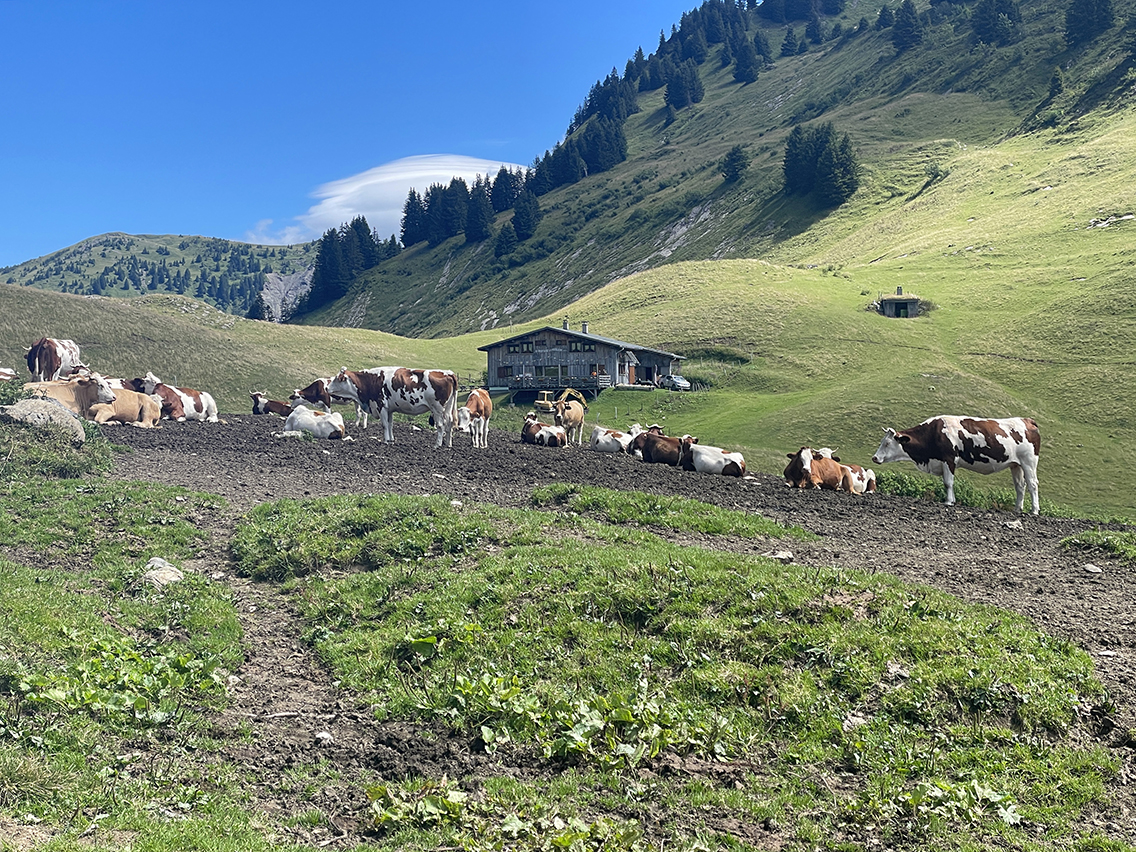 Looking back to Refuge de la Golèse, descending to Samoëns.
Another hiker from Refuge de Chésery joined us. He reminded me of Tintin in Tibet with his mountaineering goggles and yellow woolen hat. His name was Christophe (much later I learned he had actually written a book about a trek in the Himalaya). 
Now we were a band of seven, although loosely attached because we'd still hike solo part of the time. I was (and still am) thankful that all 6 of them did their very best to talk English with me, although I can and speak understand French – when everyone is talking s-l-o-w-l-y. 
Les Allamands
When the sugar pancake kicked in, I was fully energized and started the 1.264 m. descend to Samoëns.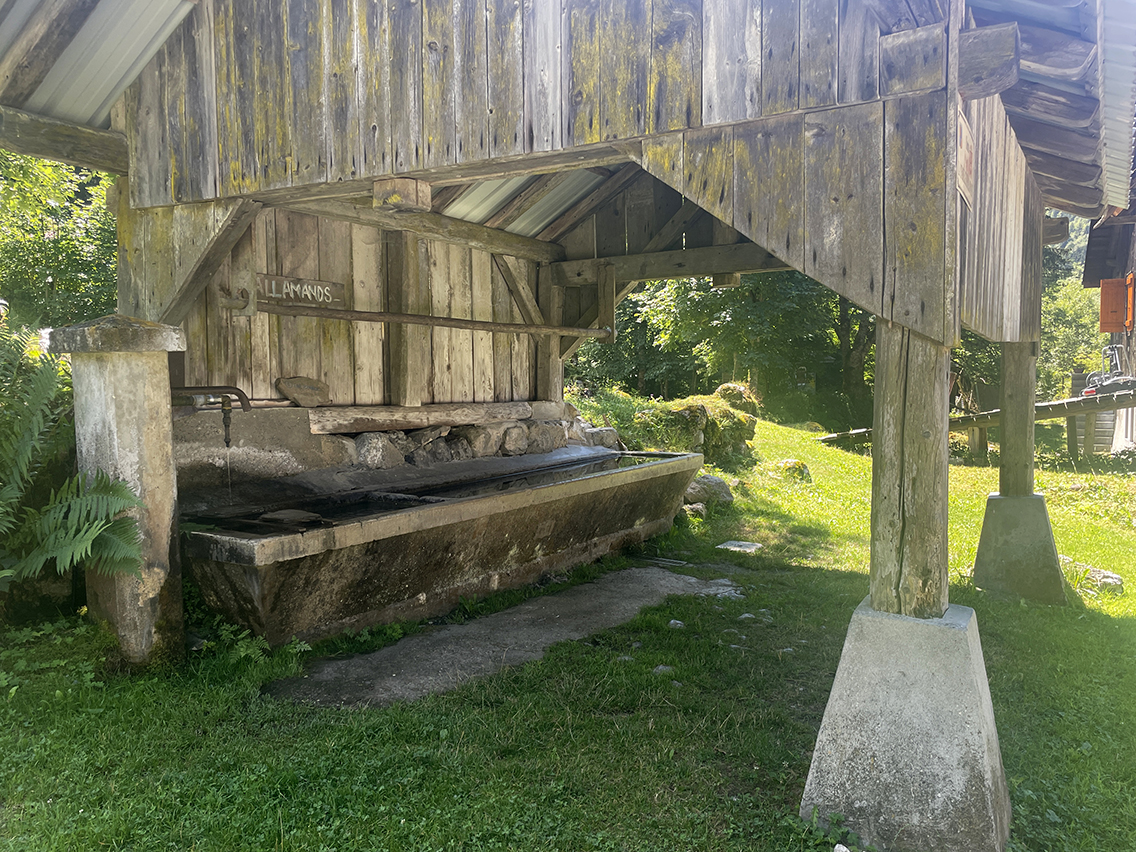 Shaded water fountain at Les Allamands
The trail was not quite memorable for the next hour or so until I arrived at a small village, Les Allamands, 600 m. lower than the last col. In the meantime it had been getting hotter and hotter so when I arrived at Les Allamands my heart jumped with joy when I saw the large roofed water fountain. An oasis of shade and ice cold water – another perfect spot on the GR5! I soaked my shirt and gulped down the water. Resting my back against a perfectly shaped concrete block I waited until the rest of the group arrived.
Samoëns
When they appeared 15 minutes later, Jill had actually changed her boots for flip flops, being fed up with the heat on her feet. With still another 1,5 hours of hiking ahead I thought that would be a major challenge but she made it all the way to Samoëns.
The rest of the trail was just going down, down, down on a forested trail, until we reached the outskirts of Samoëns. Now I was fed up with my burning feet, overheated by the asphalt. So I took the first opportunity to cool down in a shallow stream at the side of the road. I was separated from the group then, but somehow I managed to arrive at the campsite Le Giffre 5 minutes before them!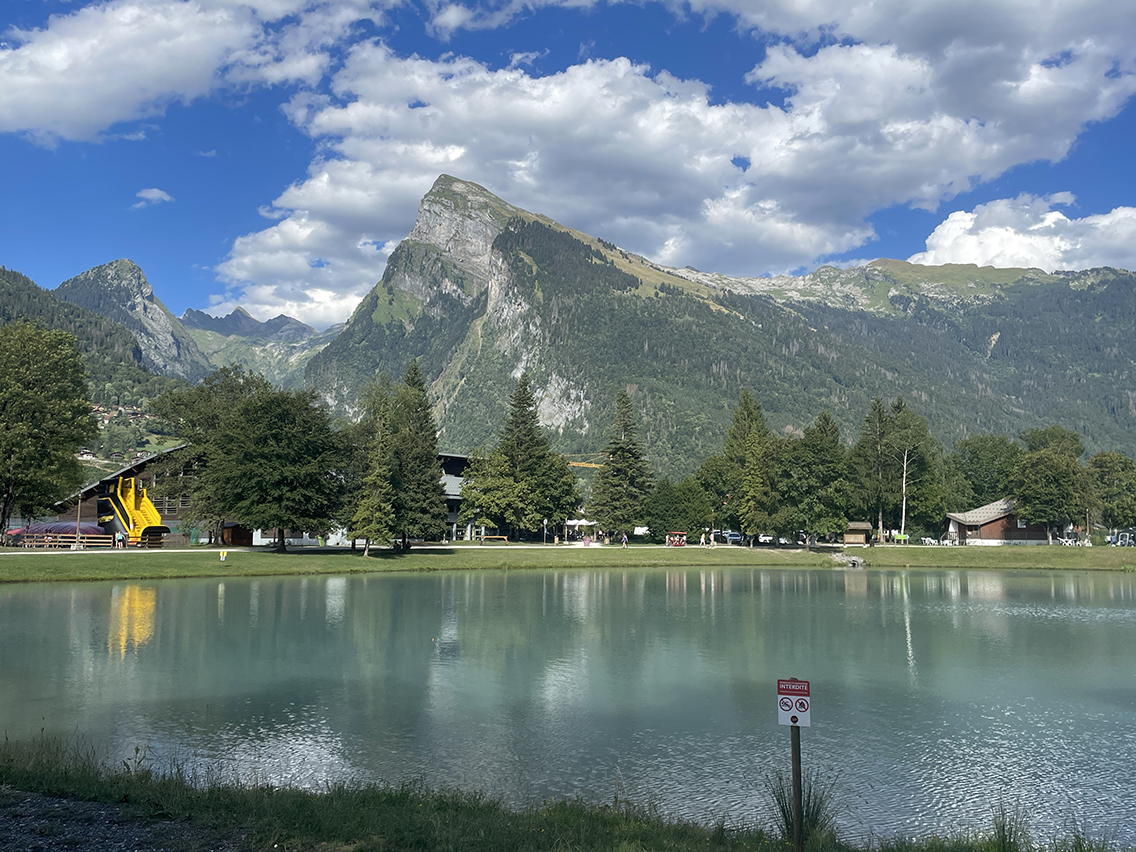 Lac aux Dames, Samoëns
Le Giffre was a typical French family camping, not really equipped for hikers. We payed about € 12 each (including showers), which is not too expensive. On the other hand however: we were placed with 7 or 8 tents in a tiny corner of a field (for comparison: I have camped in many US National Parks where 1 camp site would be at least 10 times bigger than this entire corner). A positive note: there was a large bungalow tent for a shelter, which would prove very useful later.
Just a short walk from the camping there are two lakes (Les Lacs aux Dames), the first being a fishing lake and the second a swimming hole. A very welcome feature on this hot and exhausting afternoon – and so I would start and end my hiking day with a swim in a lake.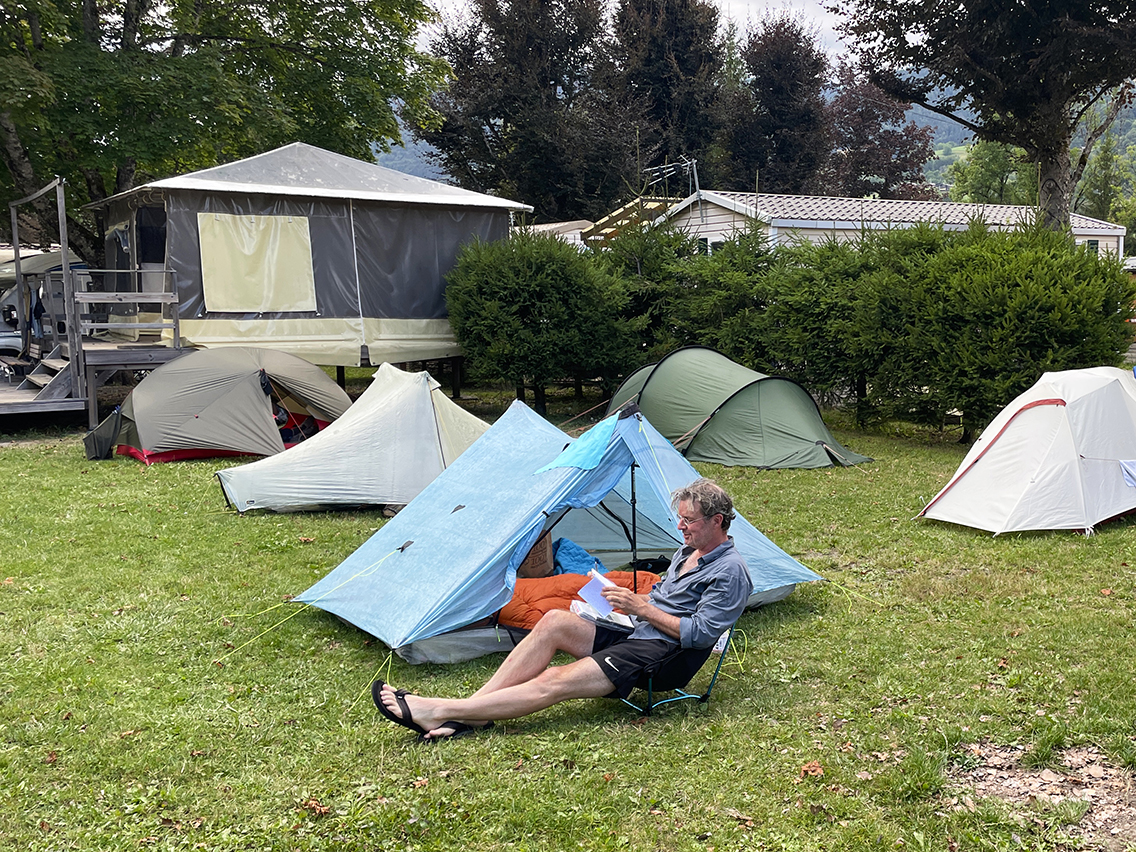 The GR5 hikers field at Camping Le Giffre
We all set up our tents, discussing all the different features, fabrics and pole systems. Vincent had a similar Dyneema ultra light tent as I, but smaller with two extra, short poles; probably even a bit lighter than my tent. 
Later I walked to the village center to get some fruit, bread and cheese from the local Sherpa supermarket. I also wanted to say goodbye to Jill at the nearby bus station. She would travel by bus to Cascade du Rouget to continue hiking the afternoon all the way up to Refuge d'Anterne Alfred Willis (where we would only arrive the next day).
With the rest of the group, now also expanded with Max, another GR5 hiker from the camping, we went to dinner in the village. Most of the restaurants were fully booked but we found a nice little burger cafetaria La Canette. With our hiker hunger we ordered way too large double and triple burgers, but we had good fun together. Returning to our camp, a fierce rainstorm started. Inside my tent I was happy the storm blew away the sweltering heat of the valley. 
To be continued soon: day 4 – day 5…
< Previous: Planning the GR5/Grande Traversée des Alpes