During our final section of the Alta Via 1 we saw the most amazing sunset at Coldai and walked below the impressive 'Wall of Walls' of Civetta. After Rifugio Vazzoler we exited the trail to Listolade where a bus drove us to Belluno.
Trail Overview Part 3 (day 6–8)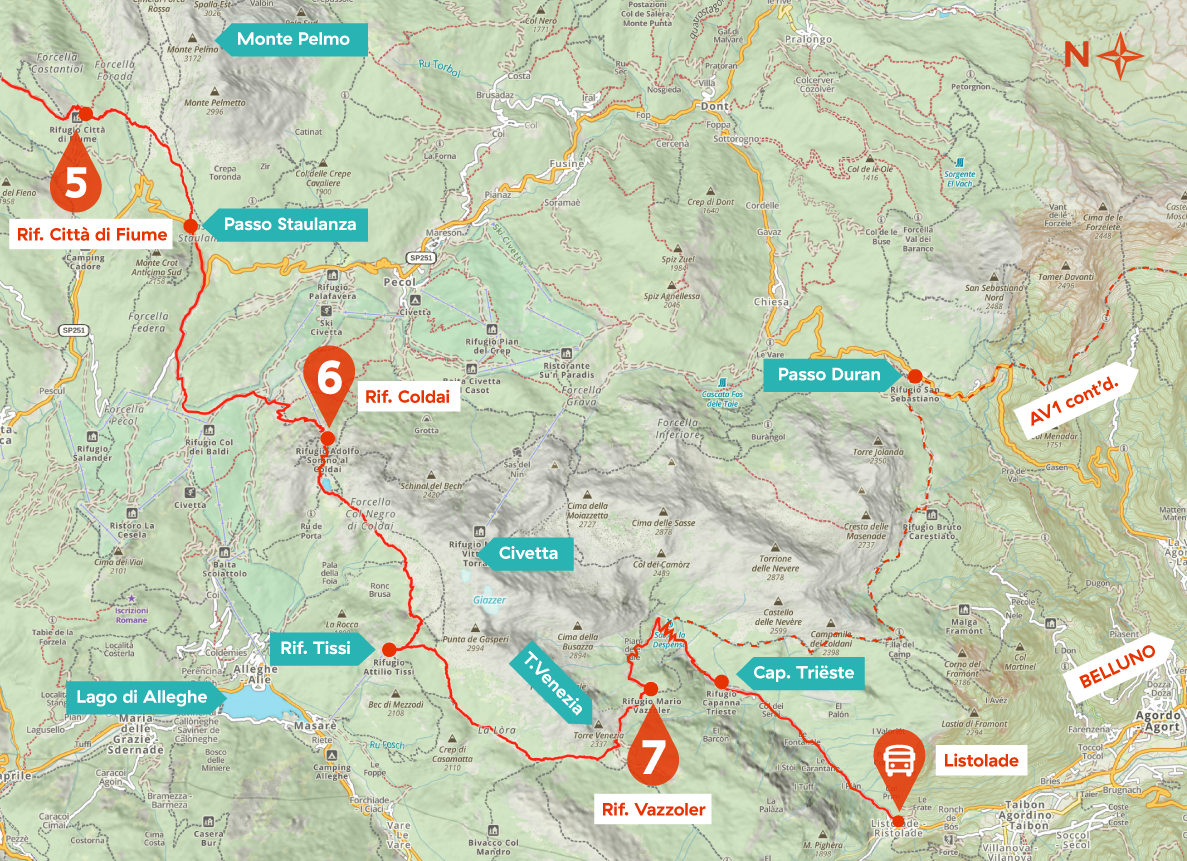 Alta Via 1, day 6 to 8:  from Rifugio Città di Fiume to Coldai, Vazzoler and Listolade (Note the North is left)

Day 6: Rifugio Città di Fiume to Rifugio Coldai
Start: Rifugio Città di Fiume, 1.918 m (6,293 ft)

End: Rifugio Coldai, 2.153 m (7,063 ft)

Distance: 9,3 km (5.8 miles)

Elevation gain: 503 m (1,650 ft)

Elevation loss: 290 m (951 ft)
Highest point: Rifugio Coldai, 2.153 m (7,063 ft)

Time: 3:40 hrs moving time, 5 hrs total time

Date: August 8, 2022
Monte Pelmo
After the raging storm of yesterday's evening and night, we were happy to see a mostly blue sky when I opened the heavy wooden shutters of our tiny window. Before us lay Monte Pelmo, now completely out of the clouds (except for some light cirrus clouds far away).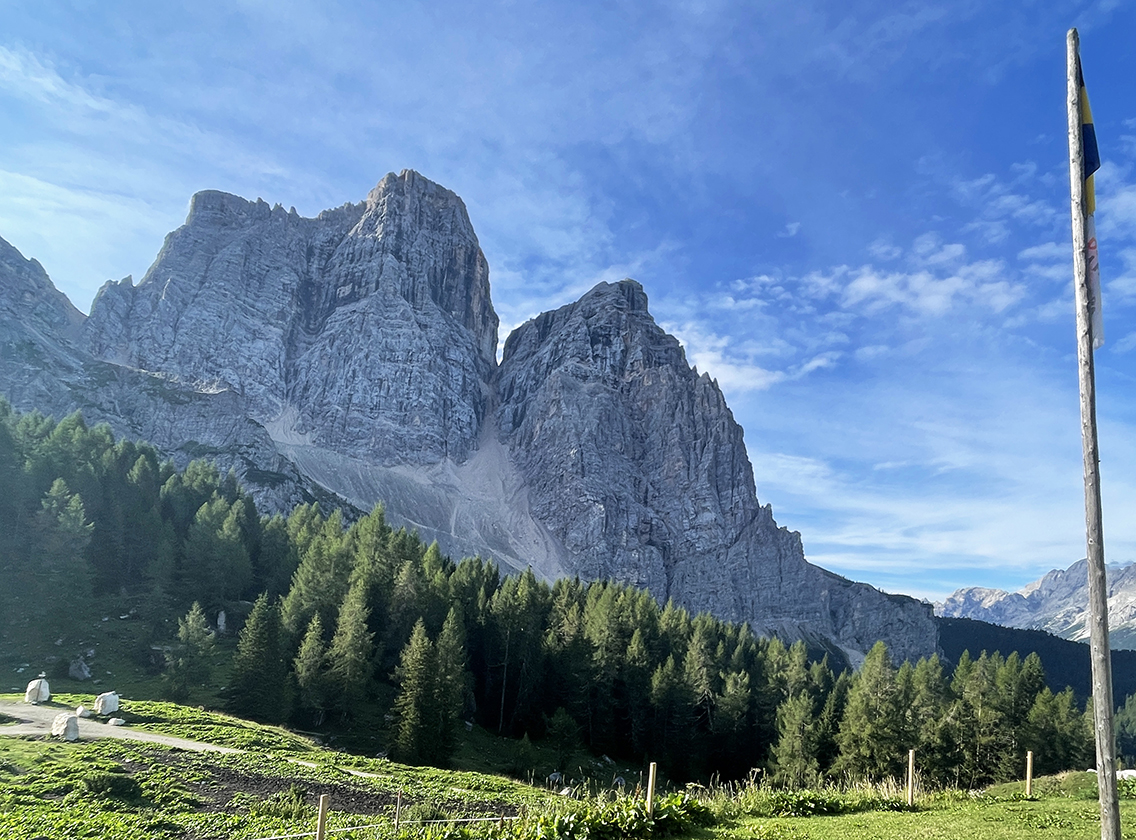 Monte Pelmo as seen from Rifugio Città di Fiume
After breakfast we left the hut at 8:20 a.m. and we followed a descending path through the woods, still wet and muddy from the rainfall. The trail led us towards the foot of the mighty Pelmo. This mountain is (with 3,168 m / 10,394 ft) not in the top-10 of highest mountains on the Dolomites, but because this giant stands so isolated from other peaks, it can be seen clearly from far away – to me it's the most memorable summit of all.
After half an hour we arrived at the actual foot of Pelmo, where we crossed its white scree slope and boulder field.
Passo Staulanza
Soon we entered another wooded area, still descending towards the pass where we planned an early morning coffee break. A group of climbers hiked uphill, each carrying a heavy load of climbing equipment. To my surprise the group consisted of men and women in their sixties and they were hiking up fast. I felt a deep respect for them, hoping I would be as fit as them at that age.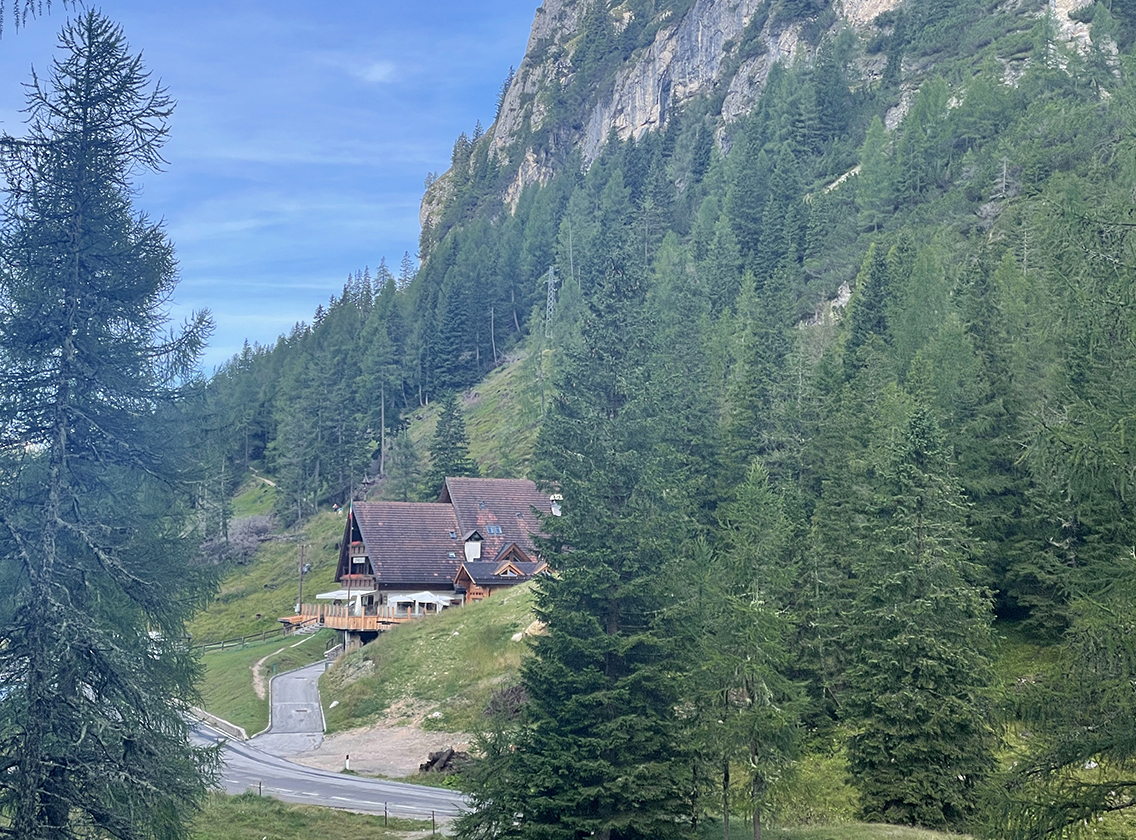 Rifugio Passo Staulanza
After an hour and 15 minutes we arrived at Passo Staulanza and the luxurious Rifugio. Now this rifugio was better called a hotel: there was a sauna, pool, massage and there was an extensive menu displayed outside. Now this was of course a refuge on the side of a tarmac road close to a town. We stopped for coffee and a pannacotta cake. From the shaded terrace we had a magnificent view of the Civetta mountain group ahead. Already thick clouds were building up, close to our destination of today: Rifugio Coldai.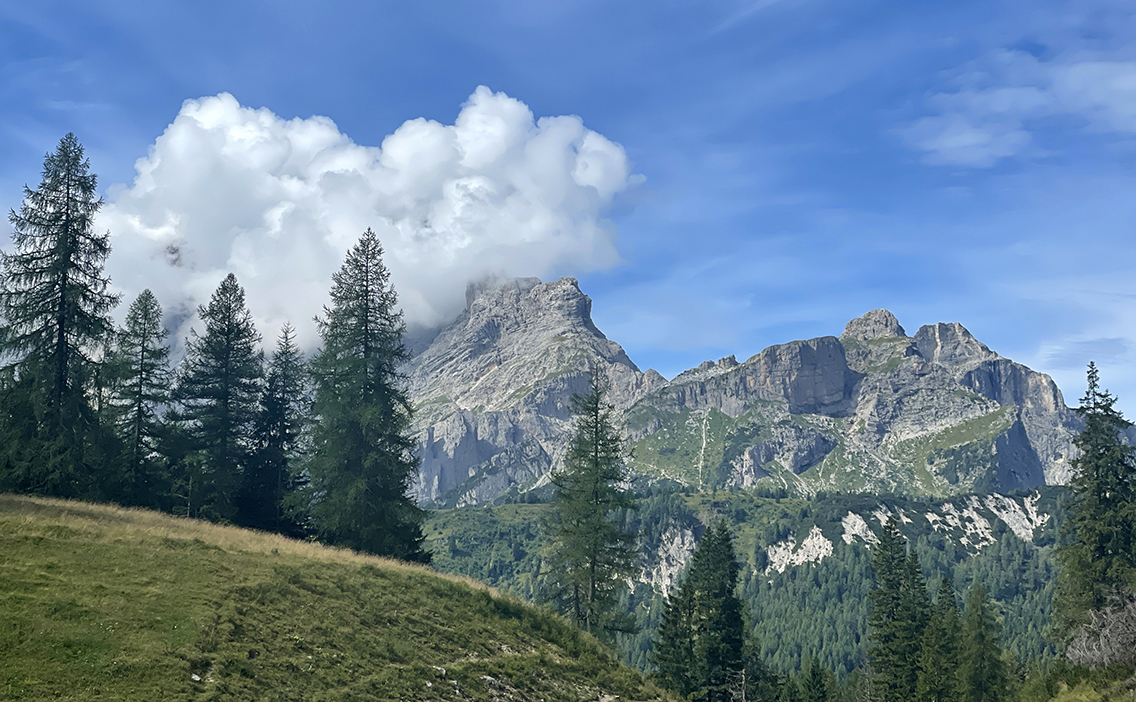 View of Civetta from Passo Staulanza.
The hut was still invisible but I reckoned it would be tucked behind the grey rocks somewhere just on the right of the massive and clouded wall. When we hit the trail again, I kept a constant eye on the clouds, hoping we'd make it to the hut before the storm would break.
Right after Staulanzo, we hiked the strangest piece of official hiking path I ever hiked: a shoe width of trail on the outside of a road barrier, with cars raging towards us. This lasted no langer than about 200 meters though; in the next hairpin corner we found the forest trail to the Malga Vescova farm. Following this easy trail down we arrived at the farm soon. The farm offered drinks but we had just had coffee so we took the trail right behind the farm. This was a short steep climb up a hill towards a grassy field.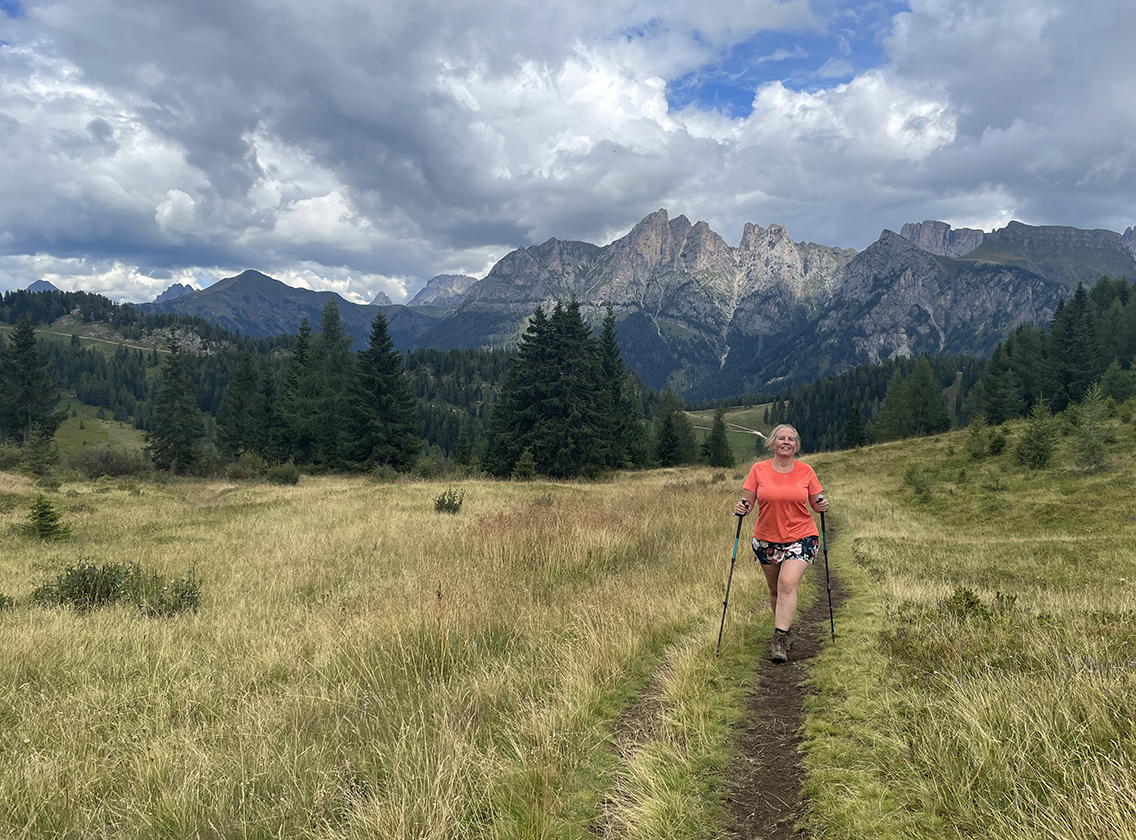 At our right hand the trail joined the jeep track again, that we had been following to the farm below. In front of us loomed Civetta, backed by enormous grey clouds. Looking behind us, Monte Pelmo was much better visible and the rifugio's Città di Fiume as well as Staulanza were clearly visible.
Casera di Pioda at the foot of the trail to Rifugio Coldai
According to our Cicerone guide, the small farm Casera di Pioda would offer meals and dairy products (and even accommodation) but the farm was shut down and looked to be abandoned for some time. From his point the trail was getting rather crowded and when we arrived at the foot of the ascending mule path we actually hiked in a long string of many Italian families.
The last stretch of trail to Rifugio Coldai
The trail was steep enough to wear us out on this relatively short hiking day. But especially the clouds above worried me. When we arrived at the rifugio within an hour, it was still dry though. 
Rifugio Coldai
Rifugio Sonino al Coldai, as the hut is officially called, sits snugly behind a huge rock and looks out over the entire valley and far beyond. Especially the view of Pelmo is impressive – as we would experience in the evening.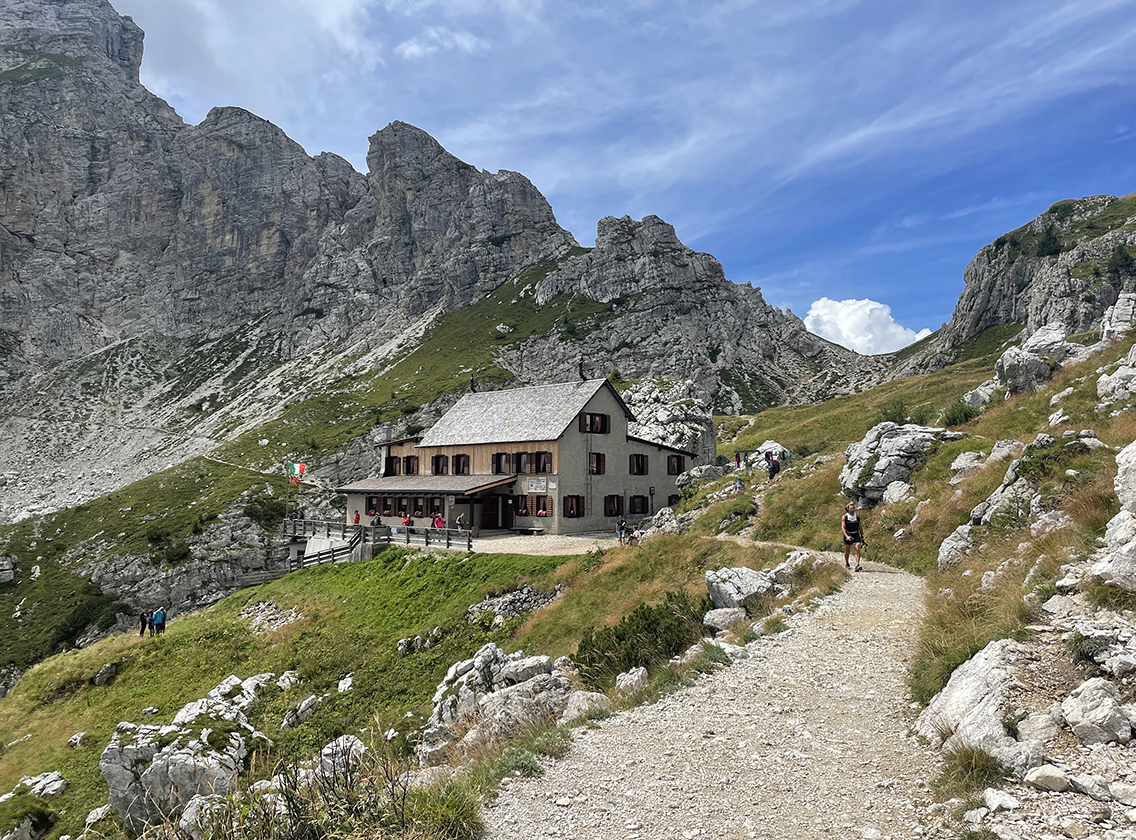 Rifugio Coldai, below Forcella Coldai (on the right)
But first we went to our room om the third floor. A 12-bed room filled with about 8 hikers. The space was tight but clean. We marked our beds by putting our packs on top of the sheets and went downstairs to the dining hall. It was a large room, full of people. We just managed to find a place to sit somewhere in the corner. While we feasted on a plate of freshly baked fries and a glass of beer, the rain storm finally broke, bringing even more people inside the building. 
Later in the afternoon when the rain had ceased, the crowds thinned out and we found ourselves a nice place at (or should I say inside) the fireplace. There was even had an old guitar and a thick songbook – unfortunately I didn't know any of the Italian and German songs. We spent our time reading, writing and drinking tea until it was time for dinner. We shared the table with a retired Australian couple, and we all agreed the food was not very good. It was hot and it provided calories, but it had no taste. We chatted for a while but thenI saw from the corner of my eye something spectacular developing outside. Excusing ourselves, we hurried outside on our plastic hut shoes.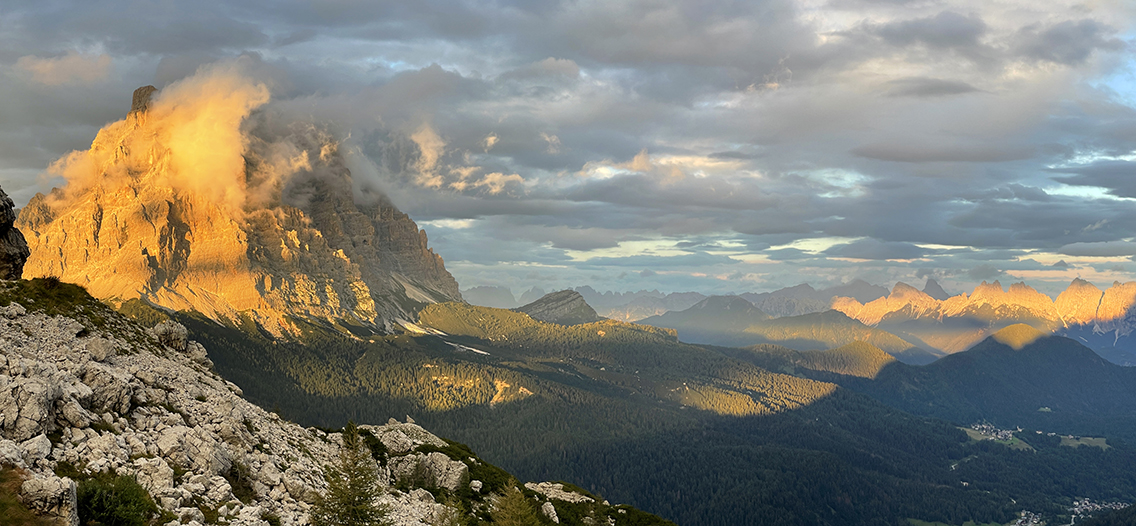 Monte Pelmo at sunset from Coldai.
The sun was setting. On our left Monte Pelmo seemed to be on fire. On the right of us, a rainbow partly appeared and in between there was a long stretch of summits, all set ablaze in the yellow light. We were astonished and touched by the beauty of all this and stood there until, after just 10 minutes, this theatre of light was over.
Day 7: Rifugio Coldai to Rifugio Vazzoler
Start: Rifugio Colada1, 2.153 m (7,063 ft)

End: Rifugio Vazzoler, 1.714 m (6,293 ft)

Distance: 11 km (8.9 miles)

Elevation gain: 429 m (1,581 ft)

Elevation loss: 854 m (2,306 ft)
Highest point: Cime di Col Rean (Rif. Tissi), 2.281 m (5,078 ft)

Time: 4:30 hrs moving time, 7:20 hrs total time

Date: August 9, 2022
The sunset at Coldai alone makes a night at this hut memorable for a lifetime. Which cannot be said of the actual experience inside the hut. The beds and mattress were so worn down that it kept me awake  at night and I couldn't wait to get out of it in the morning. Unfortunately the showers did not give hot water before 8 a.m. so after a very cold shower Christine and I ate a disappointing breakfast. The bread was stale and the coffee dreadful. It was 8 o'clock when we began the ascent to the pass Forcella Coldai.
The Civetta Wall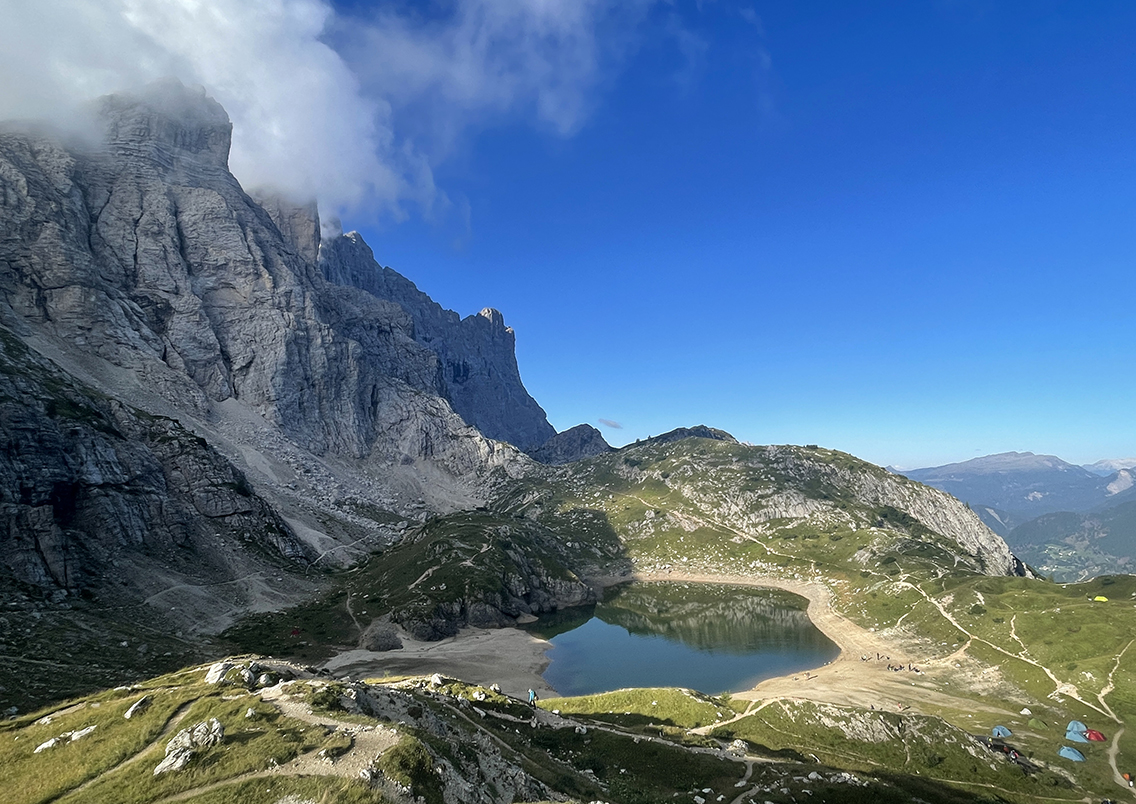 Lai Coldai below the Civetta wall
On the west side of the pass sits the Lai Coldai, its waters were still half in the shadow. From above multiple tents were already visible and when we got closer we saw many people on the sandy beach preparing breakfast. Some of them were swimming. I was tempted to take a plunge as well but it was too crowded to my taste. 
We followed the trail around the lake and back into the shadow again, close to the walls of Civetta. It was pleasantly cool in Civetta's shade. Before us lay a clear line through the gravel that would bring us to the foot of the grassy tilted triangle, topped by Rifugio Tissi.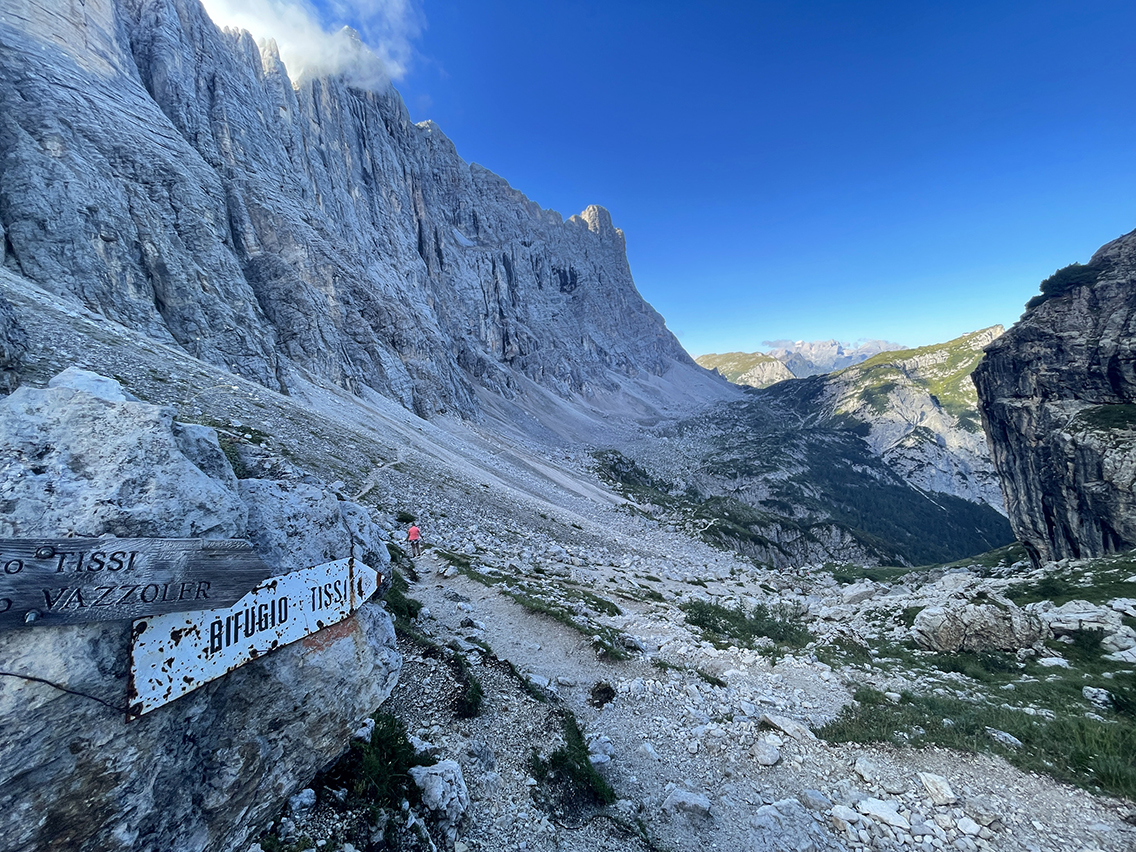 Civetta wall and trail to Rifugio Tissi, visible on the green tilted rock.
This was a nice trail: not too easy, some scrambling, going up and down and with spectacular views in all directions. To the right we caught a glimpse of Lago di Alleghe, an azure blue lake far below. To our left was Civetta, even more impressive from close by. We stood still for a moment, facing the wall, trying to absorb the terrifying beauty of the rock wall.
Then we were startled by the sound of an airplane. I saw two jet fighters above. But… they were really really close to each other. No, these were big birds of course… but that sound? Then it dawned me that these were actually two people in wingsuits flying above us. And then came another two, this time we could see them more clearly. They must have jumped off the Civetta summit. Then came the last one. Unbelievable: there had just been flying 5 human beings above us. 
Rifugio Tissi
After the flying supermen encounter we hiked on to Rifugio Tissi, a 20 minutes ascend from the next trail junction.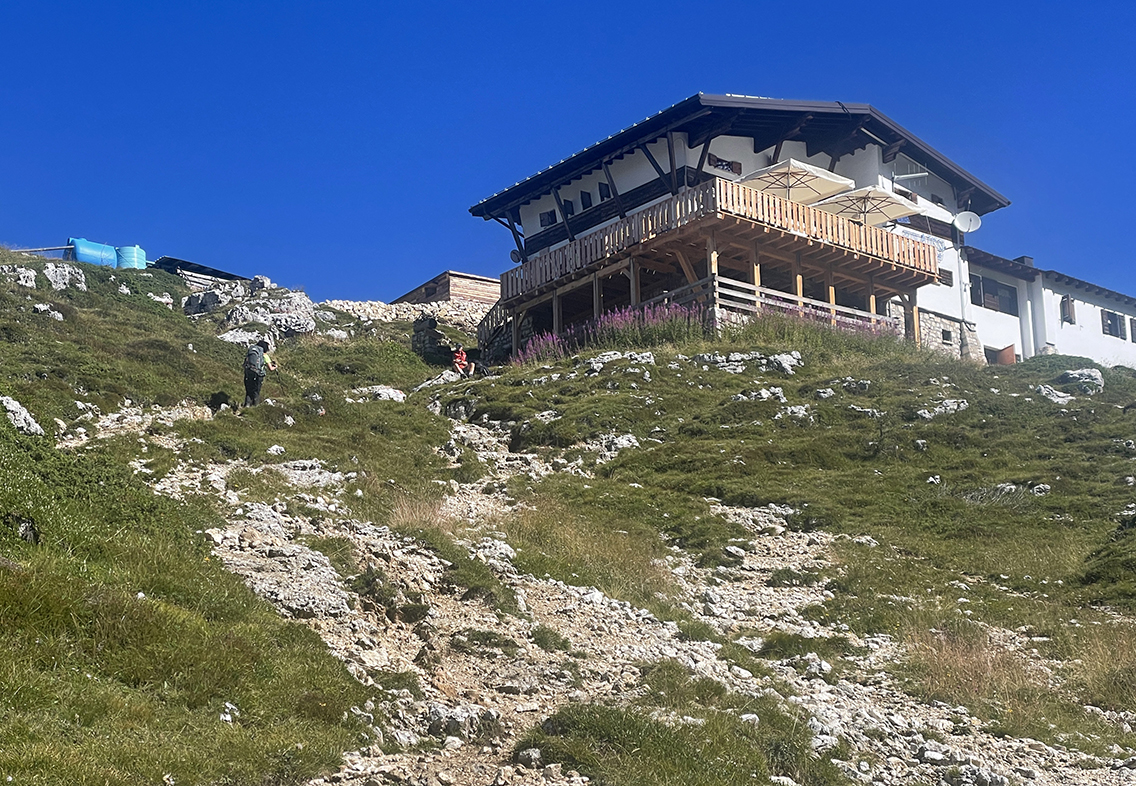 Rifugio Tissi
The trail to Tissi was a short but steep detour from the main trail towards Vazzoler. But it was worth the effort. Tissi is one of those smaller huts, like Biella, with a personal touch and a warm, friendly atmosphere. Besides that, the views are even more spectacular than anywhere else.
Today the weather was warm and dry with no expectations of a storm. So we were able to take our time and enjoy the day without hurry. We stayed at Tissi for about two hours with coffee, Coca Cola and chocolate. We wrote our journals, read our books and I tried to read a newspaper in Italian.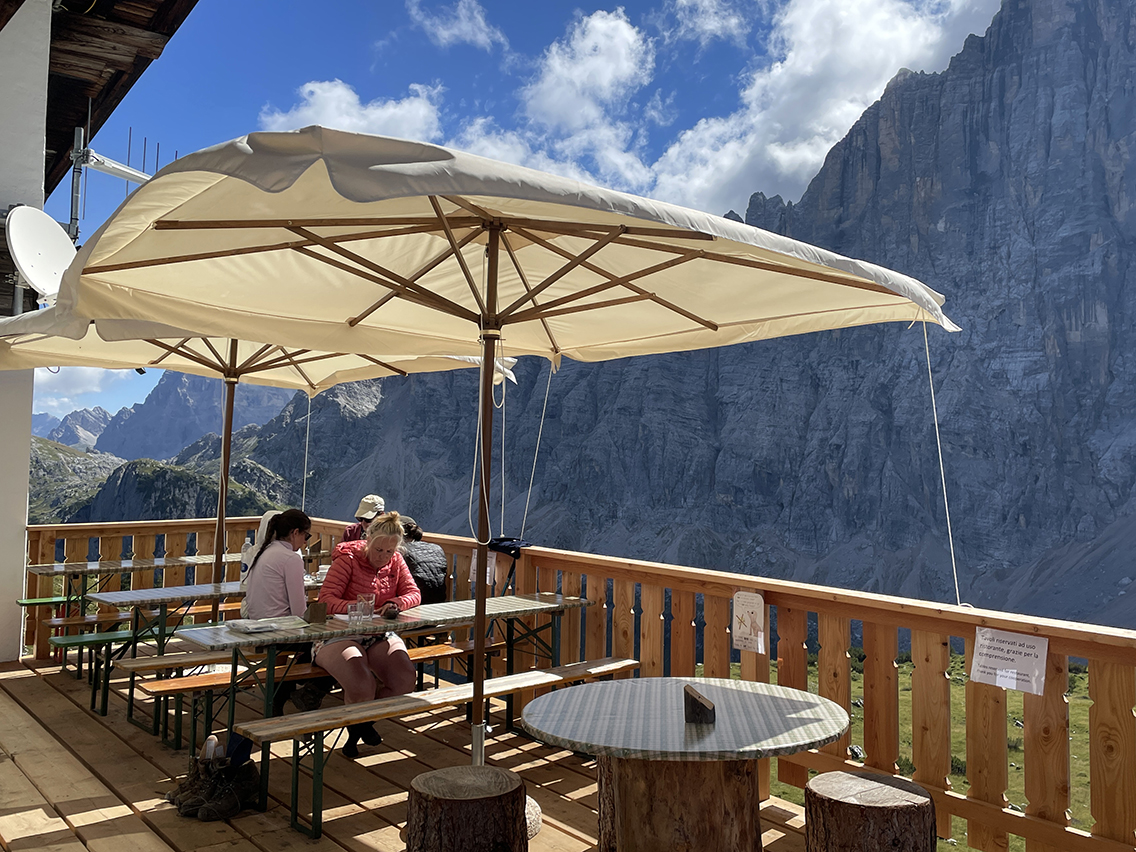 Civetta Wall as seen from Rifugio Tissi
Getting ready to leave, Tom and his family – last seen at Forcella di Giau – came in. They just left Passo Staulanza this morning where they witnessed a landslide from Monte Pelmo. Tom showed me a video on his phone of the giant dust clouds falling from the very same slopes where we hiked 24 hours before (two day later in the hotel we watched a news bulletin and only then did the seriousness of the situation dawn on us – watch this local Antennatre video).
Cime di Col Rean
Before leaving Tissi, I followed a short path to the top of the Cime di Col Rean (2.281 m / 7,484ft ) for more panoramic views to the other side of the mountain. Right on the edge of the dazzling abyss was a huge metal cross and I made sure to stay behind it, for the crumbly cliffs dropped vertically into the valley. There were too many summits to identify at the moment, but it was very impressive to be able to look so far away.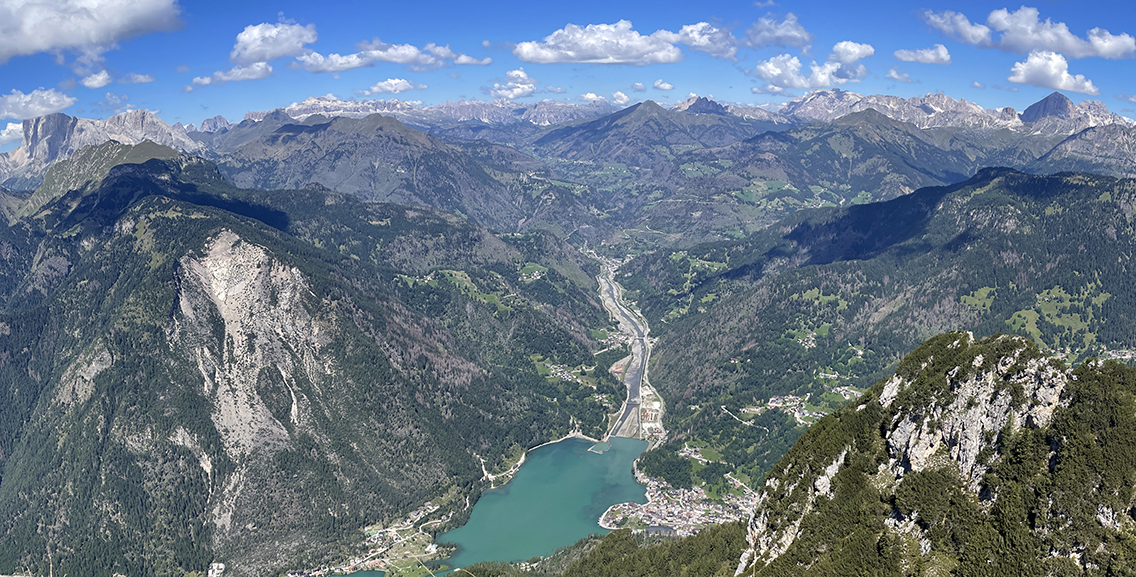 View from Cime di Col Rean: Marmolada is the steep wall on the left (3.343 m), the highest mountain of the Dolomites, and far right is Tofana di Rozes (3.225 m)
Christine was already down at the AV1 trail junction waiting for my arrival. We followed the trail to Vazzoler, descending under a relentless sun for a long time. It was around  1.30 p.m. when we entered a fairly flat and grassy valley called Plan della Lòra. There was an old shed that offered possibly the last shade for a the rest of the hike.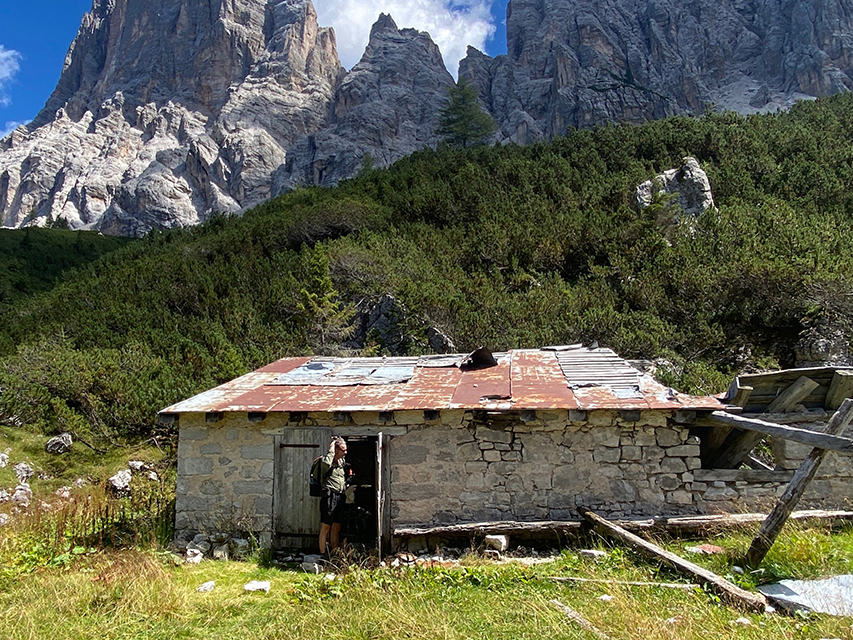 Abandoned shed at Plan della Lòra
I opened the old wooden doors and we sat down for a while in the shady doorway. A nice spot for a small snack and a drink, while I used my knife to fix a loose screw in one of the legs of my sunglasses.  
Torre Venezia and Torre Trieste
The rest of the trail was easy going, as we followed the curve around the Civetta mountain group. The grey walls above the green fields were spectacular. Soon we saw one distinctive rock towering above the others: Torre Venezia.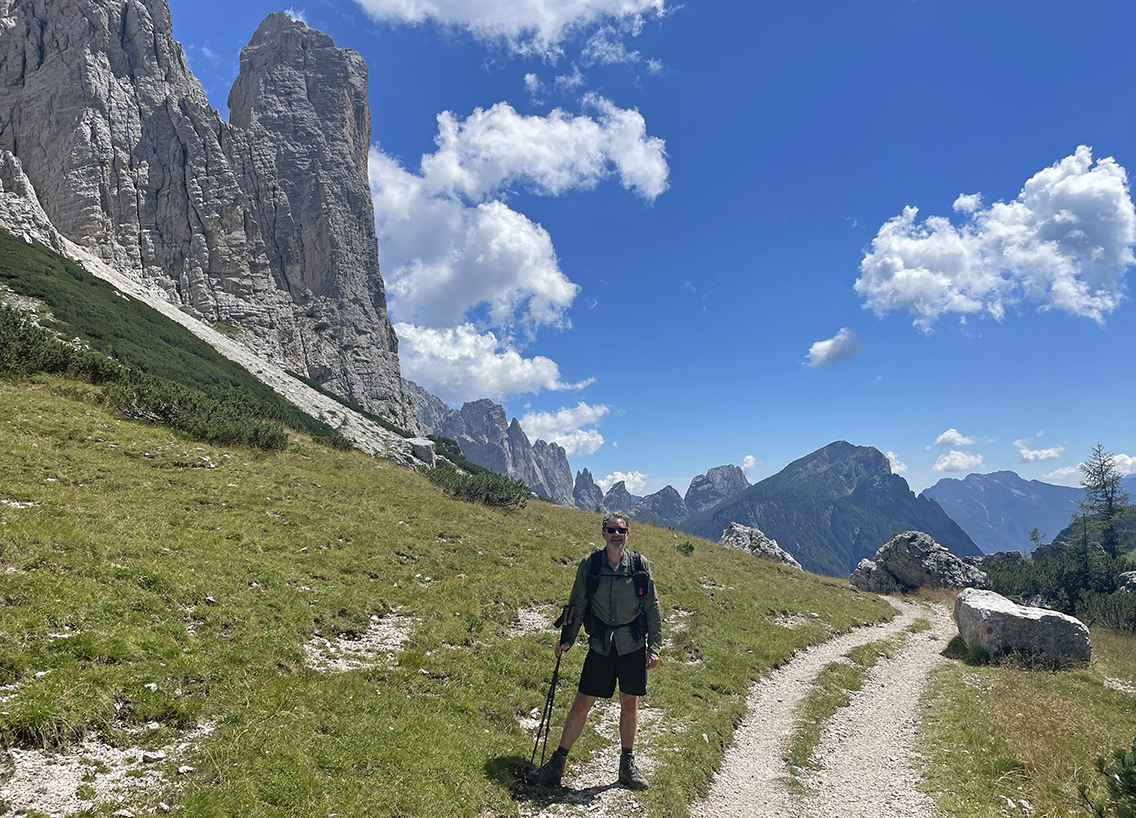 View of Torre Venezia from Sella di Pelsa
Following the trail we came to the only junction where we would have taken the wrong direction, if not for my GPS wayfinding app. Before our trip I had downloaded all the maps and the GPX-files to my phone. Thus I was able to determine that we should go left through a dilapidated wooden fence, into the woods, and not to the right on the more natural course of walking, towards a red-white painted rock. A few minutes later my decision was proved to be right, when we saw a flat rock on the trail, marked VAZZOLER in red paint.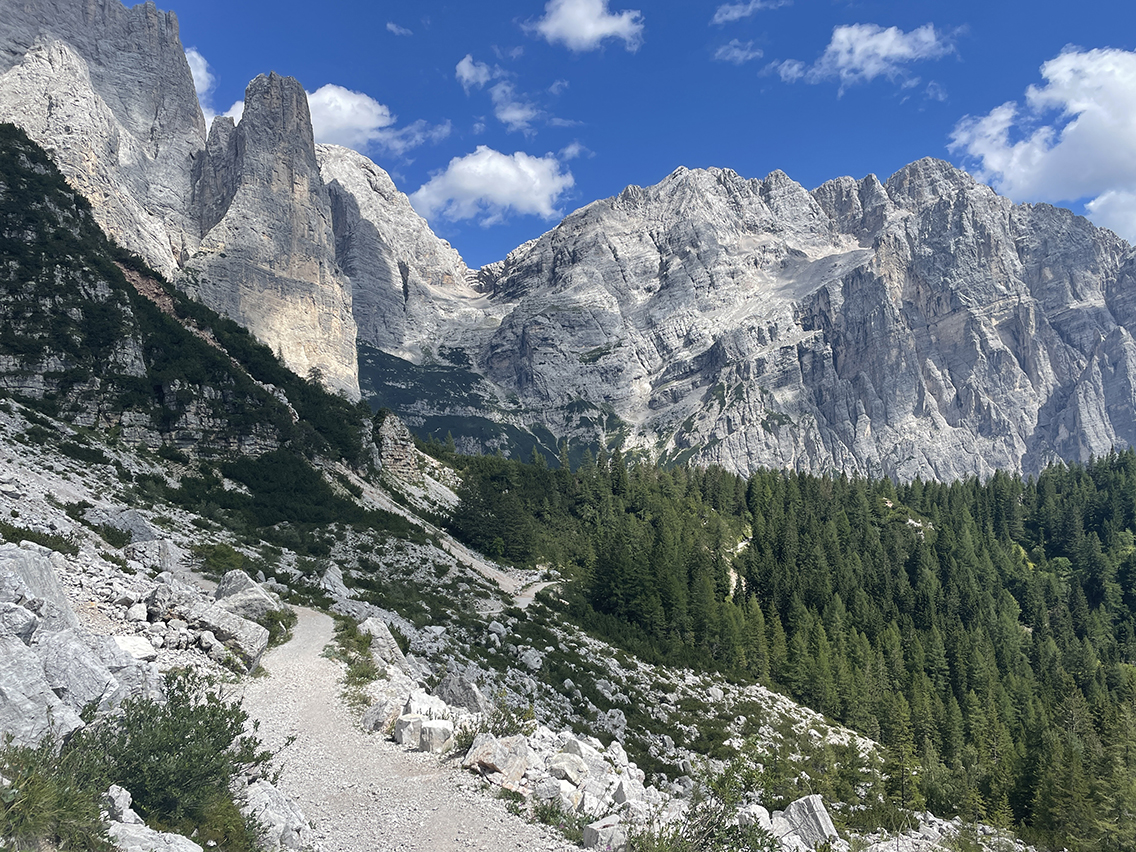 Torre Trieste
Leaving the woods we came upon a white gravel track under the steep grey-white rocks of Torre Venezia. Another giant tower appeared: this was Torre Trieste. The Vazzoler hut was right in between these two towers.
Rifugio Vazzoler
It didn't take long before we saw the Benvenuto-sign at Rifugio Vazzoler, that was tucked away from the trail behind tall pine trees. We arrived at the hut at 3 p.m. and we immediately put the hut-stamps in our little booklets.
Rifugio Vazzoler
Vazzoler is the only hut we have seen that had its boot room strategically placed outside of the building, in a covered little patio at the back door. The wall commemorated various alpinists of the Vazzoler family.
We put our packs in the room that we shared with two girls we already met at Tissi. The room was tiny and so was the shower. On the other hand: outside it was spacious and shaded, with enough picnic tables to choose from. So we had a pleasant afternoon, relaxing after what was our last big day at the Alta Via 1. Tomorrow we would only follow the AV for a short time and then exit.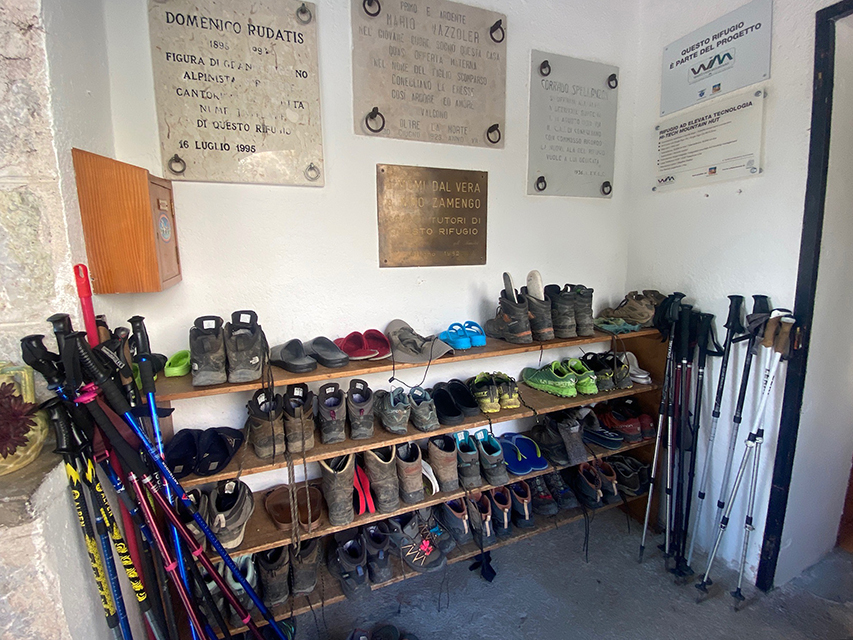 Boots at Vazzoler
Dinner was good, but it was extremely crowded. There were about a hundred people crammed into a dining room that would already be full with half of the people. But we had a nice time, with lots of laughs with our hiking friends from Australia as we tried to make Limerick rhymes including Dutch and English words. 
Day 8: Rifugio Vazzoler to Listolade/Belluno
Start: Rifugio Vazzoler, 1.714 m (6,293 ft)

End: Listolade, 676 m (2,217 ft); bus to Belluno (390 m / 1,280 ft)

Distance: 11 km (6.8 miles)

Elevation gain: 37 m (121 ft)

Elevation loss: 1.075 m (3,526 ft)
Highest point: Rifugio Vazzoler, 1.714 m (6,293 ft)

Time: 2:45 hrs moving time, 4 hrs total time

Date: August 10, 2022
Torre Venezia behind Rifugio Vazzoler
We slept well, although the beds were not in the best shape. Breakfast was chaotic. The staff had chosen the wrong logistics by making all the hundred people wait in line for an order of coffee/tea/bread, instead of having all people seated and serve at the tables, like they did at dinner. When we finally had some stale bread and some cheese. Warning: if you're ever at this hut, do not drink coffee from the self service coffee machine because it tastes worse than a sip from an ashtray full of motor oil (even the staff acknowledge this). Buy a fresh coffee at the bar. 
We followed the AV1 gravel path and crossed a wide river bed that was almost entirely dry. Only a small underground stream was flowing that came to the surface below the trail.
Passing Torre Trieste, the 'Tower of Towers' according to climbers, we saw a small monument, commemorating the men who died due to a rockslide from the tower, as far as we could decipher the Italian text.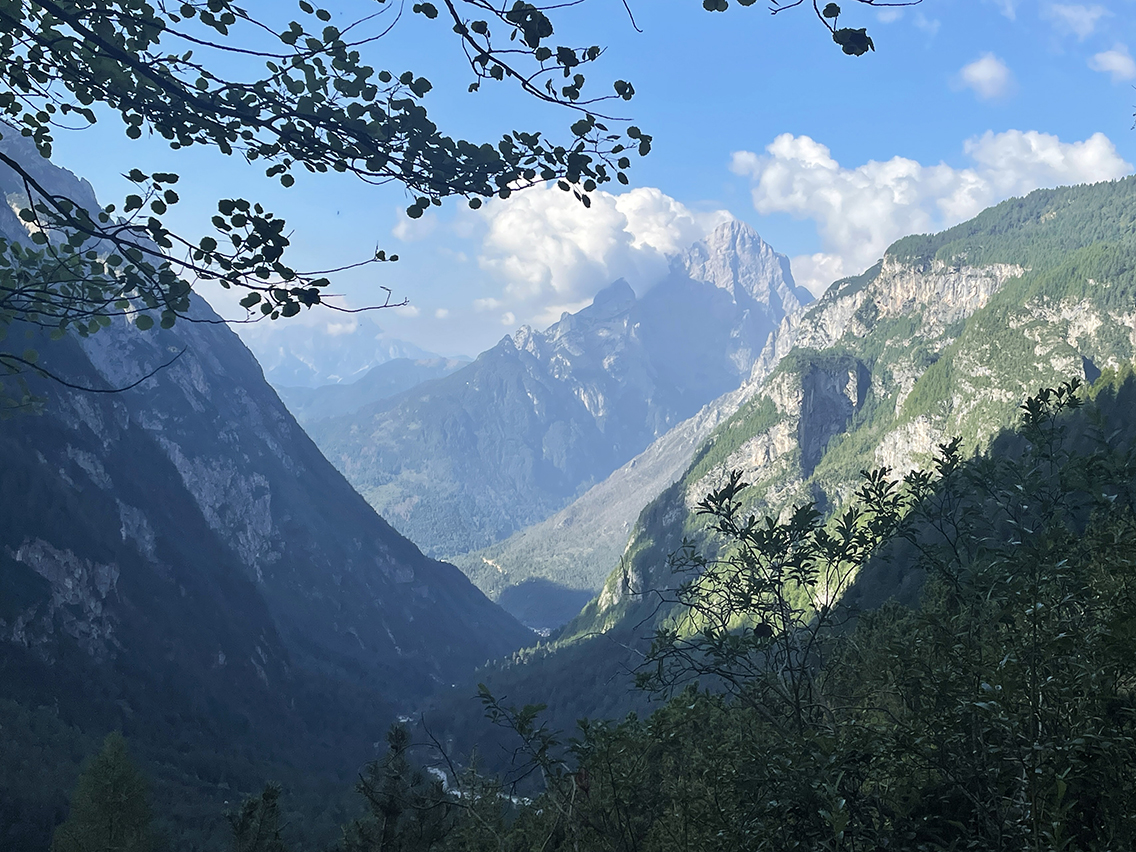 On top of the switchbacks, view of Monte Agner
We walked for about an hour, until we came to the junction to Capana Trieste. We said goodbye to the Alta Via 1 and descended on a zigzagging path. Going down we felt we were loosing all that altitude we had built up in the past week. In the distance we could see the last hut, Capana Trieste, below in the valley, our last stop on this unforgettable tour.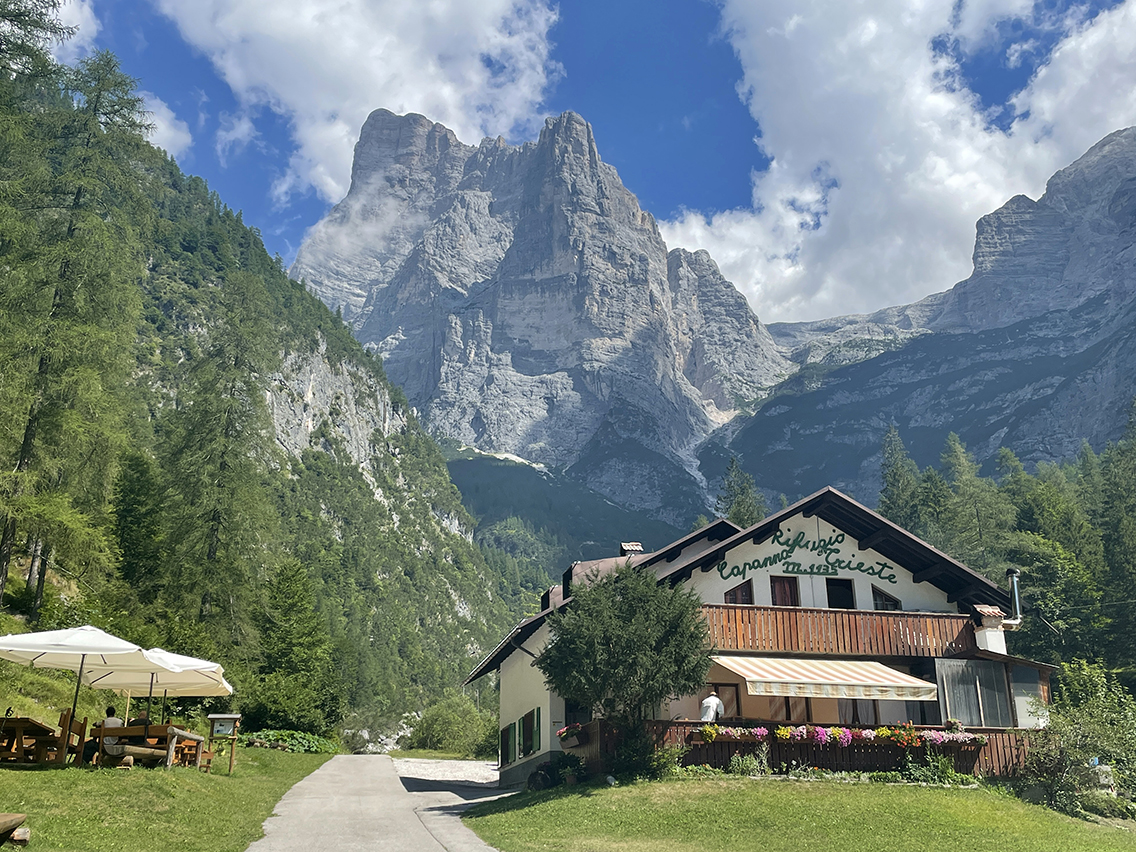 Capanna Trieste, the last look at Torre Trieste 
The gravel path changed into a tarmac road and we arrived at the Capanna Trieste. Just as I was asking myself aloud wether they would put up the parasols, a man walked up to the picnic tables to do exactly that. The restaurant was just opening, it was only 10.30 a.m. We stayed at the hut for an hour, admiring the Dolomites from close by for the last time.
We saw a paraglider coming down on a small field below the hut. Later he was showing his friends the video from his Go-pro at the table next to us.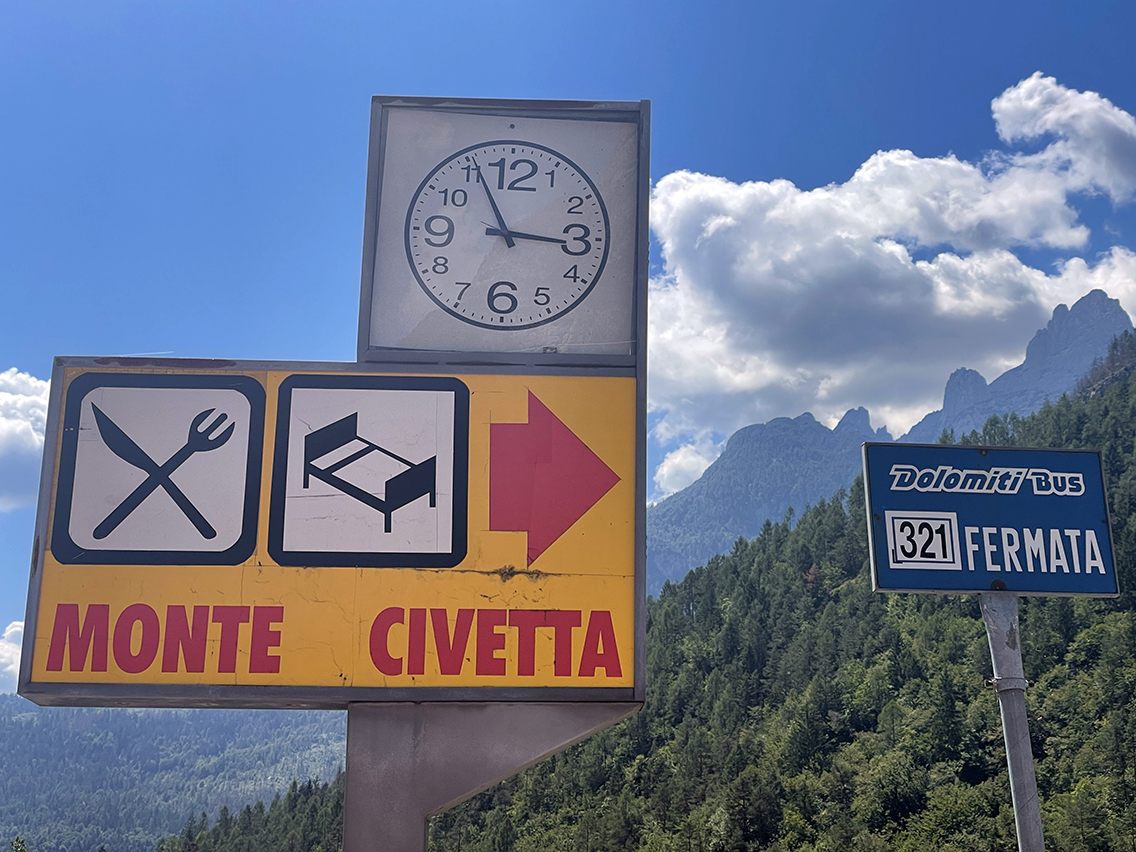 It was one hour walking to the village of Listolade. Slowly we were getting used to the idea of leaving the mountains behinds us and return to the civilized world. The bus stop was located at a chaotic parking lot in front of the Albergo Monte Civetta. We sat down inside the Albergo for a cool drink, accompanied by eighties videoclips and Tiroler dancing on the tv. With the few Italian words I know I managed to buy two bus tickets from the bar (no English spoken here at all). Twenty minutes later our bus arrived and we took off for Agordo (and subsequently Belluno).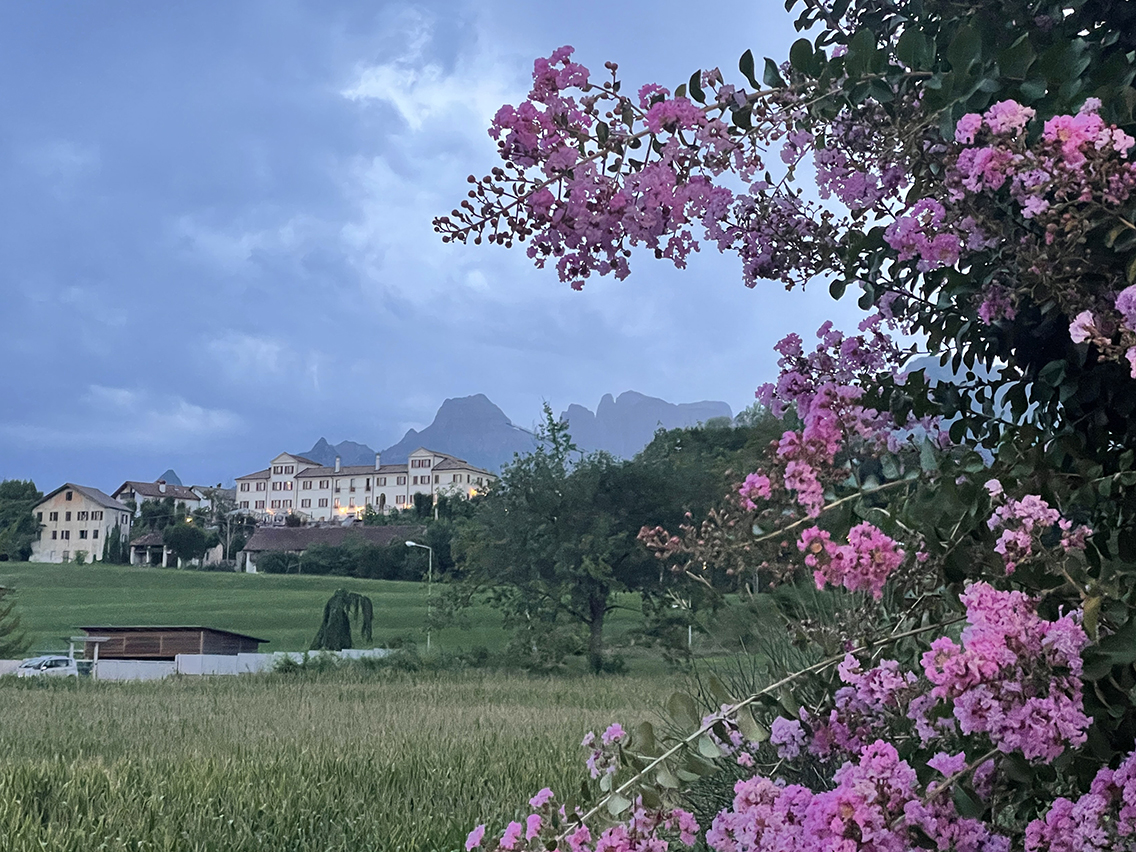 Hotel Villa Carpenada in Belluno
The bus filled up with more hikers when we stopped at La Pissa, the official end of the Alta Via 1. In Belluno we found a taxi to our hotel Villa Carpenada that in a beautiful location just outside of town.
Now this was a fantastic and luxurious hotel, but the most important feature for this afternoon of the was the shower.
Before we travelled to Italy, we had already sent a package to this hotel, containing important items to look forward to: clean clothes and new books. After a long shower it was such a great feeling to wear clean clothes again!
During our hike we had been reading Roald Dahl's Fantastic Stories, ripping out pages as we made our way from hut to hut. Now we had only 2 or 3 stories left, but we got one book each from our package to last the next 2 days in Italy, before our flight back home.
Alta Via 1 Hiking Statistics
Total distance: 88,2 km (55 mi)
Total time: 34 hours of hiking (8 days)
Total ascent: 4.239 m (13,907 ft) 

Total descent: 4.184 m (13,727 ft)
Highest point: Forcella Lagazuoi, 2583 m (8474 ft)
Lowest Point: Listolade, 823 m (2,700 ft)

Best Rifugio for atmosphere: Beilla

Best Rifugio for views: Coldai

Best Rifugio for comfort: Fanes