Day 4 and 5 of the Alta Via 1 held high passes and spectacular rocks in store for us. Sometimes steep and challenging, we were always rewarded with dramatic views. Due to impending storms we changed our plans in order to arrive at the rifugio's before thunder and lightning began.
Trail Overview Part 2 (day 4–5)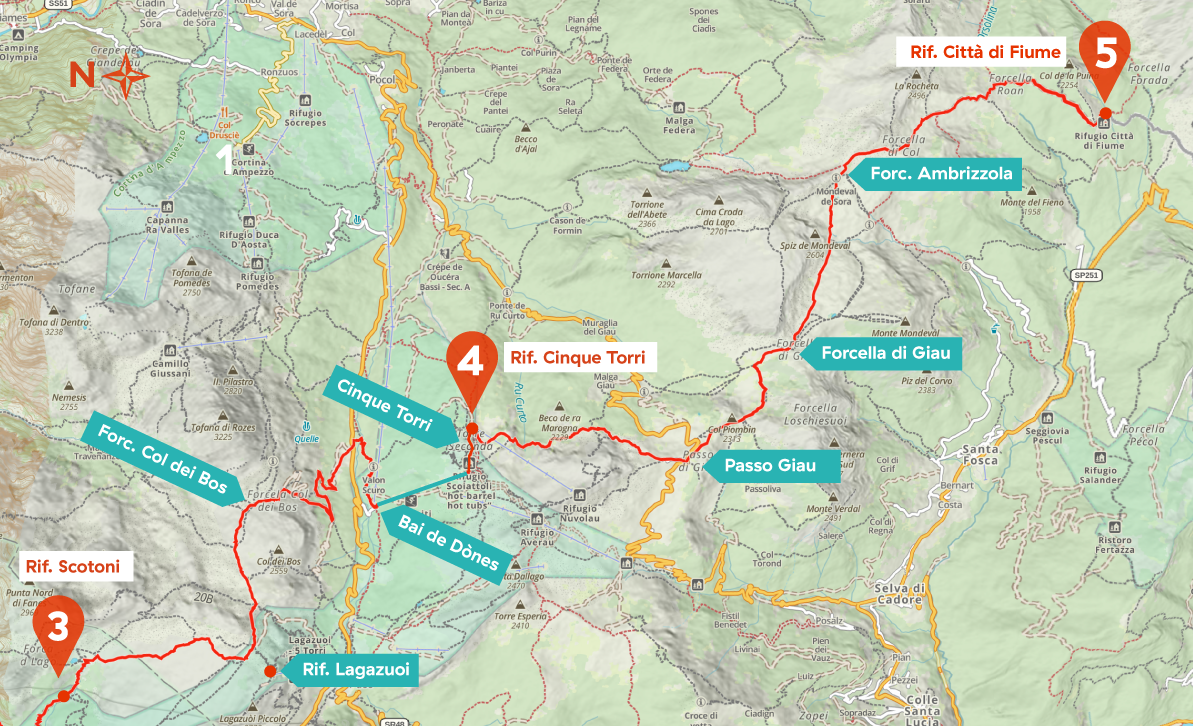 Alta Via 1, day 4 to 5:  from Rifuio Scotoni tot Rifugio Cinque Torri and Città di Fiume (Note the North is left)

Day 4: Rifugio Scotoni to Rifugio Cinque Torri
Start: Rifugio Scotoni, 1.400 m (4,593 ft)

End: Rifugio Cinque Torri, 2.137 m (7,011 ft)

Distance: 13,6 km (8.5 miles)

Elevation gain: 1.055 m (3,461 ft)

Elevation loss: 916 m (3,005 ft)
Highest point: Forcella Lagazuoi, 2.583 m (8,474 ft)

Time: 5:20 hrs moving time, 5:50 hrs total time

Date: August 6, 2022
Lagazuoi Staircase
From our Scotoni bedroom we heard the cowbells ringing all night. I liked this familiar sound, but eventually I resorted to earplugs for a good night's sleep. Next morning I woke up even before my alarm went off at 6:45 a.m. Christine and I were showered, dressed and packed by the time breakfast was served.
Breakfast was very fine with yoghurt, boiled eggs and Apfelstrudel (yes – we were still in Tirol). We said goodbye to our befriended German family, who would be leaving the AV1 today. At 8 a.m. we were on the trail again.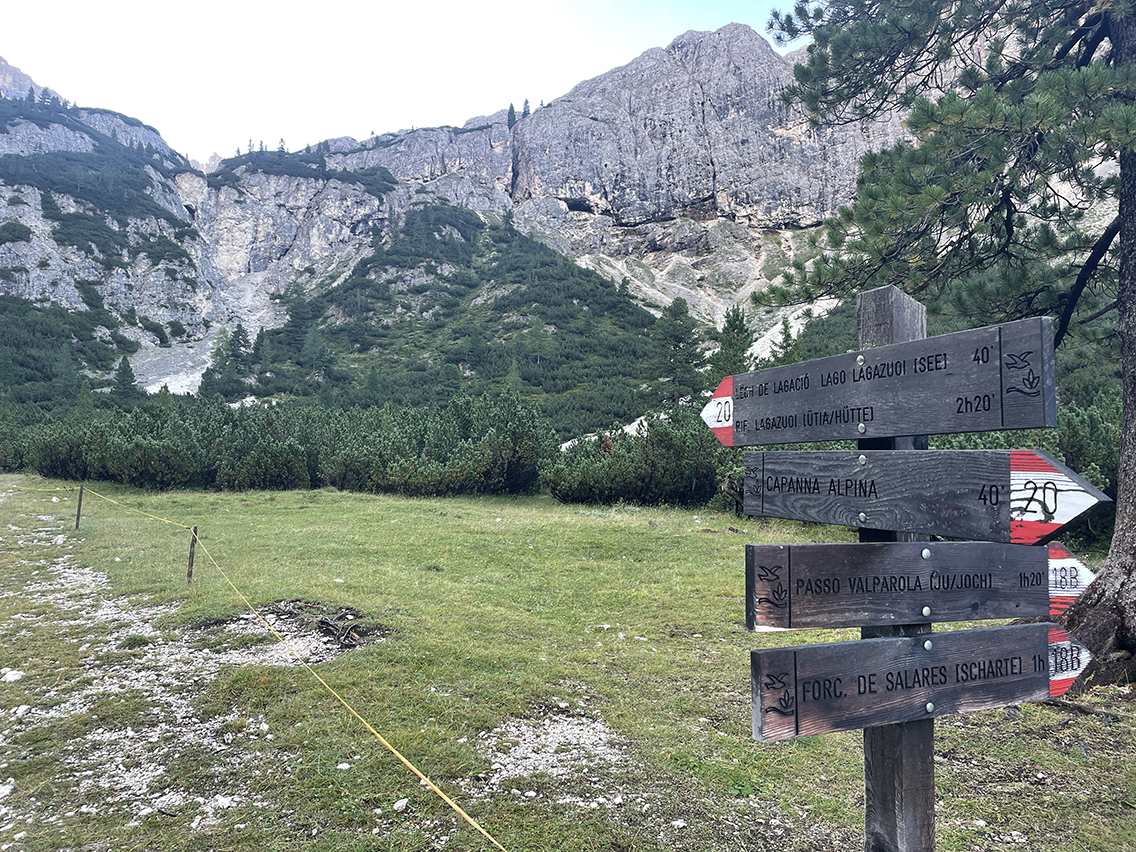 The steep ascent to the Alpe di Lagazuoi
I was dreading the upcoming 250 m. ascend straight up to the Forcella di Lago junction on the Lagazuoi alp. From a distance the climb seemed impossible, but a well built zigzag path took us to the junction within 30 minutes. About halfway the ascend we passed the Ega water source, the highest spring in Europe (2,148 m. / 7,047 ft). Water from this spring is bottled and sold under the name of Acqua Ega Scotoni (a bottle was included with dinner at the hut).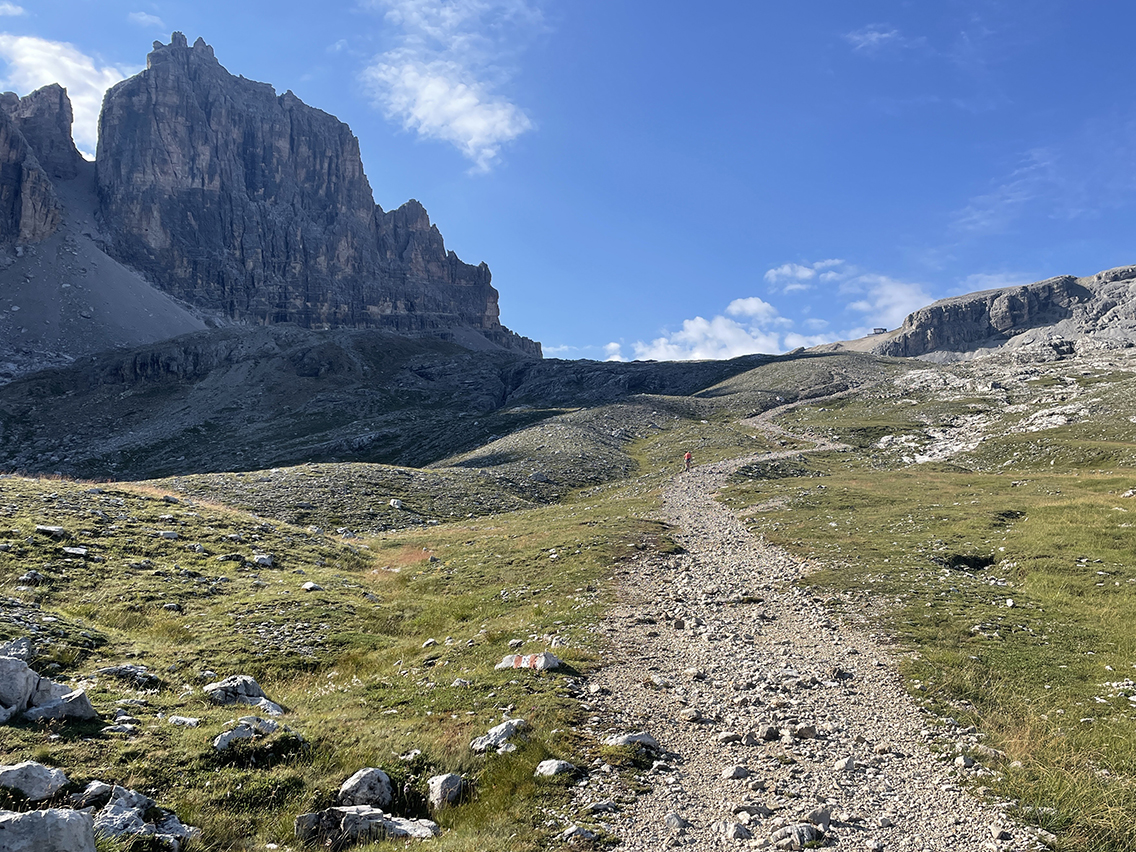 Christine hiking under the massive Lagazuoi Gran wall –the Rifugio Lagazuoi is visible on the left.
We came to a moderately ascending path over the plateau, eventually leading to the main pass of the day: the Forcella Lagazuoi, another 250 m higher. This was World War 1 terrain (once Austrian, now Italian) with various wartime ruins. There were traces of the trench system and buildings reduced to rubble. We thought about the soldier's suffering that must have taken place in these mountains a century ago. I felt we should actually not be there at all, out of respect for the young men that had died here. It was like hiking on burial grounds.
Forcella Lagazuoi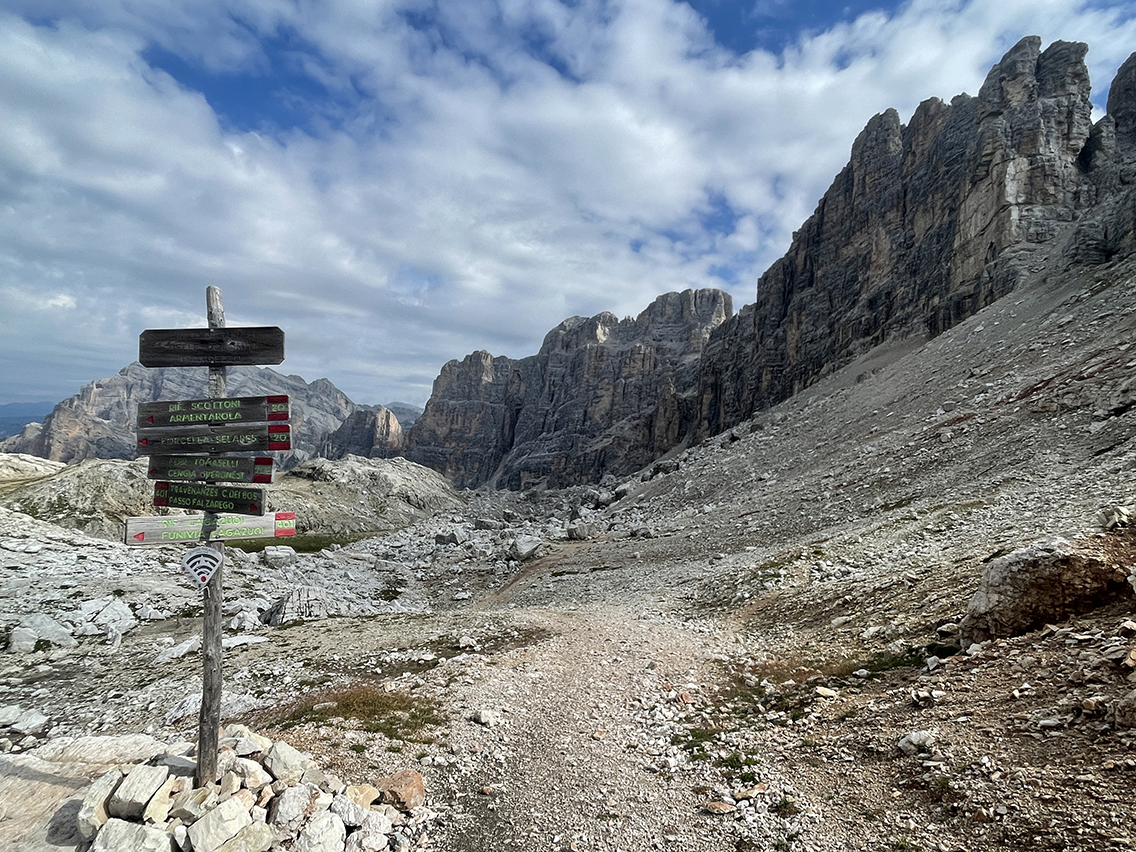 Zimes de Fanes and the Lagazuoi Gran
In the distance we could already see the Rifugio Lagazuoi perched high on the massive rock. The terrain looked like ski slopes without the snow (which they actually are, as I found out later). The pass Forcella Lagazuoi, about 200 m below the Rifugio, was easy to reach and as always, the moment the new landscape rose above the pass was magical.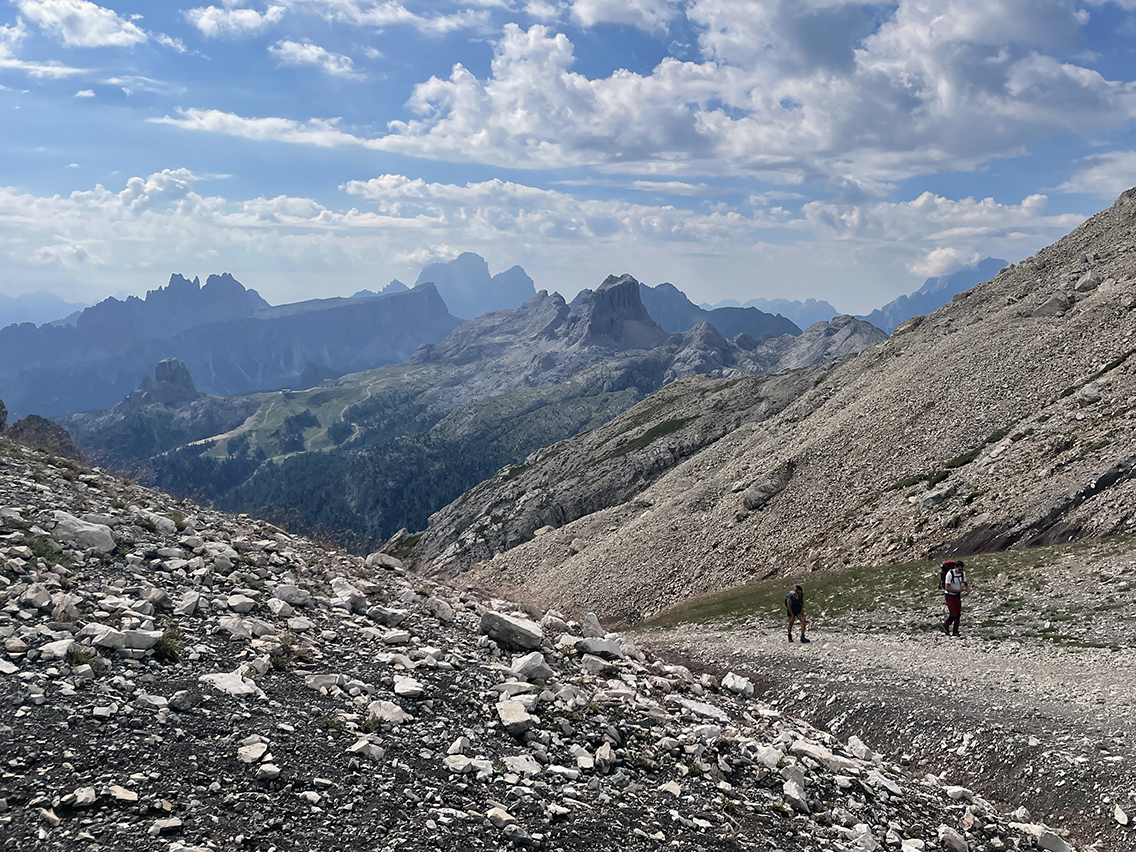 Forcella Lagazuoi (2.583 m / 8,474 ft) with a view all our future destinations: Cinque Torri (foreground left of  center), the dented Croda da Lago behind it; far away Monte Pelmo (off-center) and the vulcano-like stump of Nuvolau (foreground right). 
The view from the pass was breathtaking: sights of all the spectacular mountains but also an acrophobia inducing abyss down to the Cortina d'Ampezzo valley. I began to feel lightheaded and wanted to go down to the next pass rapidly. Christine did not seem to be bothered by the heights and walked down as smoothly as the many other hikers on this part of the trail.
Tofana di Rozes, approaching Forcella Col Dei Bòs
It only took us about 15 minutes to hike down to the Forcella Travenanzes, a flat saddle 100 meters lower. We rested for a while to let my anxiety fade away. The trail continued to the high valley Travenànzes on the other side of the Lagazuoi wall, with some spectaculair views again. Ahead of us lay the massive Tofana di Rozes – half obscured by clouds – and the Forcella Col dei Bòs, another 150 meters lower. The trail was pleasantly easy, with a small stream running next to the trail and enormous rocks scattered all around the place. 
Forcella Col dei Bòs
It was 11 a.m. when we arrived at the Forcella Col dei Bòs. Suddenly we were surrounded by hikers and climbers in multi-colored nylon jackets and backpacks. Apparently there were some guided hiking or climbing tours into the Travenànzes or up the Tofana. Below the pass the official Alta Via  follows the 440 trail at the foot of Tofana, while there is also a less scary trail parallel to it on lower elevation (412) which we planned to follow.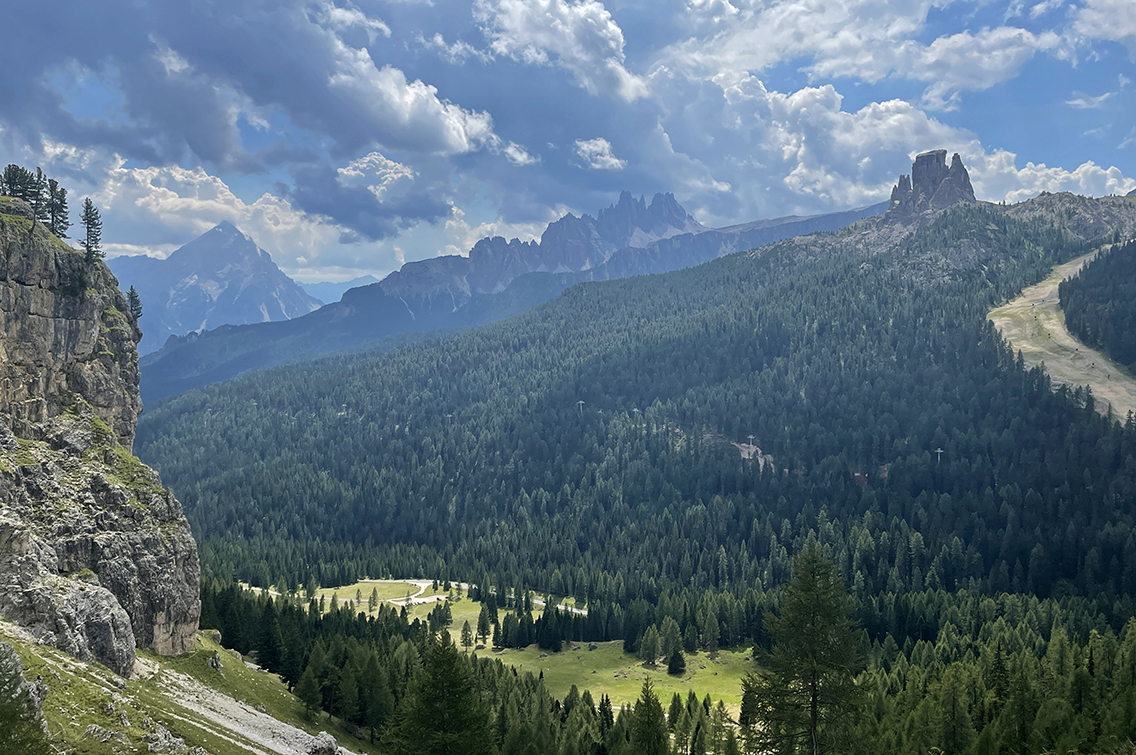 View of Cinque Torri with the ski slopes and chairlifts on the right.
Both trails lead to Rifugio Dibona, but because of the threat of a serious thunderstorm we decided to skip Dibona altogether and take a shortcut into the valley and up to Cinque Torri. Moreover, as the storm was predicted to occur around 1 a.m. we knew we were never going to get to Cinque Torri in time. So we decided we would take the chair lift from Bàin de Dònes to Scoiattoli. But even that proved to be a challenge.
We could see the chairlift from far behind, but had to descend for a long time on a long zig-zagging truck track. And when we finally reached the bottom of the valley, we were too far east and had hike back for another 30 minutes to the lift. We walked underneath the pine trees that provided some shelter from the rain that had begun to fall, but now the lightning began to strike as well.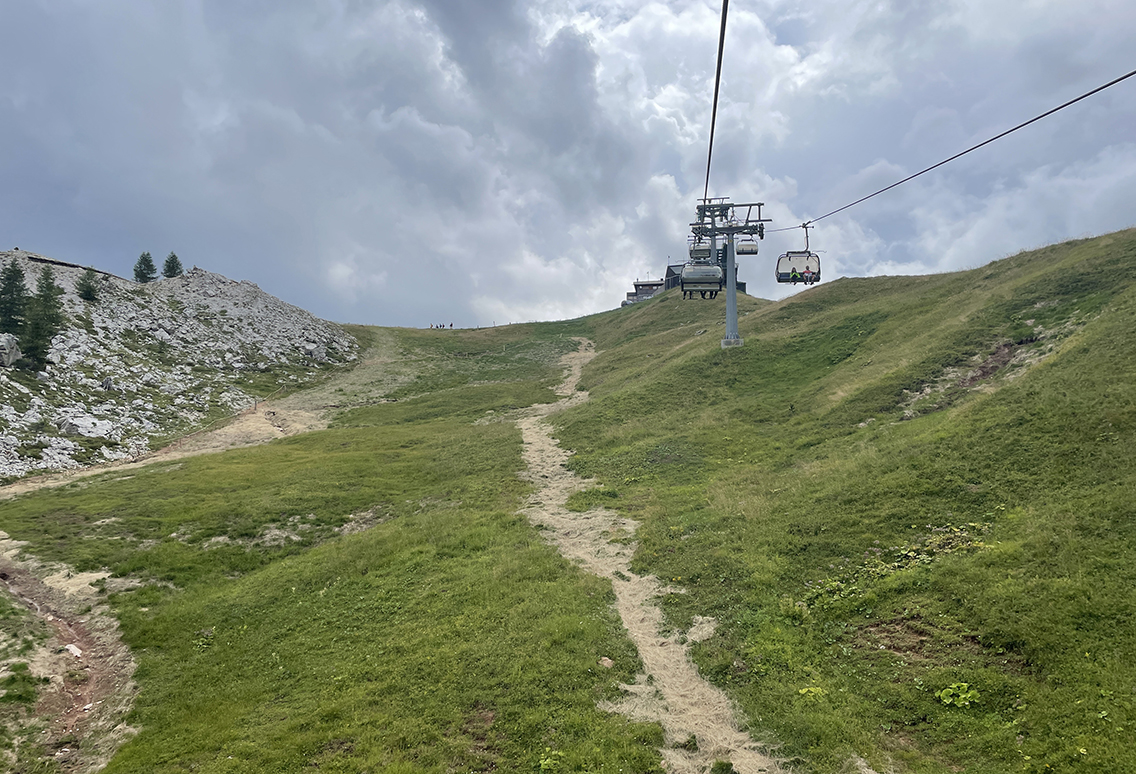 Chairlift from Bàin de Dònes to Cinque Torri
I was trying to stay positive, but I was worried they would stop the lift because of the lightning. The dense woods and hills obstructed all views ahead to the lift station so until the last moment we were unsure wether or not we would be going up the mountain today. When I arrived at the station and saw the chair lift moving, I cried out with happiness. Christine mistook this as a cry of disappointment – so imagine her happiness when we sat snugly in our seat a few moments later, ascending 300 meters in 10 minutes. 
Cinque Torri
During our ride, the rain as well as the lightning had ceased. The chair lift terminated at Rifugio Scoiattoli, a very busy hut/restaurant. We were exhausted from today's hike, with only the chairlift as a break from walking, but we found the hut so unattractive that we moved on for the last 20 minutes to Rifugio Cinque Torri.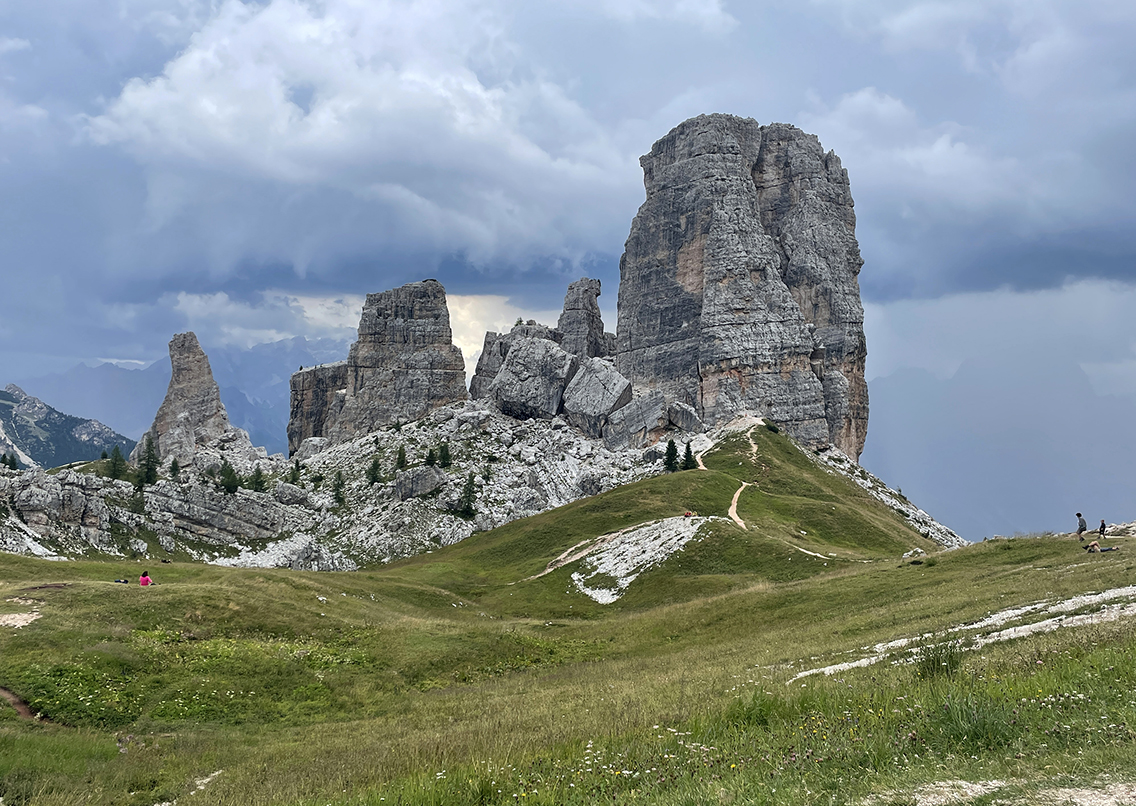 The five towers – Cinque Torri
Stepping off the lift platform, the first thing that came into view was, of course, the Cinque Torri rock. Spectaculair, especially with the menacing clouds behind them. The rifugio should be somewhere around the corner of the Torri, so we hiked down closer, crossing a grassy field. Passing the biggest tower, we heard a man shouting from halfway the vertical wall: 'Hello, do you speak English? Can you help us?' It turned out that his climbing partner had fallen off the cliff and was hanging head down on his rope, just about 2 meters from the ground. Somehow a knot had gone wrong and he couldn't release himself from his position. Luckily some other hikers were close by and they helped the guy out of his uncomfortable situation. This was our introduction to the world of Cinque Torri ascends.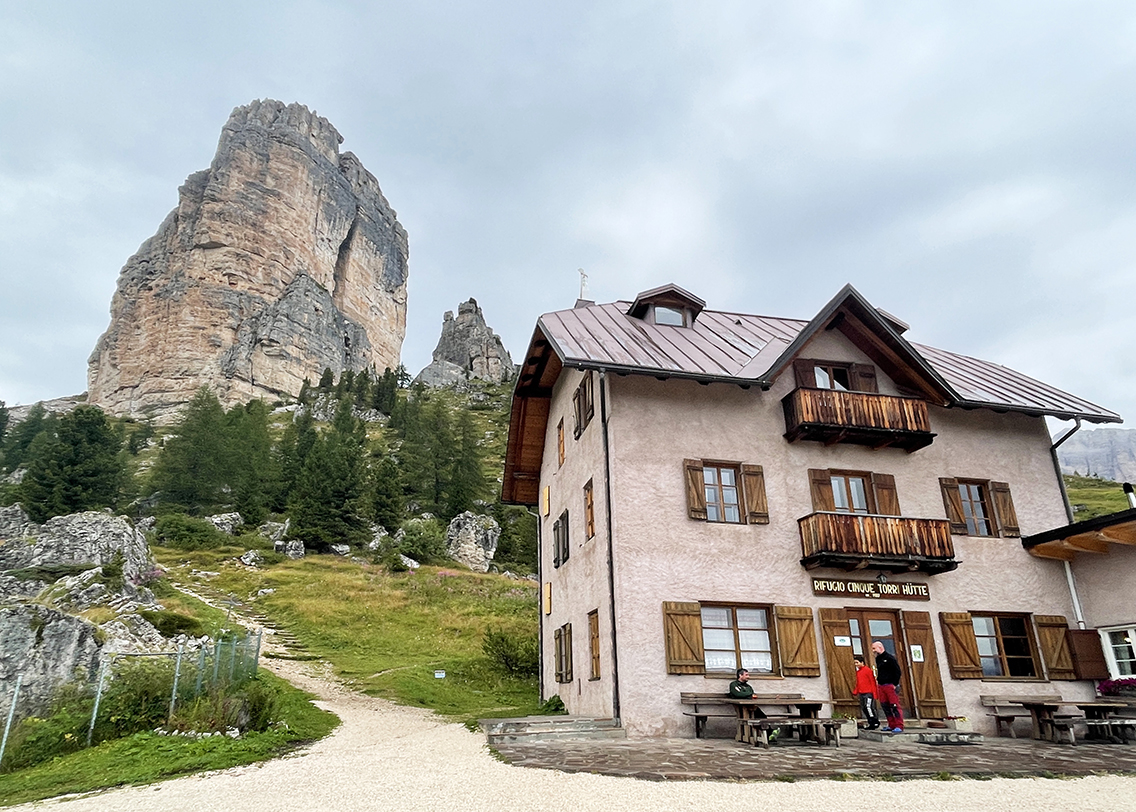 Rifugio Cinque Torri, just after the thunderstorm.
Within 20 minutes we reached the rifugio. It was crammed with people, we could hardly step inside the lobby. But the warden was really nice and she took her time to show us to our (two-person) room. A beautiful, though sparsely decorated room with wooden furniture and thick, bright red bedding. The view of Croda da Lago from the window was spectaculair despite the cloudy sky. The moment we sat down on the bed the thunderstorm began for real. Thunder and lightning roared and the rain was banging the windows. 
We took our time to unpack, shower, filter tap water (not 100% sure if this was necessary) and nap.
When we went down to the dining room for coffee and a strudel, the hut was almost deserted. Only a few Alta Via hiking parties had stayed; one of them was Tom and his family from Seattle. We had a friendly chat about our experiences on the trail so far. 
Making our plans for the next day, I decided we needed to leave at 6 a.m. to avoid the thunderstorm that would come in at noon tomorrow. The official breakfast would start at 7.30, so I arranged an early breakfast with the warden. Later that evening she gave us a package of bread, cheese, fruit and apricot juice to have as breakfast.
Dinner was a typical Italian hut meal: a delicious pasta with sauerkraut and sage. Even before it was dark, we fell fast asleep in our room.
Day 5: Rifugio Cinque Torri to Città di Fiume
Start: Rifugio Cinque Torri, 2.137 m (7,011 ft)

End: Rifugio Città di Fiume, 1.918 m (6,293 ft)

Distance: 14,3 km (8.9 miles)

Elevation gain: 482 m (1,581 ft)

Elevation loss: 703 m (2,306 ft)
Highest point: Forcella di Giau, 2.357 m (5,078 ft)

Time: 6:10 hrs moving time, 8:20 hrs total time

Date: August 7, 2022
Up at 5.15 a.m. and after drinking the bottles of apricot juice we were on the trail at 6 o'clock. It was still cold so we were hiking in our puff jackets. The morning light set the scenery in a pink glow. Down from the hut a green field was dotted with little tents. These were from a group of teenage boy and girl scouts that had arrived yesterday evening.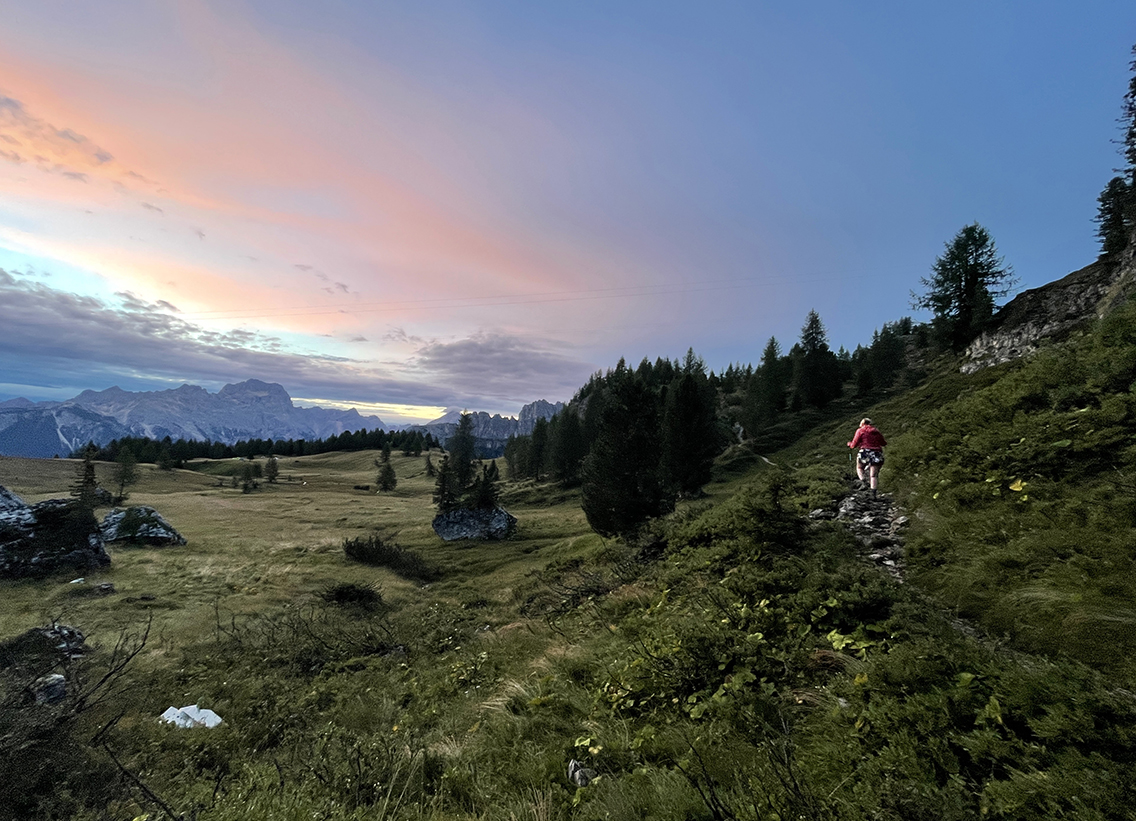 Leaving Cinque Torri
Instead of the main Alta Via 1 trail via the high Rif. Nuvolau we followed the lower alternative (nr. 443) directly to Passo Giau. The initially ascending trail was firm, but overgrown with many roots which made cautious movement necessary. Soon we arrived by an extremely steep gully where an almost vertical descent was only made possible by the wooden beams that formed zigzagging stairs.
The Croda da Lago mountain group
After some more steep scrambling and navigating we came to a more open landscape, a high a valley strewn with boulders. There were beautiful views of the mountain group we would see up close in a few hours. We took a break here to eat our breakfast while I made a liter of electrolyte lemonade. We drank half a liter of it and continued on the trail.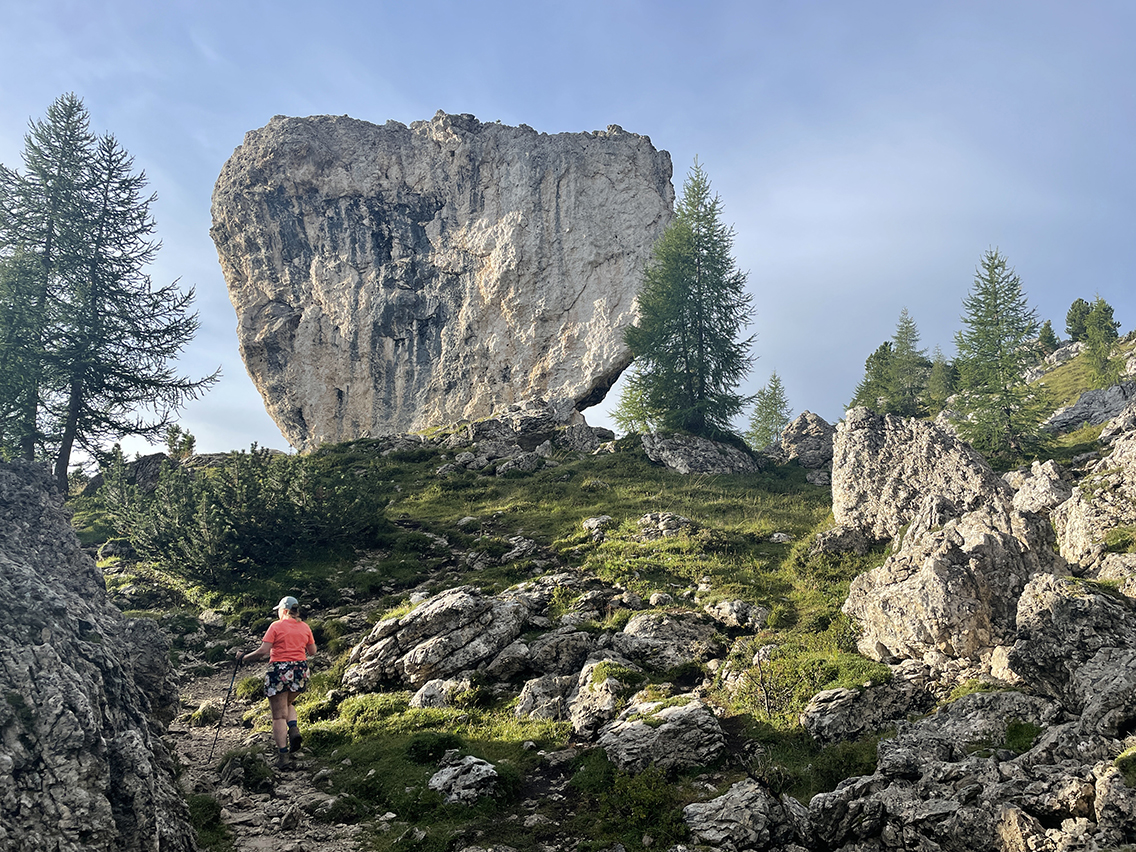 Between Cinque Torri and Passo Giau 
Passo Giau
Slowly the trail changed to a more flat and grassy track, contouring the Nuvolau mountain. In the distance Passo Giau was visible, one of the steepest and most difficult mountain passes in Europe – for cars and cyclists, that is. From an Alta Via hiker's perspective this pass must be the easiest, flattest ever.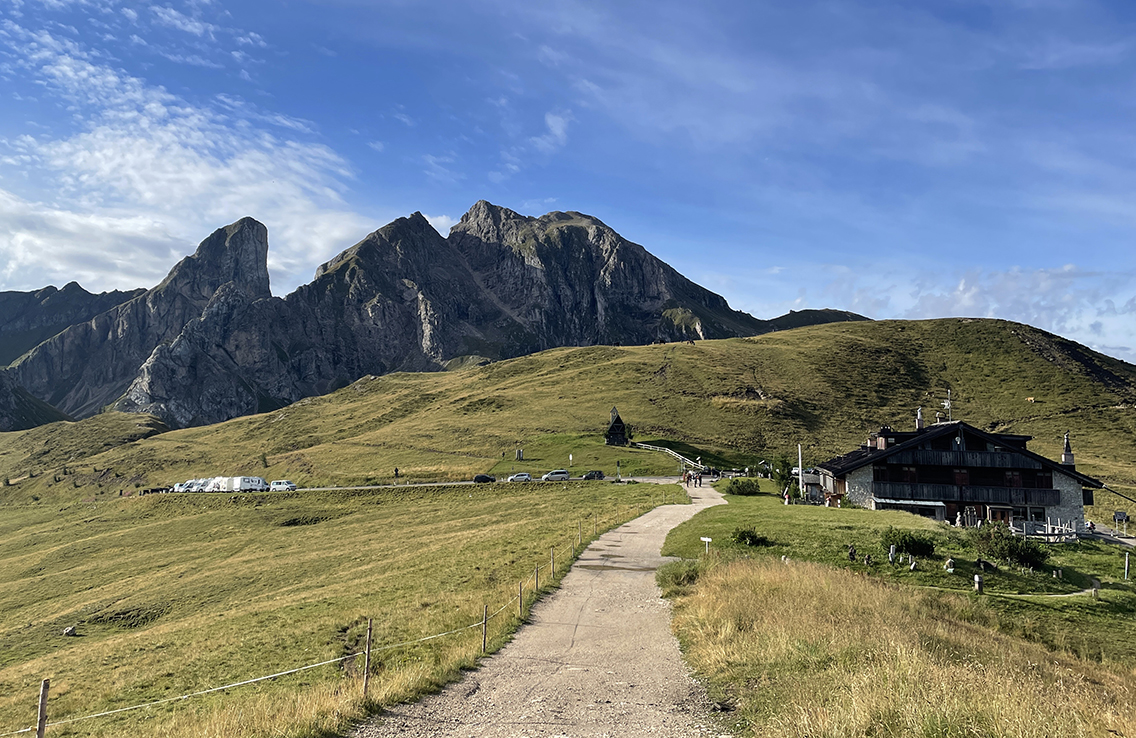 Passo Giau (at 2.236 m / 7,336 ft) and Rifugio Giau
At the pass we sat down at the restaurant for coffee. Christine read aloud from the notice boards: the Dolomites are named after the geologist Dolomieu who first studied the calcareous rock of the South Tyrolean mountains. Other crazy facts about the Dolomites: once this was the bottom of a sea, was then pushed up and subsequently covered with giant glaciers that were 2.000 meter thick.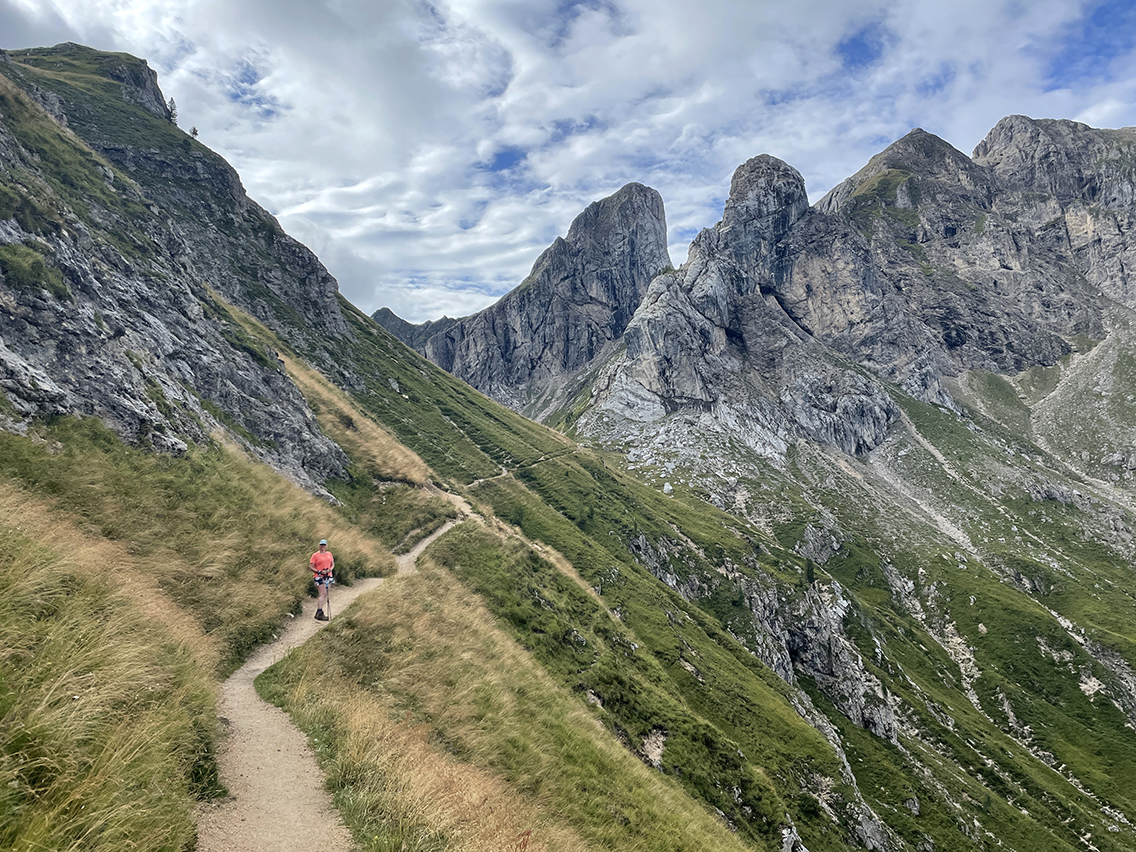 Between the Forcella Zonia and Forcella Col Piomben
The next part of the trail would take us to Forcella di Giau. I assume that in Italian there is a difference between a motorway pass (passo) and a pass for walkers (forcella). Anyway, the Forcella is 120 m. higher than the Passo and the trail to it led us along two minor passes first: Forcella Zonia and Forcella Col Piomben. Only after these passes the trail was getting a bit steeper, and because of the recent downpours, treacherously slippery.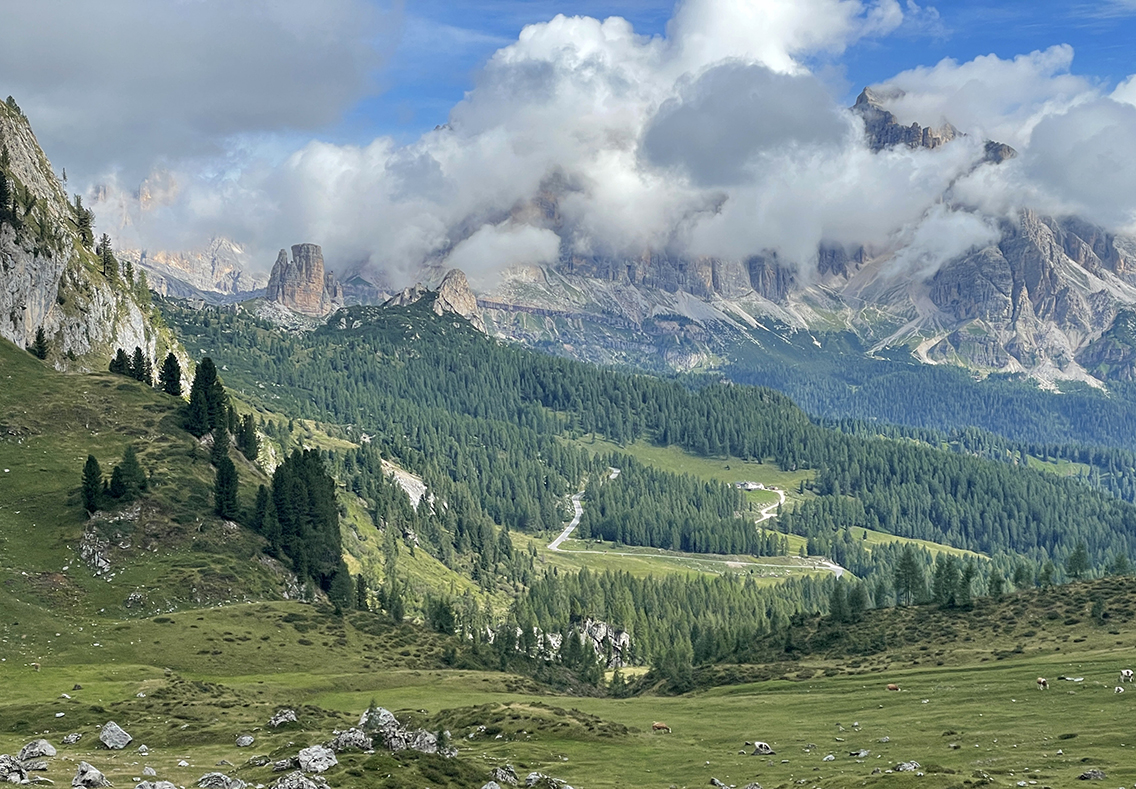 Looking back to Cinque Torri one more time
Forcella di Giau
A slippery and tricky ascent, but what a view! Behind us was Cinque Torri again and, surrounded by the clouds, Tofana de Rozes. When we arrived at the pass looking east, the sky was much darker and views were limited. We put on our raincoats against the cold wind and for the first time we were the red and yellow couple, instead of the orange and green duo.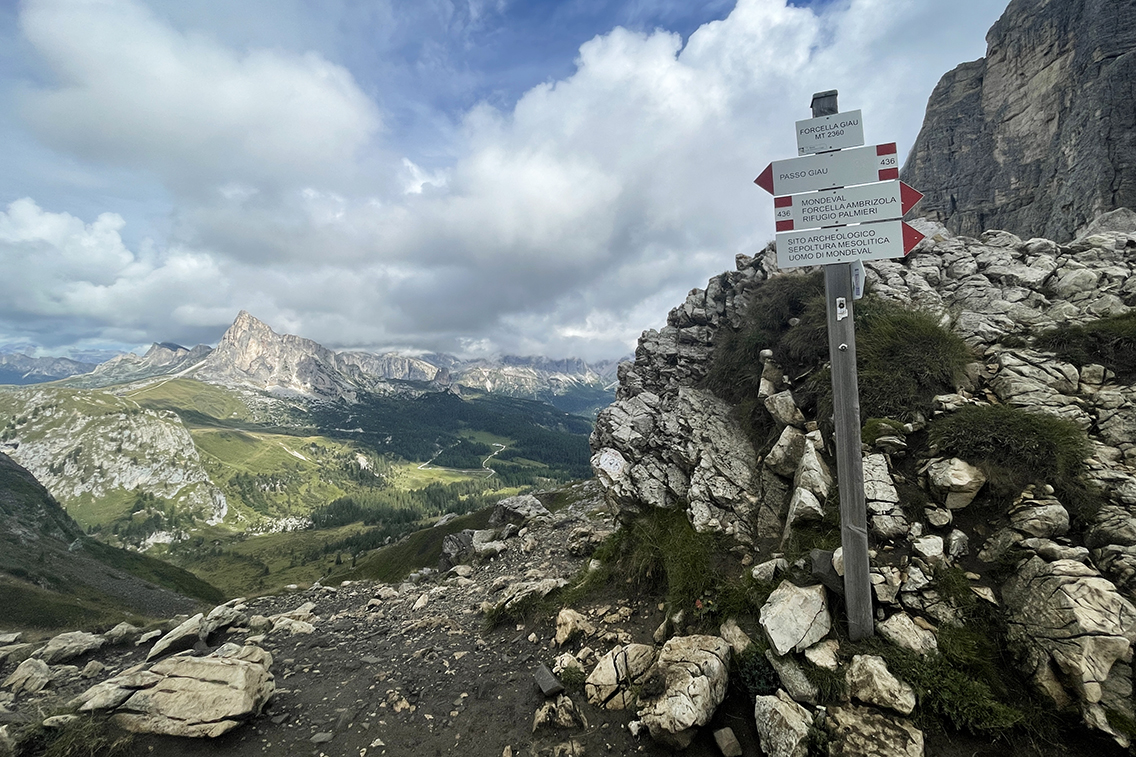 Forcella di Giau (2.357 m/5,078 ft)
Just as we were celebrating our successful ascend with a Mars bar, Tom and his family arrived at the pass. Apparently they had been hiking rather speedily, already catching up with us after they had waited for the 7.30 breakfast at Rifugio Cinque Torri. Tom took a photo of us (see top of the page) and off they went again, while we stayed for a moment to admire our new surroundings and finish off our Mars bar.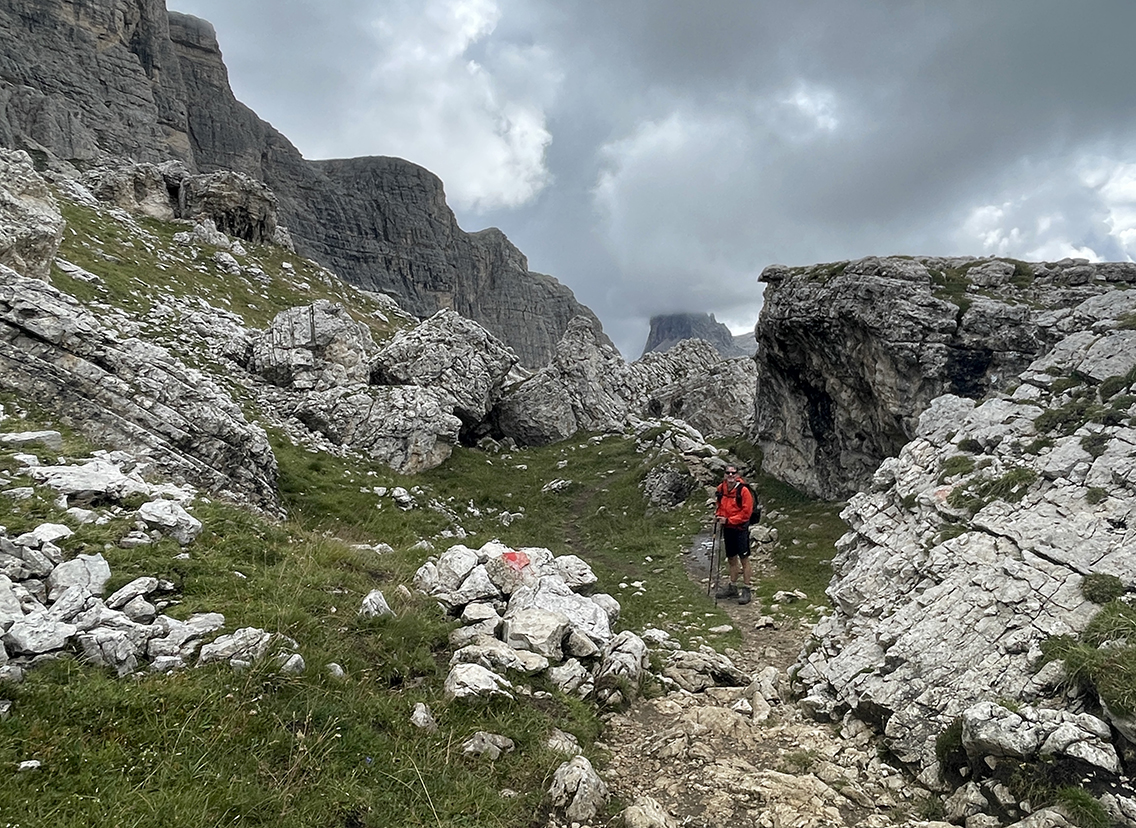 Trail below Forcella di Giau 
The clouds in the distance indicated that the storm was coming in soon. We were only halfway to the next hut, so now our main objective was to be away from the next pass, Ambrizzola, before lightning would strike. I figured we would reach the pass around noon, which could be just in time, according to the weather forecast.
Meanwhile, the landscape was fascinating. To me it seemed to be a mixture of Scotland, the Alps, central Utah and… Italy. For the next hour we hiked along, under and through giant chuncks of Dolomite rock.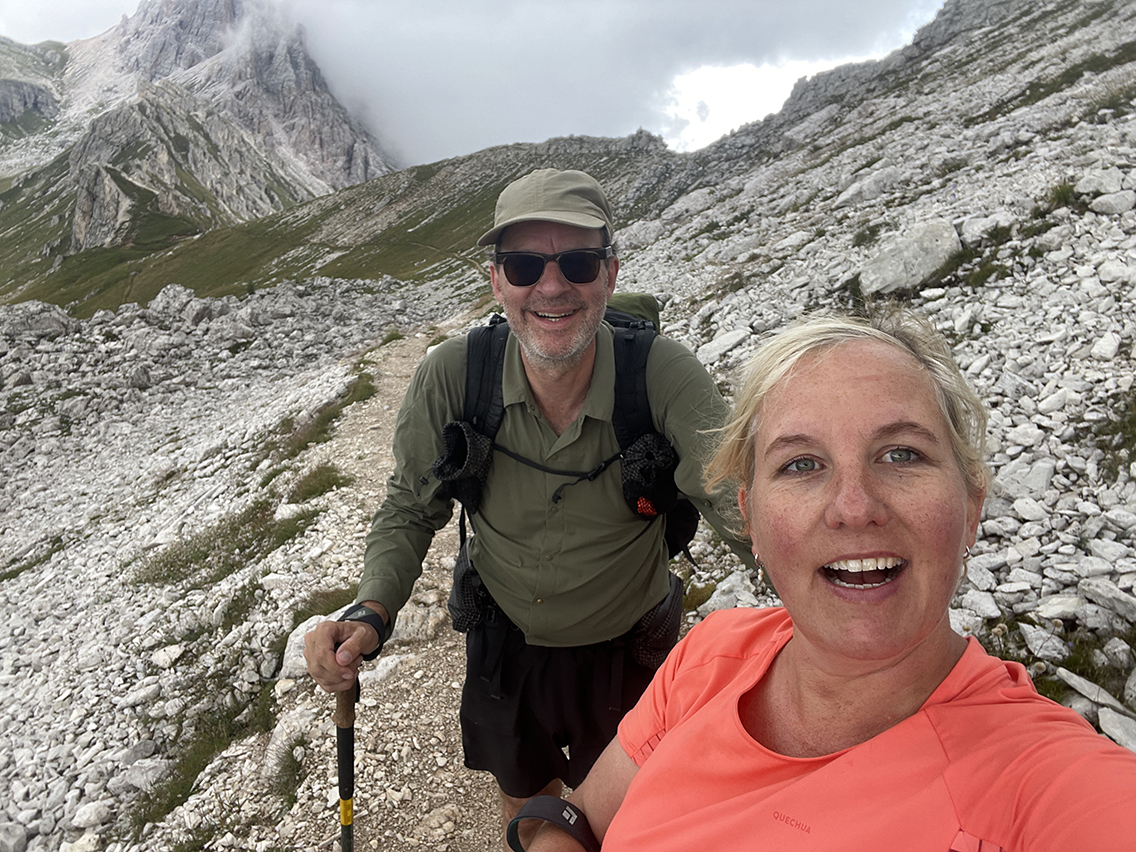 The second highest point of the day (at (2.315 m / 7,595 ft), just after Forcella Ambrizzola
We passed a side trail to a mesolithic encampment but we didn't want to lose time and we pushed ahead to Forcella Ambrizzola. When we eventually made it to pass before the storm (we even removed our raincoats), we were happy and relieved. We still had a few hours to go, but the worst that could happen now was getting soaked – the danger of lightning was much less on the lower elevations.
Rifugio Città di Fiume
We hiked over several other minor passes, basically descending straight to the south. Soon the giant and distinctive Monte Pelmo came into view – a mountain top that had been visible all through the hike. Now it was enshrouded in thick clouds and below it, far away, we saw the little white speck that was to be our home for the night: Rifugio Città di Fiume. 
Below the last pass, Forcella Roan, was a large cowshed were we stopped to eat some of our oat cookies and take a last gulp of electrolyte drink. To kill the time during the last hour on the somewhat boring gravel track, we invented a new wordplay game called Toothpick Superman which is as crazy as the name suggests. But soon enough we rounded the last sharp bend in the road and arrived at the hut at 2 p.m.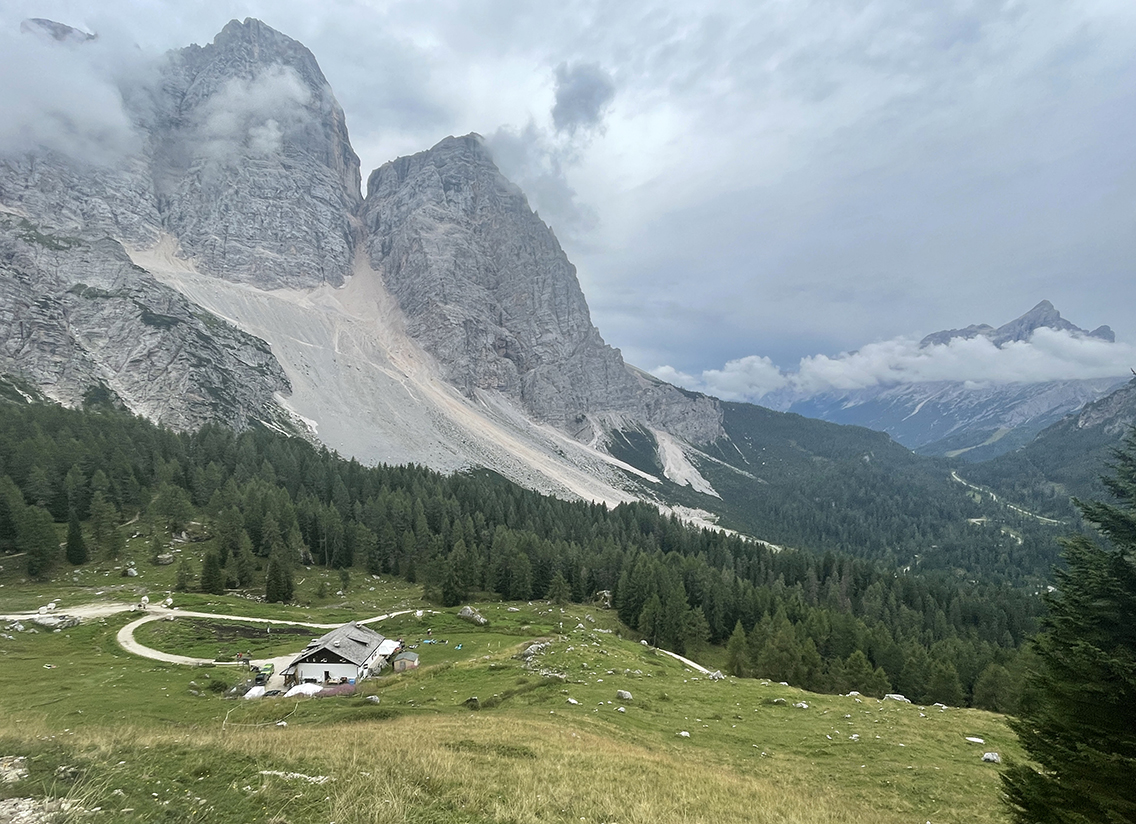 Rifugio Città di Fiume dwarfed by Monte Pelmo above
It was not crowded at Città di Fiume. The simplicity of the hut reminded us of Biella. Our room was a six-person room with bunk beds, but we had the place to ourselves. There was one tiny shower down the narrow hall, but the water was warm and I felt revived afterwards. While Christine took a nap, I installed myself downstairs with a cup of tea and my topo map, to think about the days ahead. 
Then, at 3 p.m., a torrent of rain began and violent lightning struck. The hut's surroundings became dark as night, repetitively illuminated by bolts of lightning. Our early start this morning payed off.
Rifugio Città di Fiume
Checking tomorrow's weather forecast, I concluded that we had to change our plans in order to be indoors before 1 p.m. when another storm would hit the Dolomites. We should go not any further than Rifugio Coldai (instead of Tissi, two hours ahead). And subsequently it would be impossible to reach Passo Duran the day after tomorrow as we planned. So I decided Vazzoler would have to be the last hut we would visit on the Alta Via 1, before we would exit the trail to Belluno.
I emailed both huts a booking request and in anxious anticipation of their answers we ate our dinner. The vegetarian menu was limited but excellent: pasta with spinach and 4 different local cheeses. The good thing about these Italian rifugio dinners is that they always have three courses with loads of pasta and cheese. No need to worry about not eating enough carbs and protein.
After dinner both Coldai and Vazzoler confirmed so we went to sleep with a peace of mind and the shutters closed to keep out the raging storm.
 < Previous: Alta Via 1 part 1: Biella – Scotoni
 > Next: Alta Via 1 part 3: Citta di Fiume – Belluno