The first three days of the Alta Via 1 started with a steep climb up to Rifugio Biella and continued along various mountain huts offering stunning views of the Dolomites. On the third night we slept at Rifugio Scotoni, just off the official Alta Via trail, avoiding the the defiantly high Lagazuoi hut.
Trail Overview Part 1 (day 1–3)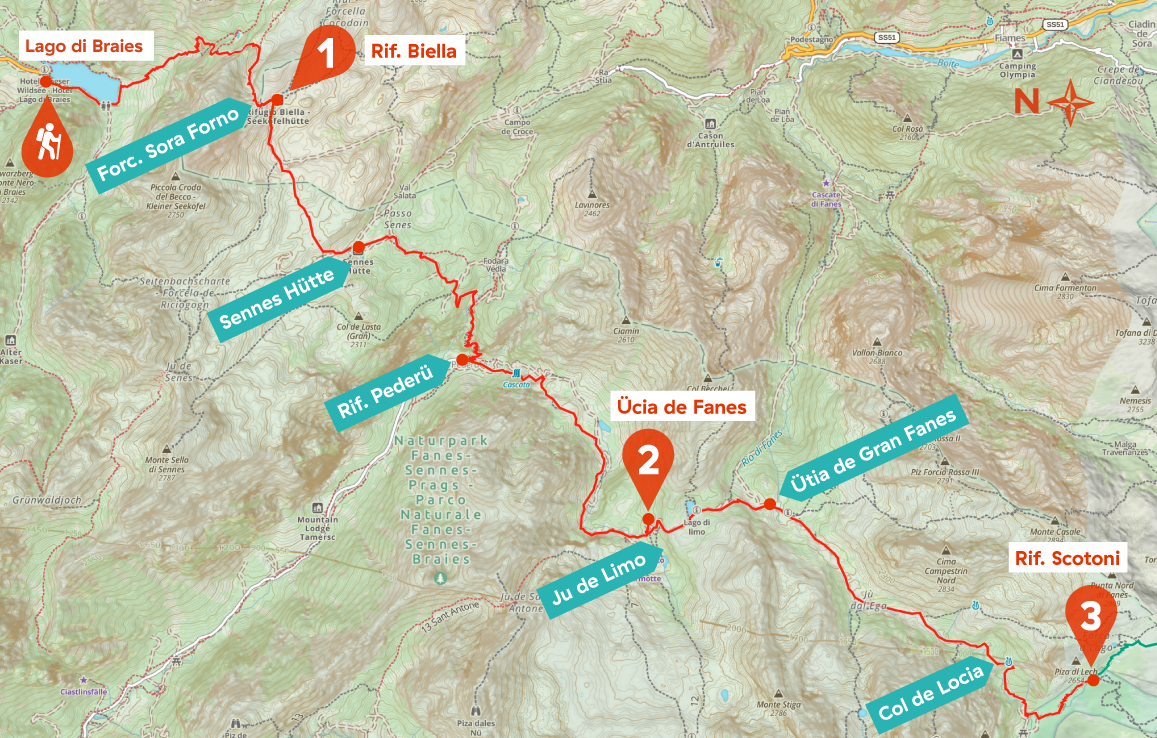 Alta Via 1, day 1 to 3:  from Lago di Braies to Rifugio Biella, Rifugio Fanes and Rifuio Scotoni (Note the North is left)

Day 1: Lago di Braies to Rifugio Biella
Start: Lago di Braies  1.494 m (4,901 ft)

End: Rifugio Biella, 2.300  m (7,545 ft)

Distance: 6,6 km (4.1 miles)

Elevation gain: 893 m (2,929 ft)

Elevation loss: 43 m (141 ft)
Highest point: Forcella Sora Forno, 2.388 m (7,834 ft)

Time: 2:50 hrs moving time, 4:40 hrs total time

Date: August 3, 2022
Farewell to Lago di Braies
Ready for a last legendary breakfast at the hotel Lago di Braies, before taking off to the legendary white chalk trail. Starting with croissants crème and yoghurt, a bright blue sky, but the trail ahead still in the shadows, the day could not have begun better. At 8 a.m. we hiked the Seeweg along the blue lake again, now in counterclockwise direction, to the AV1 junction. We turned right, finally starting the real Alta Via 1.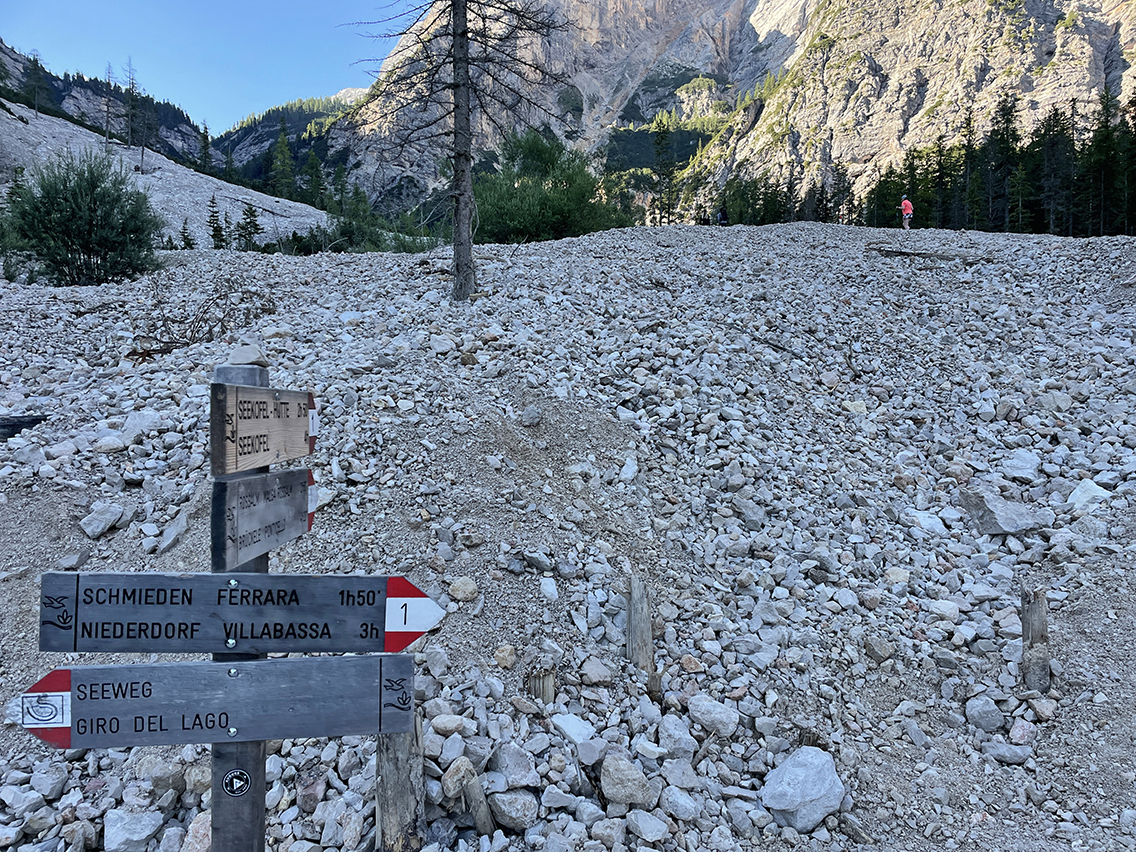 Alta Via 1 sign, the start of the longest ascent on the trail. 
A white gritty path crossed the desolate scree, but soon we reached a nice wooded area again. Today would be one of the shortest days (less than 3 hours), but also the steepest. We would ascend more than 800 m. to Rifugio Biella (the longest continuous ascend of the AV1), so we took our first hiking day in stride with lots of stops to admire the views back to the lake and up to the Seekofel mountain.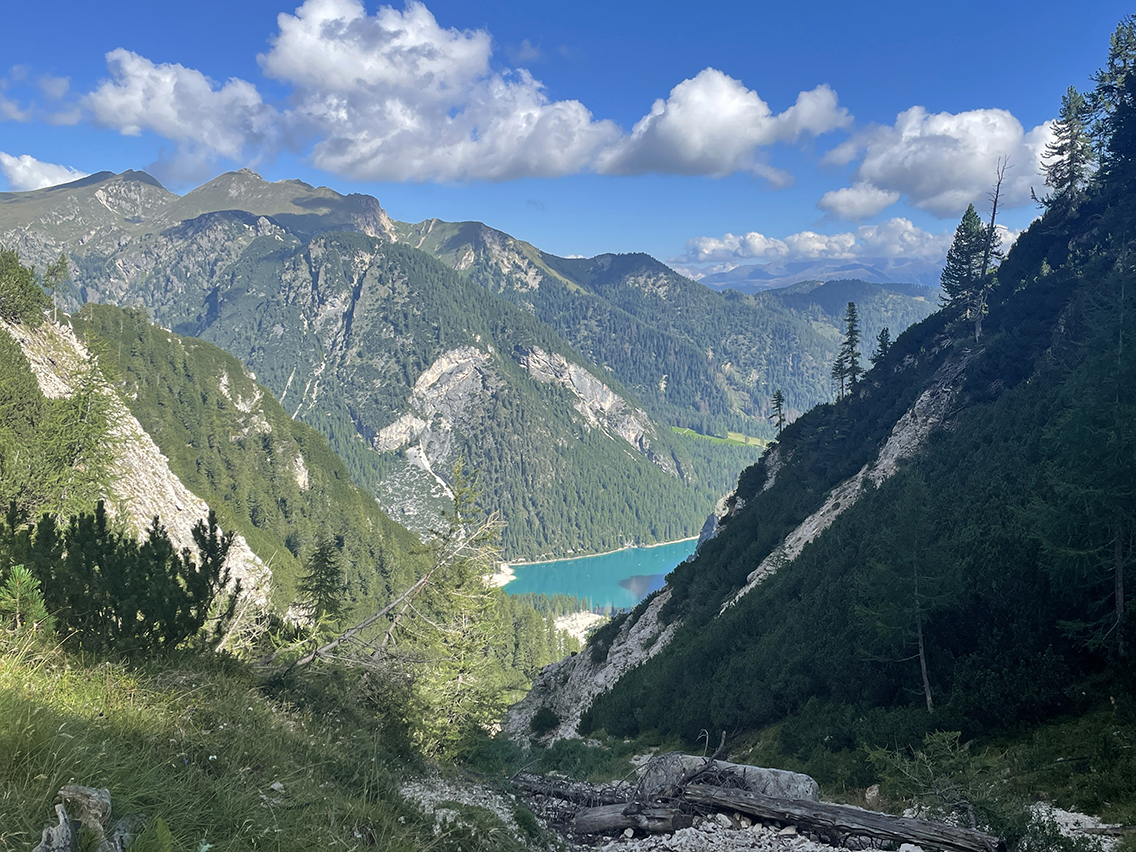 Looking back at Lago di Braies
Soon a large group of hikers passed us while we were enjoying our snacks with a view. Later we had to pass them again, when they were taking a break. The trail was quite narrow in places, and after a few zig zags there was a short exposed section, before we climbed up higher to a hanging valley. We took another break in the last shadow we saw for a long time. 
A Steep Ascend to El Forno
From the high valley we climbed up to a narrow path, contouring the mountain on a scree slope. At the end of this track we came to another exposed part of the trail, going almost straight up to a saddle. Luckily the trail had chains and steel cables all the way up. In spite of my acrophobia, which had recently acerbated during my Tour du Ruan adventures, I did not feel scared. Christine and I actually had quite some fun scrambling our way up!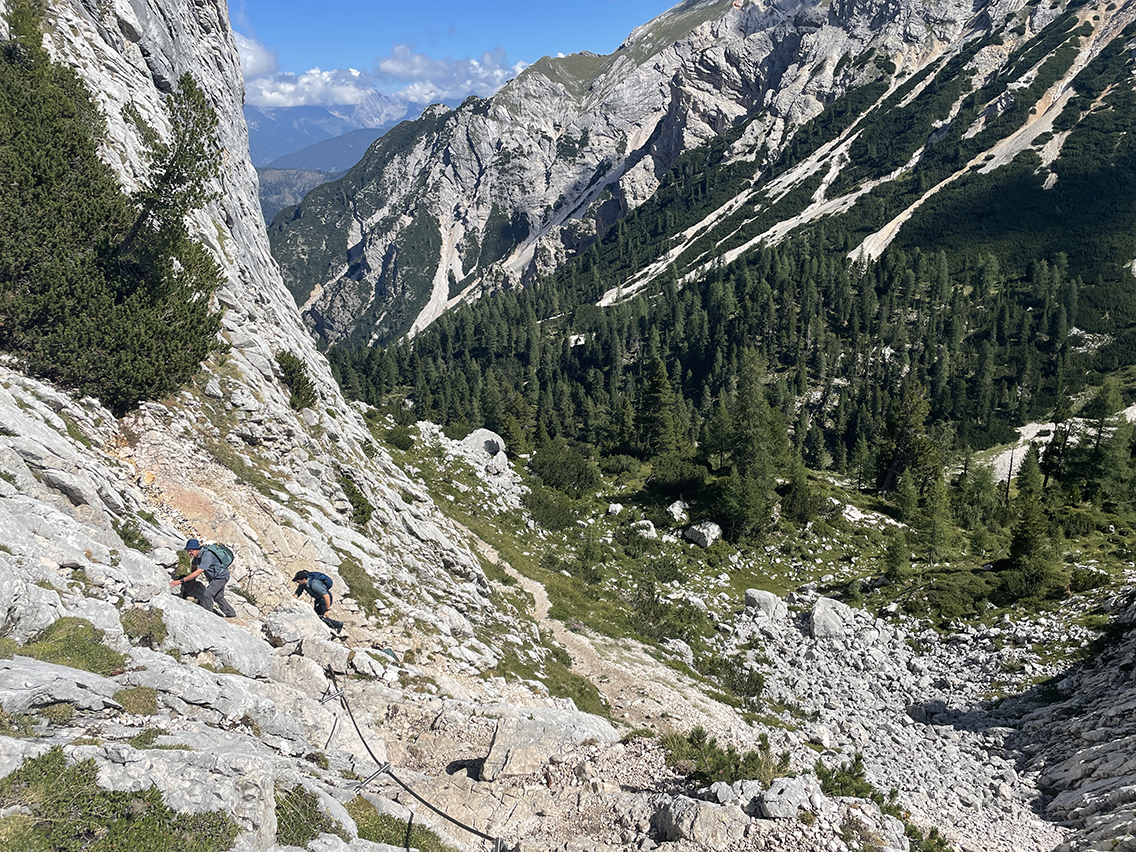 The chain aided section towards El Forno
Reaching the top of the vertical scramble, we came at the foot of the so called El Forno – The Oven. This gorge was given that name for a reason: it is a heat trap between the two walls below the pass. Before hiking on, we rested a while in the shadow of a giant rock. While we replenished our bodies with salted nuts and electrolyte drinks, a black butterfly landed on Christines hands and trekking poles. Butterflies need salt, too!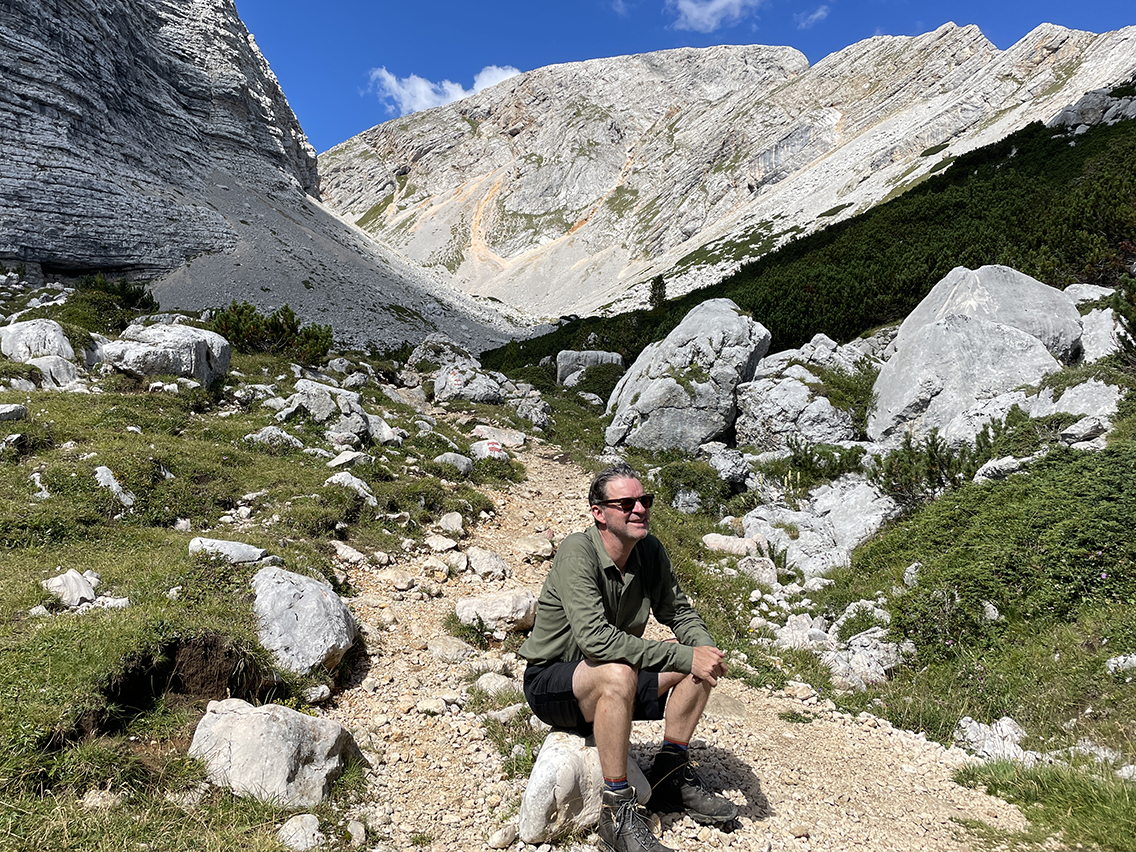 Just before hiking into the infamous El Forno section of the trail
It was about 11 a.m., so the heat was still somewhat bearable while we traversed the gorge. We found absolutely no water sources on the entire trail between the lake and the Biella hut. Carrying 2,5 liters of water during this 3 hour hike turned out to be a very wise idea.
Forcella Sora Forno
Shortly below the pass we lost track for a while – is that even possible while the pass is already in sight? I told Christine it would only be about 10 minutes to the pass now. But she suddenly had a worried look on her face, pointing to the string of hikers to our right, heading up a seemingly endless zig zag trail. But she was looking at the trail to the Seekofel/Croda del Beco summit. Our goal of today lay ahead of us to the left: the Rifugio Biella.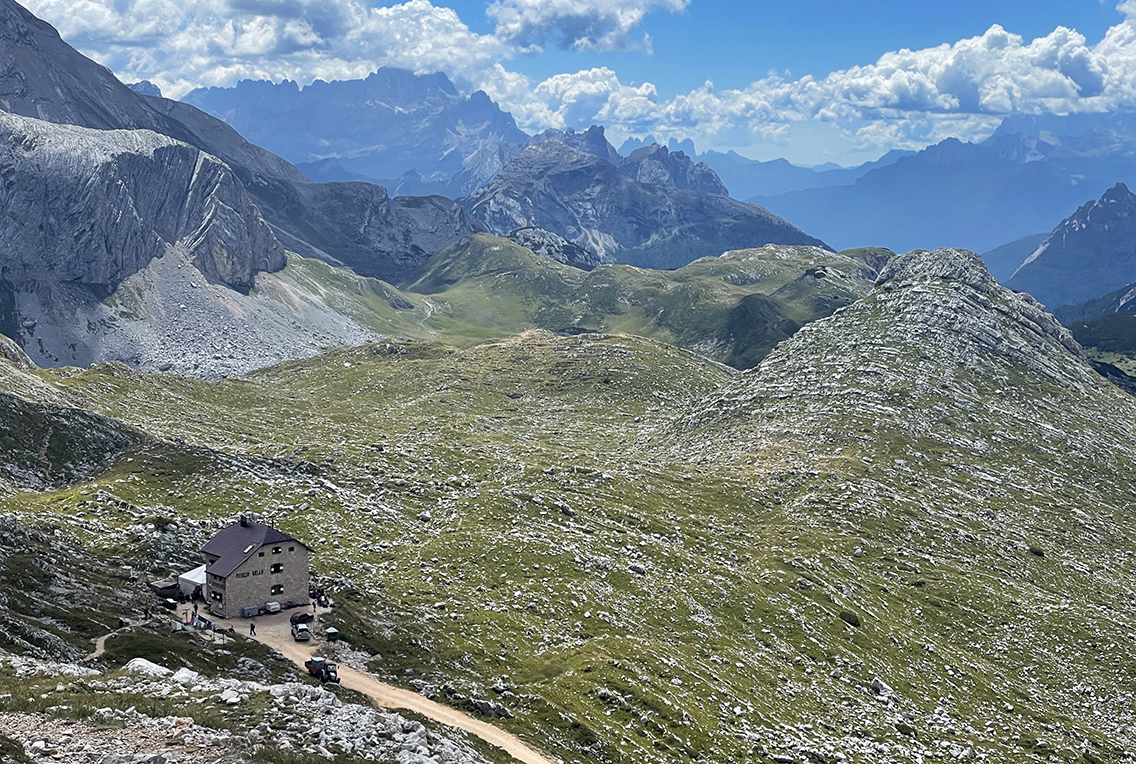 On top of Forcella Sora Forno (2.388 m / 7,834 ft) with view of Rifugio Biella below.
It had taken us about an hour to reach the pass Forcella Sora Forno. On top of the pass we found a small shrine that we used as a place to sit, while others asked us to move away please, for they wanted to make a picture of the Maria inside. The view from the pass felt liberating: a wide open field of grass and rocks with the Dolomite mountains behind it as far as we could see . And to the left below: the Rifugio Biella! 

Rifugio Biella
We walked down – carefully because the trail was steep and rather worn out here. Within 15 minutes we arrived at the Rifugio. The hut's name was painted on the rock walls of the building – Rifugio Biella / Seekofel Hütte. The green-white shutters looked inviting and we stepped inside to ask about our reservation for the night.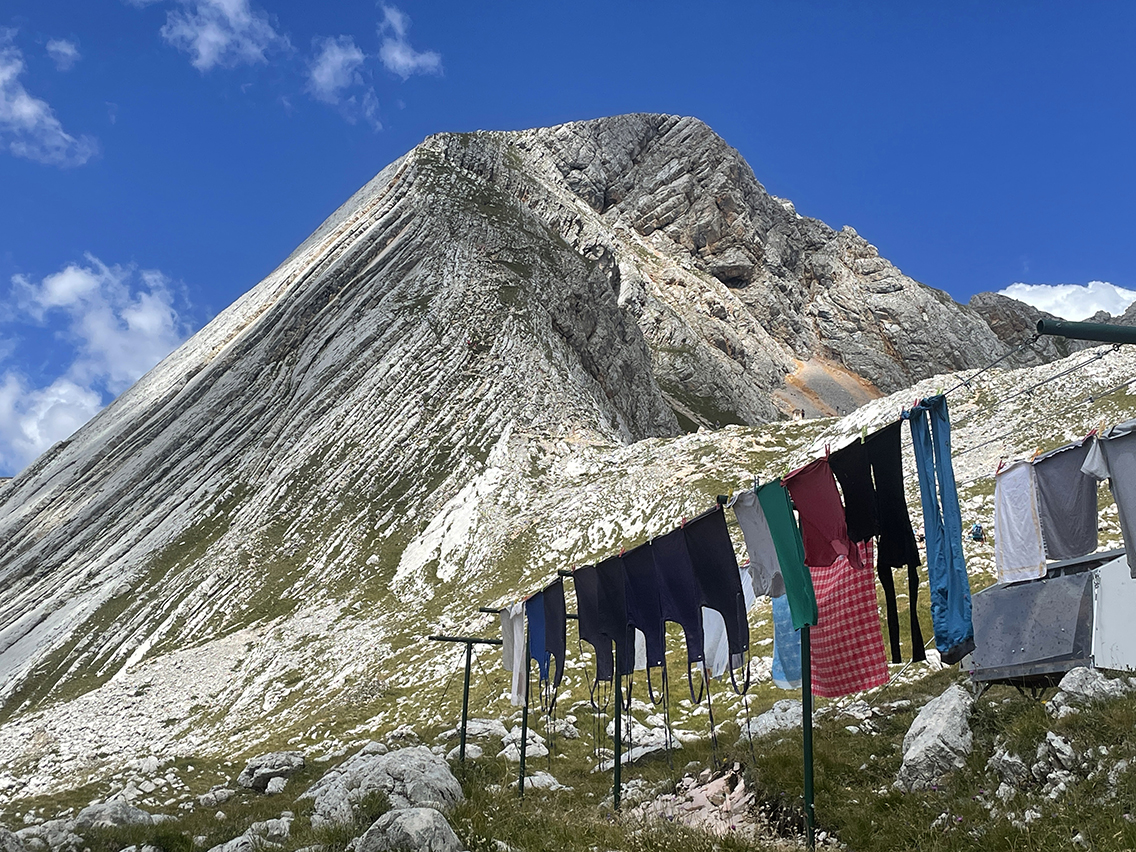 Croda del Beco/Seekofel, seen from Rifugio Biella
We expected to be assigned a random bed in one of the 8-person dormitories, but the Biella staff had saved the one and only double room for us! The tiny room was up two flights of stairs: two simple beds under the wooden roof and from the little window a view of the Seekofel. We couldn't have been happier.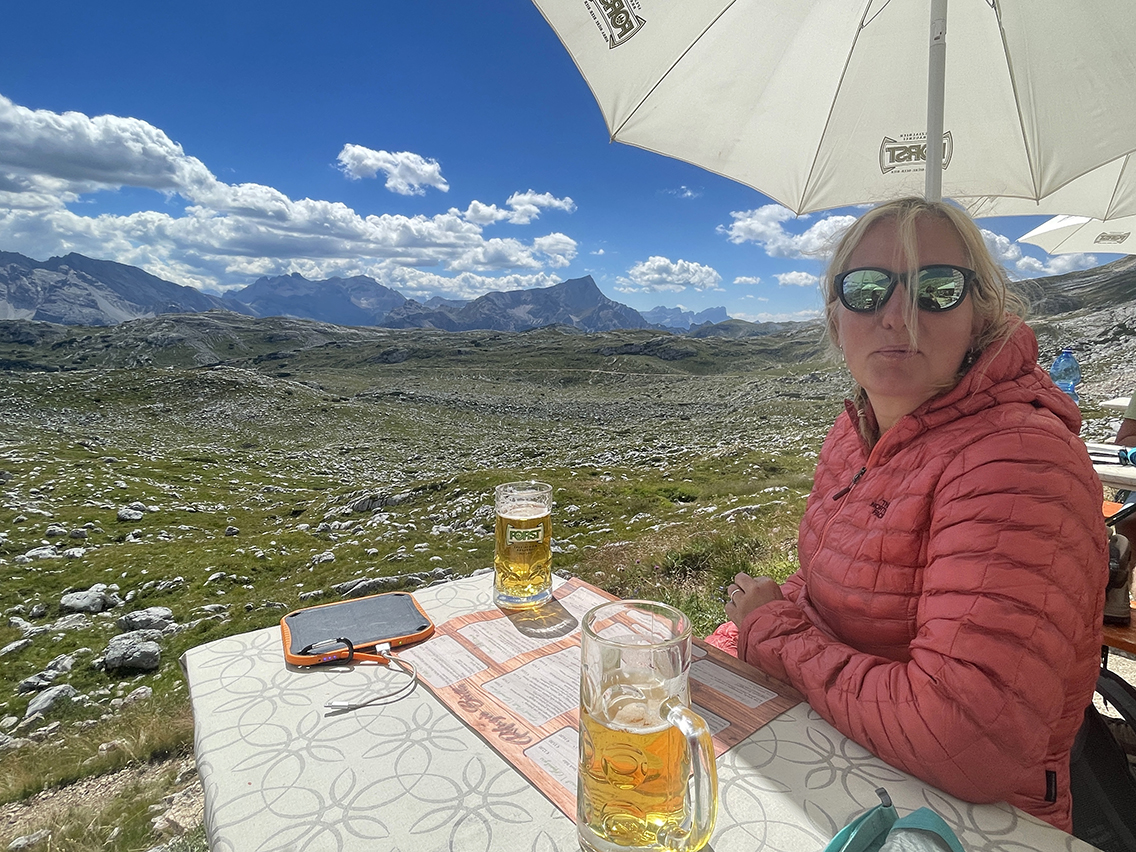 Christine at the Biella terrace 
Biella is a mountain hut with only the bare essentials: there is no drinking water, just one shared shower with cold water and two 'Italian style' toilets. Still we enjoyed our time here hugely. The staff was very cordial, and there was such a good atmosphere. And those views from the terrace of course.
We had plenty of time the rest of the day. I spent some time filtering water from the tap, I took an ice cold shower and I washed our shirts (and hung them to dry on the communal washing line). We had beer and a choice of local cheeses. Dinner was served at precisely 6.30 PM: a simple but excellent pasta with tomato sauce and a full bottle of mineral water.
Day 2: Rifugio Biella to Ücia de Fanes
Start: Rifugio Biella, 2.300  m (7,545 ft)

End: Ücia de Fanes 2.060 m (6,758 ft)

Distance: 14,5 km (13.4 miles)

Elevation gain: 571 m (1,873 ft)

Elevation loss: 844 m (2,769 ft)
Lowest point: Pederü 1.548 m (5,078 ft)

Time: 5 hrs moving time, 7:45 hrs total time

Date: August 4, 2022
An early rise at 6 a.m. to make sure the only shared shower would be available – an ice cold start of what would turn out to be a hot day on the trail. We packed our bags before breakfast was served at 7. The Biella warden asked everyone if they wanted egg scramble, as she called it– yes we'd love to – and we enjoyed it together with the yoghurt, fresh bread and local cheese. 
At 7.45 we were ready for hiking. We took one last look at the big stone hut, still in the shadow.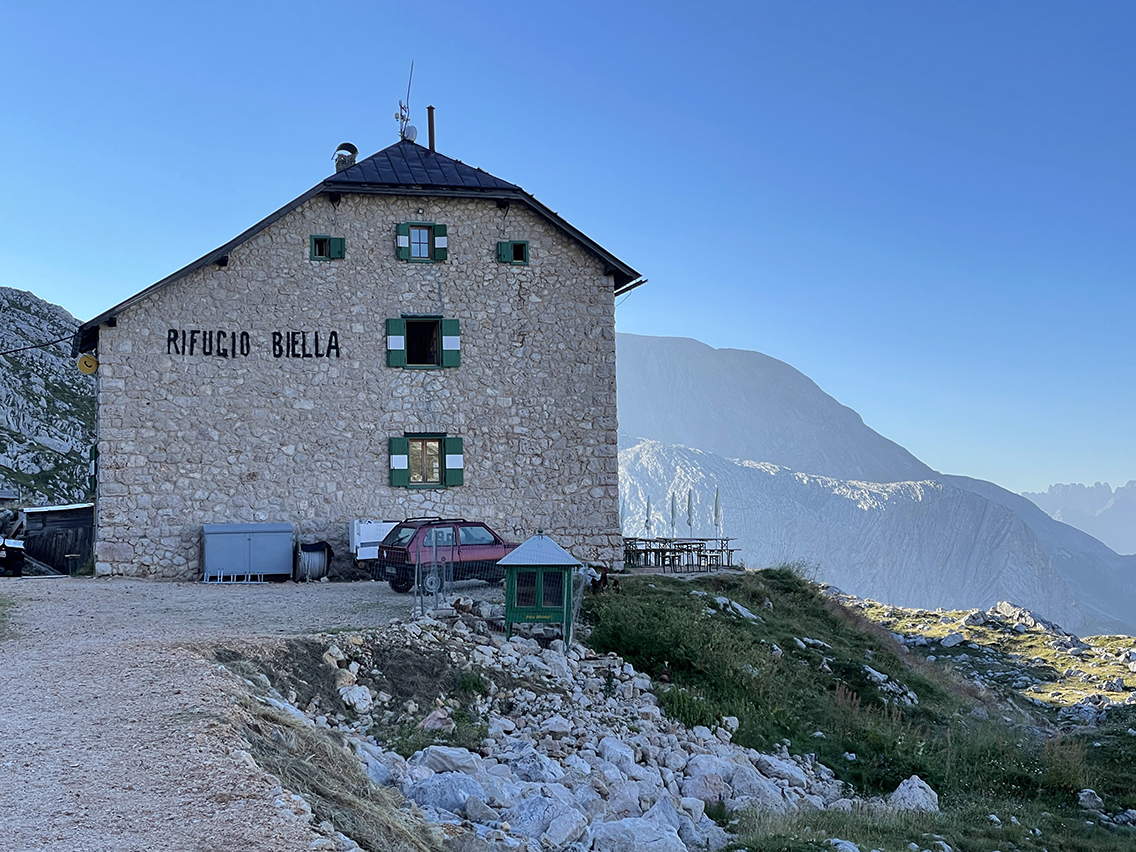 Early morning view of Rifugio Biella (note the classic 4×4 Fiat Panda, my favorite car)
The Seekofel cast a shadow on us, but before long we walked in the early morning sunshine. The trail meandered through a green and rocky meadow as we passed giant rocks and a herd of cows.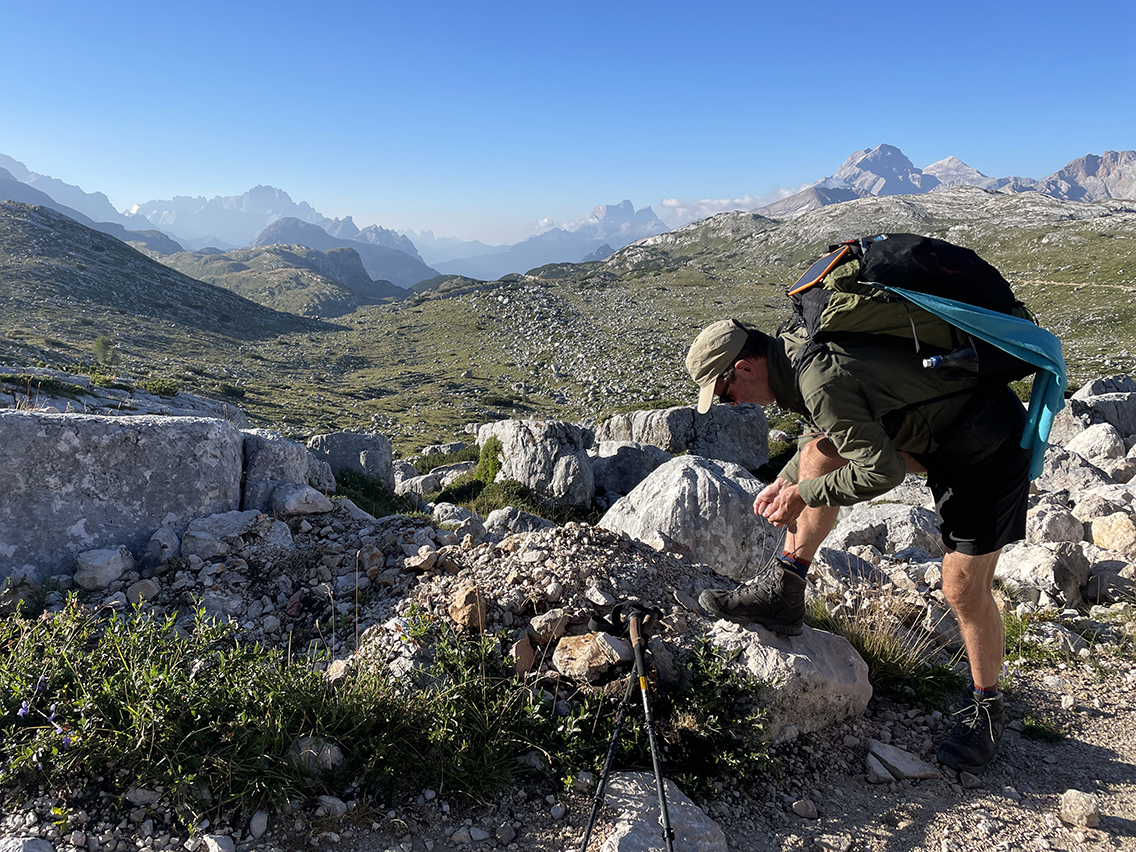 The rocky meadow below Rifugio Biella with a clear view of Monte Pelmo (3.172 m) in the center, a stunning mountain we would see up close on day 5.
We passed a junction to the left, where a jeep track would also lead to the Sennes Hütte (our first stop) but we took the trail that went straight ahead over some hills. While already some grey summits peeped above the horizon, we reached a steep gully down to the Senes Alm. 
A remarkable thing in Süd Tirol/Dolomites is that two different languages are used in this part of Italy: German and Italian. Many huts have two names (Sennes Hütte/Ücia de Sennes, or more striking: Seekofelhütte/Rifugio Biella). Different spellings of the same geographical also name occur, like Sennes, Senes and Sénes. Moreover, as we would see at the Fanes hut: some huts carry the almost the same name (read on below). All in all, names can be quite confusing here.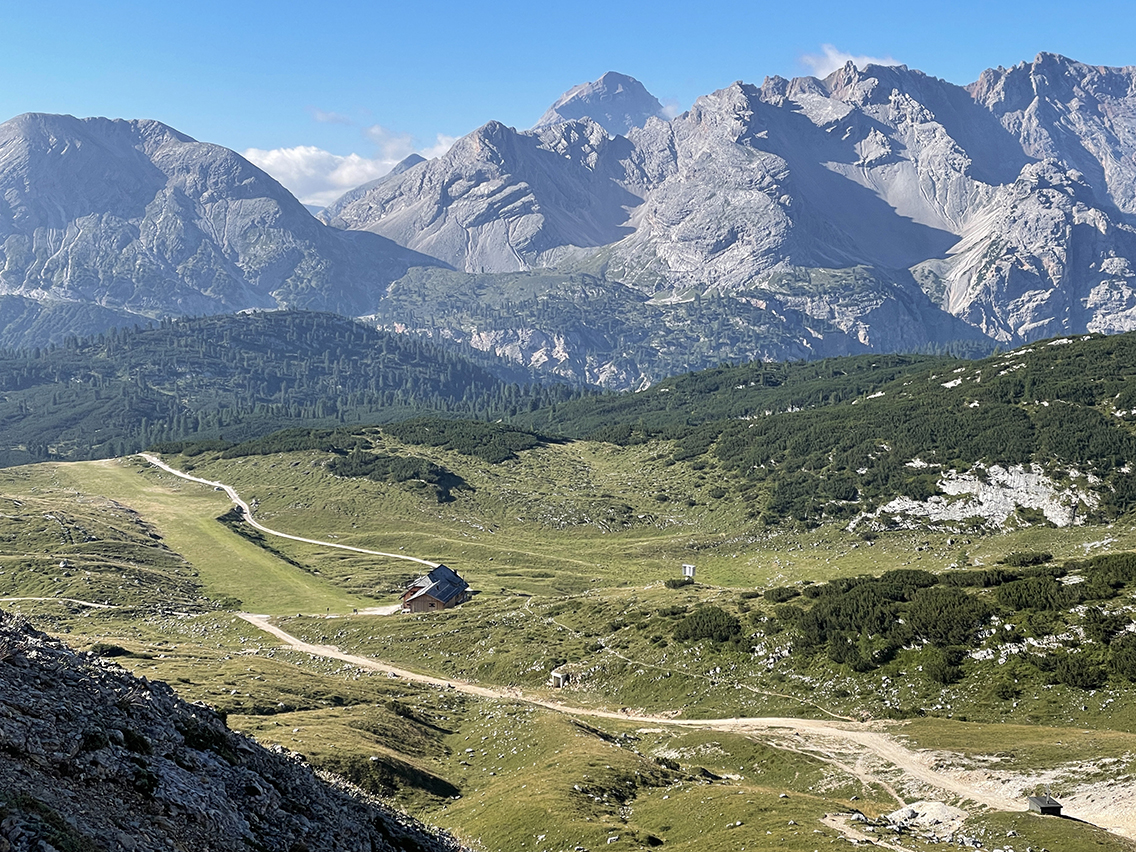 View of the Sennes Hütte with the 3.244 m. Tofana di Mezzo in the distance. Pelmo is now hiding in the clouds.
Arriving at the Sennes Hütte around 9 a.m., the place seemed deserted. But it was still possible to have a cup of coffee while we took an early break at the shaded terrace. On the left side of the hut was a long stretch of flat grass that is actually an airstrip for light aircrafts. We observed a marmot on the grass from such a distance, the animal must have been a giant!  
We followed the trail through the midget firs, descending slowly until we came to an endless number of steep hairpin corners leading us to Rifugio Pederü.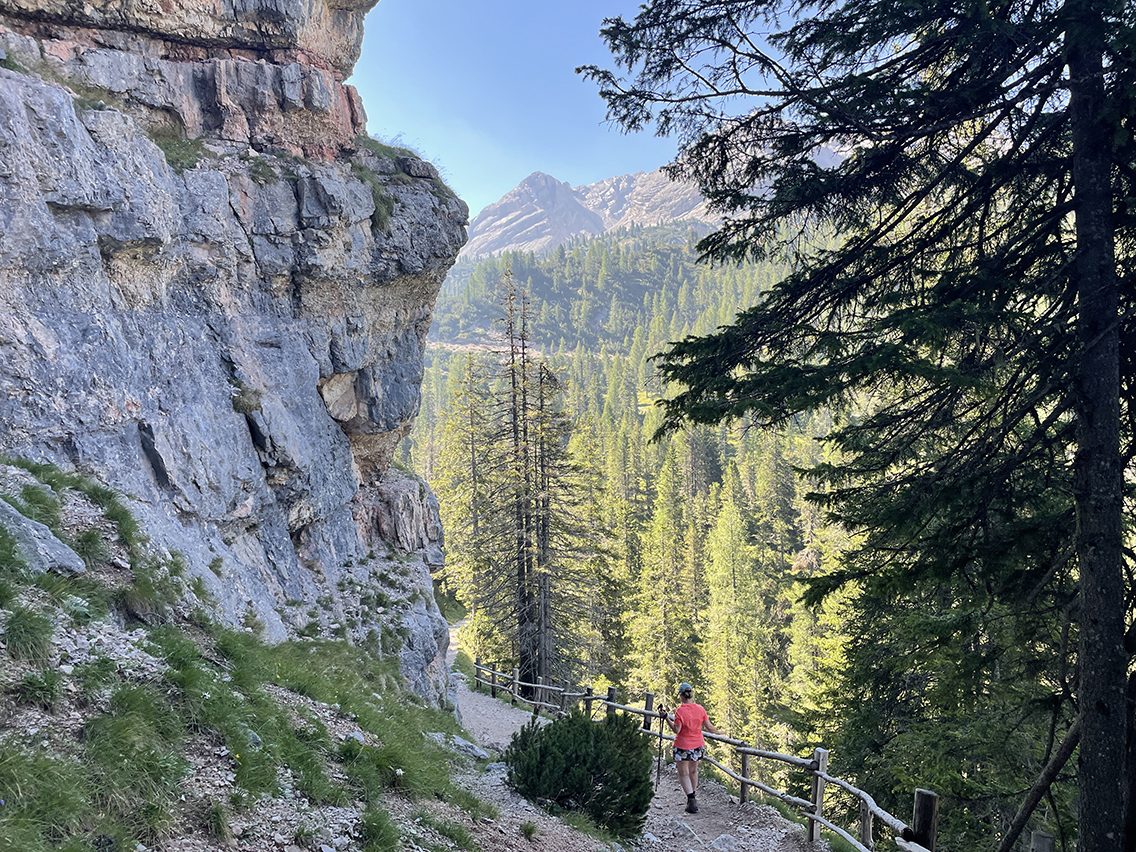 Descending towards Pederü
At the final stretch to the deep valley the trail changed from gravel to a broad concrete military style road –still rather steep. The vertical walls of rock looked impressing and just before we arrived at the hut, we saw a woman high, high above us, glued to this wall like a fly. 
Rifugio Pederü
The Rifugio was big and apparently quite popular. It was so full of people, there was no place left for us to sit… except inside! Everybody was outside in the sun, but a bit of shade was just what we needed.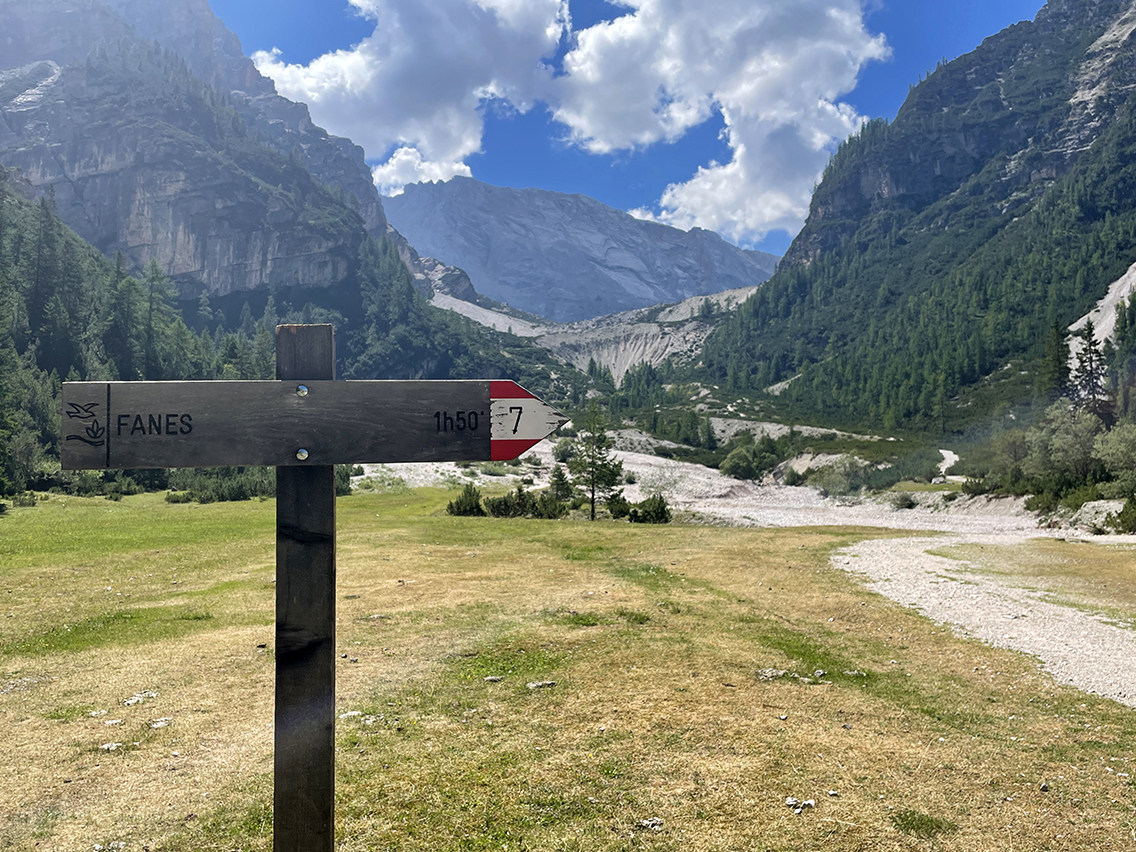 View from Pederü looking towards the trail to Fanes 
Inside we found a comfortable cushioned bench and since we were halfway today's hike, we decided to take a long break, as it was still before noon. We had coffee, Cola, Apfelschörle and a choice of our own supply of cookies while we read our books (ripping out the pages we read to leave them here in the trash bin).
Looking outside, the trail looked a bit menacing to me, a steep wall of scree where I couldn't discern any trail. As usual, once we would get closer and higher, the trail would eventually reveal itself. Before we moved on, we soaked our shirts in the cold stream at Pederü, where the water levels were extremely low.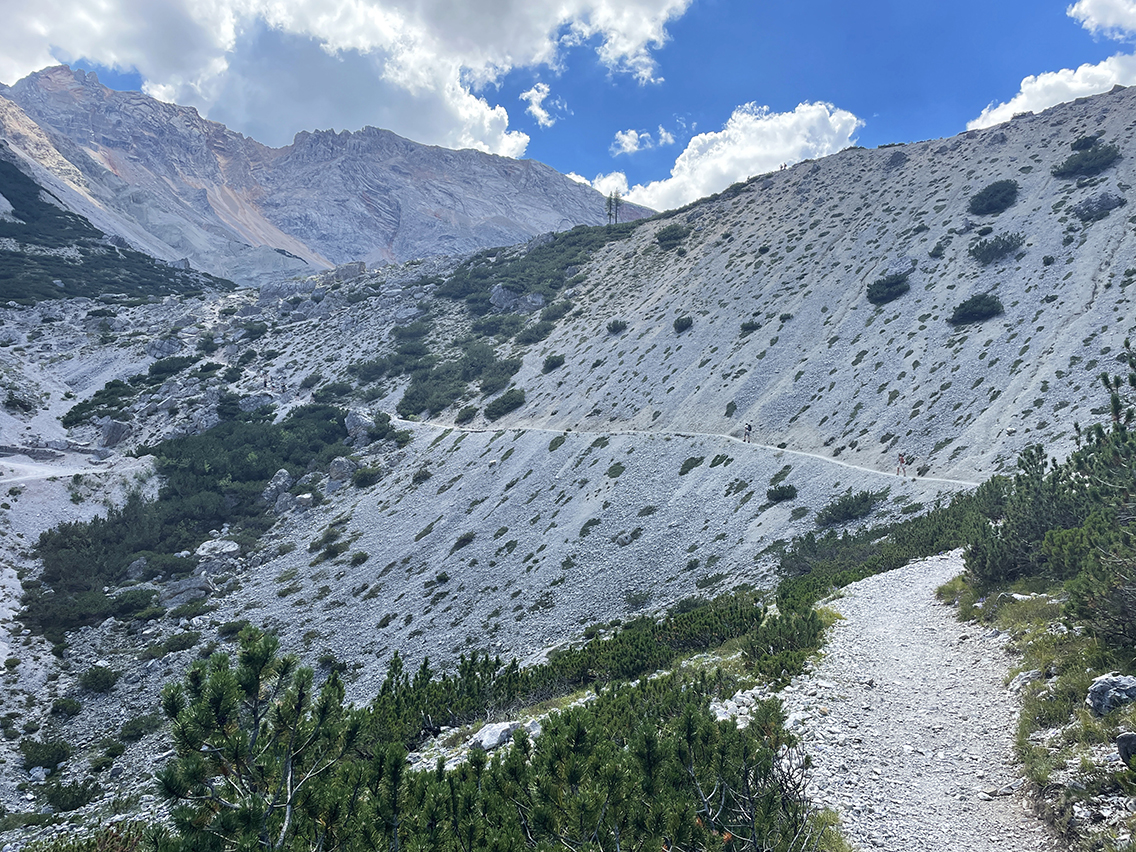 The trail trough Valun des Fanes
Following the white and grey gravel, we climbed up through another field of midget firs until we entered the high Fanes valley. This was a rocky and open area between huge mountains with hardly any shade. We were soon heated up to exhaustion and we played self invented word-games together to distract ourselves. After some time we finally found the one and only tiny tree that gave just enough shade for us to pause. We drank electrolyte drinks and ate a handful of salty nuts and took off for the last hour to the Fanes hut.
Ücia de Fanes
The trail bent to the left and then we saw a row of little houses in the distance: almost home! The first building we passed was the small hut which sat directly at a small river, called Ütia dles Pices Fanes (not to be confused with Ücia de Fanes).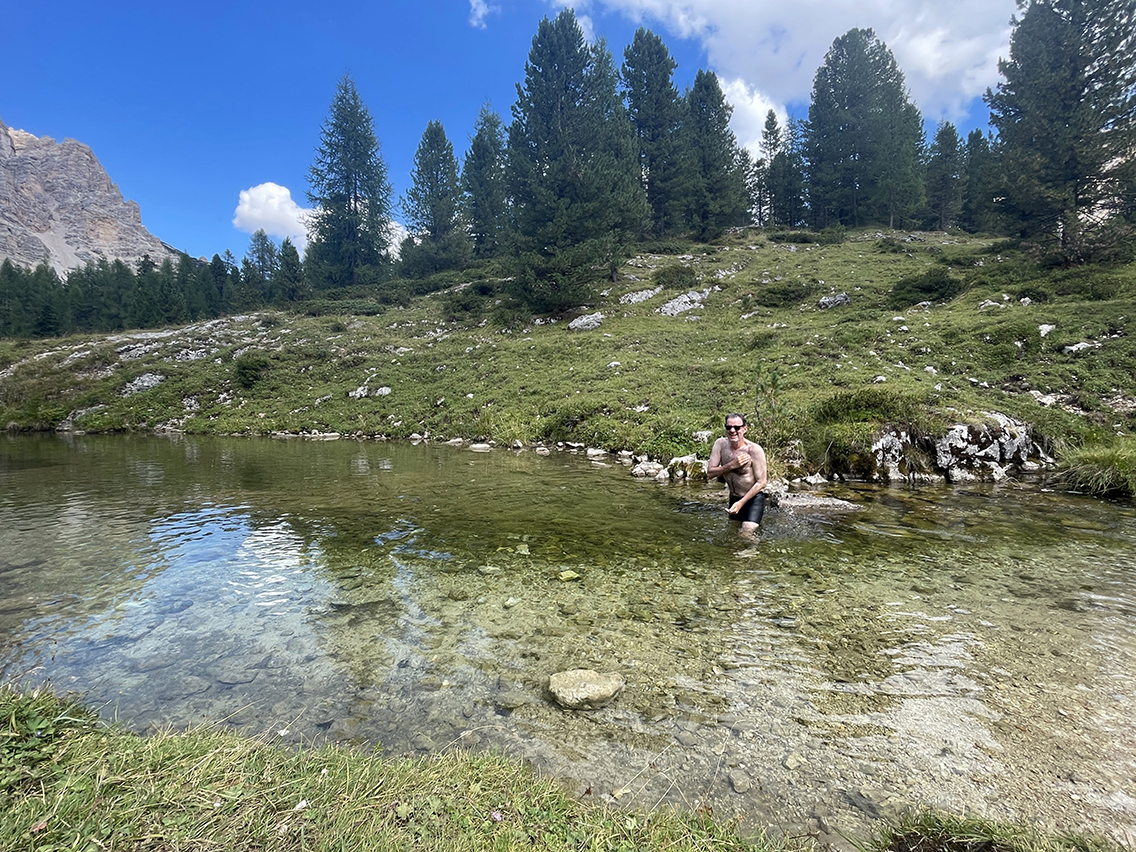 A welcome dip in the ice cold Rü dál Plan, next to Ücia dles Pices Fanes.
The river, Rü dál Plan, was one of the few that was not completely dried up. On the contrary: a stream of ice cold water flowed through a grassy bed. We were melting from the heat in the previous section, I immediately stripped to my underwear and took a full soak in the water. Christine cooled her feet and legs and we enjoyed this beautiful place.
Completely revived we walked to Ücia de Fanes in less than 15 minutes.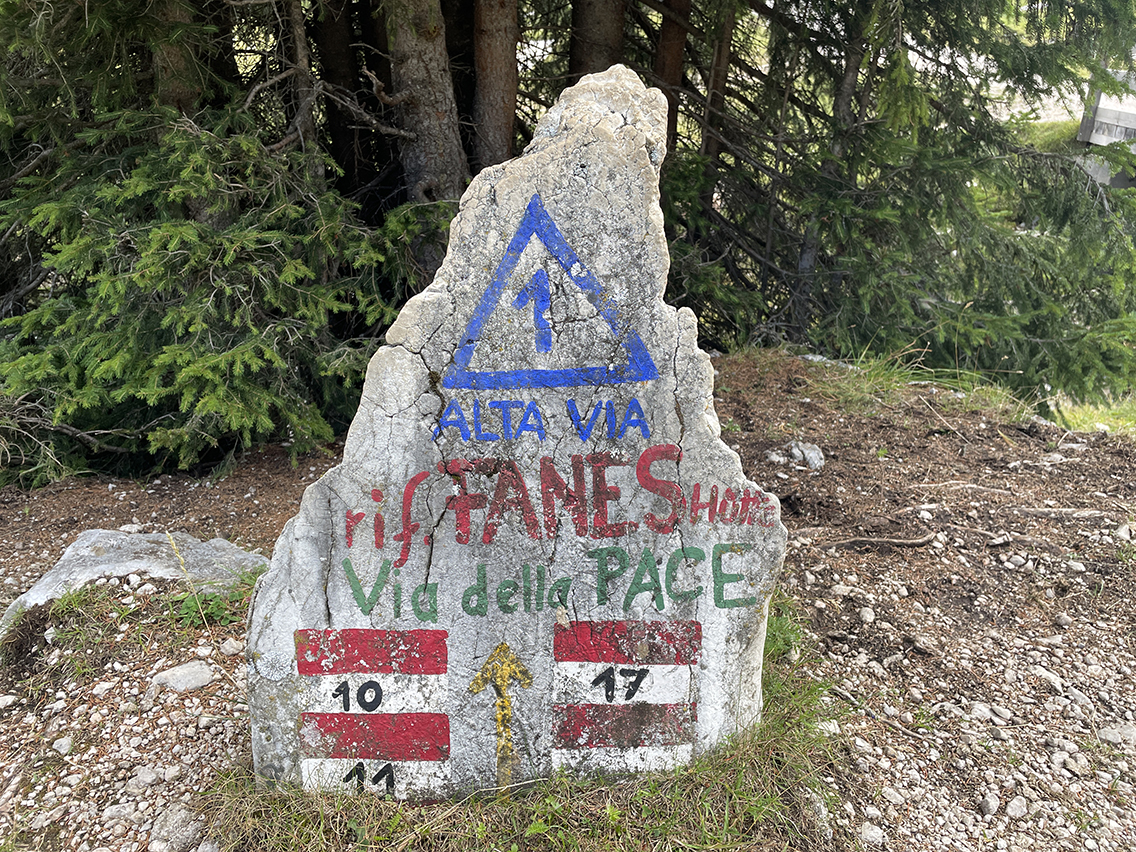 Rif./Hütte/Ücia Fanes milestone
We were in a high valley called Ciamparoagn now. This must be a very popular place for hiking as well as alpine  skiing (no ski lifts though), as there are 5 mountain huts very close to each other. Besides the afore mentioned Ütia dles Pices Fanes there is Ücia dles Muntagnoles, Ücia de Fanes, Ücia Lavarela on the other side of a small lake and Ücia de Gran Fanes less than an hour south.  We had made reservations at Ücia de Fanes, which was the largest and probably most luxurious hut of all. Actually, it felt more like a hotel!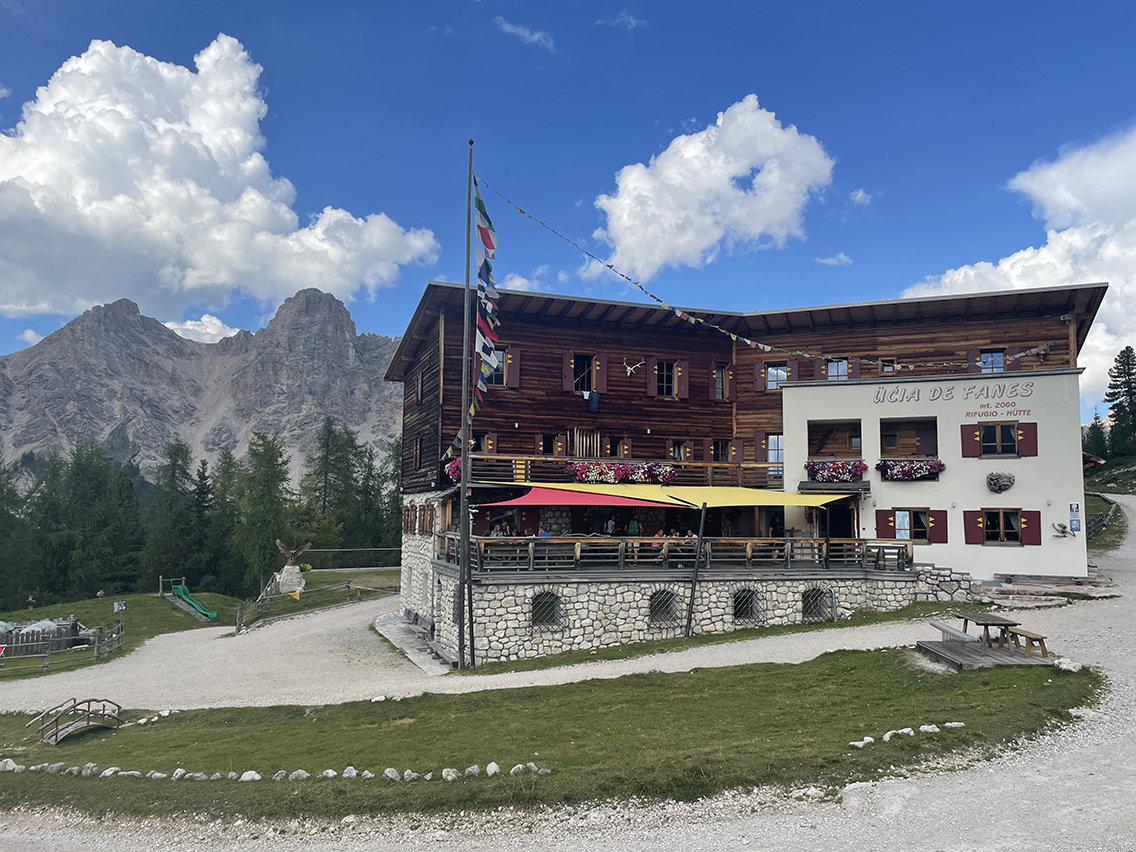 Ücia de Fanes (2.060 m / 6,758 ft) backed by the Fanes mountains
After we installed ourselves in our two-person room we relaxed at the shaded terrace with red beer and Apfelschorle to enjoy the incredible views, proud of this almost 8 hour hiking day. Before dinner we took some time for laundry – they had an old fashioned centrifuge and a special laundry drying room to make things easy for us.
Later in the day a group of 12 young children with their leaders came in, who were doing a geological hiking tour. Their discipline was remarkable: no one shouted or ran around.
Dinner was exceptional: a fir-risotto (yes: fir) and white chocolate mousse for dessert. The cute little kitten that everybody wanted to pet was removed from the restaurant (for hygienical reasons I think) to everyone's disappointment. 
Day 3: Ücia de Fanes to Rifugio Scotoni
Start: Ücia de Fanes 2.060 m (6,758 ft)

End: Rifugio Scotoni, 1.400 m (4,593 ft)

Distance: 10,5 km (11.8 miles)

Elevation gain: 414 m (331 ft)

Elevation loss: 508 m (4,134 ft)
Highest point: Ju de Limo, 2.174 m (8,510 ft)

Time: 3:50 hrs moving time, 5 hrs total time

Date: August 5, 2022
The third day on the Alta Via would be a relatively short day, so we took the time to enjoy another delicious breakfast. We were even served huge chunks of chocolate cake – which I declined in favor of a large bowl of yoghurt.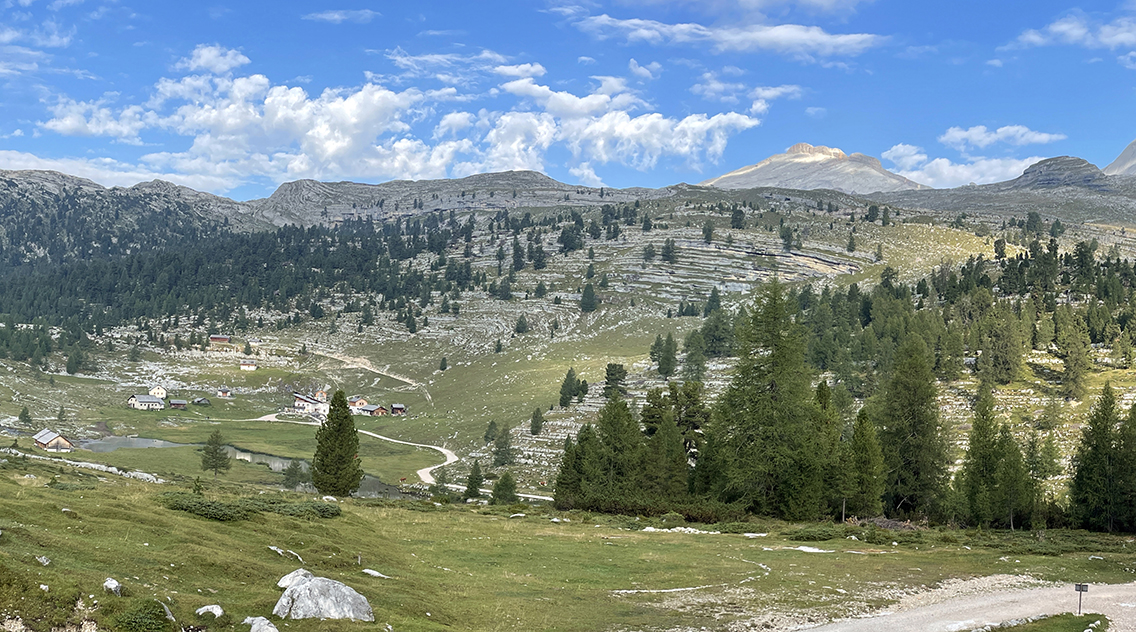 View from Ücia de Fanes with Piza dales Diesc (3.026 m / 9,927 ft) catching the first rays of sunlight. The rock amphitheatre is called the Marmot Parliament.
The Fanes Alps looked so peaceful in the early morning light when we hiked up a short but steep trail towards the saddle above Ücia de Fanes. Following a broader jeep track now, we arrived at the saddle, Ju de Limo, which offered splendid views of the Fanes mountain group in all directions.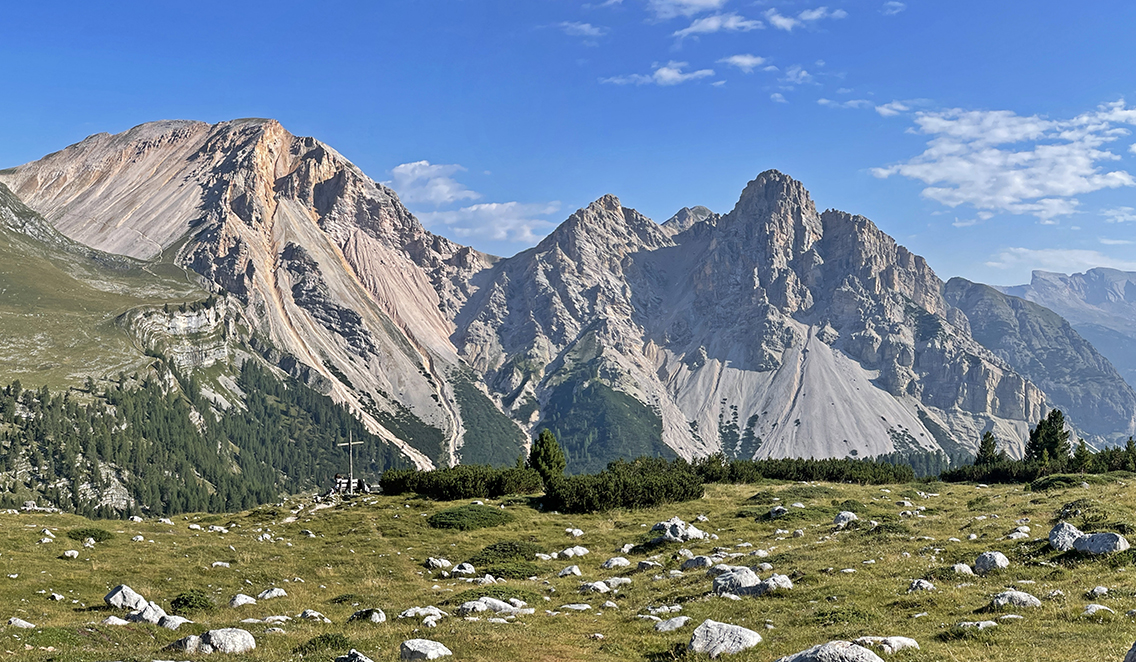 View from the Ju de Limo saddle
Hiking further, we expected to see the big mountain lake as indicated on the map: Lé de Limo. But when we arrived we saw that the lake was more than half empty and the water discolored to a sombre yellow-green.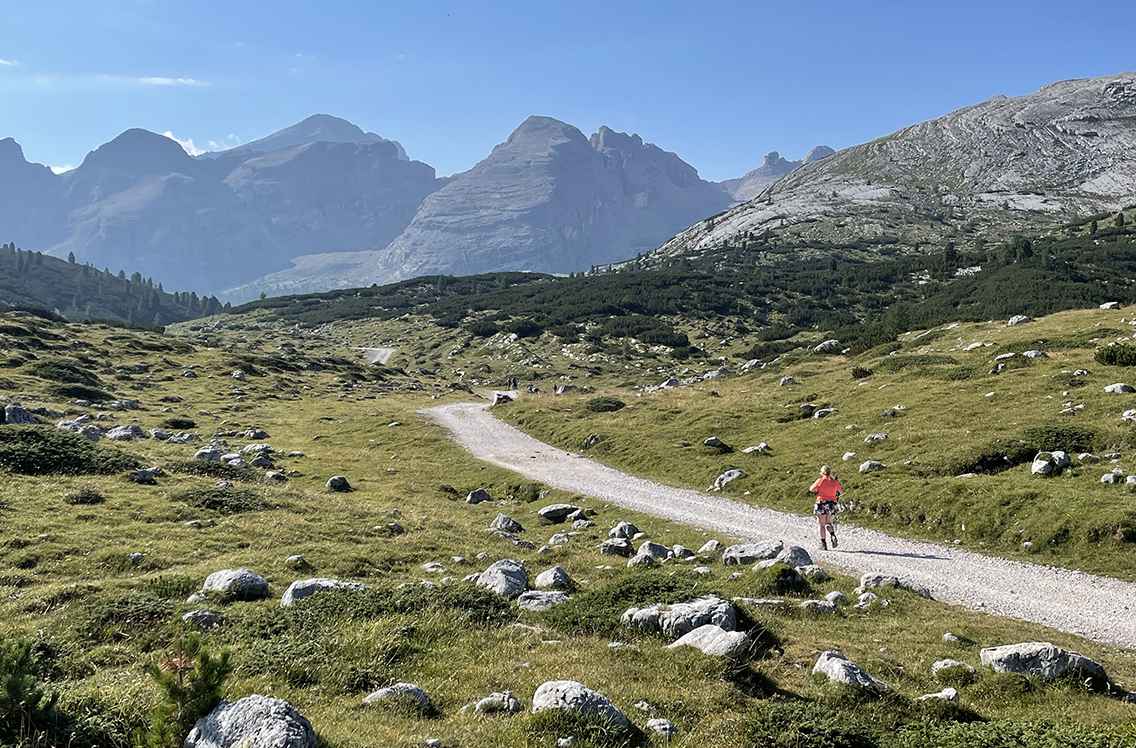 Ju de Limo saddle above Ücia de Fanes
The mountains around us were spectacular, the trail was easy going and the temperature was pleasant. What a good day! After an hour we passed the last Fanes-hut, Ütia de Gran Fanes. We greeted two donkeys when we passed the wooden gate, trying  to find out if the hut was open for a cup of coffee. Inside the hut we were welcomed by a family peeling potatoes and doing dishes, more than willing to provide us with a cup of coffee. We sat in the tiny communal room that could barely fit 12 guests, where almost a quarter of the room was occupied by a gigantic stove.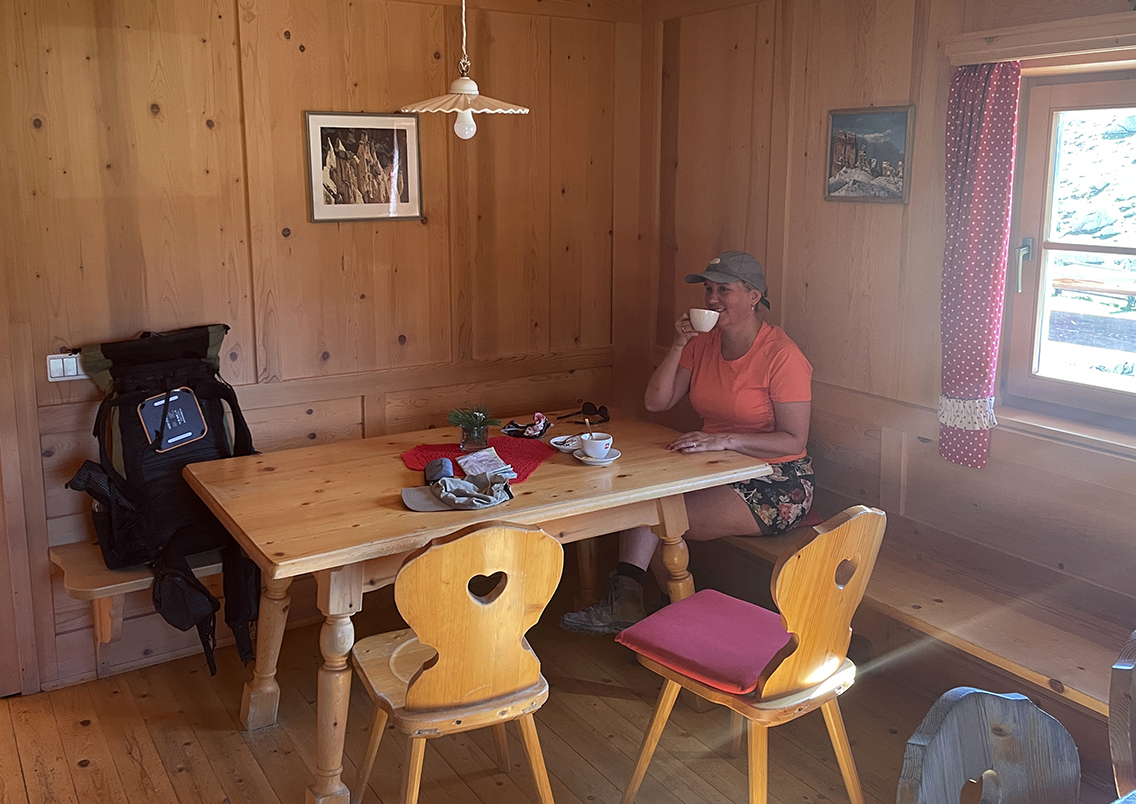 Utia de Gran Fanes
Next to the hut was a lovely stream, Rü de Fanes, with a backdrop of dramatic mountains. An unforgettable paradise. It's hard to write about the Dolomites without running out of adjectives.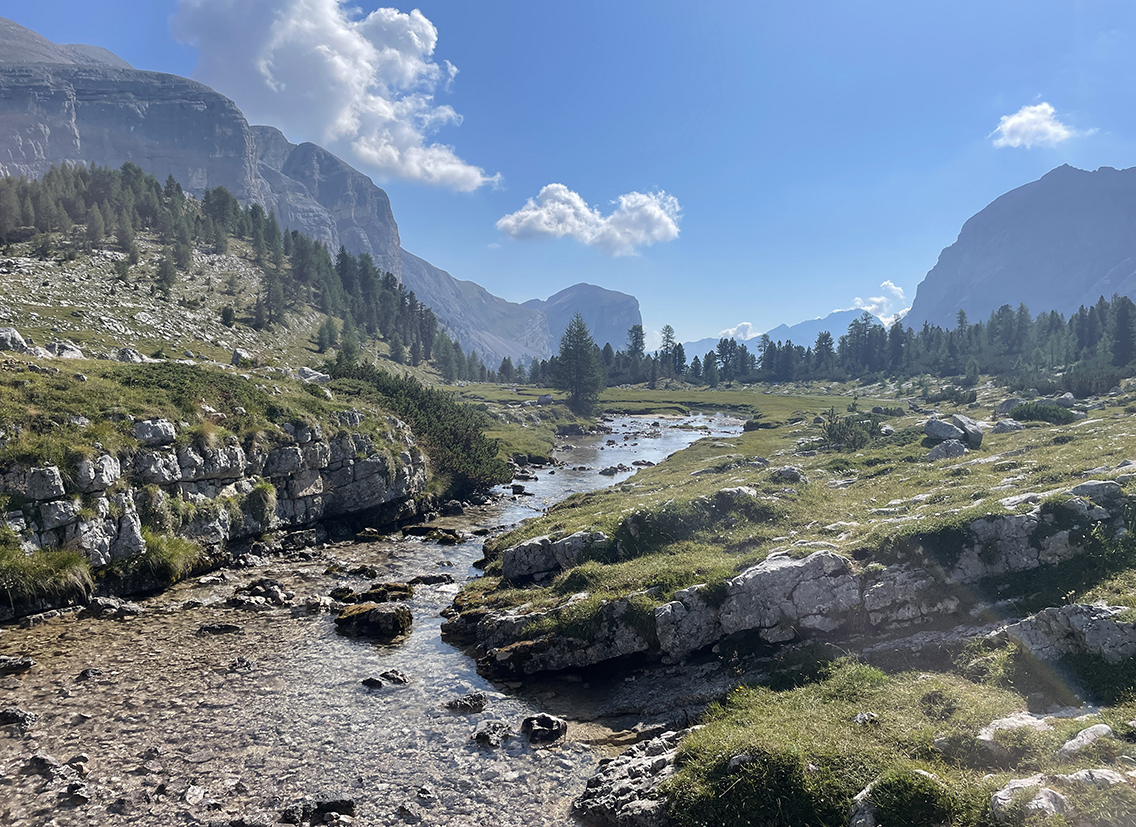 Rü de Fanes river next to Ütia de Gran Fanes
Now followed a lovely walk  for about two hours on an easy, mostly level path surrounded by the giant Fanes mountains. This didn't feel like hiking, it was more a pleasant stroll in the countryside. The Fanes mountains ahead of us consisted of multiple layers of rock, folded by geological powers unimaginable to our human brain, resembling millefeuilles, the flaky French pastry.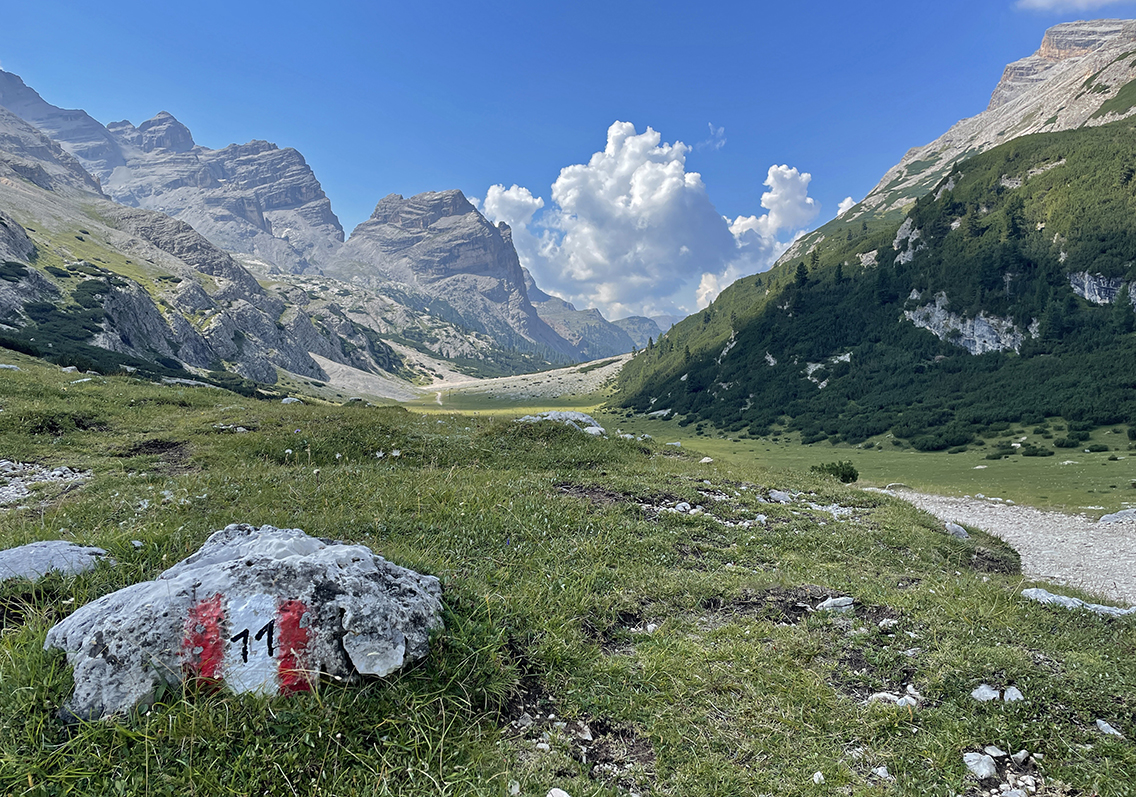 The Alta Via 1 continues along the route nr. 11. The deep cleft in the mountain is Forcella del Lago.
After a hardly noticeable pass called Jù dal 'Ega we passed a small stream and entered Le Gran Plan. This was a bit more rocky terrain, but still easy going. We came to the 20B-11 junction. To the left: route 20B, heading up high and steep towards the pass Forcella del Lago. To the right: the route we took, an easier continuation of route 11 towards Capanna Alpina and eventually (via route 20) to Rifugio Scotoni. 
We had booked Scotoni, just off the official Alta Via 1 route, because the Lagazuoi hut further on was too far, too high and probably too crowded to our taste. 
Col de Locia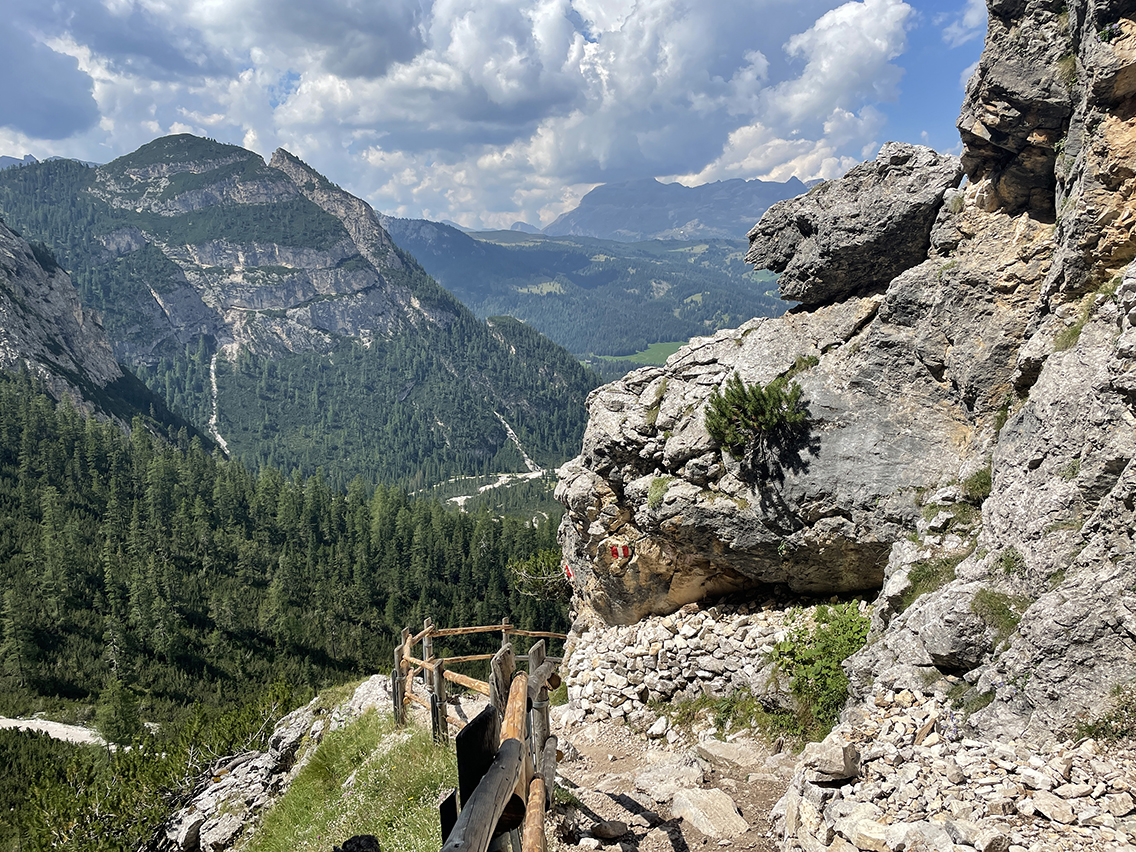 Steep descend from Col de Locia
Our easy strolling came to an end at Col de Locia (2.073 m / 6,801 ft) where the trail dropped down vertically into Plan de la Forca. The descend was not difficult, but it was exhausting, following the zig-zag path on wooden stairs, secured by wooden railings. Despite the extreme steepness we encountered several mountain bikers going up – walking that is, with the bike on their shoulders. 
To my great joy I discovered a little patch of my favorite Edelweiss flowers along the steep trail, surprised to find them outside of the Swiss Alps.
Once we reached the valley we found a wooden bench for our last break before the asend to Scotoni. Shaded by large pine trees we enjoyed some salty nuts and electrolyte drink. Then we came across large a bridge over a tributary to the Rü Sciarè river. This was the point where my Gaia GPS map indicated a shortcut to the final jeep track to the hut, thus avoiding the detour to Capanna Alpina. It took us a while to find this trail because it was partly overgrown, but soon we reached a broad white gravel track.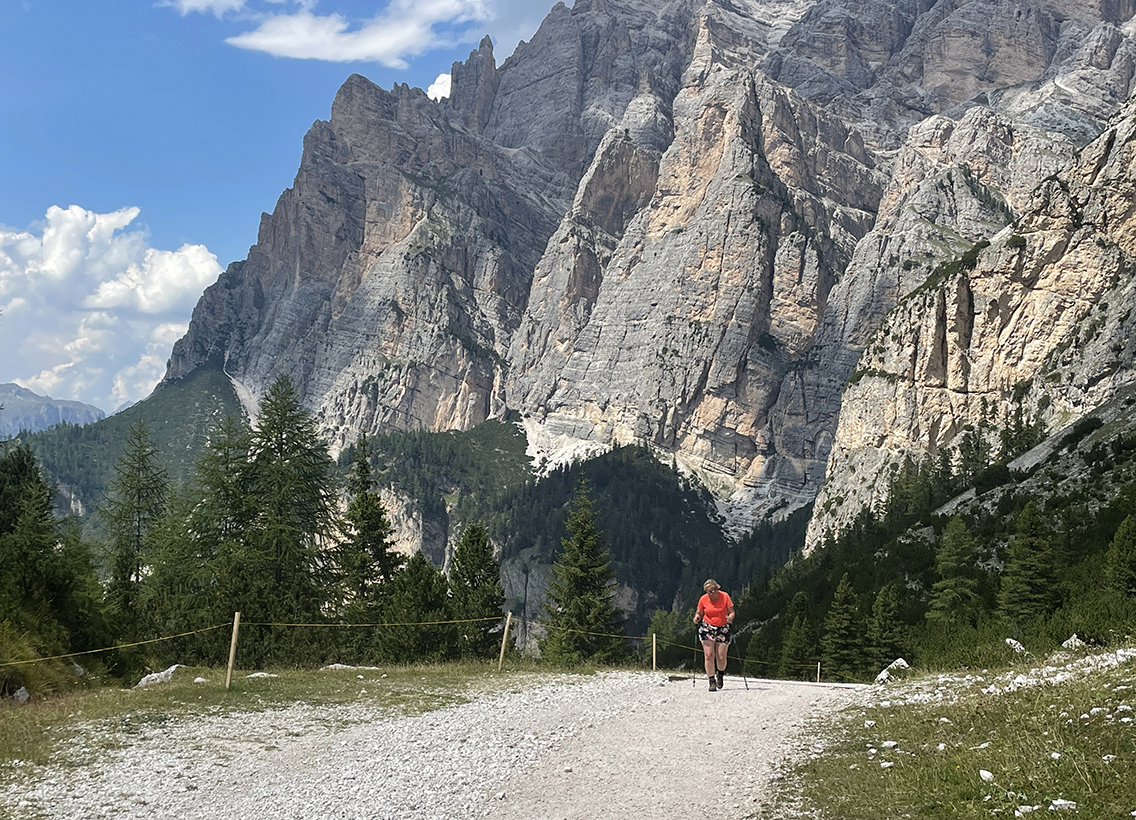 Almost there – a gruelling ascend to Rifugio Scotoni
Rifugio Scotoni
Now we had to overcome an ascent of 250 meters (820 ft), almost the entire elevation we had just lost on our way down from Col de Locia. While a 250 m. ascend might not seem exceptionally bad, it was the boring nature of the steep gravel path that kind of ruined it. Yes – the surrounding mountains were impressive, but we could only appreciate their beauty again once we had reached the hut.  
When we arrived at the hut, it was still early (about 2 p.m.) and the place was bustling with families. To my surprise the grass field that lay next to the hut was filled with playing children, sunbathing youths and elderly people in deck chairs.  The landlady was dressed in a traditional Tyrolean dress, and Tyrolean accordeon music and songs (in German) accompanied all the eating and drinking guests, reminding us that we were still in the part of Italy that not so long ago belonged to Austria.
The Scotoni staff was very helpful despite being so busy and they showed us our 2-person room (with private bathroom down the hall!).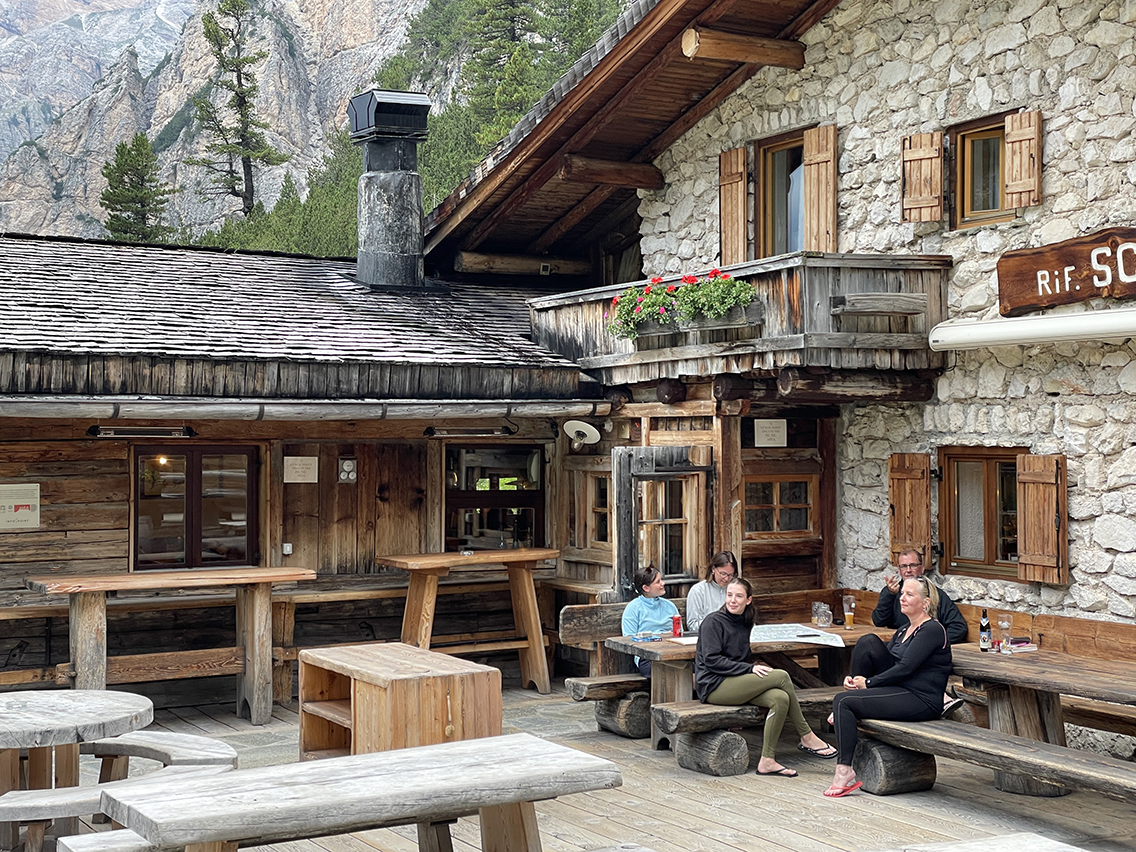 The calm atmosphere at the Rifugio Scotoni – after 5 p.m.
Around 4 p.m. the crowds slowly disappeared and soon we had the entire place to ourselves and a few other hiking guests. Among them the amicable German family with 4 daughters that we had seen previously in the Fanes hut. They told us about their experience hiking to the Forcella del Lago. It had been tough, but the trail had also been much improved with wooden stairs going down, making the descend much safer.
We saw two funny alpaca's approaching in the meadow. That was when one of the younger daughters taught me an amazing German word: Alpaca-Führerschein – a kid's 'drivers licence' to handle alpaca's.
Later in the evening we shared the table with the German family and had a simple but fulfilling dinner with soup and pasta. Suddenly thunder roared and lightning struck. Hail beat wooden tables on the terrace furiously like popcorn in a frying pan. Then all electricity went out, leaving us in a dark dining room. It was fixed quickly but it reminded us of how fiercely weather conditions can be high in the Dolomites.
 < Previous: Alta Via 1 prologue: Lago di Braies
 > Next: Alta Via 1 part 2: Scotoni–Citta di Fiume