In the summer of 2023 I hiked 14 days on the GR5 (Grande Randonnée 5). While the complete GR5 starts in my home country (the Netherlands), I hiked the part that crosses the French Alps from Lake Geneva to the Mediterranean Sea. As two weeks are not enough to hike the complete route to the sea, I hiked halfway to the city of Briançon. 
Photo: Christophe Bellot.
The GR5 (Grande Traversé des Alpes)
Where: France (one border crossing in Switzerland)

Start: Lac Léman (Lake Geneva)

End: Nice or Menton (Mediterranean Sea)

Distance: 645-725 km (400-450 miles) depending on chosen variants

Elevation change: average + 1.200 m and – 1.200 m (4,000 ft) per day

Time: 25-30 days (7 stages)

Hiked: July/August 2023 (300 km, 14 days, stages 1-4)
What is the GR5?
The complete GR5 starts in Hoek van Holland in the Netherlands, but this trail report is about part that traverses the French Alps and therefore is called the Grande Traversé des Alpes. It starts in St Gingolph at Lac Léman (Lake Geneva) and crosses the Alps all the way to the Mediterranean Sea. The GR5 has many variants from the beginning (with an alternative start at Thonon -les-Bains) to the very end – when hikers have to decide to either end the journey in Nice or in Menton. In between there are also many variants to choose from. Especially in the Vanoise, where you can hike the GR5, the GR55 or the GR5E – or a combination of these.
The GR5 shares some sections with the quite crowded Tour du Mont Blanc, and of course with the trails of the Tour du Vanoise.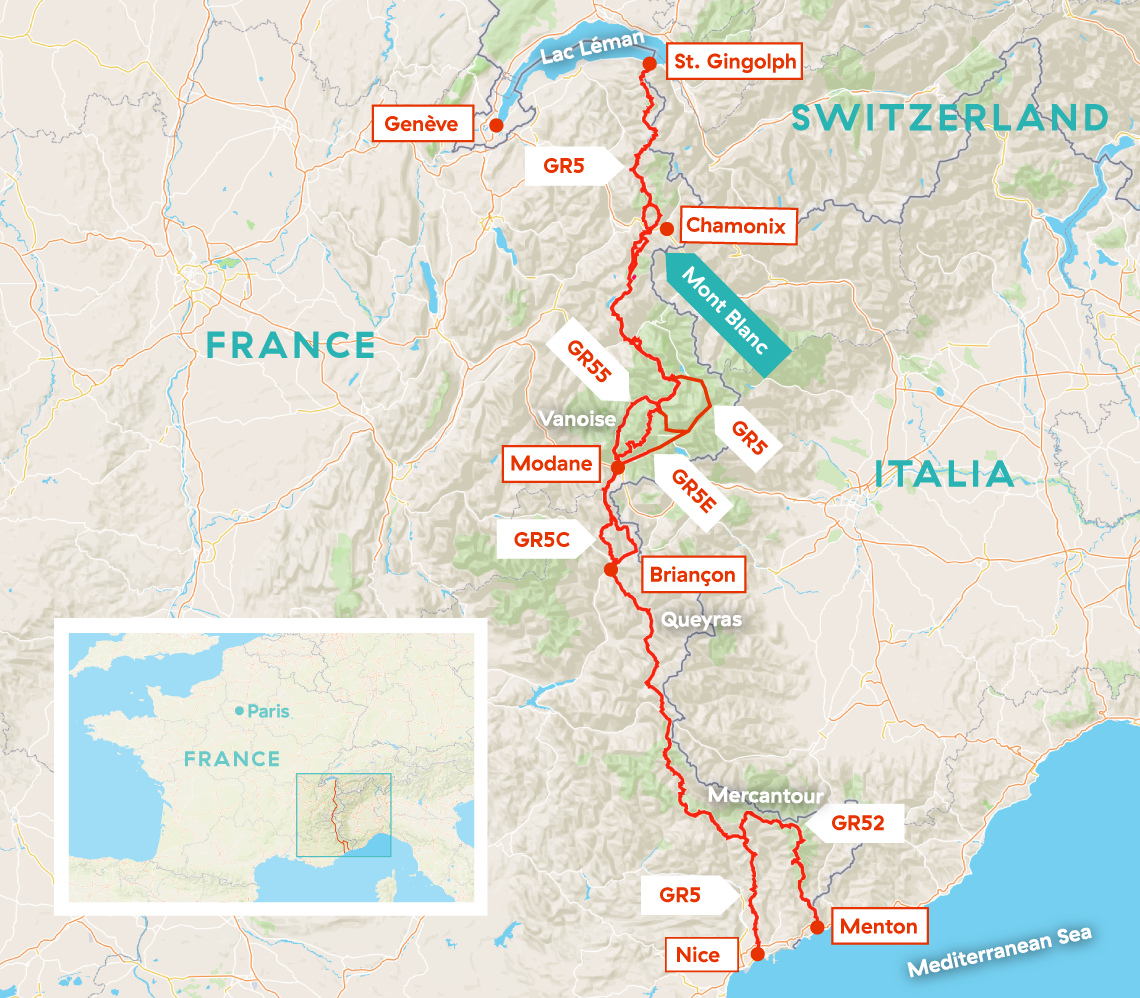 GR5 from St. Gingolph/Lac Léman to Nice/Menton, with variants
I found the GR5 to be different from previous alpine hikes I have done, such as the Tour du Mont Blanc, the Haute Route or the Alta Via 1. The main characteristic of the GR5 is the enormous elevation change every day. On a typical day there could be a 1.7000 m (5,600 ft) ascent and a 1.200 m (4,000 ft) descent, crossing several mountain passes and valleys in one day. To keep up with the suggested sections in the most used guidebook (Cicerone) and to hike the entire trail within 30 days, a daily effort of 6 to 8 hours of hiking is necessary.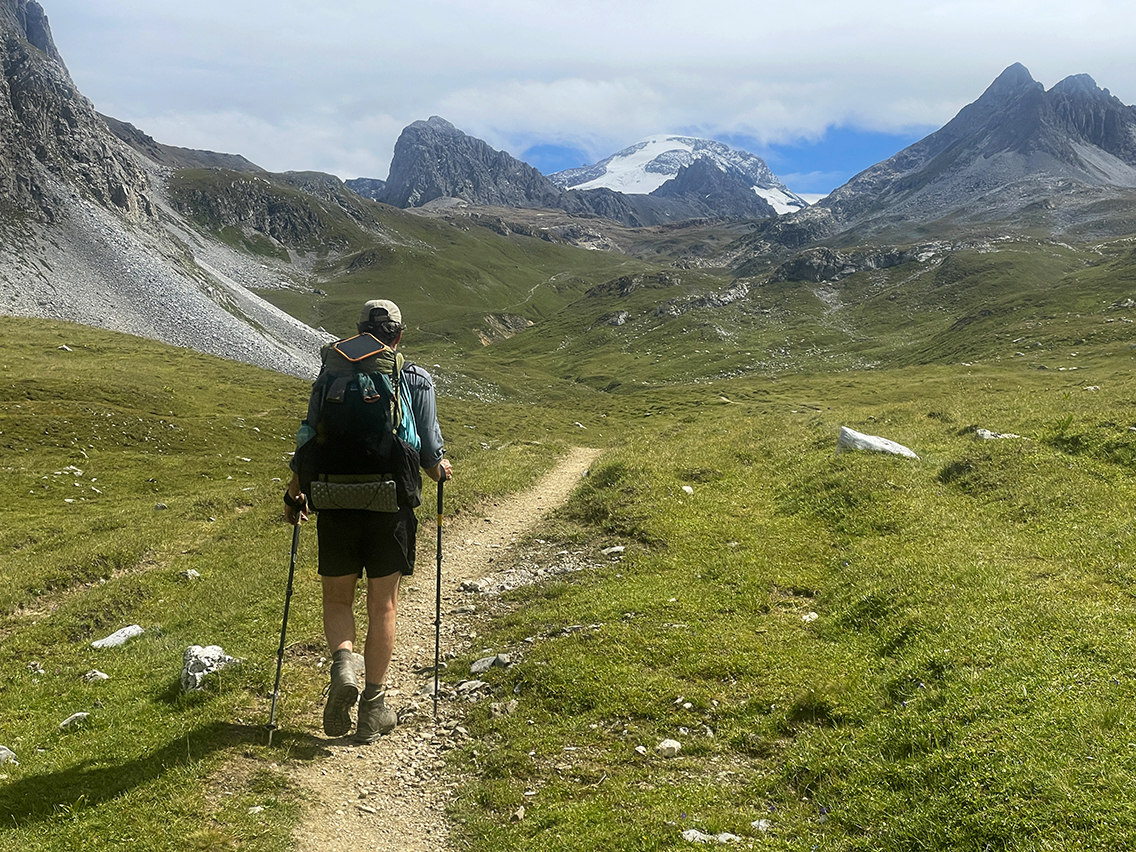 Trail towards Col du Palet in the Vanoise National Park (photo: Vincent Nicod)
GR5 Books and maps
As  with most other European trails, the Cicerone guide is the must-have guide for this hike. Unfortunately the guide is printed on thick paper in a sturdy plastic cover, making it a heavy load (390 gr). Moreover, I only needed about 100 of the 300 pages in the book for the sections I planned to hike this summer. So I ripped out the pages I needed and only packed about a 100 gr. of guidebook.
Kev Reynolds, Trekking the GR5 Trail. Through the French Alps from Lake Geneva to Nice, Cicerone Press, ed. 2016.
I planned my trip in my GPS app (Gaia Gps), but I did bring paper maps with me for better overall orientation. I used the French IGN 1:25.000 scale maps:
Morzine 3528ET

Samoëns 3530 ET
St. Gervais 3531 ET
Les Arcs la Plagne 3532 ET
Tignes Val d'Isère 3633 ET
Trois Vallées 3534 OT
Nevache 3535 OT
Briançon 3536 OT

Note: these 8 maps cover only half of the total Grande Traversée de Alpes. Although I saved 370 grams of weight by cutting the maps in half, I was still left with 360 grams of paper in my pack.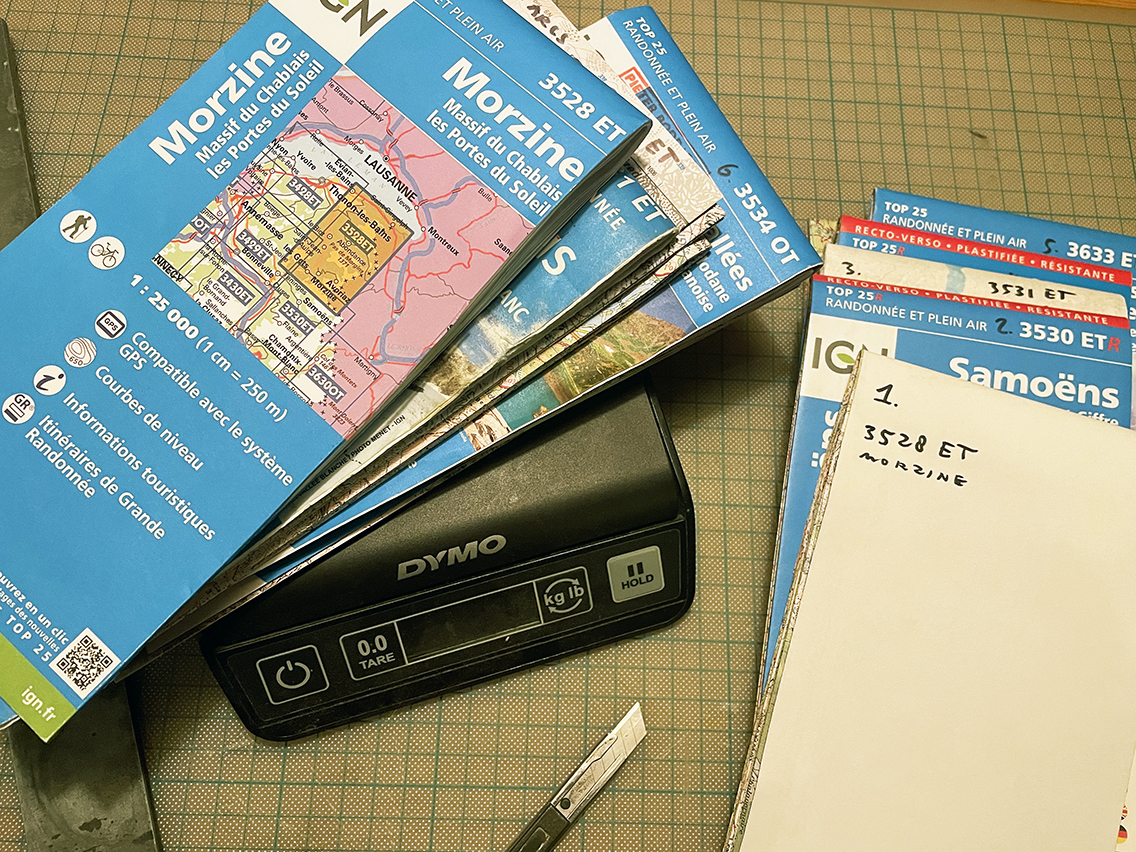 On the trail I actually didn't really need the maps, although especially in the Vanoise it was good to have a large map in order to understand the position of the many trails and refuges in the area. But otherwise the trail is signposted almost everywhere, and when there was any confusion, my map would not have been very helpful because a map doesn't tell you where exactly you are. I doubt wether I will bring paper maps when I continue the GR5 in 2024.
Where to stay at the GR5?
I decided to hike the GR5 mainly for one reason: in France it is legal to bivouac almost everywhere. A bivouac means, according to French law, setting up a small tent after sunset, and breaking up before sunrise. There are so many bivouac spots (and water sources) along the GR5 that you will practically pass a good a spot 4 or 5 times a day. The only exception is the National Park of the Vanoise: here a bivouac is only accepted next to the refuges (mountain huts). The problem during my hike however was that most refuges were fully booked in summer, including the bivouac spots! With some improvisation and very long hiking days I was able to hike through the Vanoise, but not in the way I wanted (see later post for details).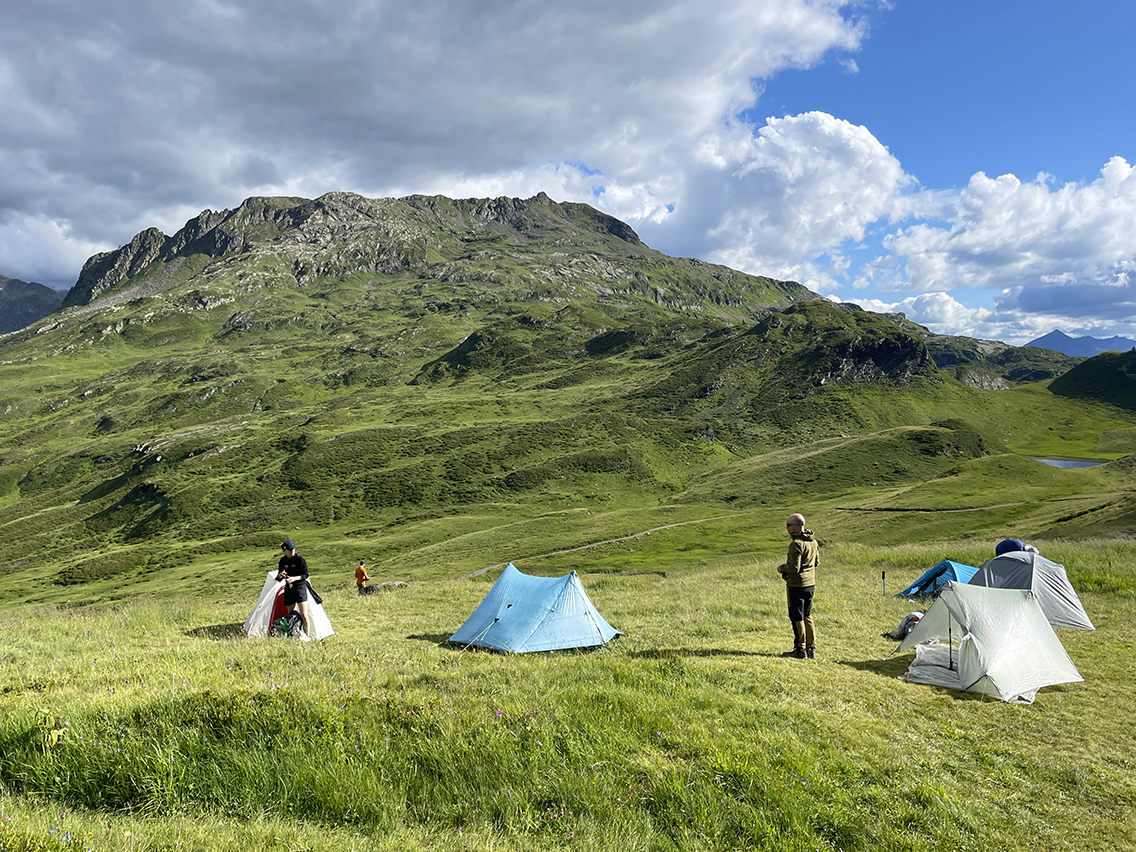 Bivouac near the Refuge Moëde Anterne
Beside bivouacs, there are also official camping facilities to be found in villages (Les Houches, Landry, Modane) and many huts provide (often free) tent spots. When the weather is really bad, there are various refuges to sleep indoors, if you don't mind sharing a room (or a bed – yes, a six-person bed exists in the Alps) with other hikers. 
What to Pack for the GR5?
For this hike I packed more or less the same gear as in previous thru-hikes, like the Kesch-Bergell Trek. I want to mention some gear that was either necessary or truly convenient during this thru-hike.
I carried a light weight camp chair (Helinox Ground Chair) with me, an item which was envied by many of my fellow hikers on bivouacs. It came at a cost though: with 615 gr (1.4 pounds) it was the heaviest thing in my pack – it was even heavier than my tent! 
Something that's absolutely necessary: good earplugs. In huts, but also on campsites where hikers are packed together on a tiny spot, these are indispensable items if you want to sleep well. There is always this one guy snoring. I use wax earplugs which are definitely more effective than plastic foam. I also brought an eye mask, because after a 10 hour long hike I like go to sleep before sunset and the darkness of the mask makes me sleep even better.
I also brought a water filter, which I used many times on the bivouacs – and during the day when it was getting really hot and there was no water fountain to be found. I packed about 7 self made dehydrated meals and breakfasts for the bivouac days; the rest of the time there was always food available in huts, restaurants or supermarkets.
Weather on the GR5
In the Alps you can expect almost any weather phenomenon possible, from scorching hot sunshine tot hailstorms. And these conditions can occur all within 24 hours. I have slept on high altitude (Col du Palet) in almost freezing conditions; I almost suffered a heatstroke descending to Briançon and I walked in full rain gear in snow and mist on the Crête des Gittes. I was prepared for all this with good rain gear, a '20 degrees' down quilt (20 F = -6 Celcius) and a bottle of sunscreen.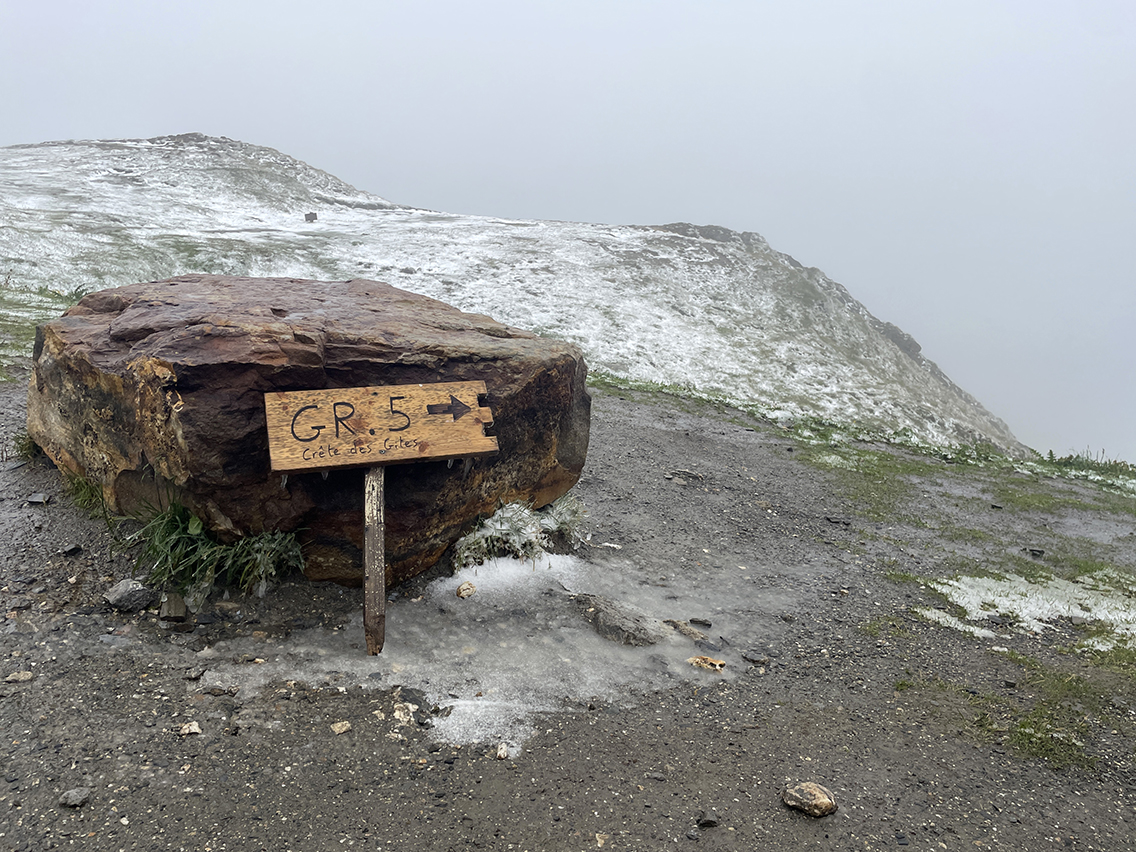 GR5 Junction to the Crêtes des Gittes from Refuge de la Croix du Bonhomme 
Although me and my hiking companions always tried to get a weather forecast as soon as we had internet connection, I think the best approach is to just let the days unfold as they come. The mountains are beautiful in all kinds of weather.
Getting to the GR5 Trailhead
The start of the GR5 trail is in St. Gingolph, a village on the French/Swiss border. Finding public transport to get there is not so easy. From the nearest airport Geneva there is no direct train or bus through France. The only trains ride around the northern shores of Lake Geneva and go through Switzerland; a transit in St. Maurice is needed to reach St. Gingolph. Some hikers I met had travelled to Vevey or Montreux to take a boat to St. Gingolph. I myself travelled to Basel with a nightjet train from the Netherlands and connected to trains to Lausanne and St. Maurice.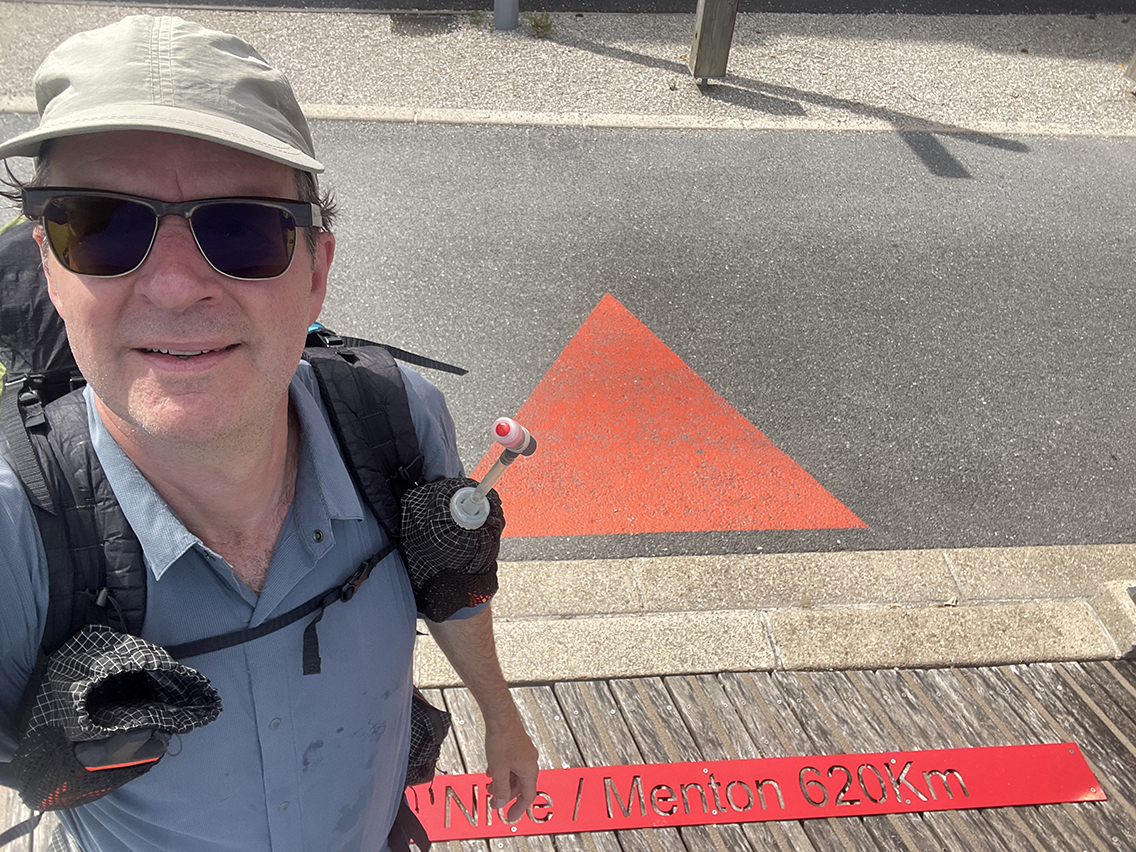 Once in St. Gingolph, the start of the GR5 is hard to miss as it is marked with many big red signs right at the shore of the lake, just west of the Swiss-French border.
And so it began: my 14 day thru-hike across the Alps. It became a journey with not a single day evolving as planned, where I would meet many unforgettable people and where I would hike longer, higher en further than ever before. 
> Coming soon: GR5 stage 1: St. Gingolph to Les Houches