For the Kesch-Bergell Trek in 2021 I swapped some of my gear for lighter variants. But I also carried some heavier items than last year. This resulted in a base weight just below 7 kg (15.4 pounds), not bad for a 12 day hike in the Swiss Alps. 

Lighter Gear
The major change this year was my sleeping pad. Having used the Therm-a-Rest Trail Pro for three years, for this thru hike I felt it was too bulky and too heavy (740 gr/1.6 lbs). Therm-a-Rest is continuously improving gear, and I discovered the NeoAir XTherm vapor. This sleeping pad only weighs 439 gr (0.9 lbs) and has a higher R-rating (5.7 , instead of 4), so it sleeps warmer, something not to be underestimated in the Alps. Not only did I shed 300 grams, the new mat is also three times smaller when folded. And it sleeps wonderfully well, provided that you do not inflate it to 100%.
Another improvement: instead of the 62 liter Z Packs Arc Haul backpack (835 gr/1.8 lbs), I carried the new 50 liter Arc Air. The previous years I have been shedding pack weight and bulk from my backpack, so the 62 liter Arc Haul was just becoming too large for me. With now just 705 gr (1.5 lbs) I carried less weight, but also less volume on my back and hiking felt much better.
A new item was the Sea To Summit Airlite Towel (Large), with 46 gr (1.6 oz) much lighter than the cut-in-half Sea to Summit Tek Towel I took on previous hikes. Although it feels more like a cloth than a towel, it works well and dries up very fast.
Heavier Gear
You win some, you lose some. For some items I chose heavier variants than before. Instead of my 196 gr/6.9 oz Teva flip flops, I carried Fashy Aqua Shoes (360 gr/12.7 oz). I like to swim in alpine lakes as much as possible. The closed water shoes stay on my feet while swimming and protect my feet better (I cut my toe last year on a rock under water). They also act as camp shoes, and I can wear my socks in them (which is a bit difficult in flip flops).
For better photography I bought a new iPhone 12, adding 75 gr (2.6 oz) to my pack. What I did not foresee is that this new phone has a much bigger battery, and my solar charger was hardly enough to keep it charged all the time.
New Gear Items
This is my fourth  thru hike, and beside swapping some gear, I took only one completely new item this year. For some reason I sleep bad (sleeping on my side) without a small pillow between my knees that prevent my knee bones knocking in to each other. Lately I came up with a solution: a small inflatable toy donut. It must be the funniest piece of gear on my list!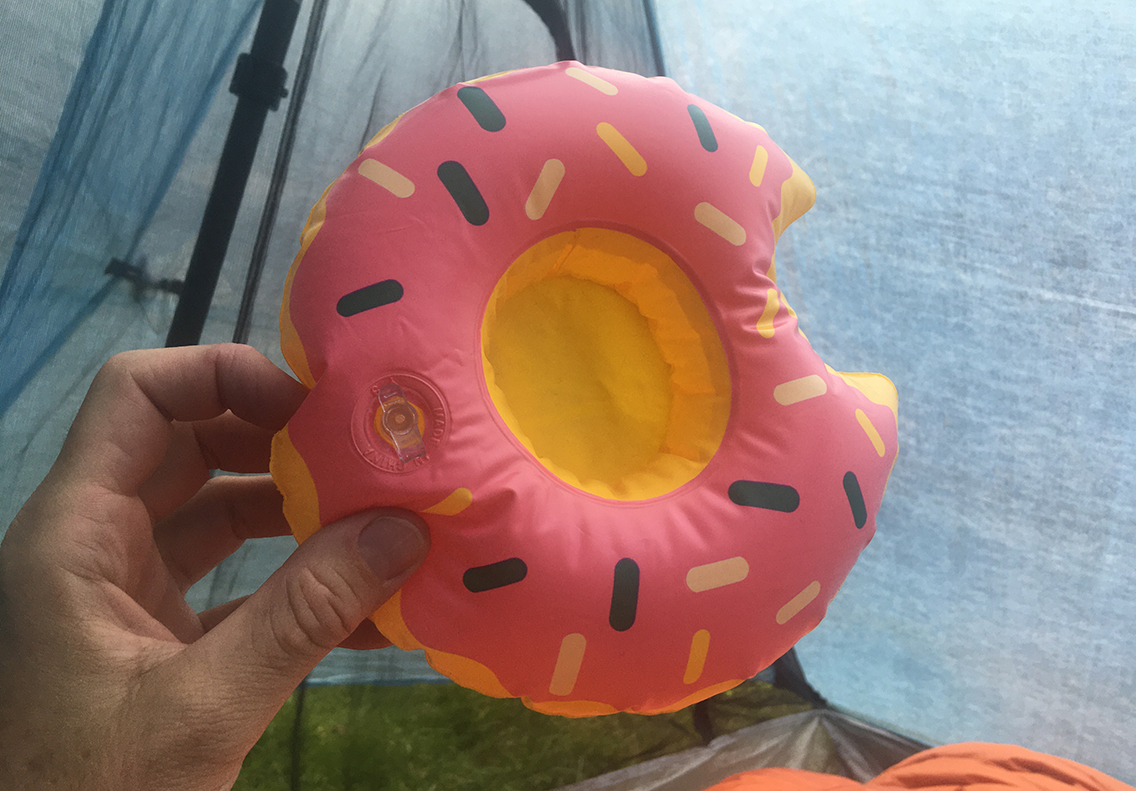 This funny piece of gear helps me sleep at night.
The Same Gear
Most of the rest of my gear list stayed more or less the same. Two of my favorite gear items are the ZPacks Duplex tent and the Enlightend Equipment Enigma quilt – of course I did not change them.  But the most important piece of gear, my walking boots, deserve a special mention: the Hanwag Tatra II GTX. I have worn these boots since my High Sierra thru hike in 2018.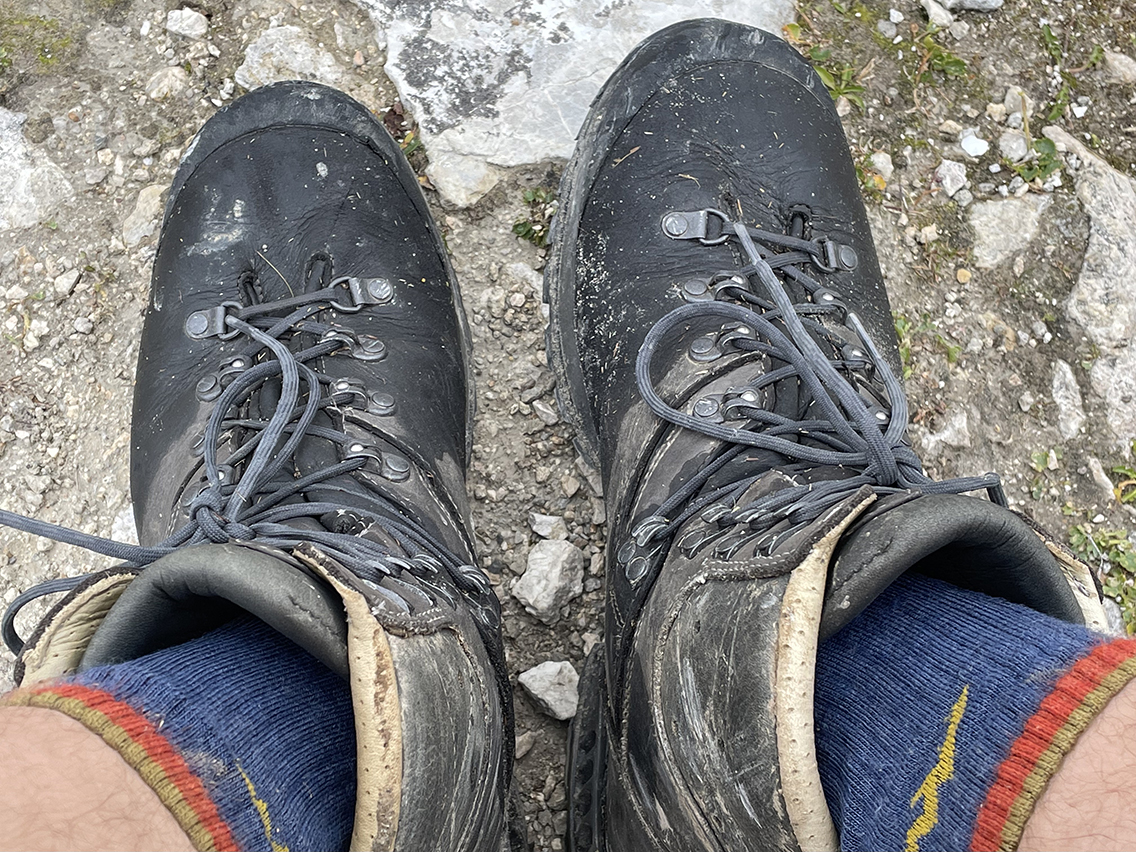 After the Haute route last year, I finally and for ever dropped the idea of wearing lighter boots or trail runners in the Alps. How happy I have been hiking in my sturdy boots, traversing sharp rocks, gravel and icy snow with ease! Yes, these boots are heavy (900 gr/2 lbs each) but man, they are lifesavers! This year I bought new boots – the same brand and model but now in a wide toe box variant. This provided me with more space for my toes and that made it possible to do the entire hike without any (yes: ZERO) blisters. The boots also stayed completely dry inside – in the wettest thru hike so far!
Now I would never recommend any brand or type of shoe to anyone, because hiking shoes are the most personal thing. It has to fit your unique feet as well as your style of hiking. But if you like some ankle support and rough trails, these Hanwags are worth considering.
Gear Failures
I had some serious gear failure. The worst was my Sawyer Squeeze water filter. In a lot of huts and also in the Flüela Hospiz, there is no drinking water from the tap – I found big 'Kein Trinkwasser' (no drinking water) signs in the bathroom. What I use to do in such a case, is take out my Sawyer and filter 2 liters from the tap. But when I got to work, my filter was  completely clogged. No backflushing (I did bring the blue backflush ring) or extra hard squeezing could help.
I ordered a new Platypus QuickDraw filter online, to be delivered a few days ahead. So for the short term I had a problem. I did not want to buy 2 liters of water for 5 Swiss Francs each, so I filled up my bottles with the Kein Trinkwasser and just took the risk. As I am still alive today, I don't think there was any health concern anyway. Note to self: always test the water filter shortly before departure!
Another failure was the Sea To Summit Ultra-Sil Nano Dry Sack in which I put my sleeping quilt, for extra triple protection. After a few days it ripped open at the top. Next time I will use the Osprey Dry sack,  which has proved to be much sturdier at just a few grams more weight.
Final Gear List 2021
All in all I carried about the same base weight as last year (in my spreadsheet it seemed even a bit more, due to miscalculations last year). But because I took much less food (huts and villages everywhere), my total pack was lighter: 11 kilograms (24.3 pounds) – not bad for a 12 day trip.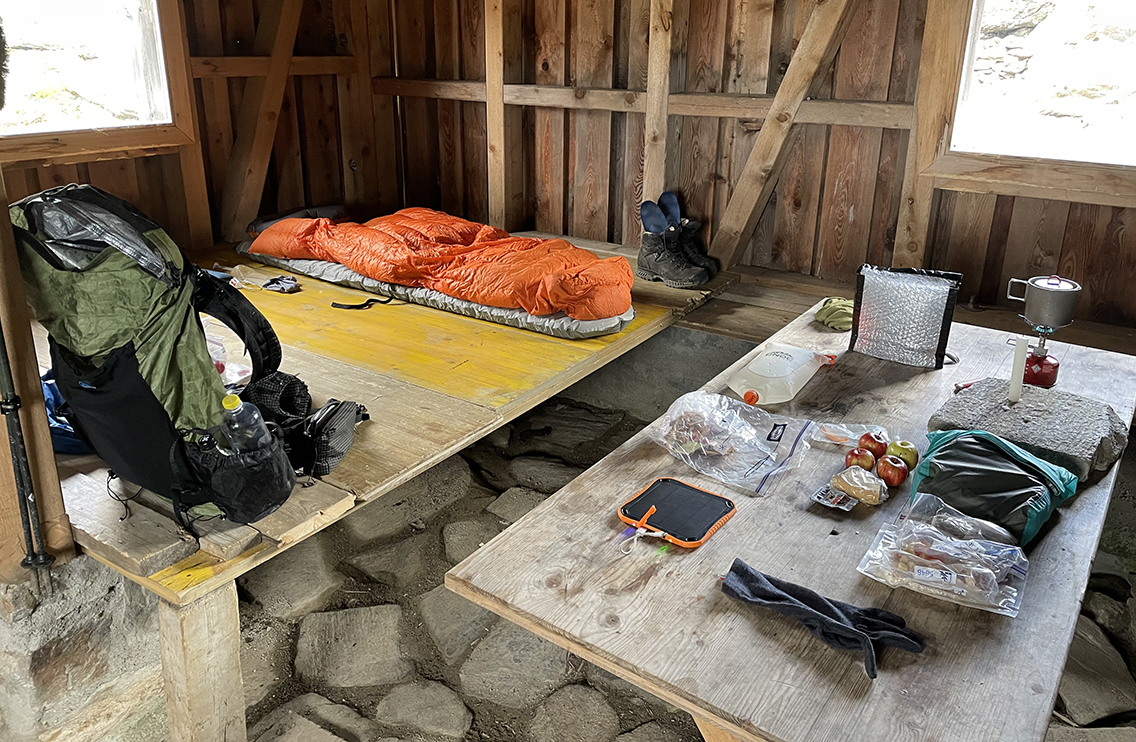 Most of my gear spread out in the shelter at the Scaletta Pass
 A. Worn Items
Clothing

Hatland Cooldown sun hat – 54 gr

Sunglasses (prescription) – 43 gr

Arc'teryx Elaho Longsleeve hiking shirt – 172 gr

Nike dri fit zip pockets shorts – 134 gr

Under Armour boxerjock – 80 gr

Darn Tough Micro Crew Cushion hiking socks – 78 gr

Hanwag Tatra II GTX wide Hiking boots – 1.800 gr

Orthotics (custom made insoles) – 92 gr
Stuff

Black Diamond Alpine Carbon Cork  trekking poles – 509 gr

Victorinox mini pocket knife – 21 gr

iPhone 12 camera/phone – 187 gr

Handkerchief – 15 gr
Total weight worn items – 3.191 gr /  7,0 pounds
 B. Base Weight
Pack

ZPacks Arc Air 50L backpack (2 hip pockets, 2 shoulderpouch, wallet) – 705 gr

Zpacks liner bag 40 L – 70 gr
Clothing

Outdoor Research Helium HD rain jacket – 277 gr

Berghaus Goretex Paclite  rain pants – 239 gr

Zpack Vertice rain mitensts – 25 gr

Patagonia Nano puff jacket (PrimaLoft Gold) – 382 gr

High UV Insect shield buff – 43 gr


Smartwool Merino 250 gloves – 41 gr

2nd pair Darn Tough socks – 78 gr

2nd Under Armour Boxerjock – 66 gr

2nd handkerchief – 15 gr

Glasses (prescription) – 13 gr

Glasses case – 57 gr

Fashy Aqua Shoe – 360 gr 
Cooking

Snowpeak litemax stove – 59 gr

Evernew Ti Ultralight 0,5L Mug Pot – 73 gr

Snowpeak Hotlips – 4 gr

Sea to summit spork – 12 gr

Lighter Bic – 22 gr

Cook Pouch Self made (Reflectix) – 27 gr

Osprey 6L Dry sack  – 32 gr
Sleeping

Zpacks Duplex tent – 578 gr

8 Exped+Nigor mix V stakes – 87 gr

Enlightend Equipment Enigma (20F) down quilt – 535 gr

Sea To Summit Ultra-Sil Nano 8L dry sack for quilt – 26 gr

Therm-a-Rest Trail Pro (R=4.0) sleeping pad – 439 gr

ExpedAir Pillow UL Large – 59 gr
Plastic inflatable donut toy knee pillow – 17 gr

Bridgedale Coolmax liner socks – 31 gr

Icebreaker Merino 200 base layer Long Johns – 193 gr

Icebreaker Sphere LS Crewe long sleeves merino shirt – 168 gr

Light sleeve for glasses (night) – 21 gr
Essentials

Osprey Hydraulics SoftFlask Water bottle  0,5 L – 40 gr

Water bottle (disposable Sourcy bottle, 1 L) – 39 gr

Water bottle (disposable Sourcy bottle, 1 L) – 39 gr

CNOC Vector 2L water container – 76 gr

Water filter Sawyer Squeeze – 69 gr

Sawyer mesh bag for water kit – 13 gr

Repair kit (Therm-a-rest pad kit, Zpacks tape, duct tape, needle, alcohol pad, string,
pole adjuster, in small ziplock) – 34 gr

Sit pad Therm-a-rest Z Seat SOL – 57 gr

Fox 40 Classic Safety Whistle – 8 gr
Home keys – 15 gr
Papers 

Passport – 38 gr

Creditcard, insurance card, bank debit card, train cards –25 gr

Printed train tickets, vaccination pass – 27 gr
Ballpoint – 5 gr

Selfmade 40 pages notebook – 21 gr

Printed route + topographic Maps cut to smaller size – 82 gr
Book, (weight at start) – 206 gr
Personal care

Sea To Summit Airlite Towel Large  – 46 gr

First aid, sport tape, tooth brush, ear plugs, etc.– 285 gr

Prescription medicine – 70 gr

Banana Boat sunscreen SPF 50 tube – 109 gr

2x Ziplock (3L) for trash – 22 gr

Adventure Medical Kits Alcohol-Free Hand Sanitizer – 50 gr

Toilet paper 1 roll – 92 gr

Tent lab deuce of spades, cathole spade – 16 gr
4 Face masks, obligatory in plane and public transport – 16 gr
Electronics

Garmin Inreach Explorer 2-Way Satellite Communicator– 234 gr

Flybox SQ1 Premium solar power bank/charger – 276 gr

Flybox cable – 7 gr

iPhone cable Belkin Mixit 15 cm – 9 gr
iPhone charging plug – 28 gr
Apple earphones – 13 gr

Headdlamp Petzl Bindi – 35 gr

Mesh sack for electronics – 9 gr

Joby GripTight One Micro tripod – 45 gr
Total Base weight 6.976  gr / 15,4 pounds
C. Consumables
Water in bottles maximum 2 L – 2.000 gr 
Food at maximum – 1.800 gr
Gas

canister MSR (4 oz) – 226 gr
Total Consumables 4.026 gr /  8.9 pounds
PACK WEIGHT (B+C)  11.003 gr / 24.3 pounds