In the summer of 2022 Christine and I will hike the Alta Via 1 (Italy) together. The AV1 is one of the classic European thru hikes that I started planning some years ago but was never able to hike – until now. Hiking this 120 km (75 miles) trail in twelve days, we will exclusively spend the nights in mountain refuges. After all, camping is not allowed nearly anywhere on this trail. The AV1 is traditionally meant to be experienced as a hut tour anyway.
Alta Via 1
Start: Lago di Braies (1.494 m / 4,902 ft)
End: La Pissa (448 m/ 1,470 ft) and bus to Belluno (370 m /1,212 ft)

Highest point: Rif. Lagazuoi 2.752 m/9,029 ft)

Distance: ± 120 km (75 miles)

Total Elevation Gain: + 7.300 m (23,950 ft)

Total Elevation Loss: – 8.300 m (27,230 ft)

Time: 45 hours/9 days
What is the Alta Via 1?
The Alta Via 1 is one of the six long distance trails in the Italian Dolomites, a mountain range located in northeastern Italy on the border with Austria. The Alta Via number 1 is the easiest trail of the six. The numbers 2 to 6 are increasingly demanding. The AV1 is very popular with organized groups, but – provided that you book your accommodation well ahead – also an excellent thru hike for individual hikers.
On the Via Alta 1 there are some alternate trails to avoid difficult parts, or to prolong the hike. And there are so many mountain huts, that it is possible to do the trail at any pace, which could be anything between 6 (really fast) and 12 days (nice and slow). There is also the possibility to exit the trail at various points, shortening the tour to make the hike fit your time schedule. We planned to hike 12 days. 
Our Alta Via Itinerary
We divided the trail into 9 parts: shorter parts of about 3 to 4,5 hours at the beginning and longer 6-hour days at the end. I made a spreadsheet with all the rifugi (huts) and their walking distances in hours in between (here the Cicerone guidebook comes in handy). In this way I could choose a hut based on the estimated hiking time each day. Note that we will skip rifugio Lagazuoi entirely, missing the highest point of the official trail.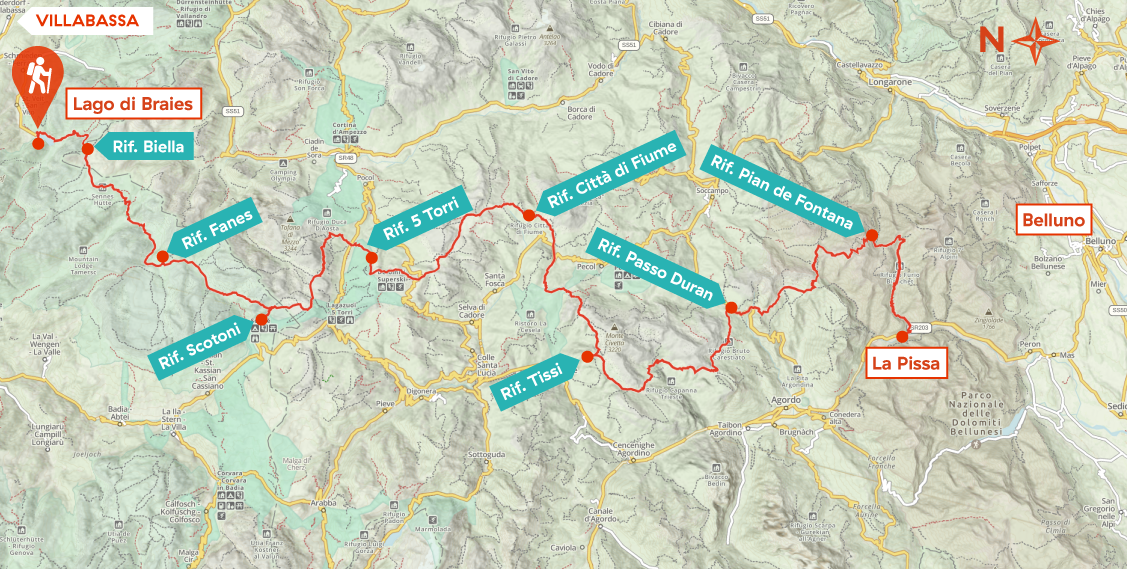 Overview of the Via Alta 1 with selected rifugi (note: North is left)
Getting to the trailhead (and home)
Although Venezia (Venice) seems to be closest main airport in Italy, we chose to fly to Innsbruck, Austria, which is closer to the starting point of the trail: Braies. From Innsbruck we will take a train to Villabassa and a bus to Braies, a 4 hour total trip. We will begin our journey with 3 relaxing days in the Hotel Lago di Braies to acclimatize and do some preliminary walking. Then 9 days later we will end our thru hike in La Pissa, where we will take a 30 minute bus ride to the old town of Belluno. From Belluno a train runs to Venezia (± 3 hours), where we have booked a flight back home. 
Alta Via Books and maps
There is one main guide for the Alta Via 1: Cicerone's Trekking in the Dolomites by Gillian Price. The book contains descriptions of AV1 and AV2, plus outlines for the numbers 3 to 6. I have ripped out page 31-96 out of the book, to save weight and bulk.
I always carry paper maps, although I mainly navigate with GPS. And on routes like this it is very well possible to rely solely on the waymarks on the trail. But for safety and for my personal preference to mark my route on paper, I do take a paper map. The best maps for the Alta Via 1 are the 1:25.000 Tabacco maps:
031 Dolomiti di Braies
03 Cortina d'Ampezzo e Dolomiti
025 Dolomiti di Zoldo, Cadorino e Agordine
The first map only covers a first tiny bit of trail from Lago di Baies to Rifugio Biella. So if you really want to save money and weight, don't buy this one. Otherwise cut the map into a much smaller one to make your life easier on your first day on the trail.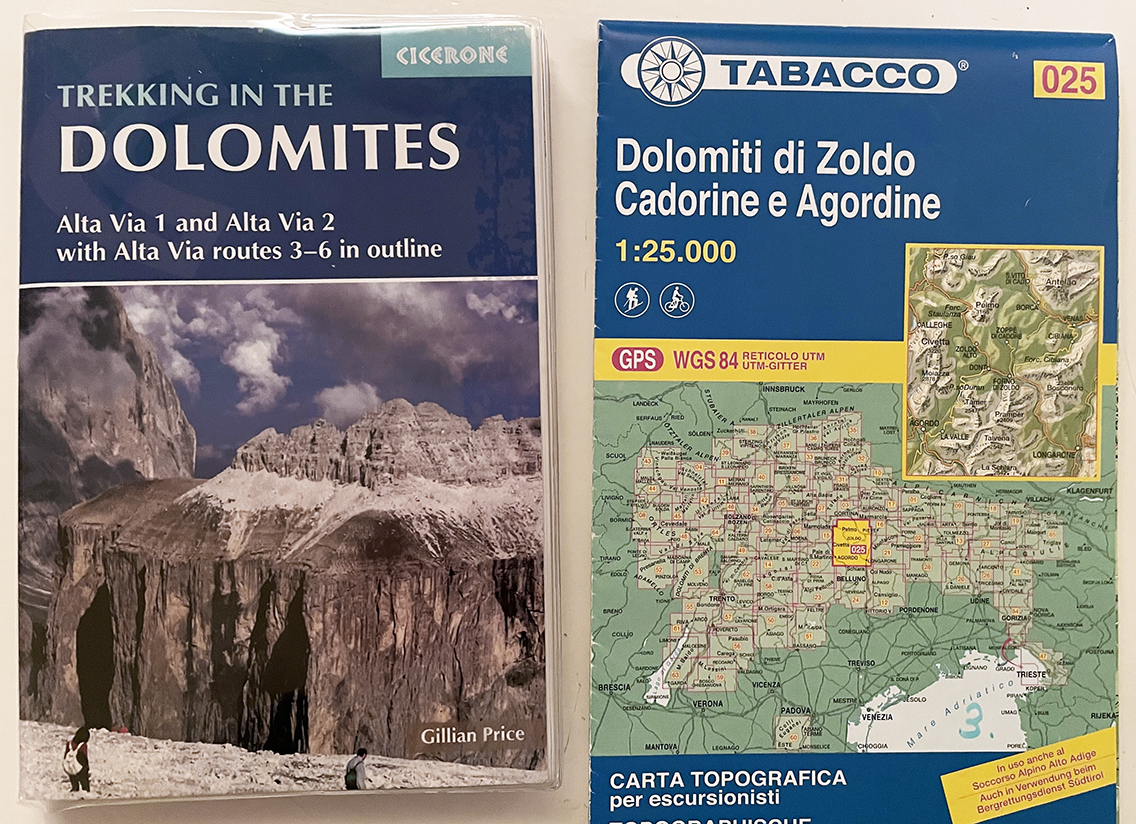 Booking the Rifugi
As mentioned before: camping is not allowed nearly anywhere on this trail. The AV1 is traditionally meant to be experienced as a hut tour. And as much as I like hiking with my tent, for this trail I decided to not even try. From my experience at the Tour du Mont Blanc I can say that Italians are quite strict with no camping rules. On the positive side: hiking a hut tour allows us to go extremely lightweight and still enjoy good food every meal of the day (which does come at a price of course). 
When to go
Most mountain huts do not open before mid-June, when most of the snow has melted. September to October are the months when the huts are closing again. So mid-June to mid-October is the window of opportunity to hike the Alta Via 1. Planning your itinerary, always check the websites of the rifugi to make sure they are open and to get information on the current situation. 
When to book
There are more than 20 rifugi and hotels along the trail, and even more a bit off-trail. This means that there should be plenty of opportunities to rest your head after a long day of hiking. But as the Alta Via 1 is a very populair trail, booking ahead is necessary. Now here comes the part where you have to be persistent and truly motivated. All of the accommodations are privately owned and they all have their own methods of reservation. Some can be booked way ahead of time (in October the year before), while for another you'll have to wait until halfway into spring before the website opens the reservation form. Some have a perfectly working website, others can best be reached by telephone (I tried Whatsapp instead using Google Translate, not speaking Italian).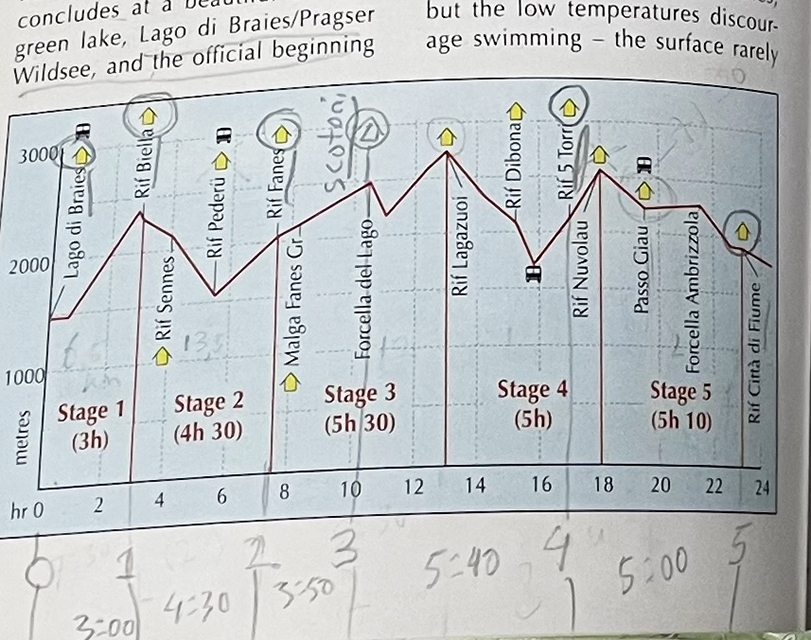 ugiiWe also
 I used the elevation profile from Cicerone's guidebook to draft the first version of our itinerary.
Below are the rifugi and hotels that we booked, along with the specifics of how and when to book.
Hotel Lago di Braies: booking starts at the end of December. Easy accessible webform.  Accepts only bookings for 3 nights! Quite expensive (€850 for 3 nights, depending on type of room, including breakfast and dinner) but the rooms and views look promising.

Rif. Biella: booked with an email in November. Dormitory and cold water only.

Rif. Fanes: booked with a webform as early as October. Two-bed room with shared bathroom.

Rif Scotoni: located 20 minutes off the Via Alta 1. We booked a shared 4-person room by email in December.

Rif. 5 Torri: we booked a double room in January by sending an email.

Rif. Città di Fiume: Although they did respond to my email in January, the website did not have a reservation form until April 25th. 

Rif. Tissi: we booked a double room in November by sending an email.

Rif. Passo Duran C. Tomè: we booked a double room in February by sending an email.
Rif. Pian de Fontana: we booked by sending an email the end of October. Dormitory and cold water only.
Park Hotel Villa Carpenada, Belluno. We will spend two nights here. The hotel was kind of hard to reach, but was easily booked with Booking.com in December. Belluno has a lot more hotels; we chose this hotel 10 minutes outside of the town's center, because we like to end our hike in a relatively quiet part of the village.
Deposits
Most huts will ask for a non-refundable deposit. Some huts will ask you to confirm your reservation again 4 weeks before arrival. All huts are different: some have double rooms with bathroom, others only simple dormitories and cold water. Be aware of the fact that drinking water is not always available for free (one of the reasons we will bring a water filter). 
Gear for the Alta Via 1
Hiking without a tent feels a bit odd for me, as I have always carried my house, bed and kitchen on my back the past 5 years of hiking. In February this year I hiked a 4 day hike in Portugal without a tent and I was surprised how little remains to carry. Basically just some clothing to keep warm and dry, a book and a cellphone.
For the Via Alta 1 we will carry a little bit more, but we decided to carry just one backpack (on my back) instead of two, for it makes no sense to carry a half full pack each. I will take my 50 liter/700 grams Arc Air Backpack from ZPacks. We will take rain gear, puff jackets, fleece and sleeping clothes to stay warm and dry.
Special gear for a hut tour
We also take silk mummy blankets (obliged in the huts) and a water filter, because potable water sources are said to be very scarce along the trail. For our phones we will take a solar charger, as you can never be sure if you will have electricity available in all huts (I have been in a 4-persons dormitory once with just one wall outlet). And: NEVER forget the best earplugs that fit your ears when hiking a hut tour. Try them before you head for the trail and thank me later.
We will also pack some snacks like chocolate, nuts and electrolyte drink powder, to save a little money. There are absolutely no shops along the trail – just mountains huts and hotels, which all tempt you with delicious meals and drinks at not-so-affordable prices.
 We will hike the trail between August 1 and 12 of 2022. See you on the trail, maybe! 
Post Hike Update
Planning a thru hike is always different from actually hiking a thru-hike. During our hike, we found the Alta Via 1 to have some tough ascends, so we made some changes in our itinenary to make the daily mileage more manageable. We stayed in two other huts than planned, booked last-minute om the trail. We also skipped the last stretch of the trail to Rifugio Pian de Fontana and La Pissa because of the exposed section between Pramperet and Pian de Fontana. 
Find the details in my complete Alta Via 1 trip report.