I had a dream. Hiking the John Muir Trail (JMT): the 210.4 miles (339 km) long trail trough the Sierra Nevada. But because the required wilderness permit is extremely hard to obtain, I looked for an alternative.
The Wilderness Permit
Permit issued by: Sequoia Kings National Park

Permit quota season: May 25th – September 22nd

Fee: $15 non-refundable

Application: email or US postage
Hiking a Loop
Apart from permits, hiking in the JMT poses another problem – especially for overseas hikers. How to get to the trailhead and how to get back to your car (which will be at least 210.4 miles away)? Not living in the USA makes it impossible to have friends arrange a shuttle car.
Also, coming from Europe I am not very flexible in starting dates, since affordable flights to the USA have to be booked long in advance.
So when I stumbled upon a blog about the Big SEKI Loop (thanks!), my new plan was born. I would just drive my rental car to the trailhead, hike a loop, and get back in my car.
What is the SEKI loop?
SEKI is short for Sequoia and Kings Canyon, the two National Parks that sit right next to each other in the Sierra Nevada. The Big SEKI Loop is not an official trail, it's just a combination of (parts of) three trails: the Rae Lakes Loop, the JMT and the High Sierra Trail. Plus some extra hiking to make it a loop. In another post more about the SEKI loop.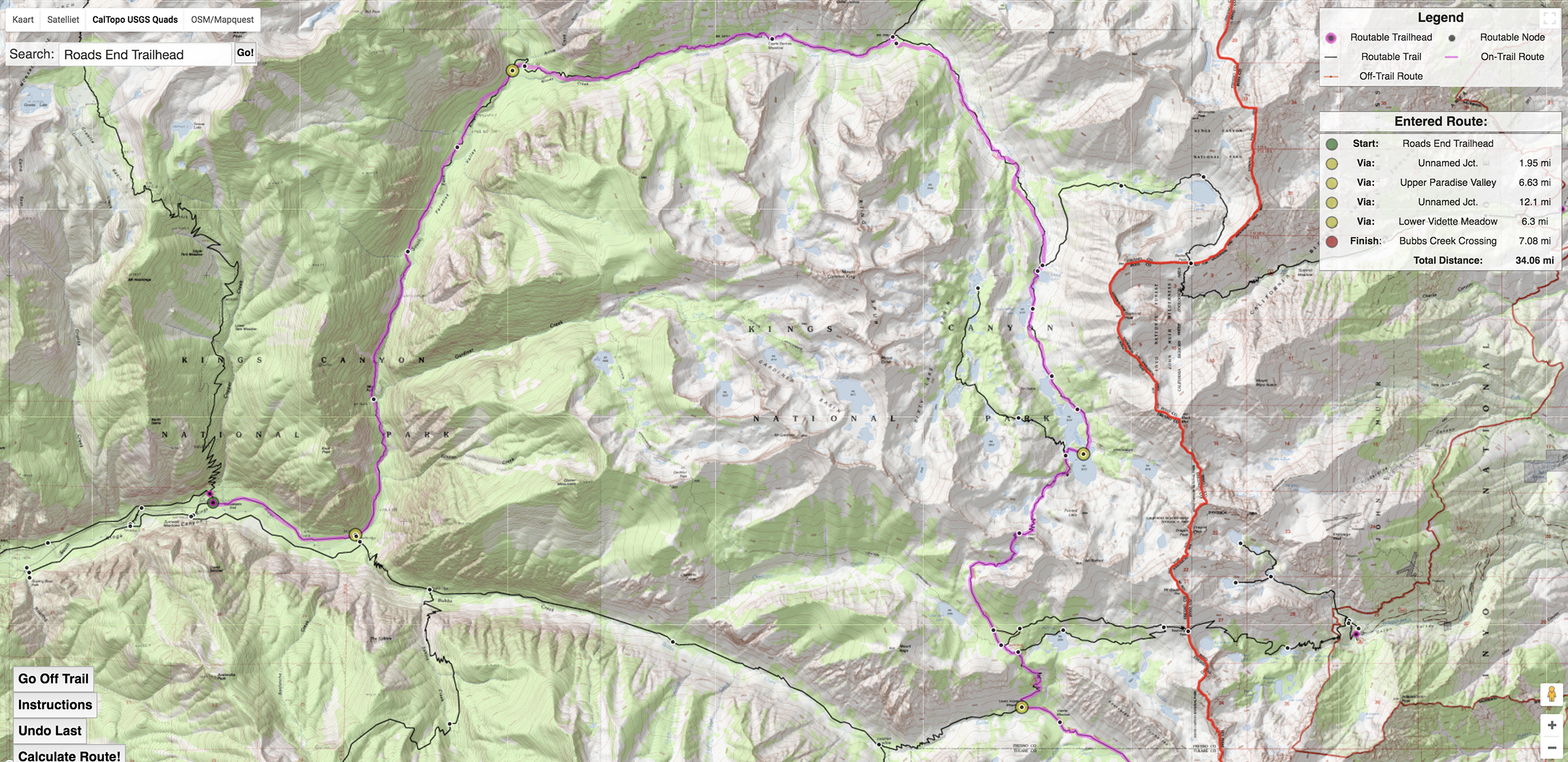 The purple line is the Rae Lakes Loop part of my Big SEKI Loop, that starts left at Roads End and leaves the frame on the right, going further South on the JMT (thanks to Sierra Mapper).
The Permit Process
Although permits for a SEKI loop are much easier to get than JMT permits, you still have to plan this carefully. I chose to start my hike at Roads End in Cedar Grove. This gave me 3 possibilities: start at the trailhead for Copper Creek, Woods Creek or Bubbs Creek. All three trails lead to some point on the JMT. Copper Creek leads to the most Northern connection at Pallisade Creek. Bubbs leads to Vidette meadow, the most Southern connection.
I chose Woods creek, because it leads directly to the Rae Lakes area and it gives me the right number of miles to make in a 14 days trip. To make a permit reservation, you have to fill in a PDF-form and email this to the SEKI Wilderness office of SEKI National Park. The first moment you can do this is March 1st.
Getting the Time Right
All permits become available at this day at 24.01 AM. As the USA has four differeent time zones, it makes sense to have a good look at what time zone we are talking about (Pacific Standard Time PST). And, for overseas hikers: what that time is in your own country. I found it confusing that the American notation is '24.01' AM.
In Europe we would either say 12.01 for 1 minute later than noon. Or we would say 00.01 for the moment just after midnight (the difference beween AM and PM I always remember by the great Simon and Garfunkel song Wednesday Morning 3 AM). To make sure that 24.01 AM was the same as 9 in the morning for me, I used the worldtimebuddy.
Hello, you have been awarded
So there I was at my desk behind the computer at 8.30  in the morning. I had filled in the form weeks before, double and triple checked all the dates, entry and exit trailheads, staring at the clock with an email message and the attatched form ready to send. Time went so slowly, I almost forgot to press SEND the moment the clock read 9:01.
Within 16 minutes I got a message back, saying it could take up to 3 weeks before my reservation would be confirmed (or denied). But within 12 hours at 20:44 (which was stil the morning of March 1st for the SEKI officer) my reservation was confirmed: 'Hello, You have been awarded your reservation for a wilderness permit in Sequoia and Kings Canyon National Parks'.
My reservation number was 1800068, so I assume I was the 68th applicant. That means that at least 68 other people send a request that first second of March 1st. But I got the Golden Ticket.
Devastation
Next month though I read a message on the SEKI website:

There is a creek crossing on the Woods Creek part of the Rae Lakes Loop: the South Fork Kings River above Paradise Valley. I plan to cross that river on the second day of my hike. But the bridge is
gone
.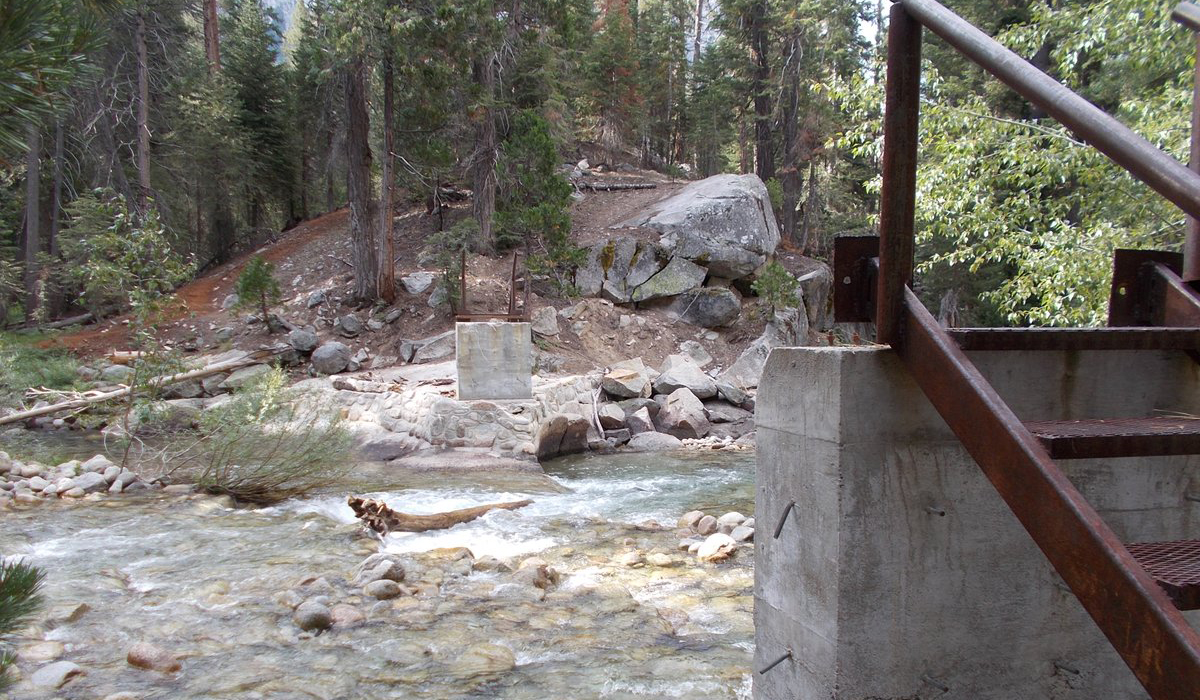 Photo from May 2017, from SEKI twitter. No bridge.
It is possible to cross the river balancing over a big fallen tree south of the now gone bridge. But if waters are high, even that is hazardous. I didn't want to take that risk, and decided to change my plan. I tried to make an extra reservation for entry via Bubbs Creek. This does have two disadvantages though: it would shorten my hike, and it would mean crossing Glen pass (11,924 ft / 3.634 m) twice if I wanted to reach Rae Lakes. But I learned quickly that even if there would have been a permit available, you cannot make two confilcting reservations.
But the SEKI Wilderness office did give me a chance to switch permits. I could exchange my permit for August 30 for a Bubbs permit on August 28. And then I made a mistake: I emailed back that I wanted to switch. Then next day I got the news the switch had been made and I was awarded a permit for August 28.
BUT WAIT A MINUTE!
On August 28 I will arrive in Grant Grove after a 14 hrs flight. It would be nearly impossible and definitely stupid to start my hike on that first day. I looked up the international dialing codes and grabbed my phone and called the SEKI office. I was lucky. The very friendly woman that answered my call was the same person who emailed me minutes before. She had my application right in front of her. And she swithed everything back to my original plan. I was happy and amazed about this very friendly service.
So now I still have a non existing bridge to cross. From what I have read, the river should be low in september and crossing might not be a problem at all. I will write about that in a future post: Day 2 of my Big Seki Loop.