Day 8 of the Tour du Mont Blanc was wet, cold …and short. I hiked up to the Refuge du Col de Balme, where I  warmed up and made plans for the rest of this rainy day. Then I hiked down to the valley to the first hotel that had a room available. The day ended nicely though, with 4 fellow TMB hikers in an Argentière bar.
Day 8: Le Peuty – Argentière
Start: Le Peuty

End: Argentière (Hotel le Dahu)

Distance: 13 km (8,1 miles)
Highest point: Col de Balme 2.222 m (7,290 ft)

Elevation gain: 874 m (2,867 ft)

Elevation loss: 970 m (3, 182 ft)

Time: 3:30 hrs moving time; 4:30 hrs total time

Date: August 19, 2019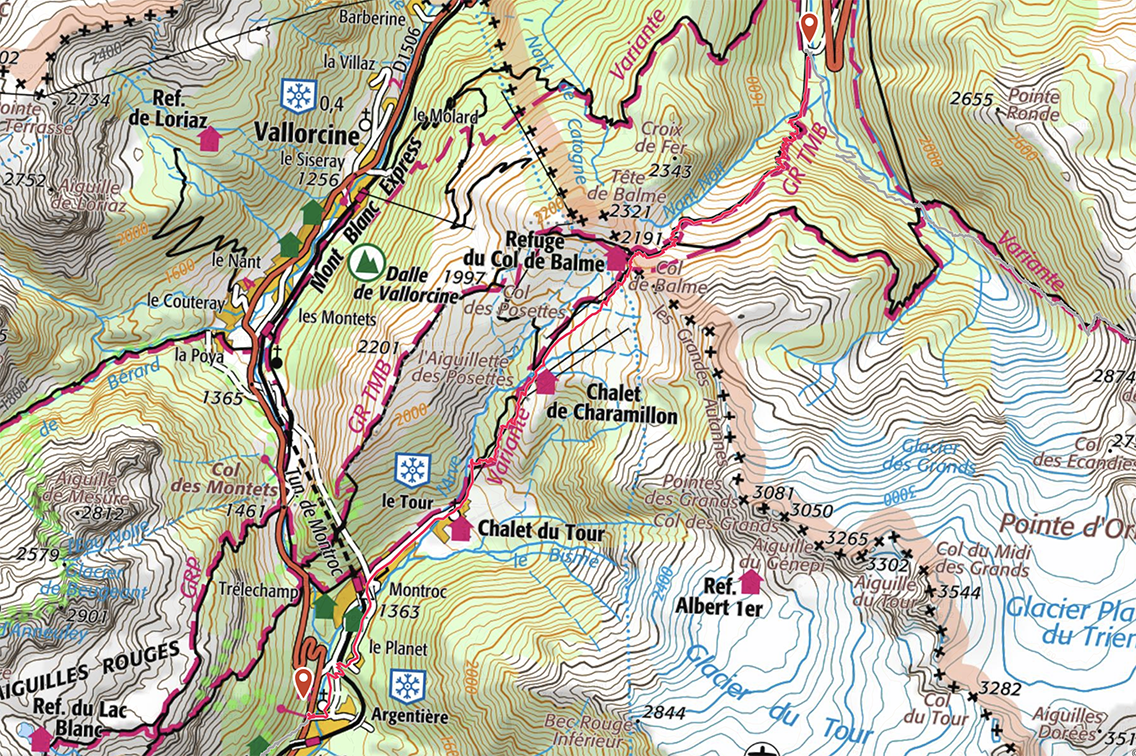 TMB Day 8, map by France IGN Topo / Gaia GPS
Le Peuty campsite shelter
Last night had been stormy. Heavy rain, thunderstorms and lightning woke me up in the middle of the night. In the morning the wind wasn't that bad anymore, but rain kept pouring heavily on the many tents in Le Peuty's campsite. We were all very lucky that there was this big shelter. The morning consisted of many hikers cluttering together here, trying to dry gear and attempting to make breakfast or coffee. I dried  my sleeping pad, that was wet with condensation, with one of my throw-away paper towels. But my tent was so wet, I decided to pack it wet, there was no way of drying it in these circumstances.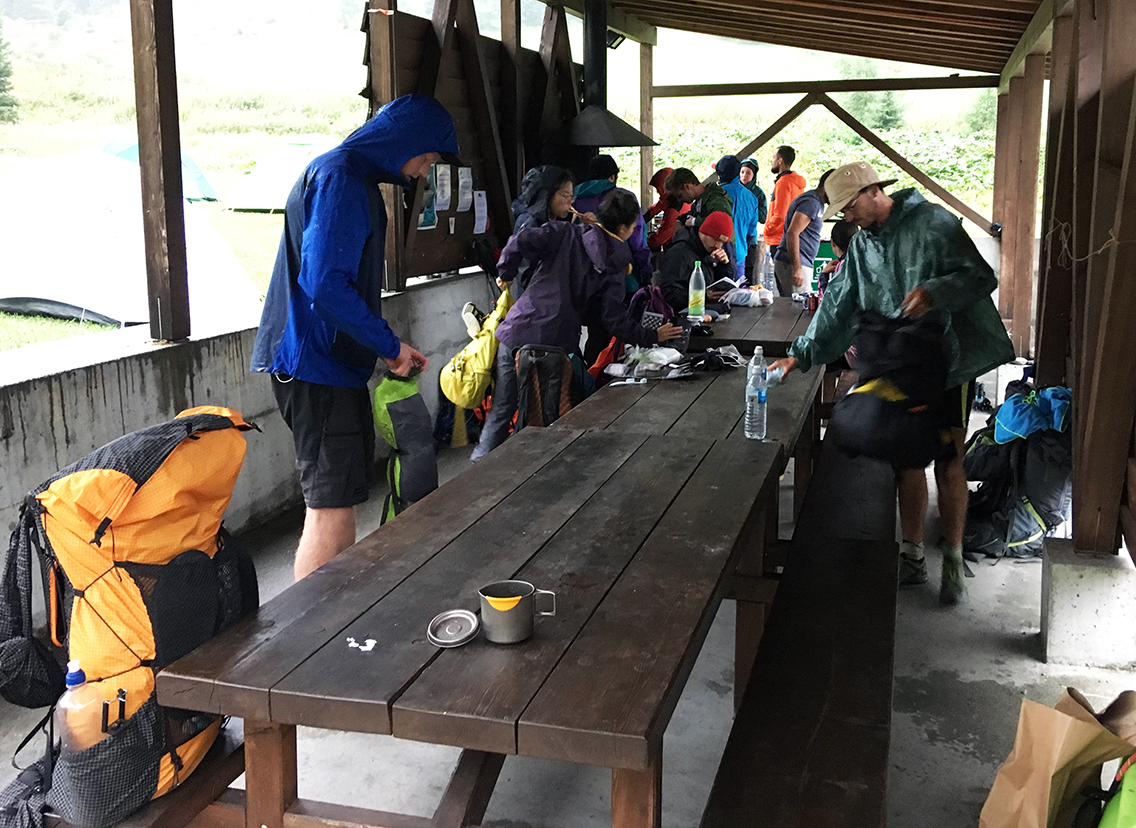 A busy morning in the shelter of Le Peuty.
For this trip I had made one major change in the way I pack my backpack. Instead of putting my sleeping bag, clothing and other stuff in separate dry sacks, now I had put one 60 liter dry sack inside my backpack, with most of my gear stuffed into it loosely. My pack was less wobbly this way, more streamlined. But it also gave me the opportunity to pack everything dry inside the big dry sack, close it tight, and put my wet tent on top of it, inside my backpack, to dry out later.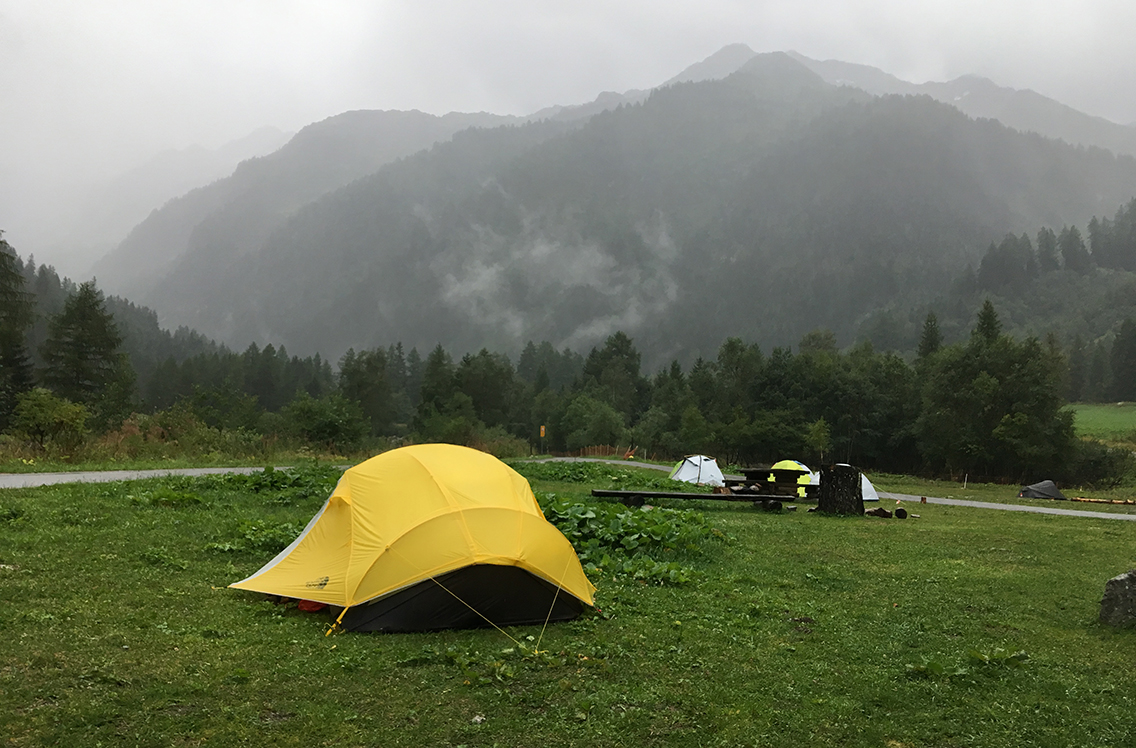 Le Peuty campsite without the view of the big Trient Glacier and the mountain top of Le Génépi.
At 8 am I was ready to go, after I said goodbye to my hiker friends John and Grace, who were ending their Tour here. In the pouring rain I hiked up the trail, together with the group of Dutch Phd-students. I took one last look to the campsite and the mountains behind, but none of yesterdays splendor was to be seen anymore.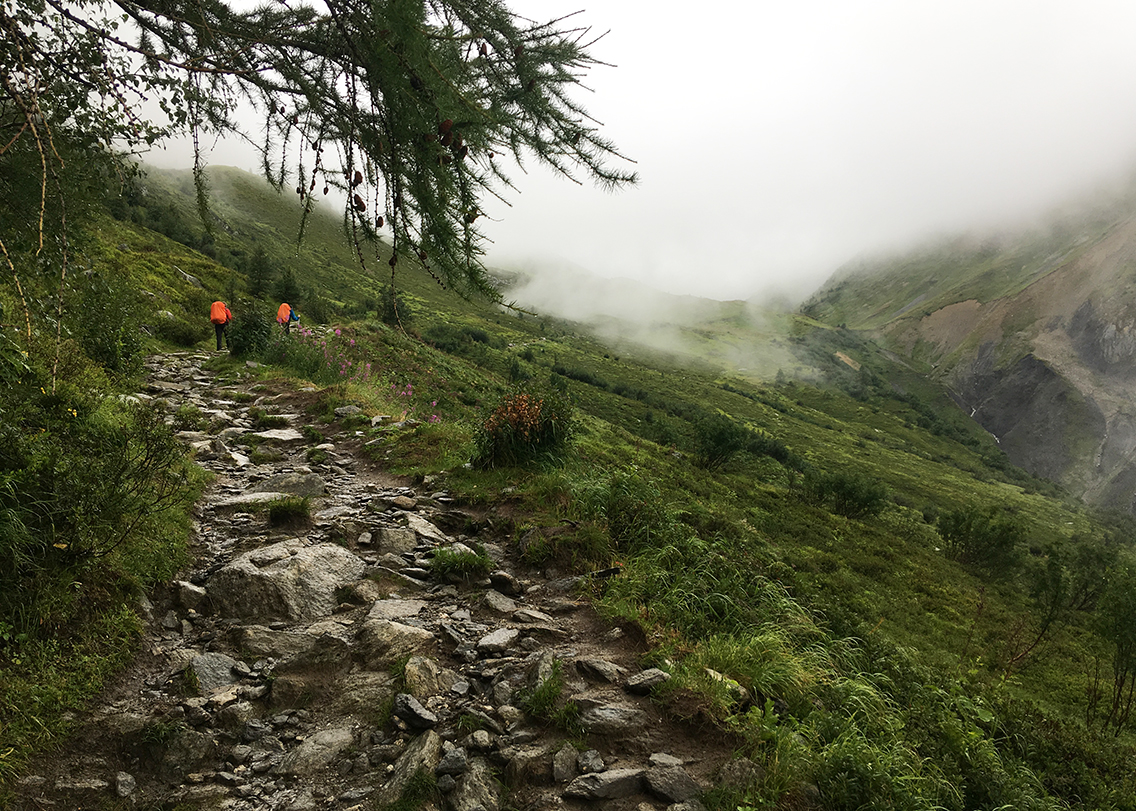 The path was steep and sometimes slippery. My rain gear, that was supposed to be breathable, was wet inside from sweat, sticking to my soaked shirt. I wondered if I would not be better off without rain gear.
It was good to hike with a group on this part of the trail, everybody was trying to stay positive and cheerful, that really helped.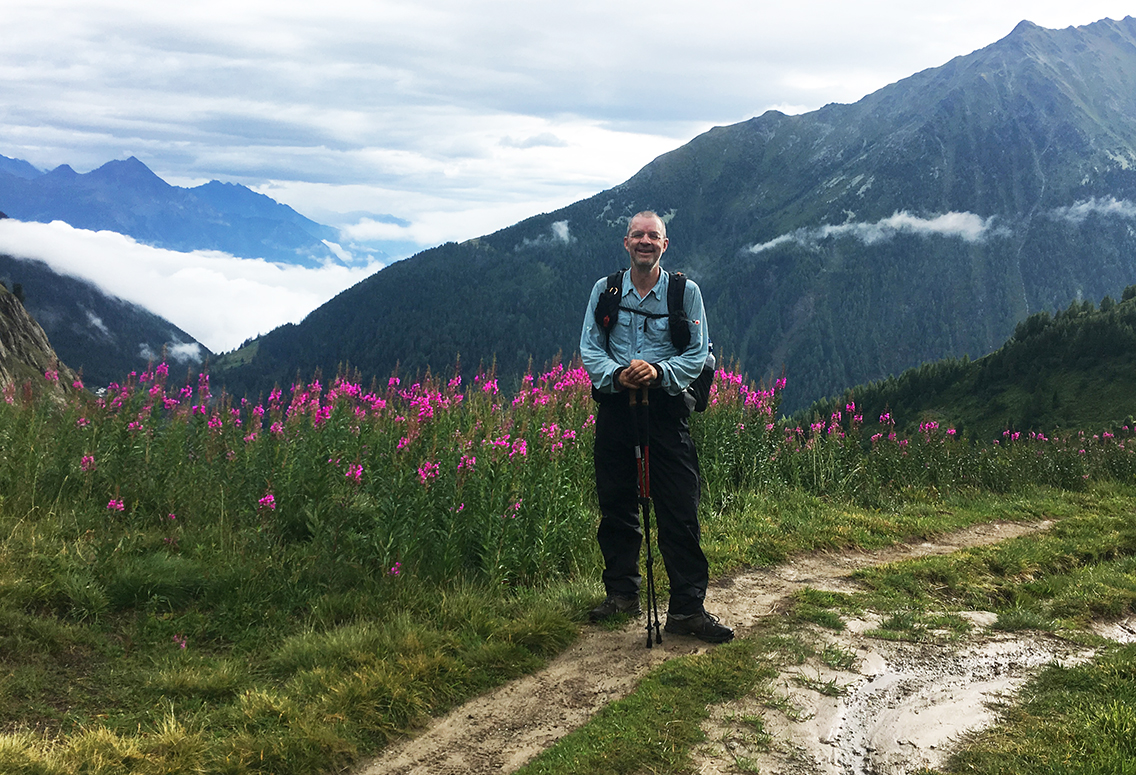 After about one hour of hiking underneath the dripping trees, things got a little bit better. The rain had stopped and the trail became less steep. I took off my wet raincoat and continued towards Col de Balme.
Col de Balme
The mountain hut of Col de Balme, with its striking red shutters, came into sight. I couldn't wait to get there to warm up and dry.
At 10 am, after 2 hours of climbing, I reached the highest point of today: Col de Balme (2.190 m). The hut was very nice, except for two things: there was no drinking water and the public toilets were out of order. Luckily I didn't really need either of them, so I sat down close to the hot fireplace inside, and ordered hot chocolate.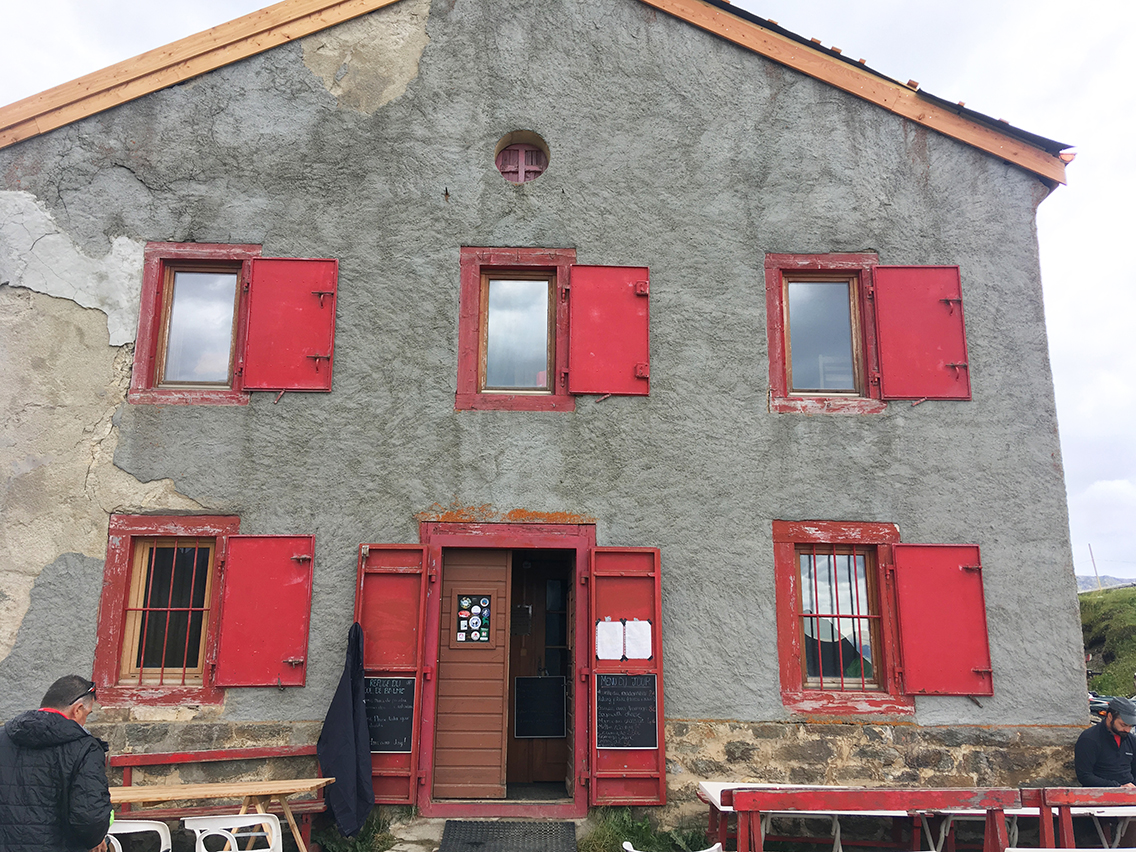 Refuge du Col de Balme on the Swiss-French border, at 2.222 m (7,290 ft) elevation
The staff was very helpful, I asked if I could charge my phone (I had no sunlight to charge my solar charger!), and they charged it for me behind the counter. I talked with the bar tender about the weather forecast. He said today would be mostly bad, but tomorrow would even be worse, with heavy rain and mist.

I folded out my map to make plans for the rest of the day. My original plan was to hike up to the Lac Blanc and wild camp there. But there would be no views to see there today – and even less tomorrow on the trail to Le Brévent, the famous 'Grand Balcon', that has the most impressive views of the Mont Blanc mountain range. So I decided to change my plans. Skipping Lac Blanc entirely, I could take a zero day tomorrow down in the valley, and hike the last part over the Grand Balcon the day after tomorrow, when the weather should be fine again. It was a hard decision, because I had been looking forward to visit Lac Blanc.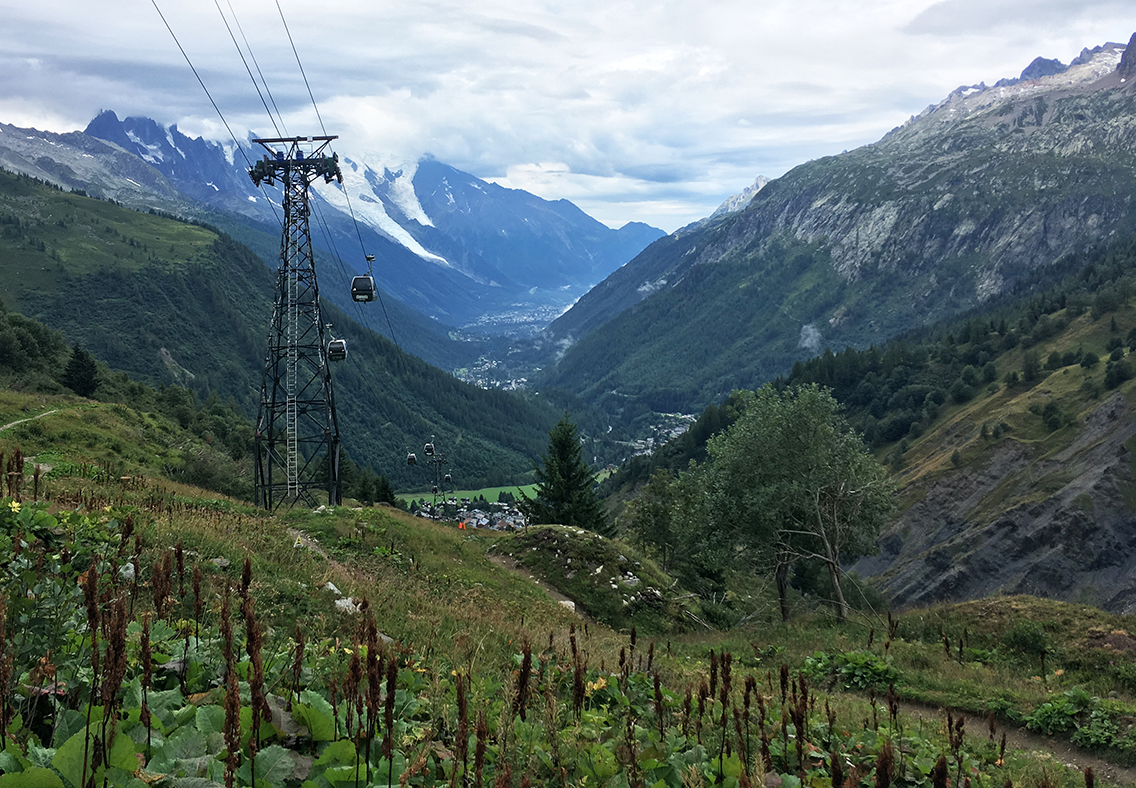 View down the valley, from Le Balme.
The bar tender also told me that there were no hotels or shops in the little villages before Argentière. So my first option for lodging (and fresh food) would be Argentière. As I was already beginning to long for a hot shower, I set my mind to hiking down to Argentière and find a hotel there.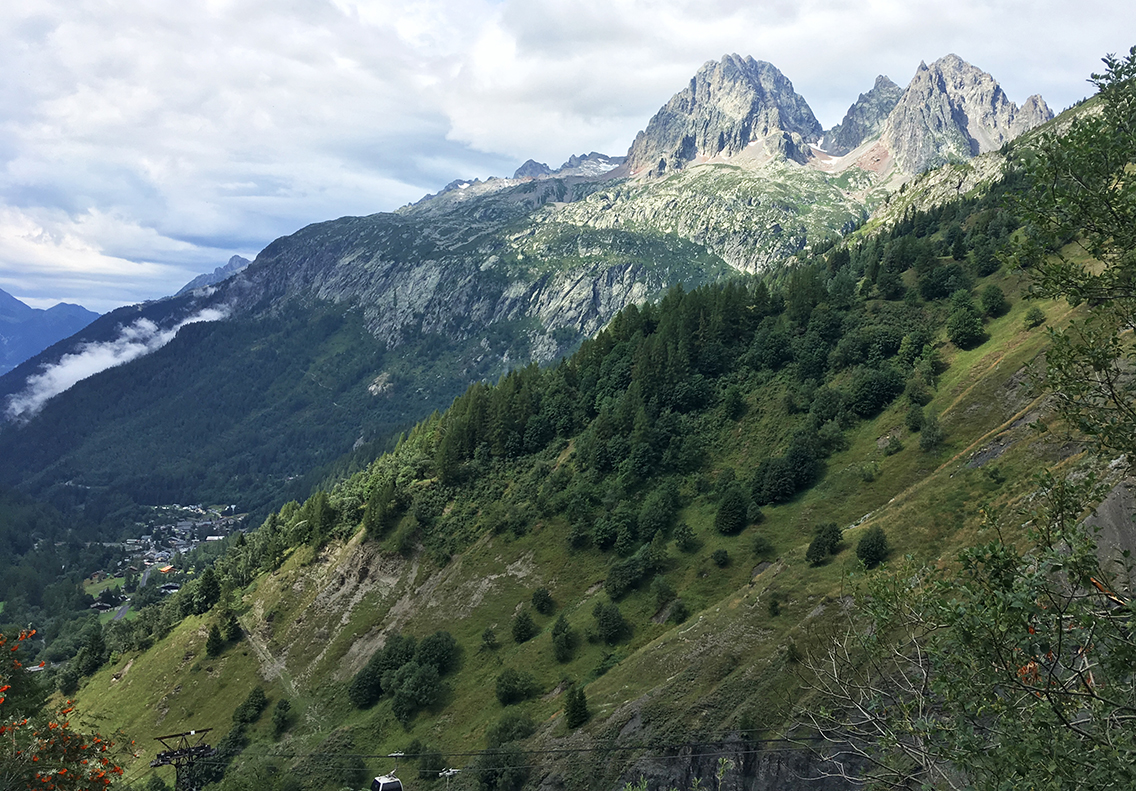 Looking west of the trail to the Aiguilles Rouges
Crossing the Swiss-French border, I hiked down to the valley, mostly underneath the ski lifts. Not the most beautiful trail, but the views of the of the valley and the mountain ranges were good, with the sky clearing a little now and then. To the east the red rocks of Aiguilles Rouges were catching some sunlight. On the trail I walked across layers of thin flakes of red-purple stone, apparently the same rock as these mountains.
Further down I hiked through the villages of Le Tour and Montroc. In Montroc I passed the camping Pierre Semard, but I had set my mind on a hotel in Argentière now. And besides, there were indeed no shops here, and I really longed for some fresh food.
Argentière
I arrived in the town at 12:40, just 1:45 hours after I left Col the Balme. Hotel Le Dahu was the first of two hotels directly at the central square of Argentière. It looked a bit more affordable than hotel La Couronne next to it, so I tried my luck inside. They had a nice room, with a bath and a balcony for just about € 80. Inside the hotel I first took care of my wet tent: I hung it carefully on a closet door, so it could dry out. Then I unpacked all other stuff, to air everything out. My hotel room looked like an explosion had taken place.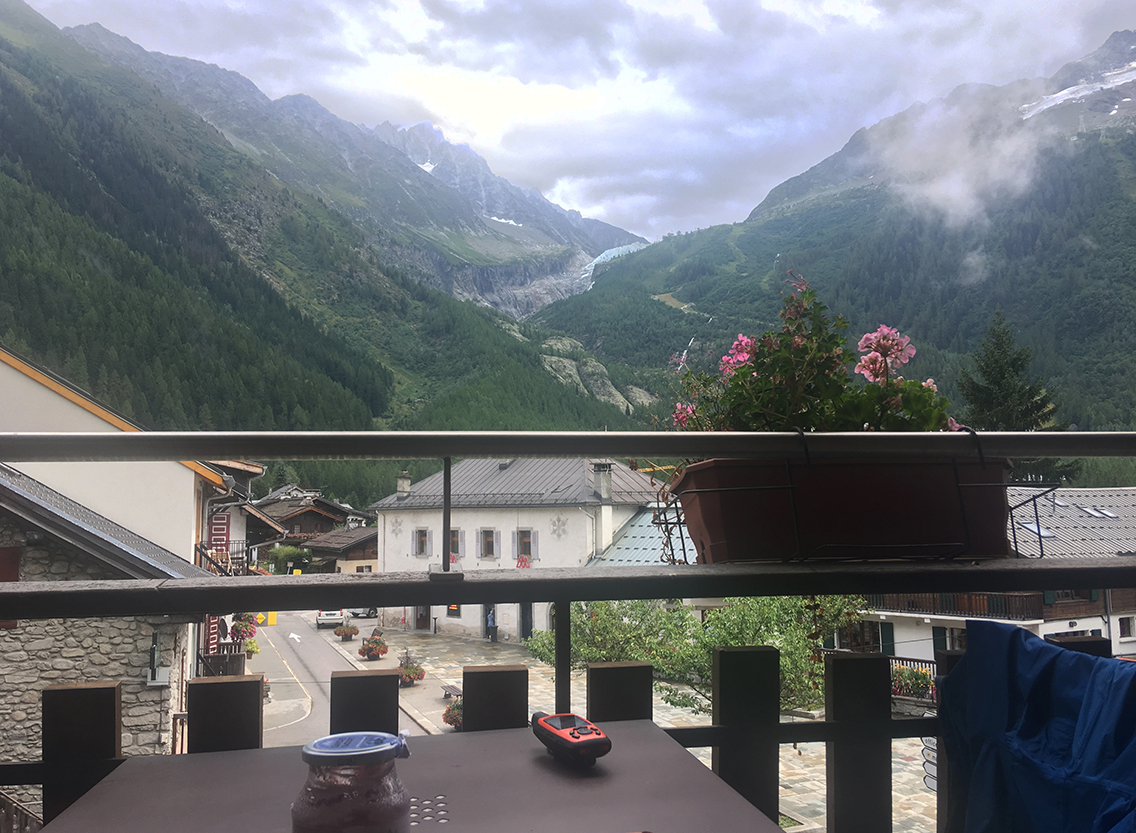 View from my balcony to the azure blue Argentière glacier, just coming out of the cloudy sky. 
After a hot shower I went outside and I ate an excellent crêpe outside a restaurant close to my hotel.The sun was breaking through for an hour or so and I went for some groceries, and postcards to send home to my children and my loved one. Then I saw my campsite neighbours Liisa and Mikhal again, they were dead tired and carrying their completely soaked gear. They got a room in Le Dahu as well, and we decided to have something to drink and eat together at the village square.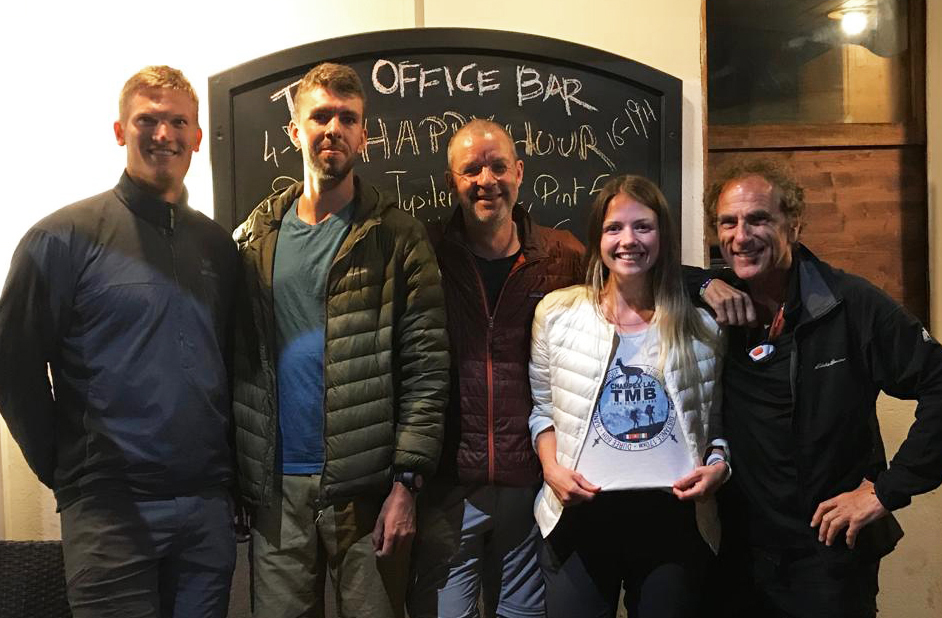 Later that evening  were joined by Doug, I met earlier on the trail to Champex, and Chris, the Canadian I met in the Relais d'Arpette. We had fries and beer together and shared our thoughts on the trail, our previous adventures and hikes and what we would do next day. All planned to hike on tomorrow except for me – I would have my zero day. We called it a night around 9 pm, a late hour for TMB hikers.
This is what a rainy day in the Alps looks like (compare with photo above)
The next day I took my zero-day. I had anticipated 1 extra day for the entire trail, and this would be the one.
The entire day clouds were hanging in the valley so low, there was no mountain visible. I slept, read my book, listened to music from my phone, organized my dry gear again, went out to the supermarket for some food (yoghurt, of course). For peace of mind, I booked an AirBnB room in Les Houches for my next – and last – day. I went to bed early, so I could be on the trail at sunrise, hoping the sun would be back tomorrow.
> Next, day 9: Argentière – Les Houches
< Previous, day 7: Arpette – Le Peuty