The fifth and final day in the Grand Canyon was a continuous climb to the South Rim. A strenuous path past copper and uranium mines on rugged debris, steep rock stairs and icy snow.

Escalante Route Day 5: Hance Creek
Start: Hance Creek (3,570 ft / 1.088 m)

End: Grandview Point (7,399 ft / 2.255 m)

Trails: Horseshoe Mesa East Spur; Grandview Trail

Distance: 4.8 miles (7,8 km)

Elevation gain: 3,724 ft (1.135 m)

Elevation loss: none

Time: 4 hrs moving time; 5 hrs total time

Date: November 15, 2023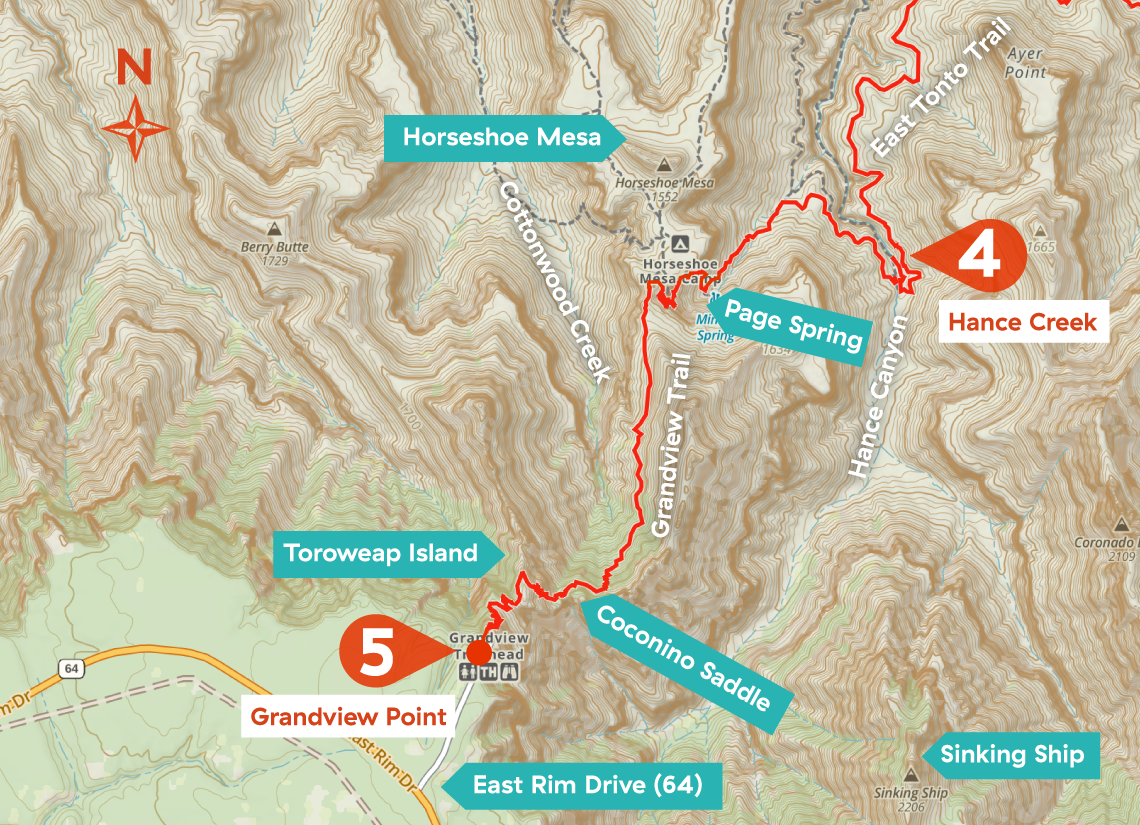 Escalante Route day 5: Hance Creek to Grandview Point
Leaving the Tonto Trail
After an ice cold night I wanted to get up and start walking as soon as possible. Not that I was in a hurry to leave this beautiful spot at Hance Creek, but that was the only way to get warm again. I quickly ate my last tortilla with a little Babybell cheese and packed my tent without bothering too much about the sand sticking to the tent floor. I would be home soon enough clean it.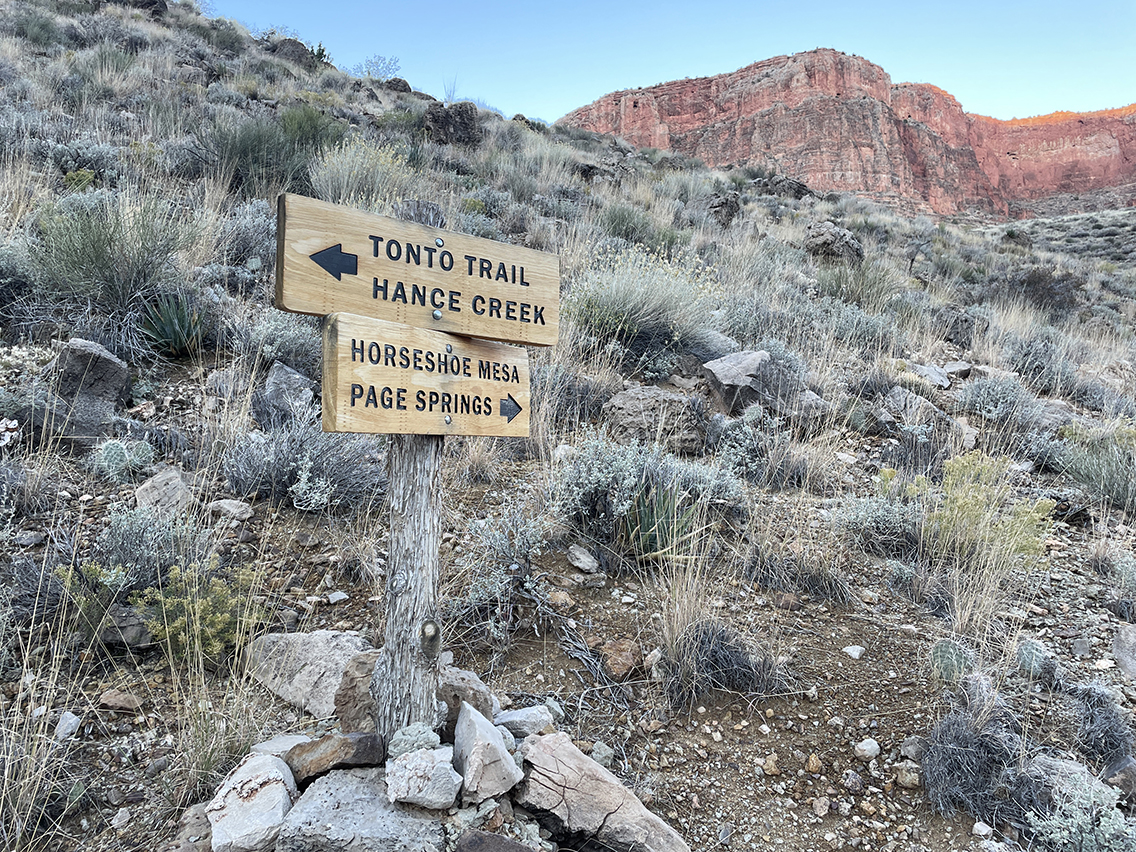 Horseshoe Mesa East Spur Junction
It was 7:30 a.m. when I backtracked to the Hance Creek spring, where my final section of the trail began. Immediately the trail went straight up, below a giant but nameless red rock formation that sits south of Horseshoe Mesa. Within 10 minutes I passed the first trail sign in five days: the junction of the Tonto Trail with the Horseshoe Mesa East Spur.
I passed some tough rock slides and then entered a side wash of Hance Canyon towards Page Springs (a.k.a. Miner's Spring).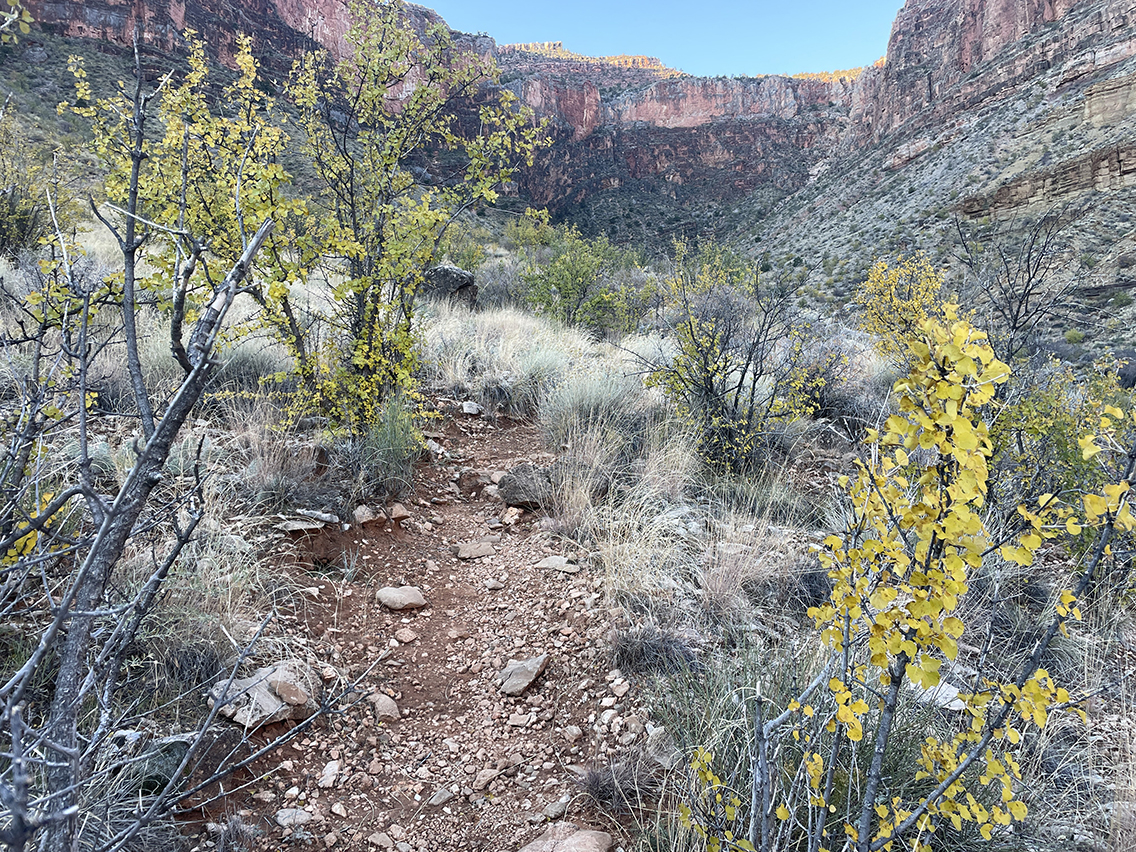 Birch trees below Horseshoe Mesa
An easy path ran between beautiful birch trees with yellow leaves, with a glimpse of the South Rim in the distance, bathing in the first rays of sunlight.
Next the trail changed to a rocky passage, traversing a steep slope. On my right hand I approached an abandoned copper mine, with all sorts of metal tools and debris scattered around the entrance. I walked into the mine, head bent down,  to have a look inside. After a few yards there was a metal gate, behind it more mining artifacts. I noticed how pleasantly warm it was inside of the mine. This would make an excellent spot to camp on a cold night!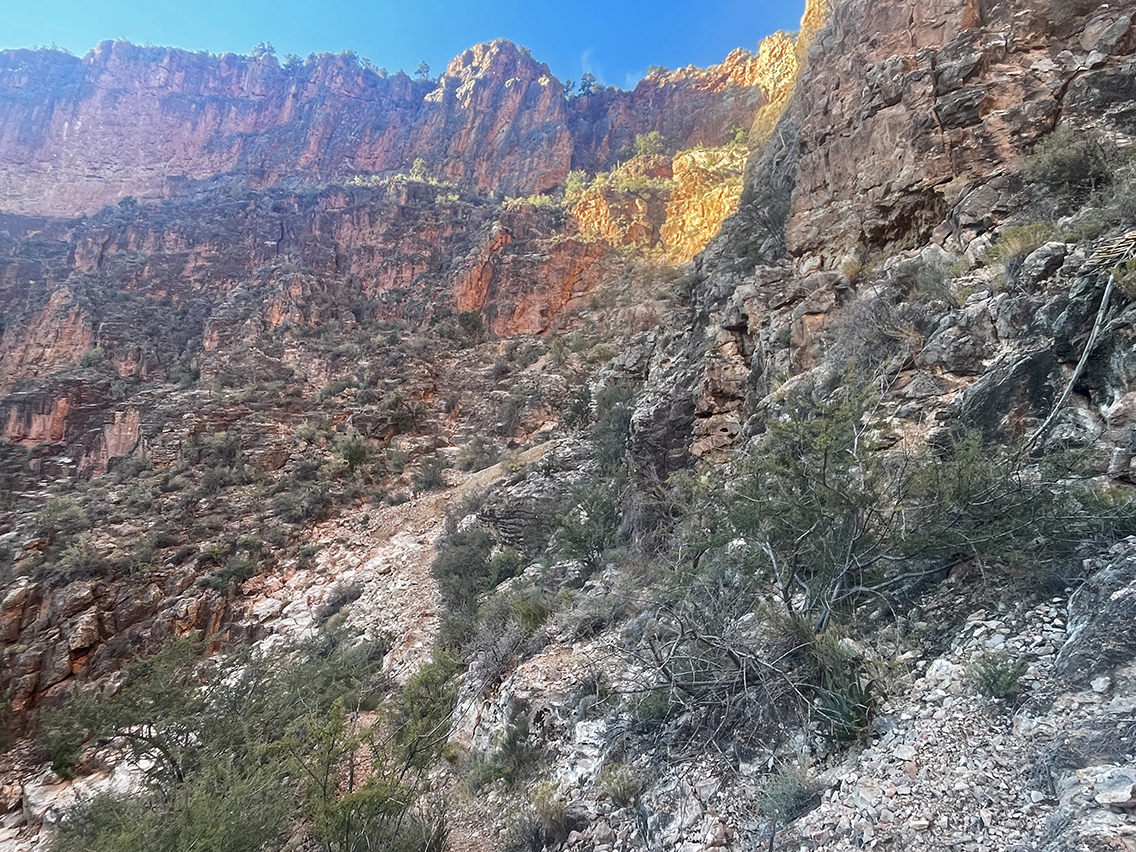 Trail below Horseshoe Mesa, near Miner's Spring
Leaving the mine behind me, I followed the path which was full of bright geen shards of copper ore, sometimes a brilliant azure color. It was hard to imagine that around the 1900's miners were hauling heavy ore all the way op to the South Rim. Especially now the trail was getting steeper and steeper, to a degree that it made no sense even to speak of a trail.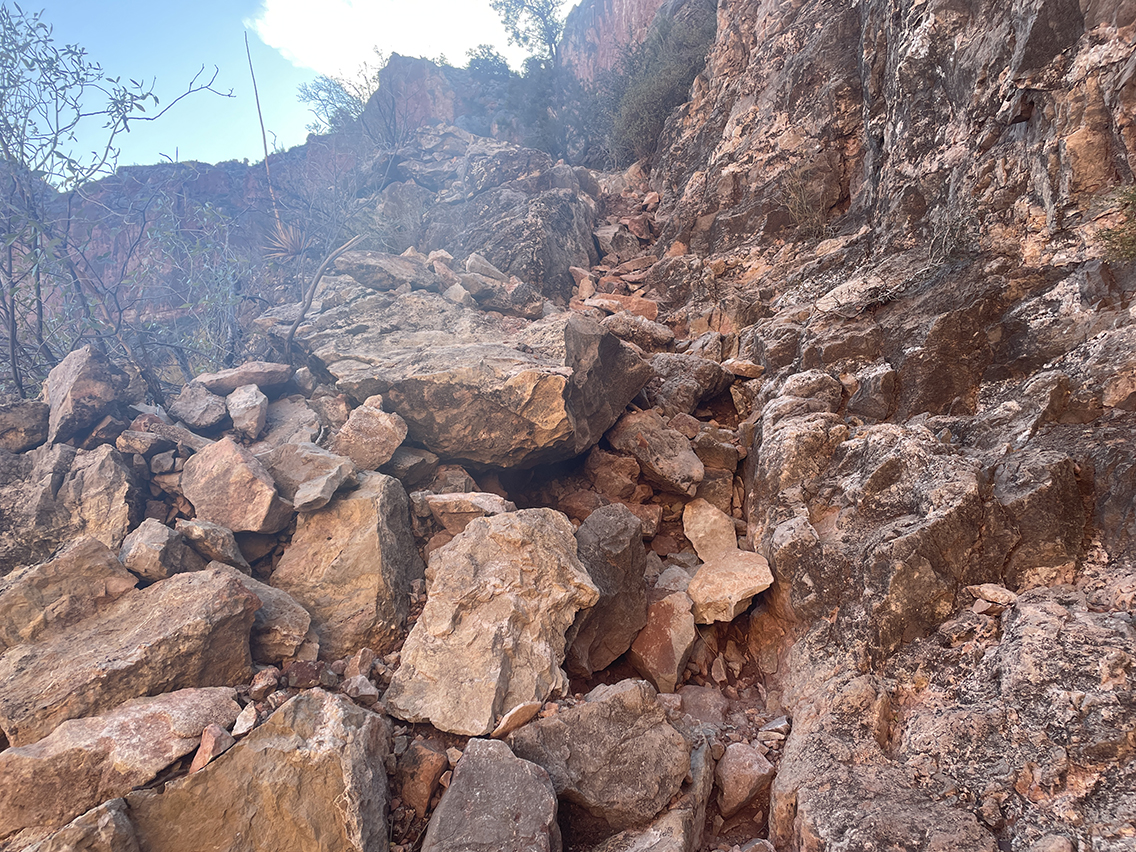 'Trail' on the Horseshoe East Spur above the copper mine
I had now reached the most vertiginous part of my entire 5 day hike. Numerous switchbacks on a track so steep and exposed, I didn't dare to look down. Slowly and careful I had to fight for every inch of ascent. This was physically and mentally exhausting. Finally I arrived at a point where I could see what seemed to be the Horseshoe Mesa plateau above me. Just before I climbed the  juniper log stairs towards the plateau, I came across another mine entrance – or was it just a cave?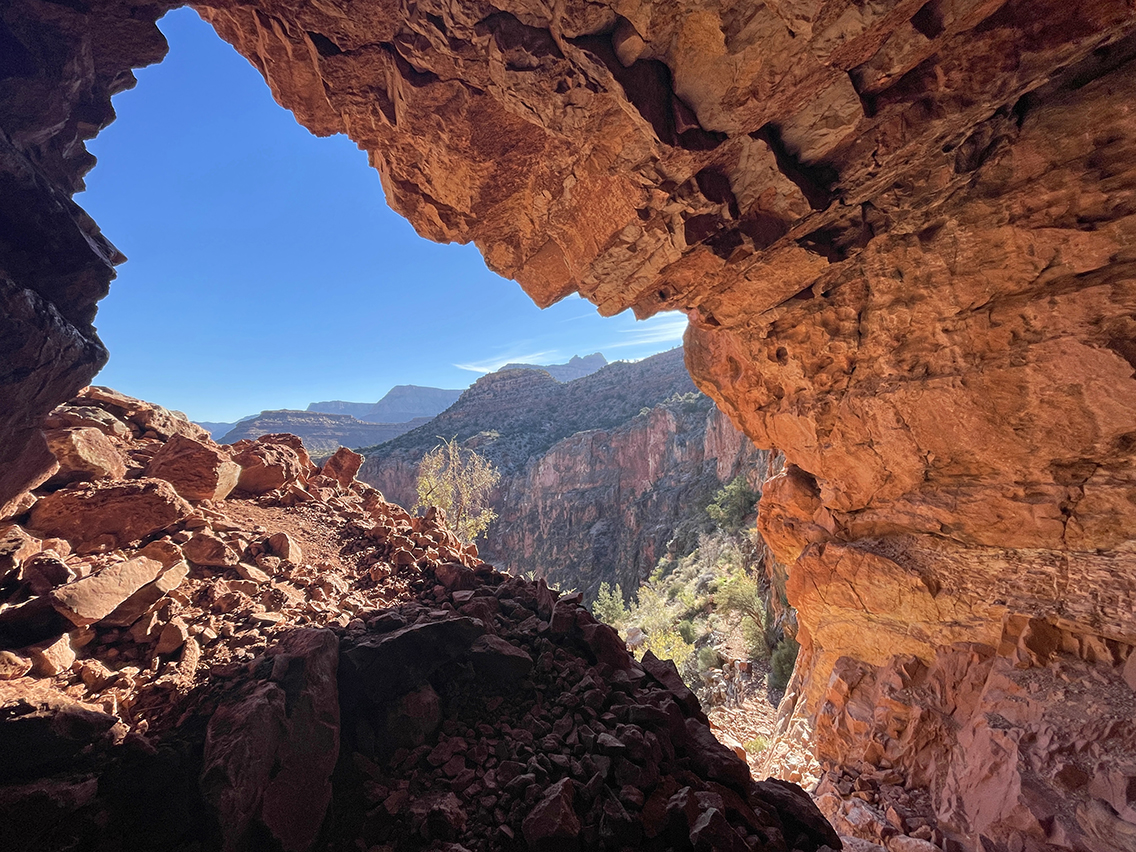 View from within the mine – or cave – below the Horseshoe Mesa plateau
Grandview Trail
As soon as I reached the top of the mesa, I suddenly stood on a meticulously maintained path: the official Grandview Trail. I was back in civilization (yet I still had more than 3 hours of ascend ahead of me).
Shortly after there was a  decaying sign with a radioactivity warning – besides copper, uranium was once mined here. Although the sign read 'Keep out', there was a clear path on the left, shortcutting the trail that was heading north and back again.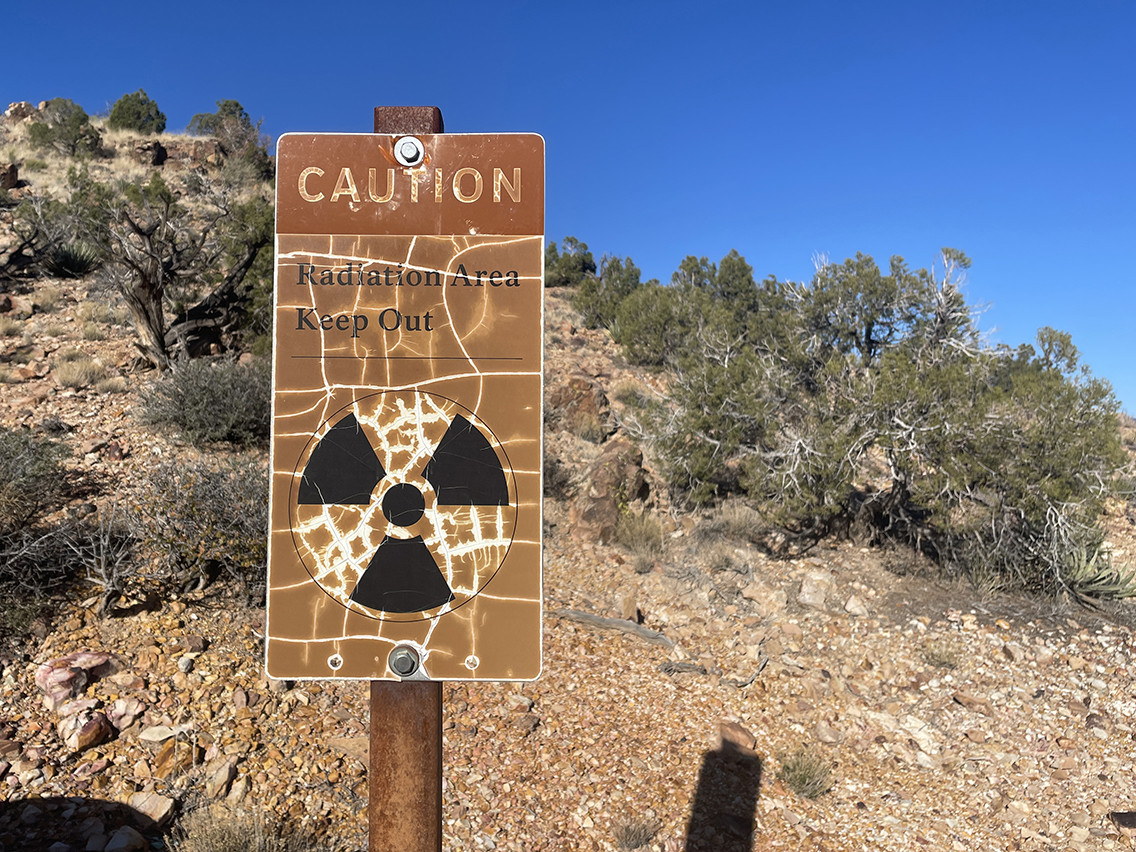 Grandview's uranium mine area
Usually I oppose taking shortcuts for various reasons (destroying the vegetation is one of them), in this case there was a really clear and worn down trail. The radioactivity didn't scare me off, those few yards extra distance on the other trail would not make much of a difference. Following this trail I passed another deep and dark mine entrance (probably the uranium mine) and then I arrived on a Tonto-style saddle with an splendid view of Horseshoe Mesa in the north.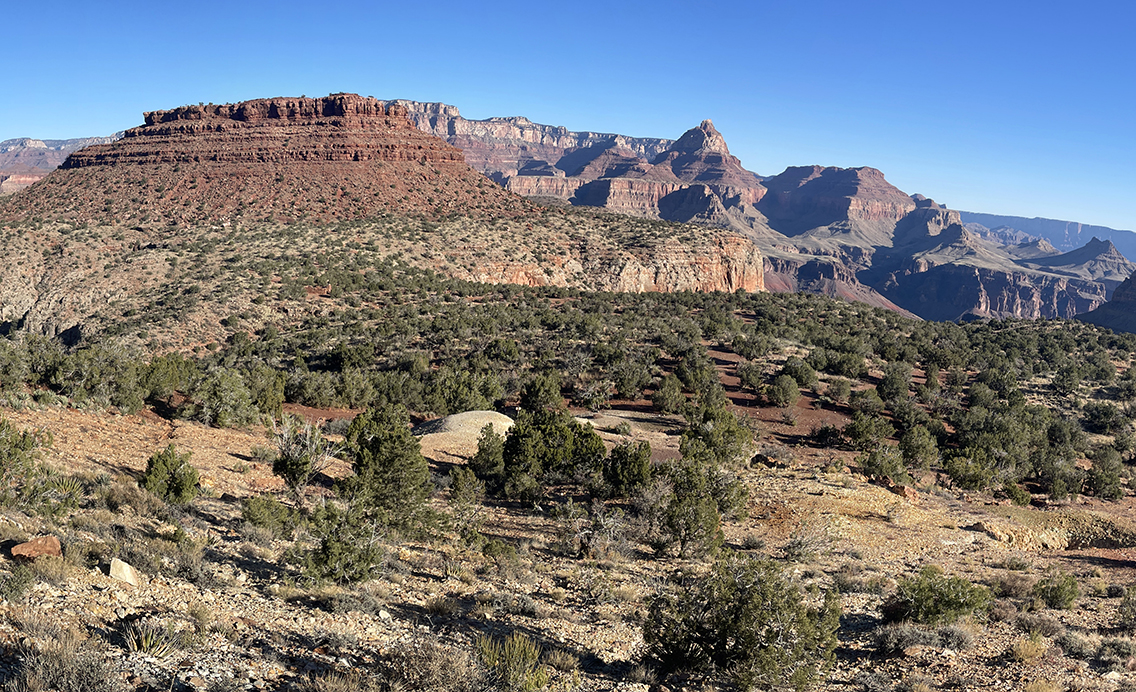 The red top of Horseshoe Mesa; Vishnu Temple in the distance (right)
Looking at my map, I saw that this was the only short stretch of trail that was more or less flat. There would be countless steep switchbacks to Grandview Point ahead. So I decided this was the perfect spot for an early lunch break. I unfolded my camp chair and cleaned my bear canister of the last bits of food. With this view it was an unforgettable meal.
From now on the trail followed the old miner's cobblestone path. The trail wase paved with slabs of rocks and cobbles, athough many sections were destroyed by rock fall. These bouldering sections proved to be a welcome change to the ever-going steep path, although it slowed me down of course.  
I was getting close to the canyon rim now, but I still had more than 2,300 ft (700 m) ascend to overcome.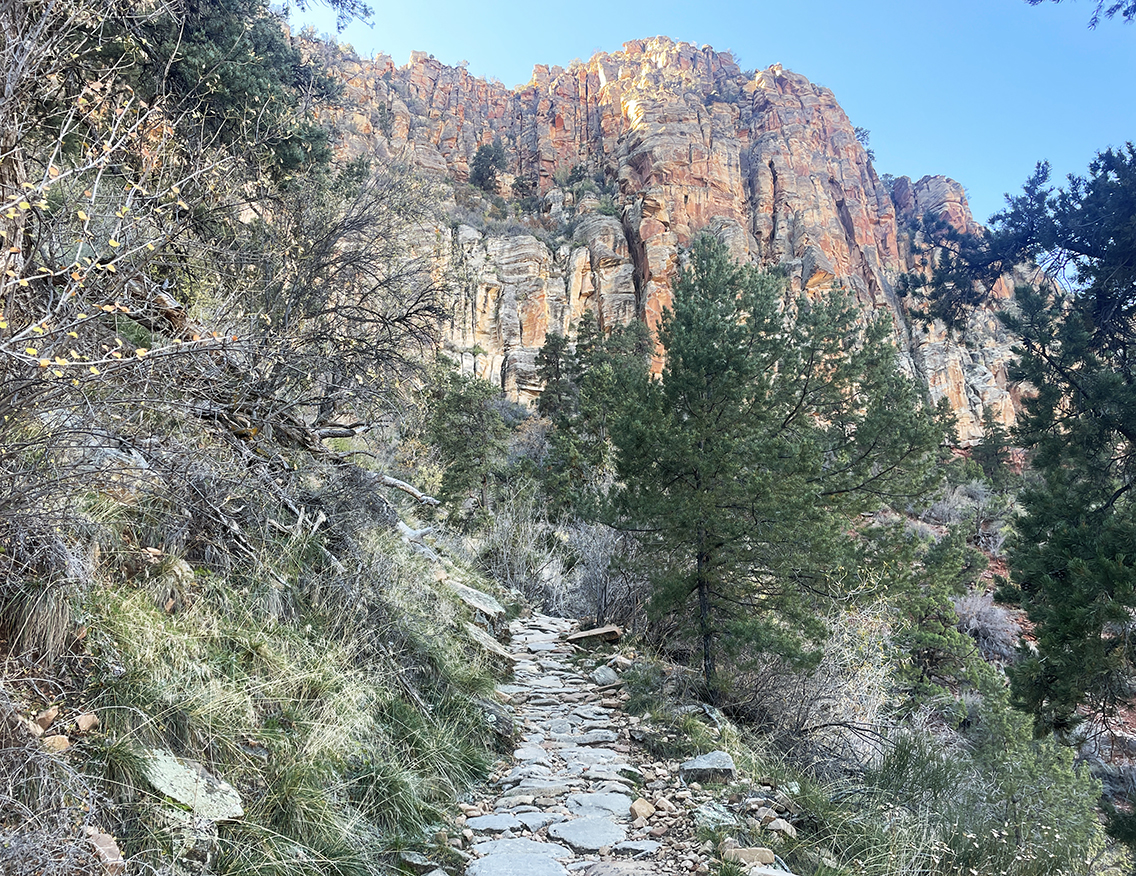 Grandview cobblestone trail
During this arduous climb, I fixed my mind on the next milestone displayed on my GPS: the Coconino Saddle. Such milestones were important to me this day, because the trail above me was completely invisible. Although I saw the South Rim clearly above, it was unimaginable how on earth I would get there – and where exactly was Grandview Point?
The Coconino Saddle
Eventually I reached the Coconino Saddle, 2 hours after my break at the Horseshoe saddle. I was still about 650 ft (200 m) below the rim. The saddle was a sunny window to an unnamed side wash of Hance Canyon. I drank some electrolyte drink and decided to empty my water bottles save for a last half liter, because I knew that within about one hour I would reach the rim, where I had 2 liters of water cached in my car.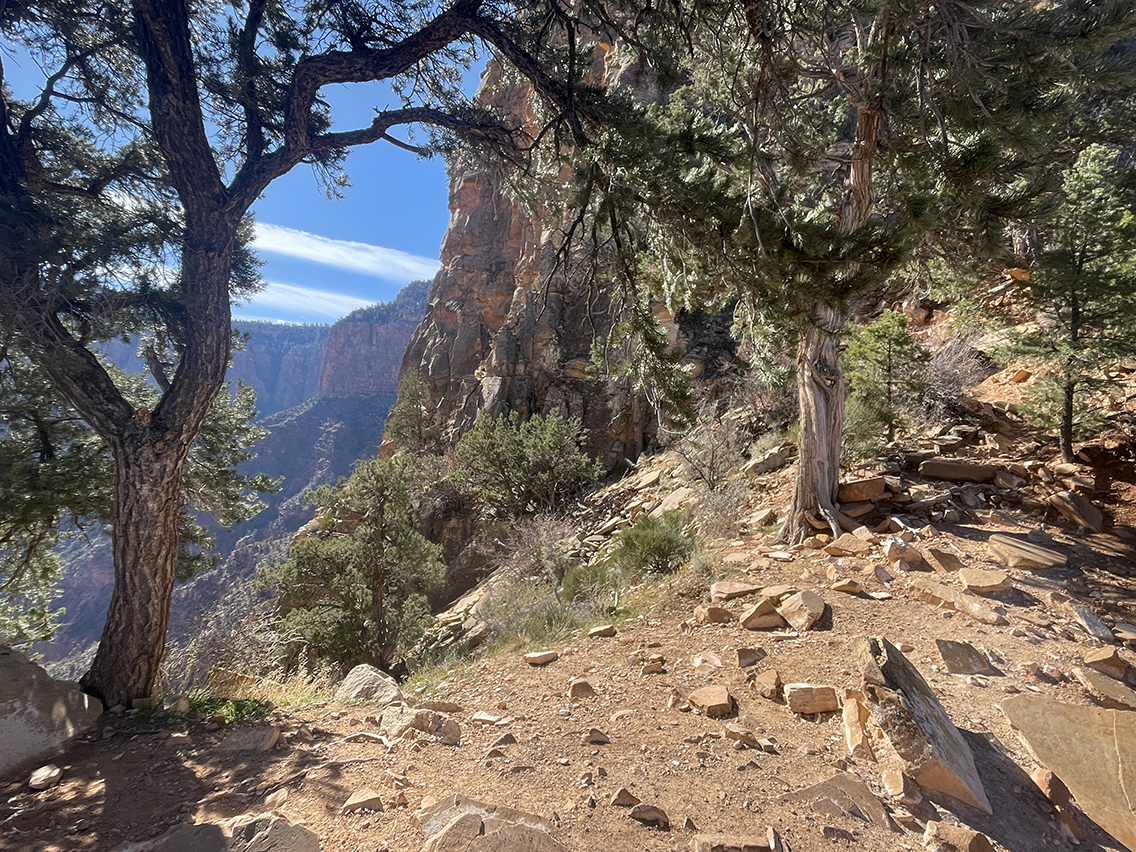 The Coconino Saddle
The Coconino Saddle marks the beginning of the final superhuman feat of ascending two sets of sharp switchbacks on steep and treacherous tracks. On the first set of about 17 cobblestone switchbacks I tackled 500 ft (150 m) elevation. The views were incredible – whenever I stopped for a moment. Once I was moving, I concentrated on the stone stairs in front of me.
Toroweap Island
The first set of switchbacks ended with a relatively flat contouring trail towards what is called the Toroweap Island. There was a side trail towards this towering rock, but I decided to move on.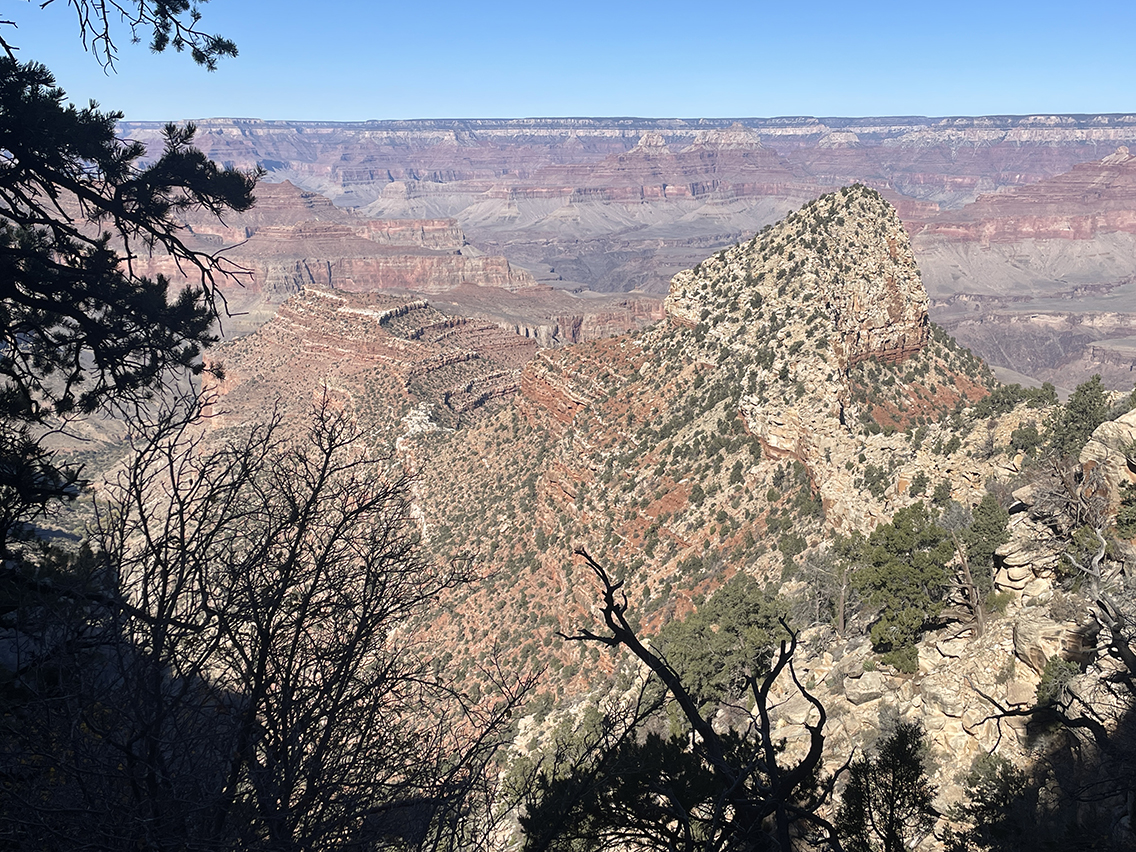 Toroweap Island
At the second series of switchbacks I lost count. The trail became more and more difficult with exposed stairs and narrow ledges that required both hands to negotiate. Halfway I encountered the first snow on the shaded path. It was noon when I put on my microspikes. Although I didn't need the spikes for no more than half an hour (just like at the start), I was immensely contented with the grip I felt with under the soles of my boots.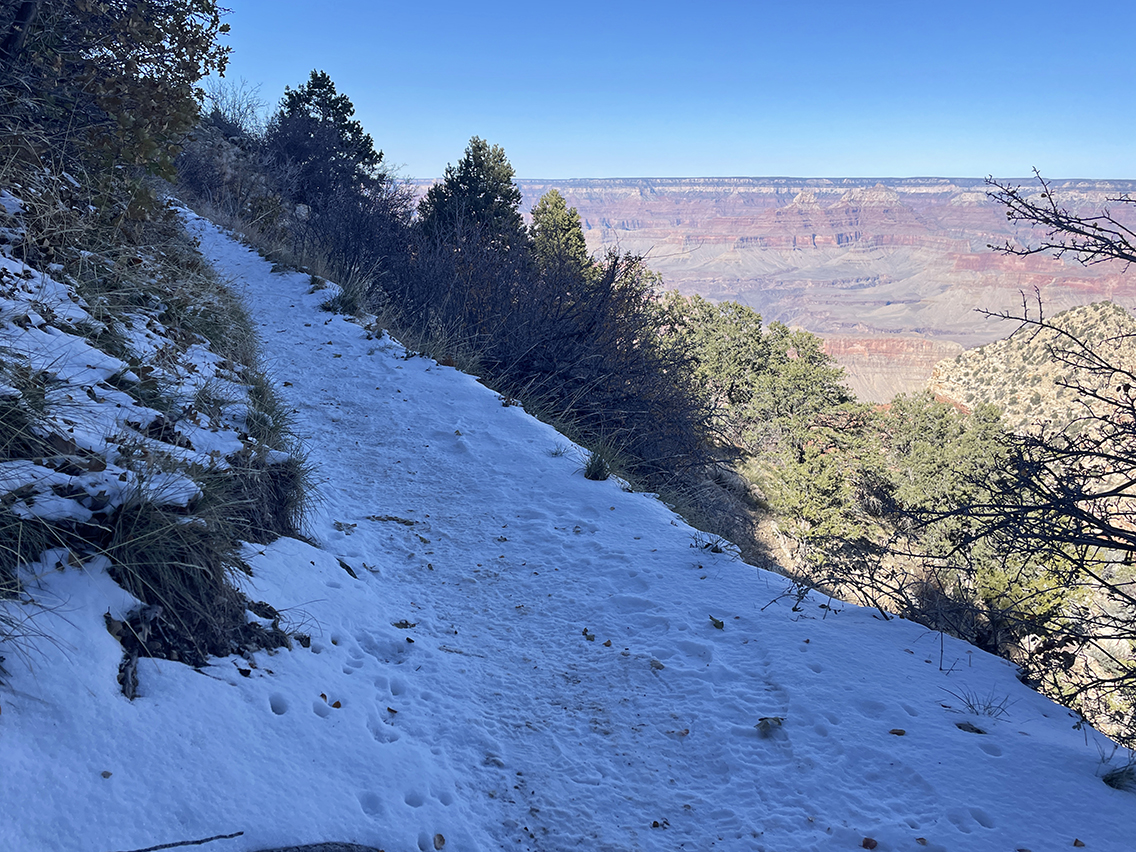 The last set of switchbacks on the Grandview Trail
Grandview Point
Slowly I began to hear sounds from above: cars first and then soft chatter of tourists admiring the scene at Grandview Point. Just a few switchbacks, and another, and another until I noticed the man made stone wall of the viewpoint. Safely behind the yellow rocks people were watching me taking the last steps of my hike. I felt like an animal in the zoo.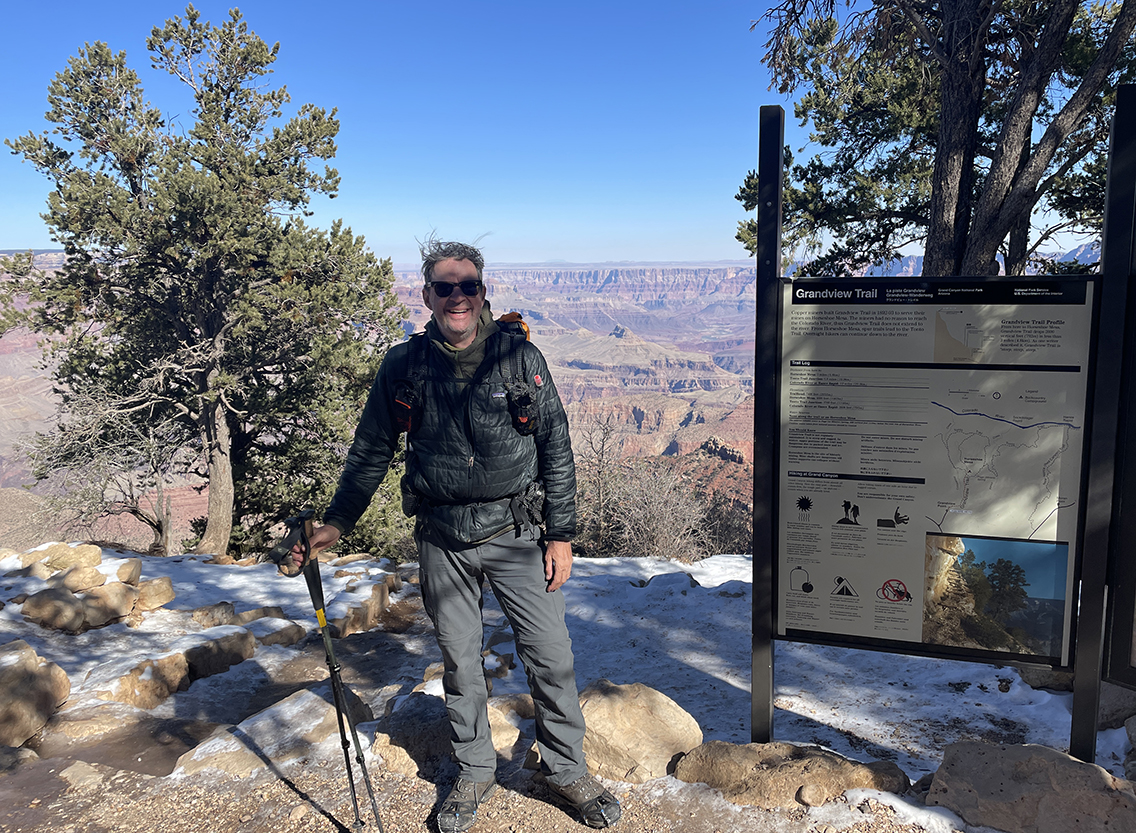 Grandview Point trailhead
It was half past noon when I finished at the Grandview Trailhead. It was quite a transition to be back among all these people in clean clothes and to walk on the asphalt parking full of cars. I walked to the overnight hikers parking to find my rental car partly frozen. I found my car keys, started the ignition and lo and behold: the engine still worked. I drove back to the Yavapai Hotel in Grand Canyon Village with the heater turned up high. I was happy that I had made it, but I knew I was going to miss the canyon so much. 
< Previous: Day 4 – Hance Rapids to Hance Creek