The Haute Route, also known as the Chamonix-Zermatt Trail, shares the first 3 sections with the Tour du Mont Blanc, but then continues east into the high mountains. I started my thru-hike in a lovely quiet and green valley as a prologue to another 10 days of desolate fields of glacial rock, almost 3000 meter high alpine passes and stunning views.  
Planning the Haute Route
The Haute Route officially starts in Chamonix, follows the valley north to col de Balme, where it continues to Champex-Lac. This part of the Haute Route follows the same trail as the Tour du Mont Blanc. After Champex the two trails separate, de Haute Route heading east in the direction of Sembrancher and Le Châble, ending in Zermatt after another nine or ten days.
The Haute Route is about 180 km long, with more than 12.000 m. of ascent, and a lot more challenging than the Tour du Mont Blanc. The route has a lot of different variants though, for a shorter/easier tour.  I took my time to read the guidebook and study the maps to understand all the differences. I decided to hike as much high-altitude variants as possible. 
For route-planning I used the following guidebook and maps:
Kev Reynolds Chamonix to Zermatt: The Classic Walker's Haute Route, Cicerone Press, edition 2016.
Swisstopo Wanderkarte 5028T Monte Rosa Matterhorn (1:50.000)
Swisstopo Wanderkarte 5027T Grand St-Bernard Combins – Arolla (1:50.000)
I cut the maps into smaller pieces, to save weight, but also to make the big maps easier to handle. The Haute Route is, unlike the TMB, not one continuously marked trail, and not directly visible as such on the map.  It is a combination of various trails, like the Alpenpässeweg (marked '6' on the map and on the signs) and the Tour Monte Rosa (marked '27'). For a good overview, I located the different trails on the map, using the guidebook, and highlighted them with a fluorescent marker.
Route Overview
Start: Sembrancher railway station, 707 m (2,320 ft)

End: Zermatt, 1.605 m (5,265 ft)

Distance: 186 km (116 miles)

Elevation gain:11.024 m. (36,167 ft)

Elevation Loss: 10.165 m. (33,349 ft) 
Highest point: Col de Prafleuri, 2.987 m (9,800 ft)
Number of mountain passes: 9
Hotel/BnB: 3 nights
Mountain huts: 4 nights
(Wild) camping: 3 nights

Time: 63:30 hrs (10 days)

Date: July 31 – August 10, 2020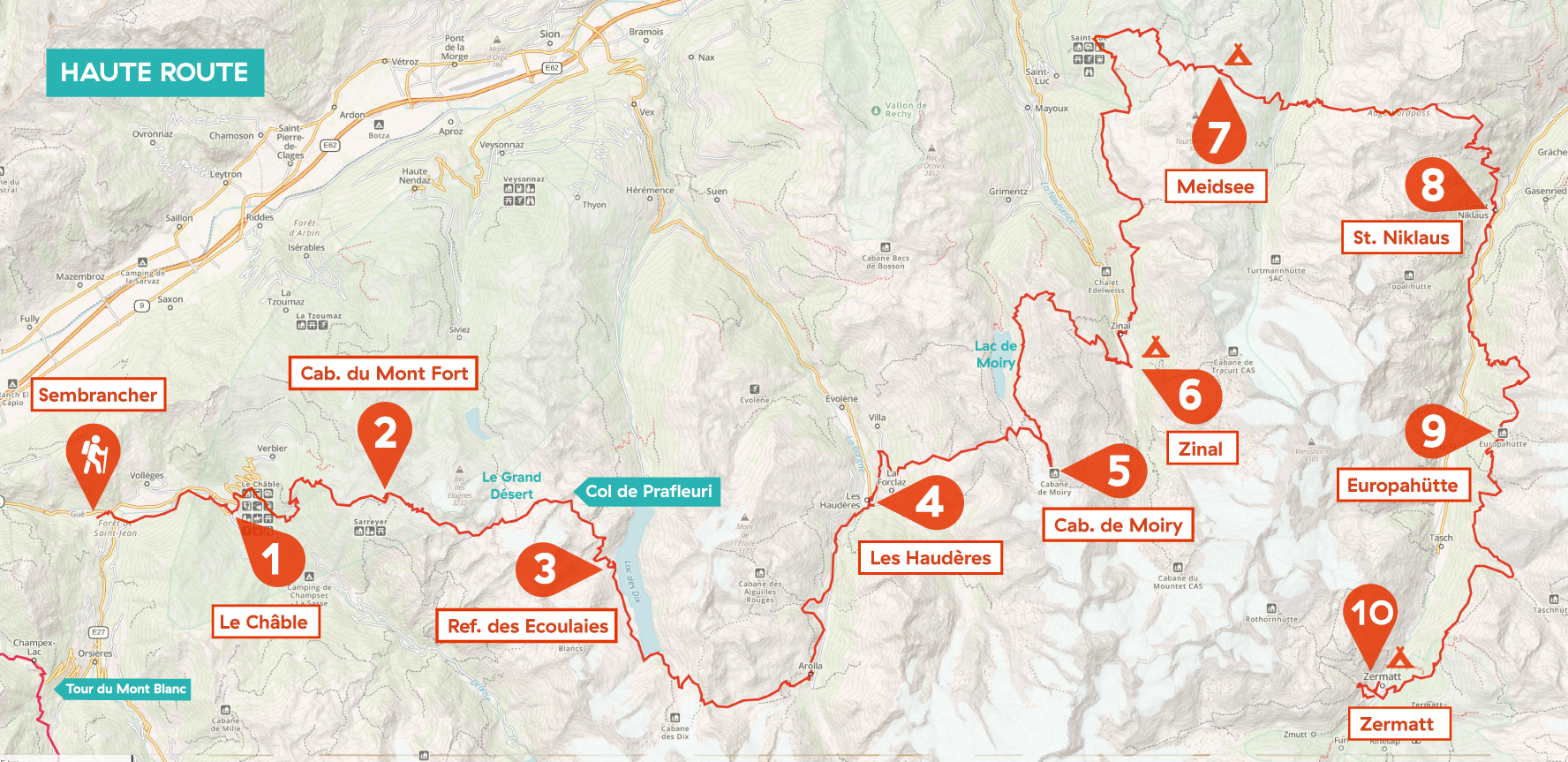 Haute Route overview from Sembrancher to Zermatt (note I skipped the connection between the Tour du Mont Blanc and Haute Route).
Hiking Gear
The Haute Route requires sturdy hiking boots, and on some icy parts of the trail microspikes would have been useful. I would never recommend to hike this trail on trail runners: the trail is very rough, rocky and sometimes icy. On some days there is no real trail at all.
I planned to do some camping, so I carried a tent and sleeping quilt. For huts you want to bring your own sleeping bag anyway – sometimes you are even obliged to. Furthermore I carried the usual stuff you take on a high mountain tour: everything that protects you from sun, cold and rain.
After hiking the Tour du Mont Blanc last year, I did make some changes in my gear. I left some things out and replaced a few items with lighter ones. All in all, I shed almost 800 grams of weight, and a lot of volume. See my complete gear list 2020 for details.
Camping, Cabanes or Hotels
Initially when I started planning the Haute Route, I wanted to camp most of the trail. As I studied the guide, maps and Google Earth, I had to admit that this would not be so easy. In the Swiss section of the Haute Route you will only find campsites in 3 sections: Arolla/Les Hauderes, Zinal, and finally Zermatt.
Wild camping is not only strictly forbidden in most places, it is also very difficult to find a good (level) spot. The only place I found was the Meidsee, a high mountain lake just east of the Meidpass, where wild camping might not be strictly legal, but where it seems common to do so.
So I had to accept the fact that I would need huts (cabanes) or hotels for all other nights. I booked all these months in advance – huts tend to fill up very quickly. More details follow in my next posts. 
Getting to the Haute Route Trail
The best way to get to the trail is by flying to Geneva and then travel with a shuttle bus to Chamonix, the official strating point of the Haute Route. But in my case, having already hiked the French section of the Haute Route, my plan was to fly to Geneva, continue by train to Orsières and take a bus to Champex-Lac, connecting with the TMB 2019 trail. But (due to Covid) my flight was delayed half a day, leaving me no time to hike the Champex-Sembrancher leg of the trail. So I got off the train in Sembrancher, and started the Haute Route with a short and almost completely flat hike in the valley.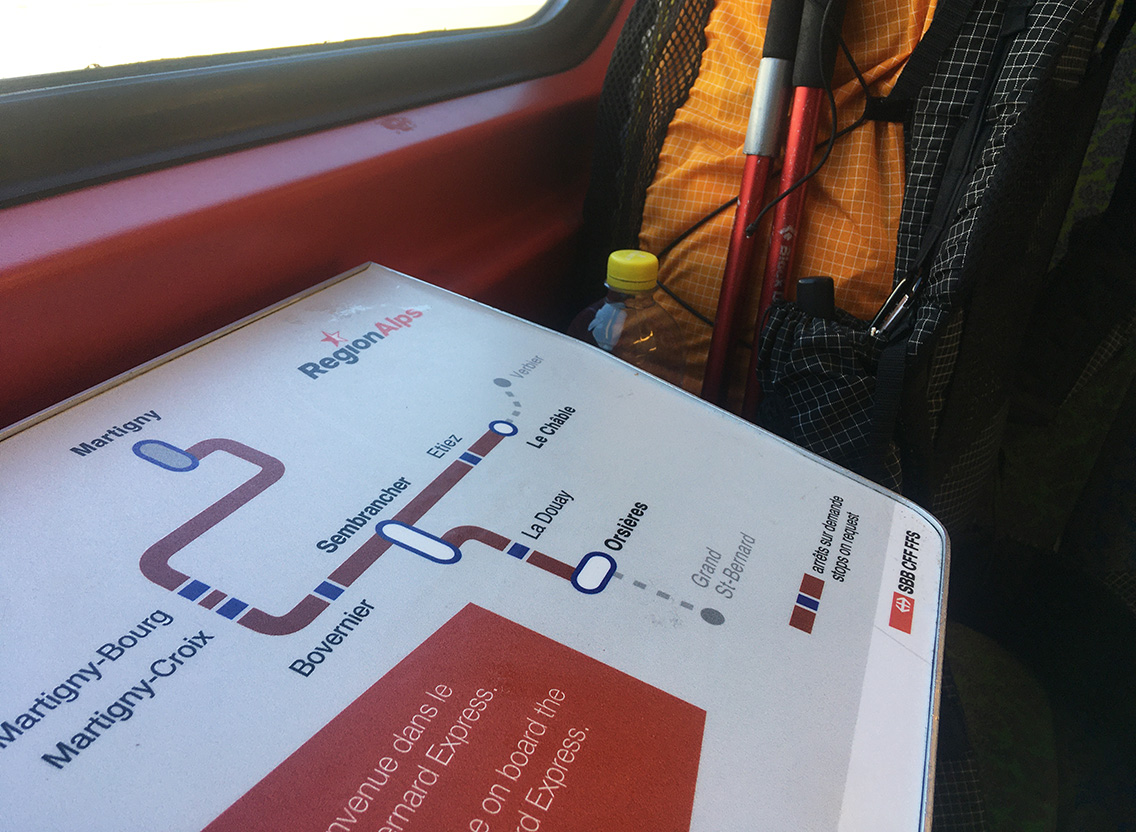 Travel from Geneva Airport to the trail was fairly easy by train, with just two transfers, in less than 2 hours.
Day 1: Sembrancher to Le Châble
Start: Sembrancher railway station, 707 m (2,320 ft)

End: Le Châble, 850 m (2,788 ft)

Distance: 6,9 km (4.3 miles)

Elevation gain: 183 m (600 ft)

Elevation Loss: 58 m (190 ft)
Highest point: Le Châble, 850 m (2,788 ft)

Time: 1:30 hrs

Date: July 31, 2020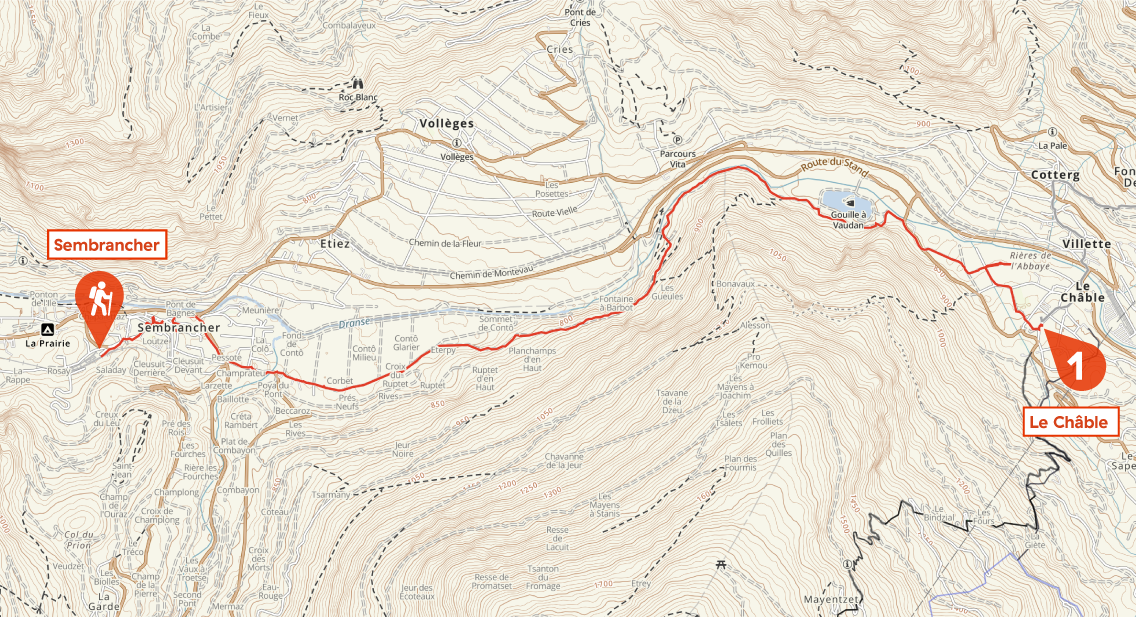 Haute Route day 1: Sembrancher to Le Châble, base map layer by Gaia GPS 
Sembrancher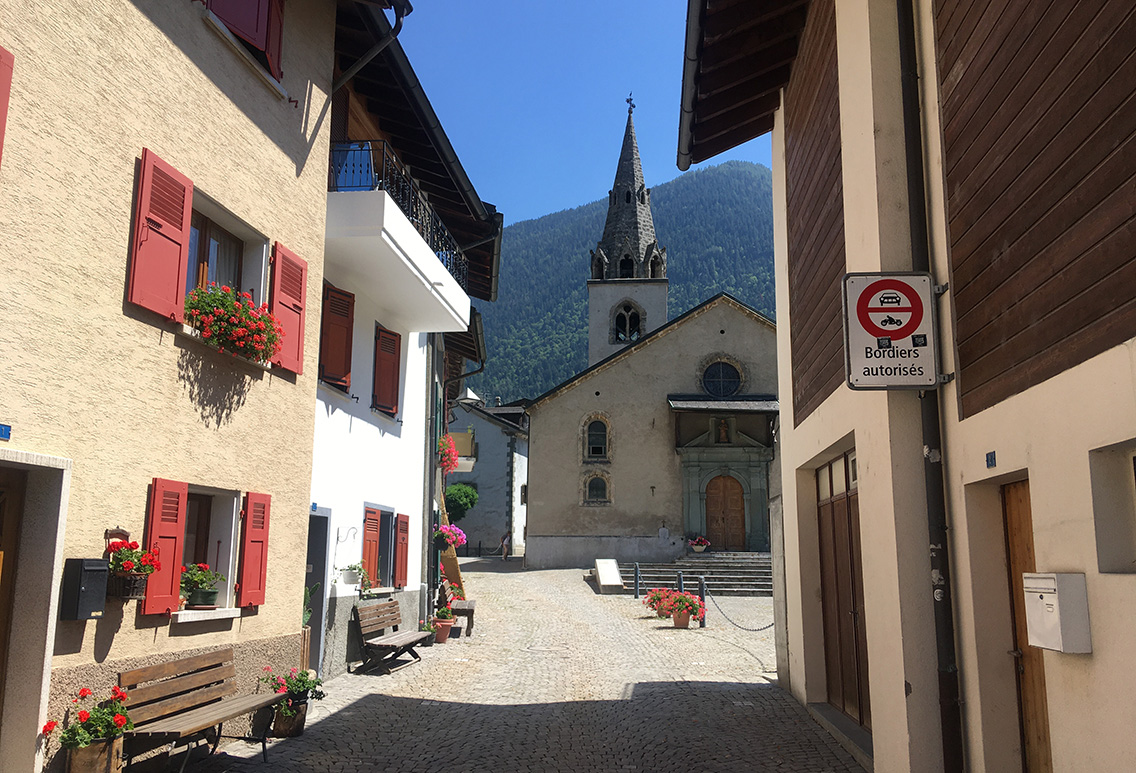 The small village of Sembrancher is quite charming, with some old houses and cobblestone alleys. Not bad for a first day in Switzerland. Small as it was, I needed my map and guidebook to find my way out of it. As the guidebook states, I had to follow the signs to Champex-Lac, although that feels wrong. After consulting my map again, I saw that I had to follow the main tarmac road before finding the trail going east, along the hills.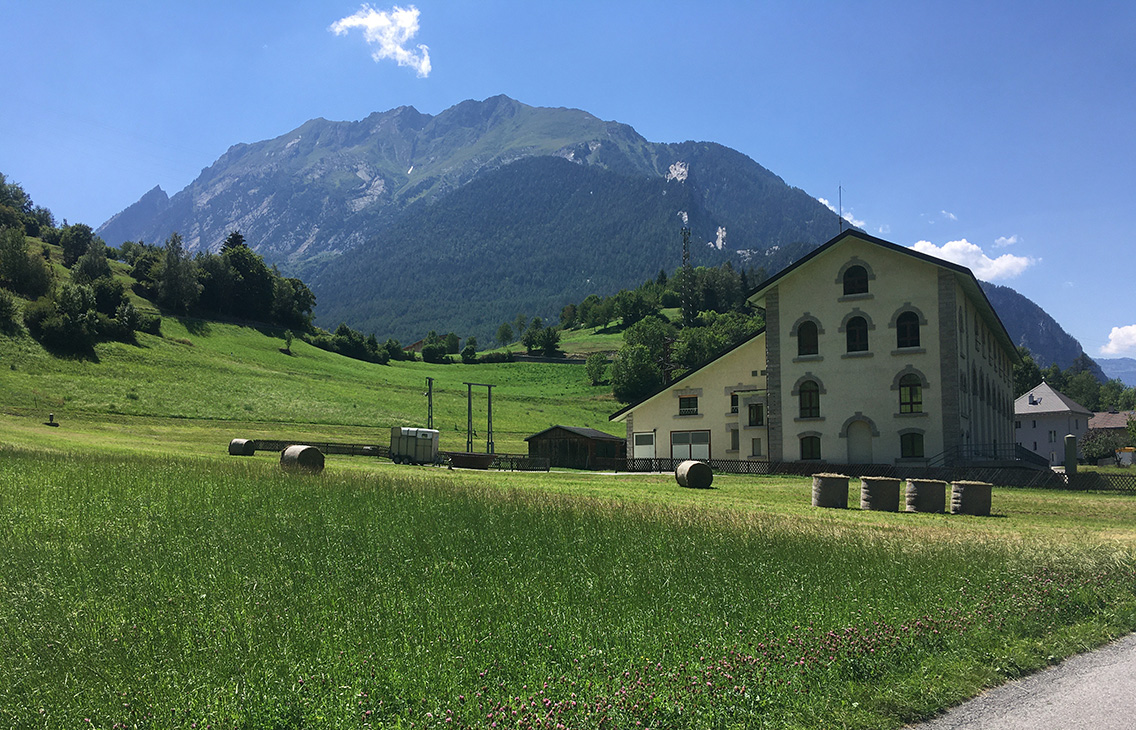 Looking back to the mountains I crossed on  the Tour du Mont Blanc
Soon the trail left the village and I found myself in grassy farmlands. It was wonderful to be hiking in Switzerland again. The high mountains, dotted with snow fields, were all around me, and later on, the murmur of the river Dranse accompanied me. It was extremely hot (about 36 Celcius I learned later), and some cooling water would have been very welcome, but I could not reach the water down the steep riverside. Luckily the trail was in the shadow.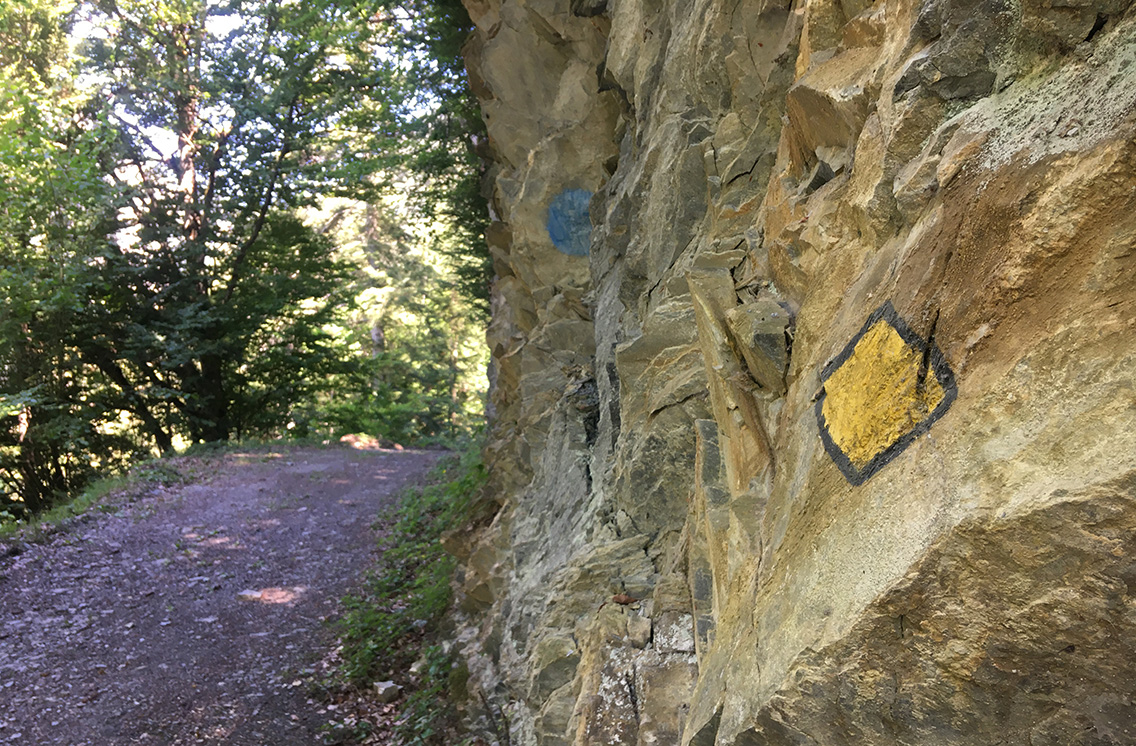 This part of the trail is marked with yellow diamond shaped signs, which signifies an easy mountain trail (unlike the red-white and blue-white signs that I would see in the next days, on more demanding sections). 
Le Châble
After about one and a half hour of hiking – completely alone – I reached Le Châble, a beautiful old village that actually has a more French than Swiss feel to it.
At the center, where the river, the underground railway station and base of the cable car to Verbier meet, there is a mountain sport shop called Show Montagne. I bought an MSR gas canister here (not allowed on the airplane). I had called ahead from home to make sure I could buy gas here. Because after this village, you will not be able to buy gas for several days, if not for the rest of the trip until Zermatt. The nearby (air conditioned!) Migros supermarket provided me with food and drinks for the rest of the day.
Although there is a campsite about one hour further south in the valley, for this first night I had booked a bed and breakfast in the village, Chez Leni. A beautiful old traditional house, with walls so thick that it was cool inside, despite the extreme temperatures outside. A big window had a view on the steep zigzagging roads to village of Verbier, much higher on the mountain. Looking a bit more to the right, I saw the mountain that I would be hiking up tomorrow.