My second day on the Haute Route was a full day of ascending, with exciting views of the Massif du Mont Blanc and the snowy peak of Le Grand Combin. Gaining more than 1.600 meter in elevation, I reached Cabane du Mont Fort early in the afternoon.
Haute Route 2: Le Châble to Cabane du Mont Fort
Start: Le Châble, 853 m (2,799 ft)

End: Cabane du Mont Fort, 2.451 m (8,041 ft)

Distance: 13,9 km (8.6 mi)

Elevation gain: 1.621 m (5.318 ft)

Elevation Loss: 29 m (95 ft)

Highest point: Cabane du Mont Fort,  2.451 m (8,041 ft)

Time: 4:45 hrs moving time; 6:30 hrs total time

Date: August 1, 2020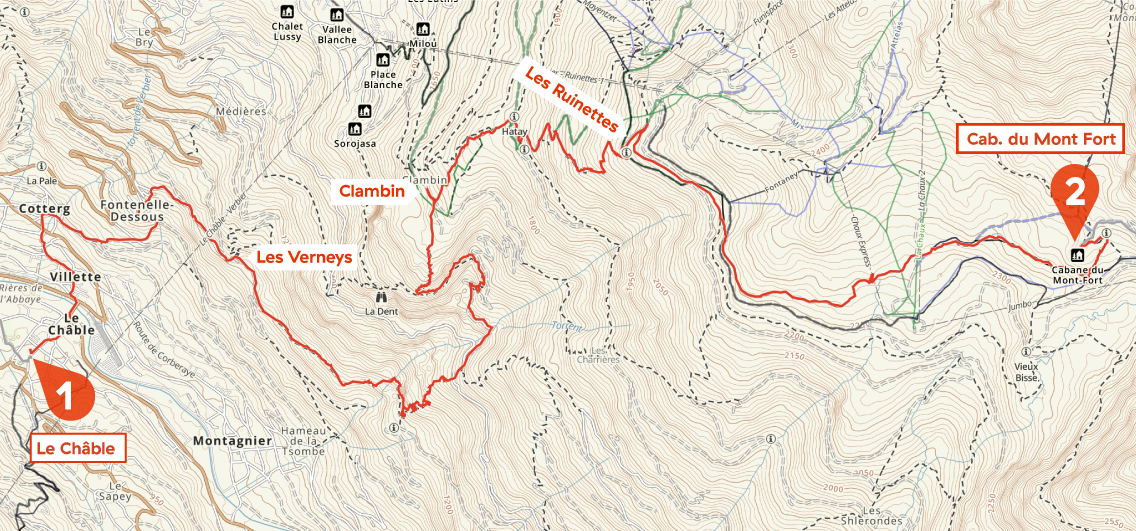 Haute Route day 2: Le Châble to Cabane de Mont Fort, base map layer by Gaia GPS  
Le Châble
I got up at 5 am at the Bed and Breakfast in Le Châble and had a lovely breakfast of bread, cheese, yoghurt, all the good things Switzerland brings. At 5:45 I was on the trail again (the trail was actually 10 meters from the front door), I passed the Migros supermarket, turned right and then went up, steeply. This climb would continue the entire day.
Looking back at the quiet, early morning village of Le Châble
The first part of the trail was in the shadow of the houses and trees, but the air was humid and the steep climbing left me terribly hot (it was after all my first day of ascending). Not acclimatized yet, the relatively moderate altitude left me out of breath sometimes.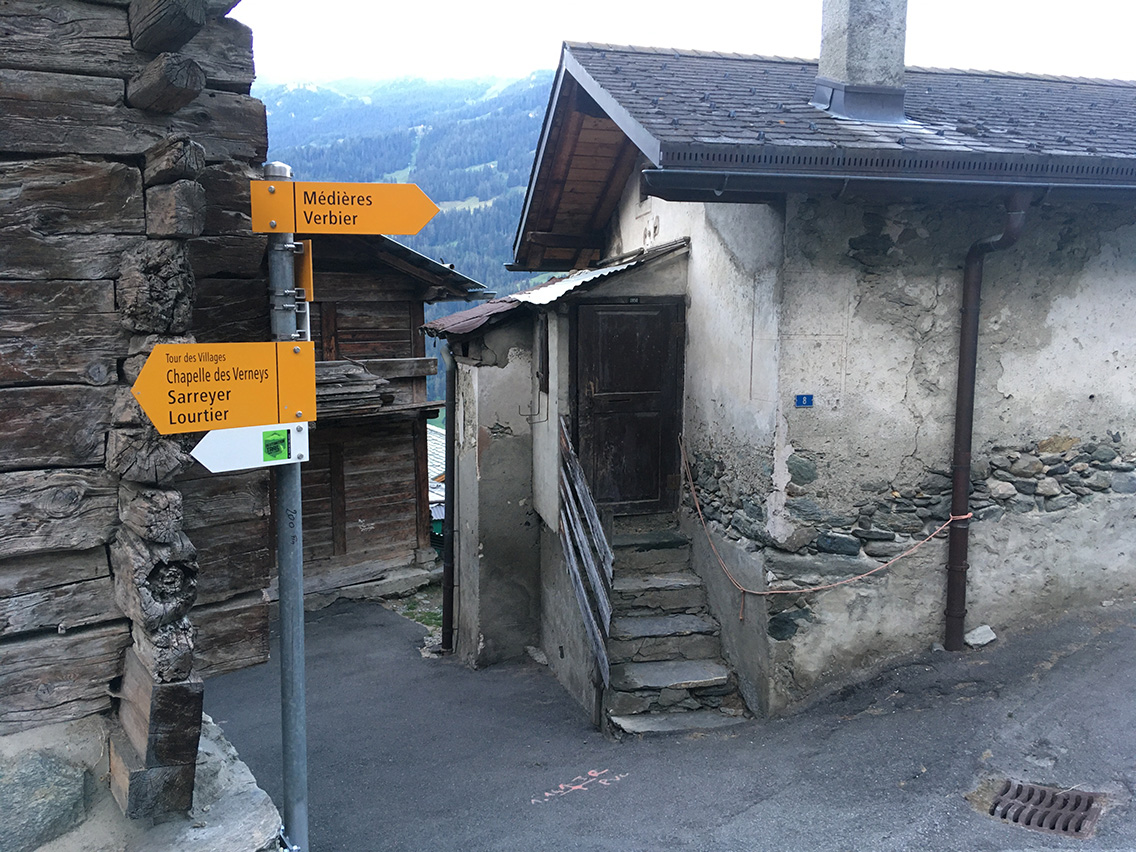 I was hiking in little villages between Le Châble and Verbier, or in between them. This part of the Haute route follows the Tour des Villages. These old villages may look a bit run down, with the old wooden sheds and half plastered stone walls, but a look at the various expensive cars in front of them revealed that this must be a quite rich part of the country.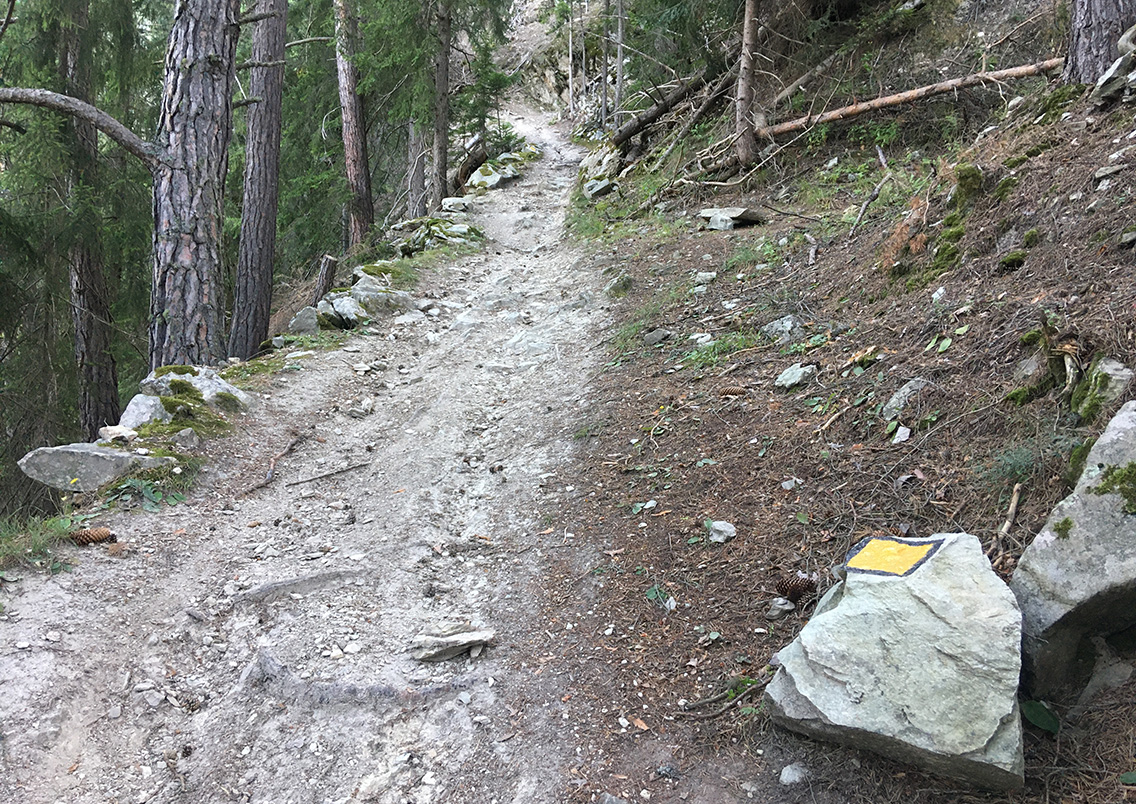 After about an hour, the trail left the villages and continued in more forested surroundings, following the yellow diamonds as my guide. Every now and then I would come in small hamlets like Les Verneys, with a chapel looking out over the valley, and Le Mayentset.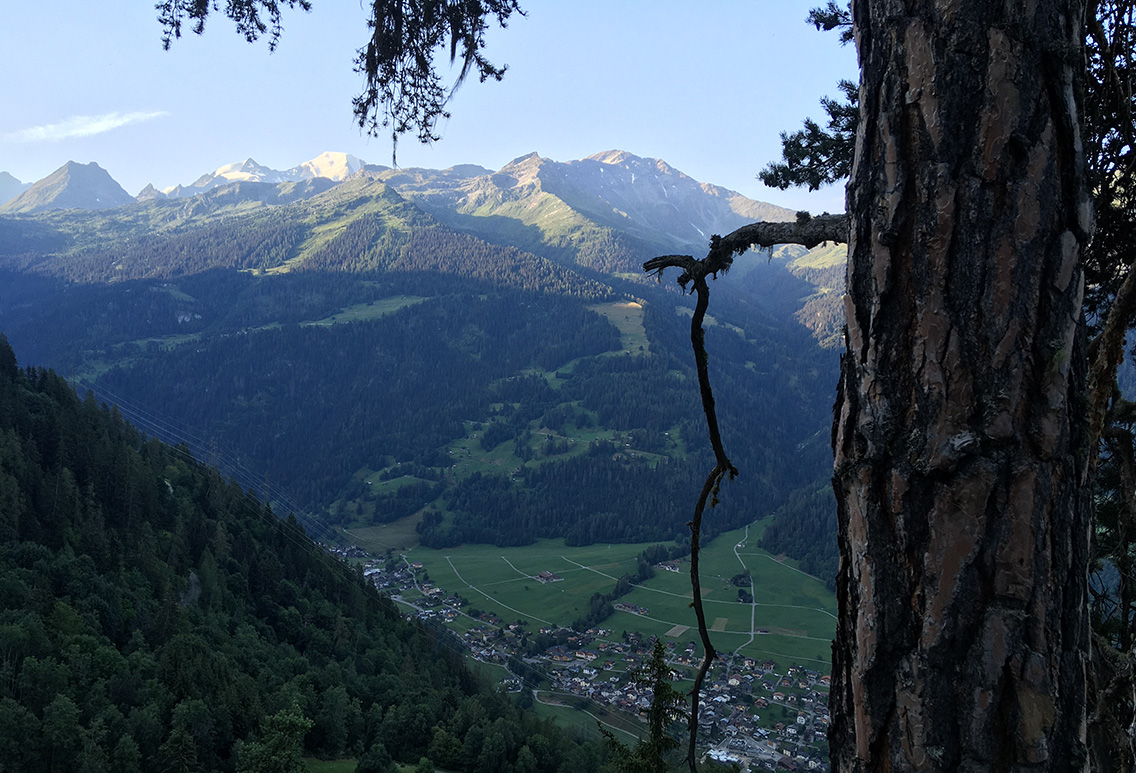 Then suddenly, a great view: a big snowy cap, I first confused with the Mont Blanc. Consulting my map I learned that it was Le Grand Combin. Hiking up a bit further, the Massif du Mont Blanc became visible, including the Trient Glacier, a memory of last years Tour du Mont Blanc.
Arriving at the hamlet of Clambin, I was disappointed to see that the restaurant was still closed. Arriving at  9 o'clock, I was way too early. There was a water fountain though, and a wooden bench, so I could have my break anyway. Climbing further up the hills, I passed a big picnic-area, with sheltered barbecues, tables and even a toilet. A good (but most certainly illegal) place to camp if you would be hiking very late.
Les Ruinettes
The trail was hard to follow sometimes, it would suddenly bend from a paved road into the forest. I really needed the guidebook and my map.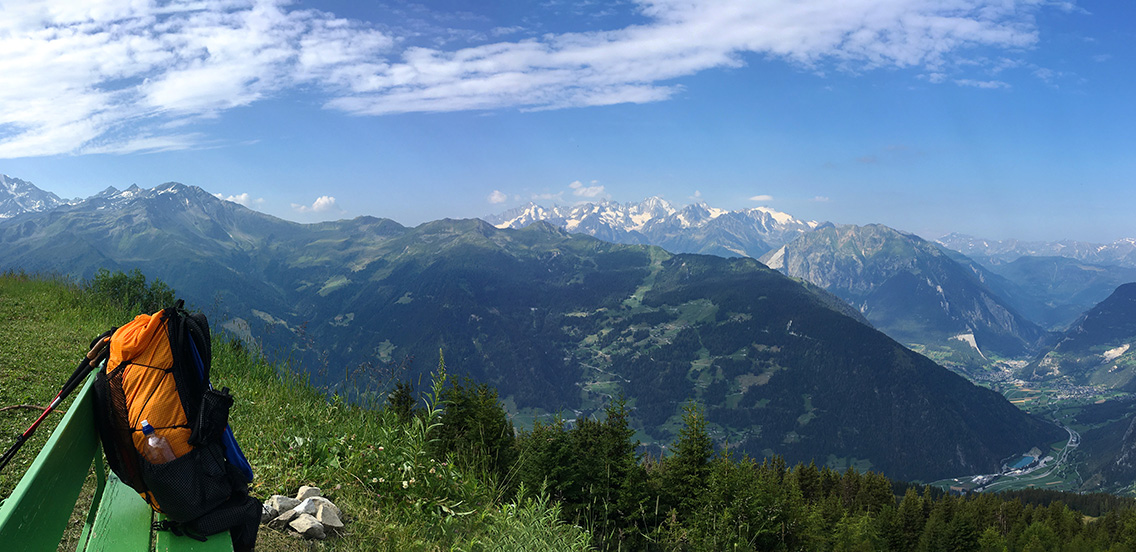 View from Les Ruinettes of the valley and massif du Mont Blanc
After about 4 hours of ascending I finally arrived at Les Ruinettes, one of the major ski destinations of Verbier in winter. But in summer the cable car and restaurant seemed to be full as well, and mountain bikers and paragliders use the grassy hill as their starting point. I took another break here enjoying the panoramic view, with some potato-chips and isotone drink, to prepare for the last stretch of trail which would be in the hot sun and no protection of  trees.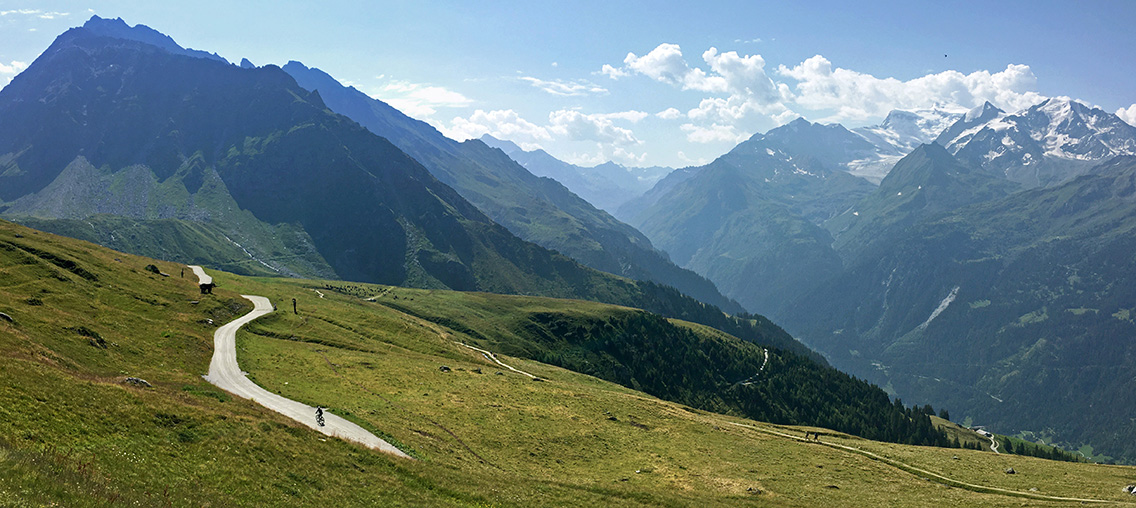 Continuing on the trail, I reached the beautiful yellow-green meadows, exactly as I remembered them from when I was there 40 years ago. As a twelve year old I had made the short hike from the ski lift to the Cabane de Mont Fort with my father and siblings. I was happy to be back again.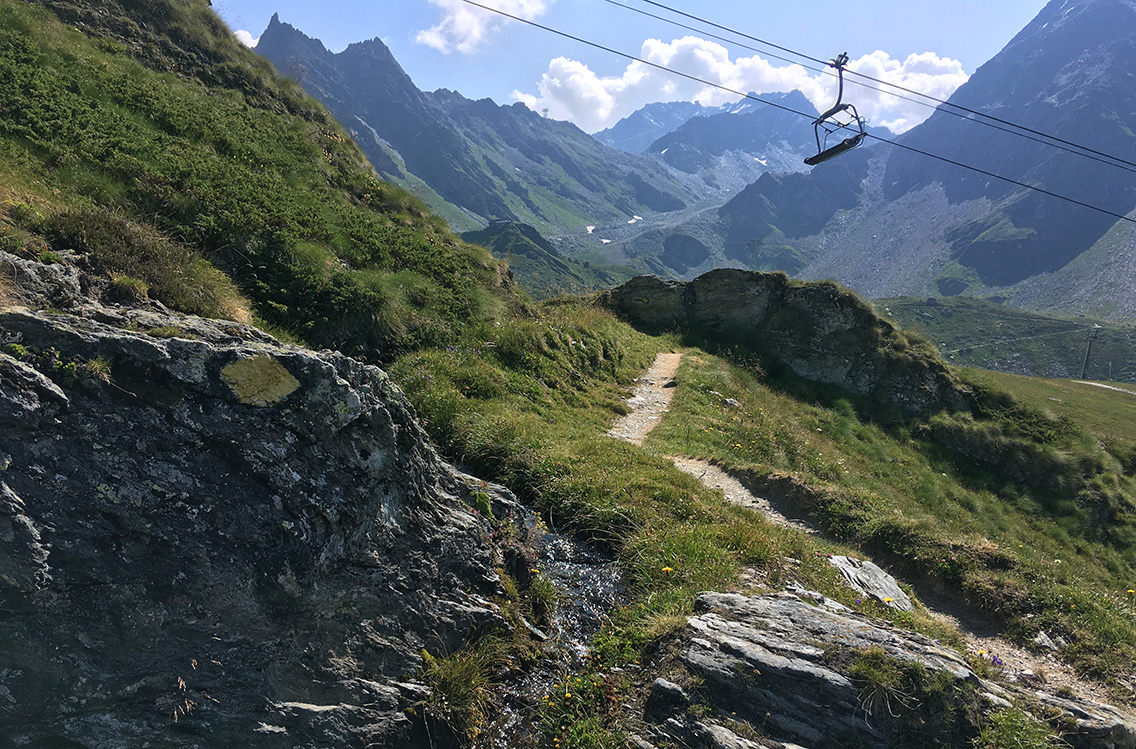 From La Chaux, the green meadows west of the Cabane, Col de la Chaux is looming in the distance, with dark peaks behind.
The trail follows two artificial streams: bisses. I was still very early and I took my time to eat a piece of bread with Swiss cheese for lunch, cooling my feet in the freezing cold water.
In the distance I saw the higher mountains, dark and rocky and I tried to find out where I would hike tomorrow. On a green outcrop in the meadows the Cabane du Mont Fort was visible.
Cabane du Mont Fort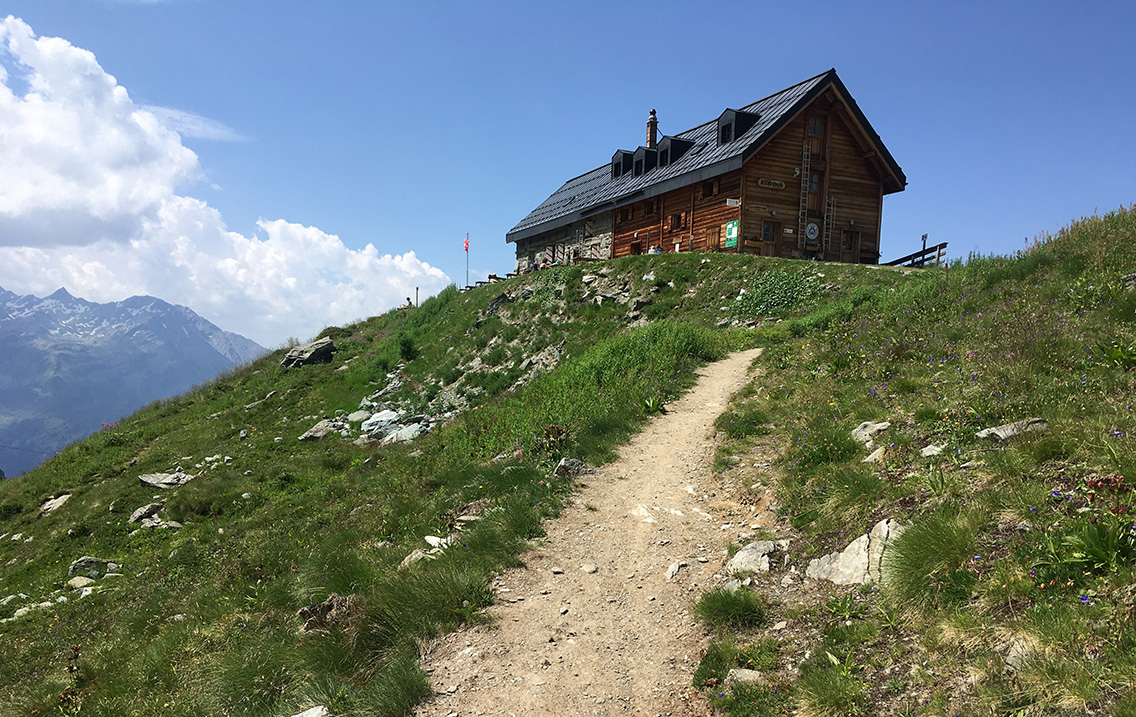 Cabane de Mont Fort at 2.457 m (8,061 ft)
I recognized the meadow just below the hut, nothing seemed to have changed. Big rocks were lying in the exact same position as 40 years ago. But the Cabane has been extended to twice its size, with a wooden building attached to the old stone building.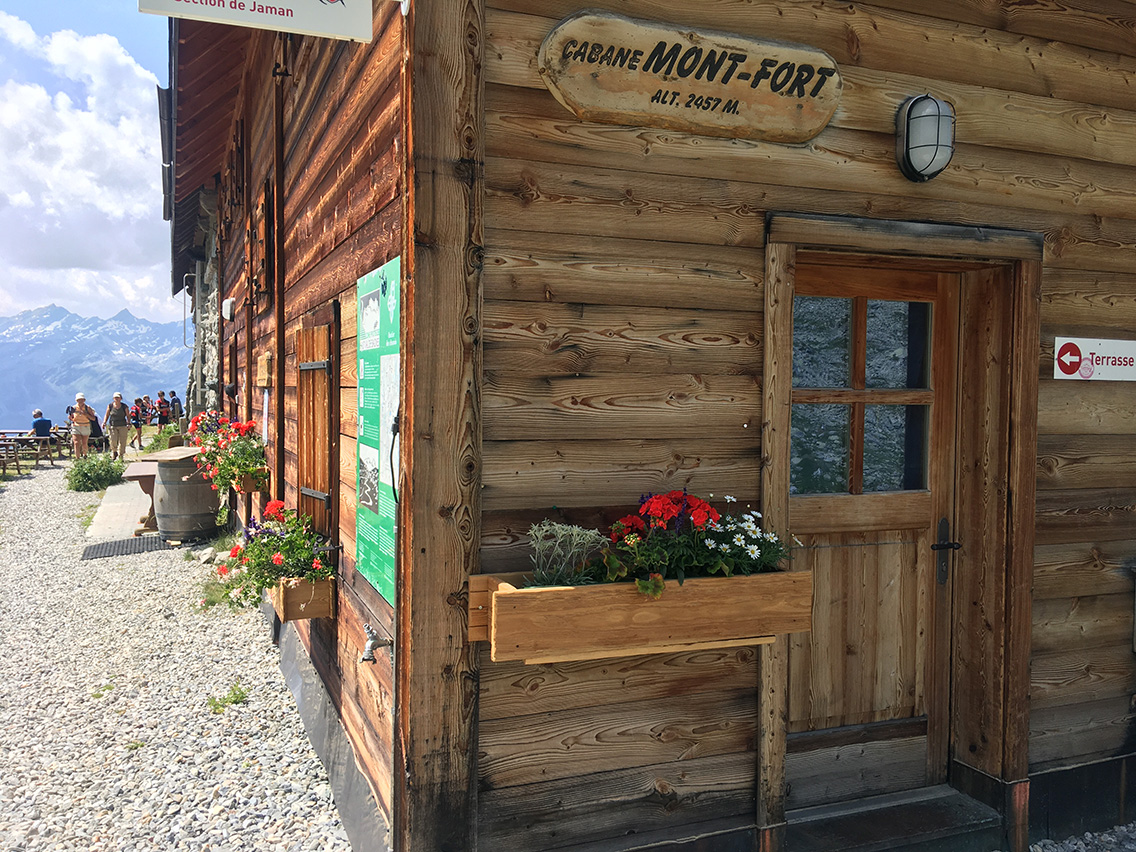 Climbing up the last few feet to the hut, it was getting kind of crowded. A lot of people were coming up to the hut by cabe car, huffing and puffing with exhaustion because of the 100 yards or so they had to walk up!
I had arrived way too early, actually –the hut was at its busiest hour 12:30. The warden showed me where to put my backpack for the moment, a room would be assigned to me later.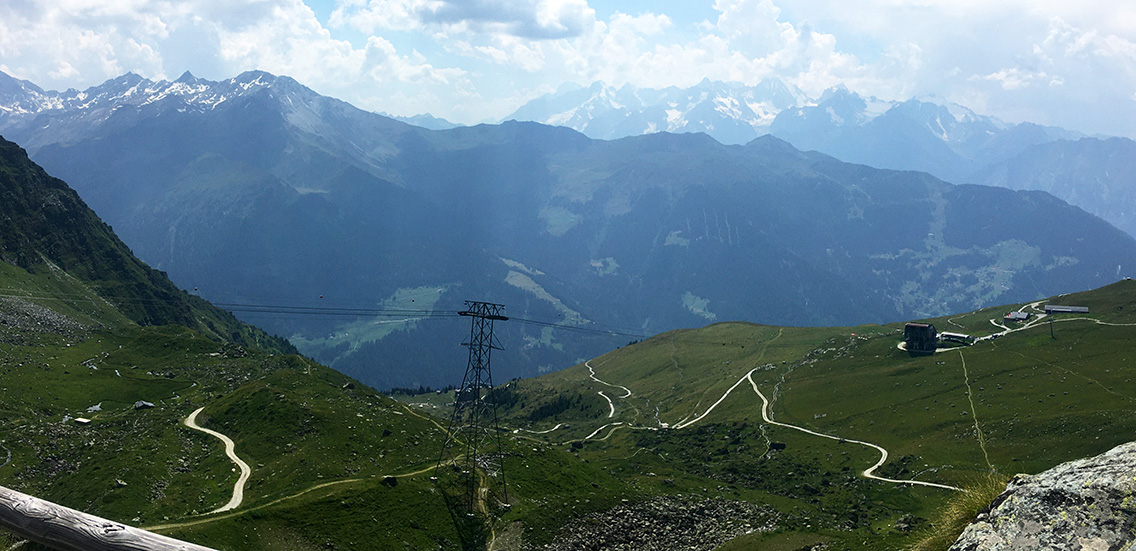 View from Cabane de Mont Fort, Mont Blanc barely visible in the background
I bought a cold drink and I was lucky to find a place on the terrace, with the most amazing view. Although far away, being able to see Mont Blanc made me feel connected again with the Tour du Mont Blanc, and the official first part of the Haute Route.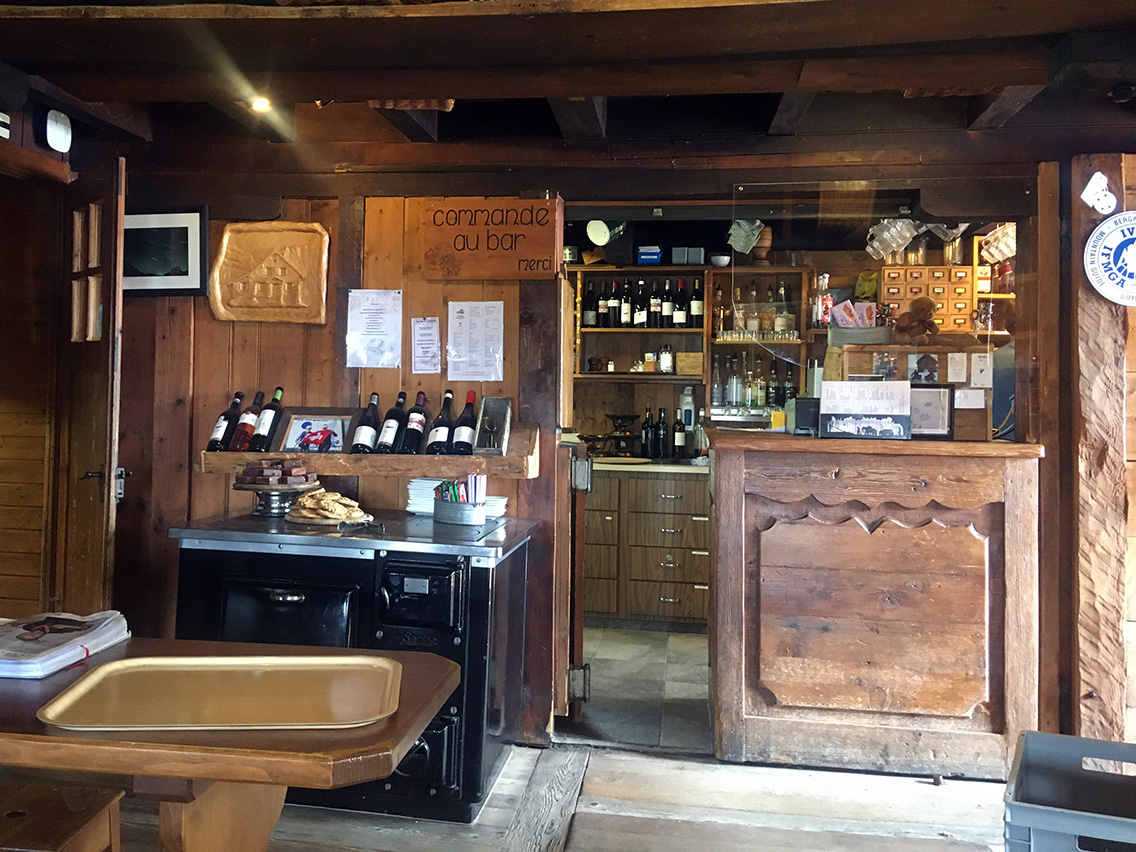 A downside of the cabane's sunny terrace was that is was actually too sunny, with no parasols to provide shade. So after some time I took shelter inside the hut, where it was cool and pleasantly quiet. Studying my maps and writing notes I enjoyed a very fine tarte aux prûnes and lemonade at quite a fair price. By the way: paying with your debit card was no problem here at all, as in all other huts that I would stay in later (Les Ecoulaies being an exception, as an unmanned hut).
The cabane's staff was very friendly, and working their ass off. When the crowds finally thinned out, I was shown my little room: a simple two person bedroom on the third floor that I would have all to myself.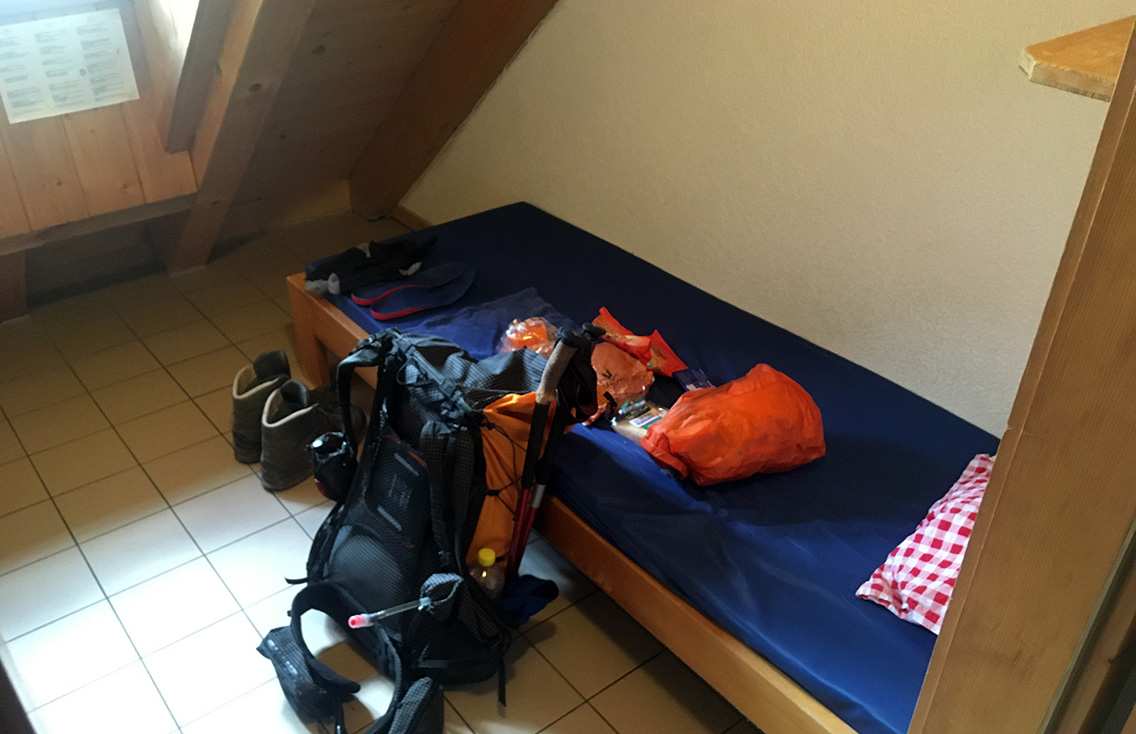 I took an excellent and well deserved shower, totally worth the CHF 5 and then took a short nap on the small wooden bed. Then I arranged all my stuff, charged my phone and satellite communicator and read my book. Back at the terrace, it was now very quiet, with only hikers left who would spend the night at the hut. I got to talk with another Dutch guy called Keimpe, who was hiking the Haute Route as well. Exchanging our experiences of the day, we made plans for the next day. Dark clouds were already gathering above us, and tomorrow was going to be some challenge. The warden advised against hiking the Col Termin trail, which is very dangerous when wet, and recommended to continue the hike via the Col de la Chaux. Both of us feeling a bit insecure about what the trail would be like, we decided to hike together the next day.
We had soup, a cheese fondue and a simple desert of canned fruits in the Cabane's restaurant and as soon it got dark it was time to go to sleep. The night brought very bad weather. Listening to the thunderstorm and the rain clattering on the roof and window, I tried not to think too much of tomorrows hike, which would be tough enough in good weather. 
< Previous: Haute Route 1: Prologue
> Next: Haute Route 3: Lac des Dix