Like most hikers, I want to be able to charge my smartphone, wether on a thru-hike or a multi day section hike. I have compared different options and finally chose the Flybox Solar power bank to carry on my Big SEKI Loop thru hike in the summer of 2018.
Flybox SQ1 Premium Solar Power Bank
Size: 160mm x 160mm x 9.8mm

Weight: 275 gr (9,7 oz)

Battery: 5,600mAh (Samsung)

Micro USB Input: 6V, 1.5A (6.6 Watt)

Solar Cell Input: 6V, 0.4167A (2.5 Watt)

USB Output: 5V/1A and 5V/2.1A (10.5 Watt)

Working Temperature: -10C thru 50C

Lifespan: 600+ cycle

Extra: 2 LED light bars
Tested: September 2018, High Sierra, California
Do I Need a Solar Charger?
For me, my iPhone is my most important gear as a camera and my main navigation device. While hiking I use the Gaia app a lot more than my paper map (of course I will always carry a paper map – it's fun and safe).  I also use my smartphone in combination with my InReach satellite device, to make typing a message to loved ones back home easier. As for the telephone function: that is of course useless in the wilderness, since there is no reception at all (that's why I have the InReach).
Especially on a wilderness hike, when you will not visit a town for more than a week, you almost cannot do without a solar charger. On a trip in the more populated mountains of Europe, like the Tour du Mont Blanc, you will visit a hut or a village once or twice a day and you might rely on the electricity provided there (although that would make you more dependent and less flexible).
You might want to bring a powerbank like the Anker Powercore. Powerbanks like that are very powerful, but they tend to be at least twice as heavy in comparison with the average solar charger. And, once they're empty (and you just never know when this will happen) you are stuck. This is the main reason I chose for the Flybox SQ1 solar charger: charged by sunlight it is lightweight, but with enough power to charge my phone every day.
Specifications and What They Mean

According to official specs, the Flybox weighs 290 grams (10.2 oz), but my scale did not reach more than 275 grams (9.7 oz). The size is really convenient, flat and square, and it is small enough to fit on the top of my backpack.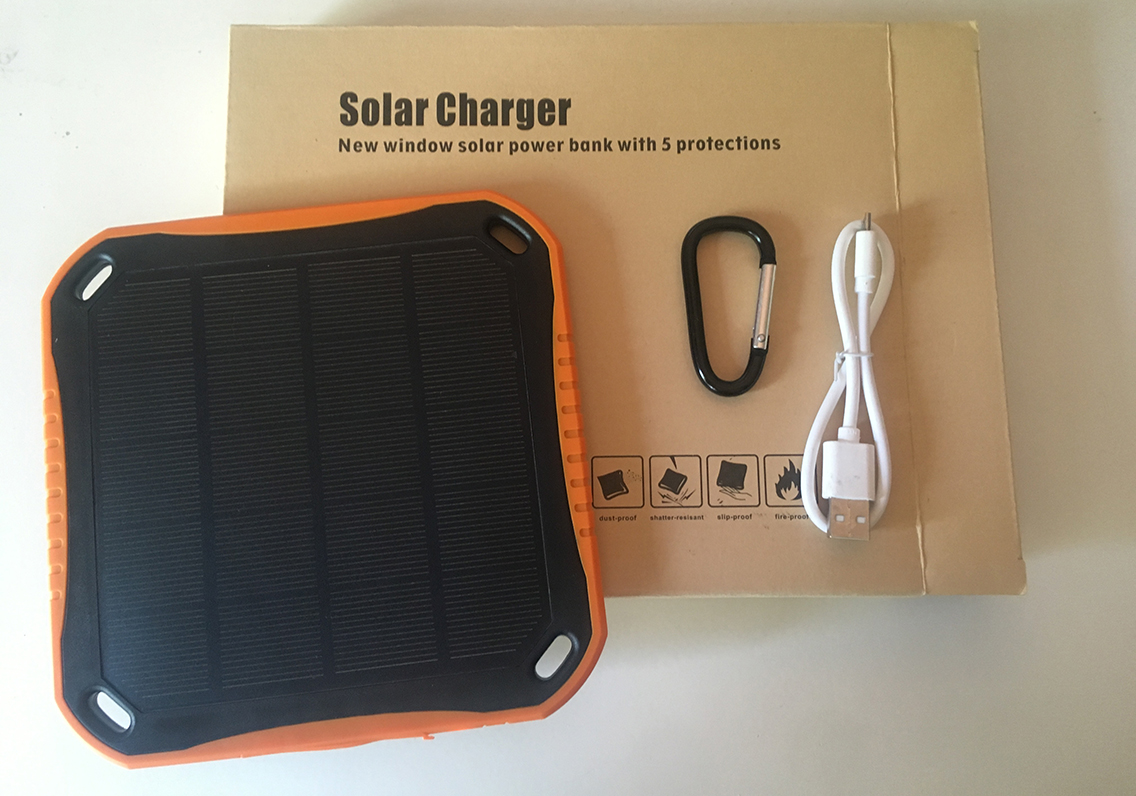 Just as important as size and weight are the technical specifications. Now, like most hikers, I couldn't care less about the relation between Watts, Volts and Amperes, let alone what on earth milliAmperehours (mAh) really are. Still, the numbers for mAh are a key feature: it basically describes how many hours of power you'll get from a portable battery, and that is exactly what's important during a thru-hike.
As a rule of thumb you should divide the mAh of the charger battery by 0.7 (for energy loss while charging), and compare that number with the capacity of your phone.
My iPhone has a 1624 mAh battery (look this number up somewhere on the net). A fully charged Flybox battery will give 5600 mAh. Mulitplied by 0.7 gives 3920 mAh.
Divide 3920 by 1624 (phone battery) and you'll get 2.4. This means that the Flybox would be good to charge my phone about two and a half times. 
The Flybox has two output USB-ports, which was handy. I could charge my phone and my InReach satellite device at the same time. (don't forget to bring the right cables) Though the specs say that one of the ports is actually a 2.1 A port (meaning it should charge about twice as fast), there is no way of knowing which of the two this is. At least, I haven't figured this out.
The working temperature is important especially when you're doing a winter hike. Batteries tend to loose power in lower temperatures. As I was hiking in the summer, this was no problem most of the time. But at high altitude I did keep my charger inside of the footbox of my sleeping quilt, along with my phone and water filter, to prevent freezing.
Where to buy?
I bought the Flybox directly from the Flybox Gadgets website and I don't believe it is for sale anywhere else. The price may change over time, but most of the time they offer a discount, and always free shipping in the USA.
One major flaw of the website is that there is no contact information. After I contacted Flybox Gadgets on twitter, they told me how to find their email address. I will not publish it here, to avoid spamming, but search for Flybox on Twitter or Instagram.
Performance on the trail
The Flybox is waterproof, dust proof and shock proof, according to the website. Now the design looks quite sturdy, and I have had no problems of scratching or breaking, even after 10 days on the trail in a rocky environment. It should be said though, that after one very rainy day, the Flybox had trouble charging on sunlight. I am still not sure wether or not a day long of rain might have been the cause, but next time I will put my Flybox inside of my pack when it rains, just to be sure. 
The Flybox can be attached to your backpack with the carabiner it comes with. Personally I don't like stuff dangling loose on the outside of my backpack. So I used the straps of my backpack to tie the panel firmly at the top of my pack, and attached the other side with an elastic string to the closing clip lower on my pack. 
 The Flybox has two extra led bars on the back: two strips of lights that can be used as a light source for reading or any other activity. I actually never used them, I prefer using my headlamp. However, on trail I learned that it can be useful sometimes to leave a light burning in the tent, to find it back when you leave your tent in the dark (see my post about Hamilton Lake). So in those cases the Led-light would come in handy.
On trail I didn't have to do any math: I just charged my phone and my InReach every afternoon/evening after I was settled in a camping spot. Next morning I would always have two fully charged devices, and the charger would not even be empty.
I would not recommend trying to charge your phone while hiking. The cables will definitively get caught to a branch or trekking pole. I did do a charge once during a long break, but I soon learned that you really need all day of sunlight to get the Flybox charged, and you need an evening or night for subsequently charging your devices.
Customer service
Apart from the absence of an email address on the website, once you get in touch I would say the service provided by Flybox Gadgets is mainly good. They offer a '110% money back guarantee', and after I emailed them about my problem with the panel, I got a brand new one (almost) for free. They only charged the costs for shipping to Europe and a minimal fee for handling.
A note for orders outside the USA: you will probably have to pay an extra fee for customs, about €30. This makes the  Flybox relatively expensive for European hikers, but I did not find an alternative for sale in Europe yet.
So on my next trip, the Tour du Mont Blanc, I will certainly bring the Flybox again.
Update 2023
Unfortunately, as of 2023 Flybox Gadgets seems to be out of business. The website is no longer and their Facebook account is no longer updated. There are a lot of other solar panels on the market, but I have not yet found any a lightweight and powerfull as this one.