Day 5 of the Tour the Mont Blanc was beautiful and not too hard. I hiked up the Italian Val Ferret to connect with the official TMB again, climbed up the mountains and crossed the Grand Col de Ferret into Switzerland.
Day 5: Tronchey – La Fouly
Start: Tronchey Campsite

End: La Fouly, Camping Des Glaciers

Distance: 21,8 km  (13,5 miles)
Highest point: Grand Col Ferret 2.532 m (8,307 ft)

Elevation gain: 913 m (2,995 ft)

Elevation loss: 945 m (3,100 ft)

Time: 5:40 hrs moving time; 7:15 hrs total time

Date: August 16, 2019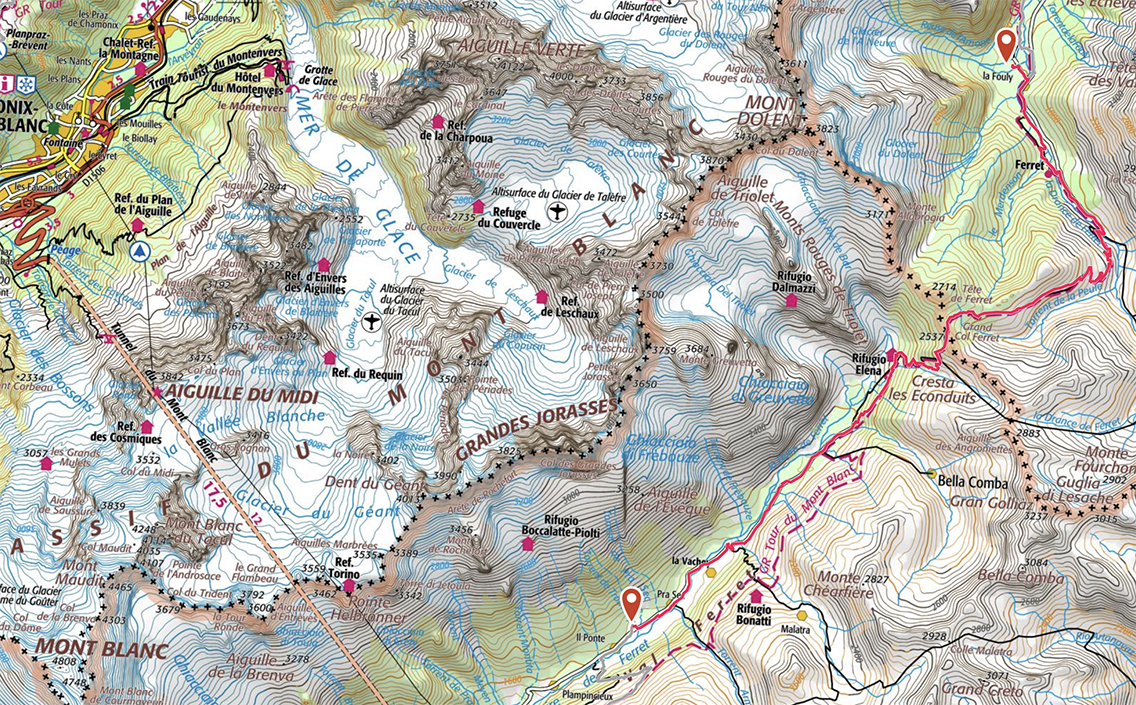 TMB Day 5, map by France IGN Topo / Gaia GPS
The Italian Val Ferret
The night at the busy Tronchey family campsite was much quieter than I had expected. Probably yesterday's 32 kilometers, plus the beer I had  last night with Jelle and Suzy, helped me falling into a very deep sleep. Waking up, my tent was moist from condensation. I aired it out while I prepared my breakfast at the tabes and chairs under the camping bar. Other TMB-hikers were early riser just like me, packing and trying to dry their stuff.
I said goodbye to Jelle and Suzy and at 9 o'clock I was on the trail. A reasonable time for a day with just one mountain pass (Grand Col Ferret). The first part of the trail was on the valley floor, a very easy walk next to the Doire de Ferret river. Looking back I caught a last glimpse of the Mont Blanc from the south side.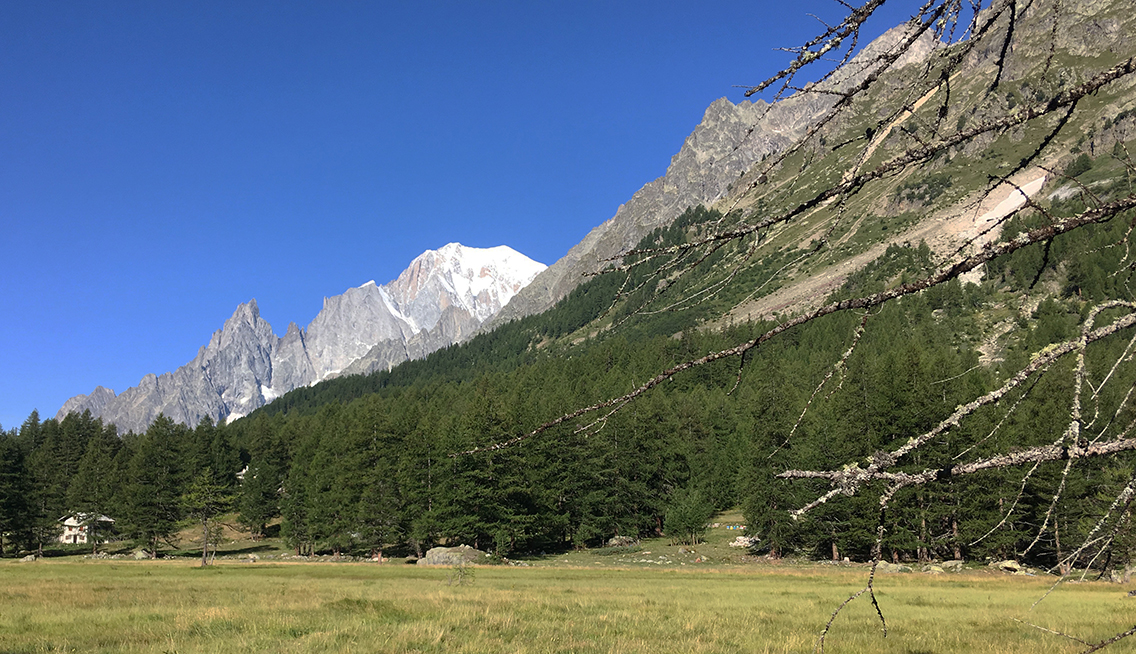 View of Mont Blanc from the Italian Val Ferret
I walked the first one and a half hour next to an asphalt road that was not an official part of the TMB, which was some 400 m higher on the hills. But to me it made no sense to climb up the steep trail, while the road ahead of me would take me to the exact same point in a much easier way. There would be enough climbing left for me, once I would get to Chalet Val Ferret where the trail joined the TMB again. I was skipping Rifugio Bonatti this way, but I would reach Rifugio Elena before noon for some fresh food.
I passed a mobile cheese shop, where I bought a piece of Italian cheese. Even when I asked for a very small part the woman cut off a heavy chunk for me, enough to last a few days.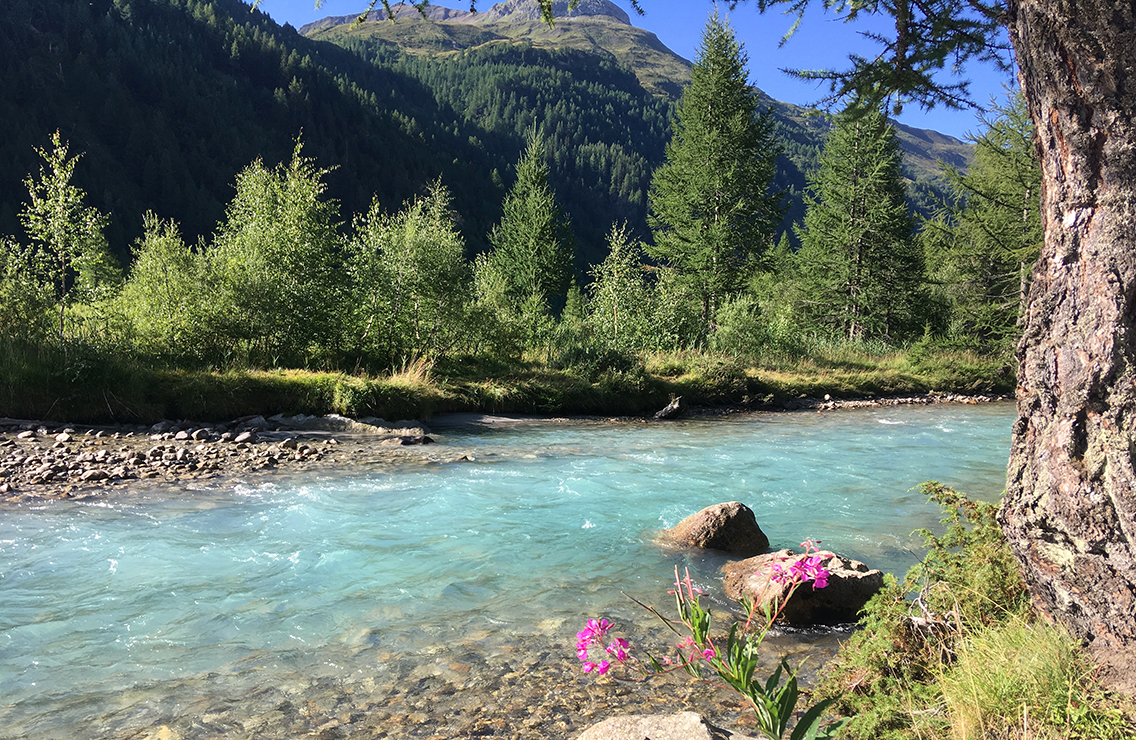 The turquoise colored waters of Doire de Ferret
The river Doire de Ferret looked so beautiful, turquoise colored and fresh, it was very tempting to take a dip. But I felt it was really too early for that, and I didn't want to go through all the trouble taking off my shoes and all.
After half an hour the road was getting busy with cars, all waiting in line to find a parking spot a bit further on. When  I reached the parking lot, suddenly it was full of cars, buses and millions of people!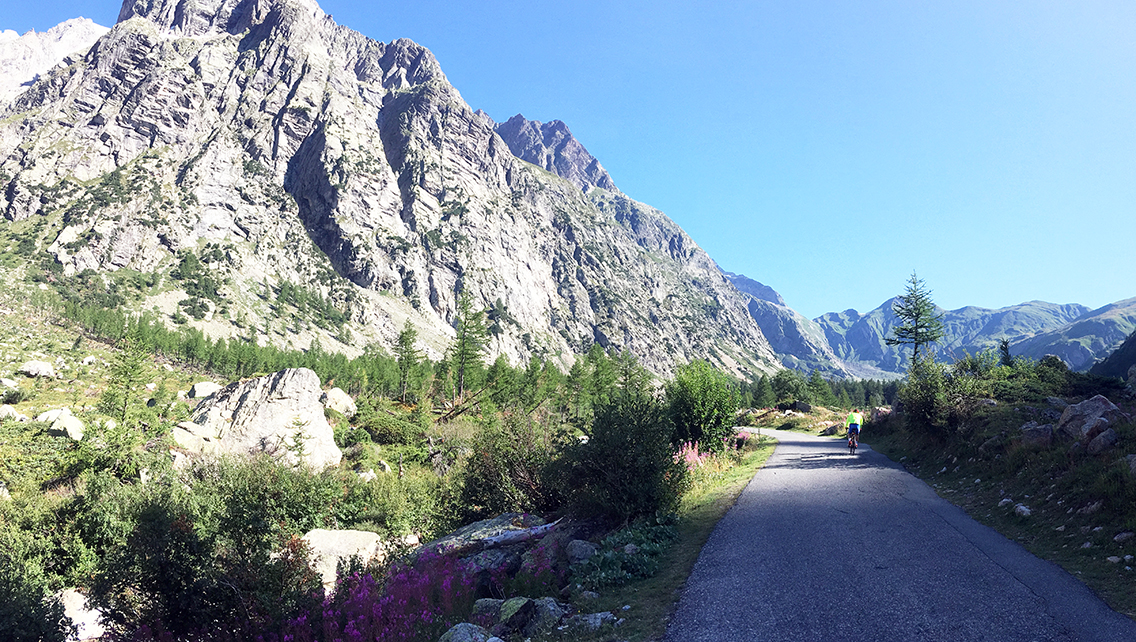 It would stay extremely crowded until the trail climbed up, and down again, and the valley floor lay open before me, now with just an occasional cyclist or hiker.
After 1:30 hrs I reached the second parking lot, where I could finally abandon the asphalt. It was good to climb up the green hills. I looked up, wondering if I could see the Rifugio Elena, but the hut was well hidden. It would take me just less than one hour to reach it.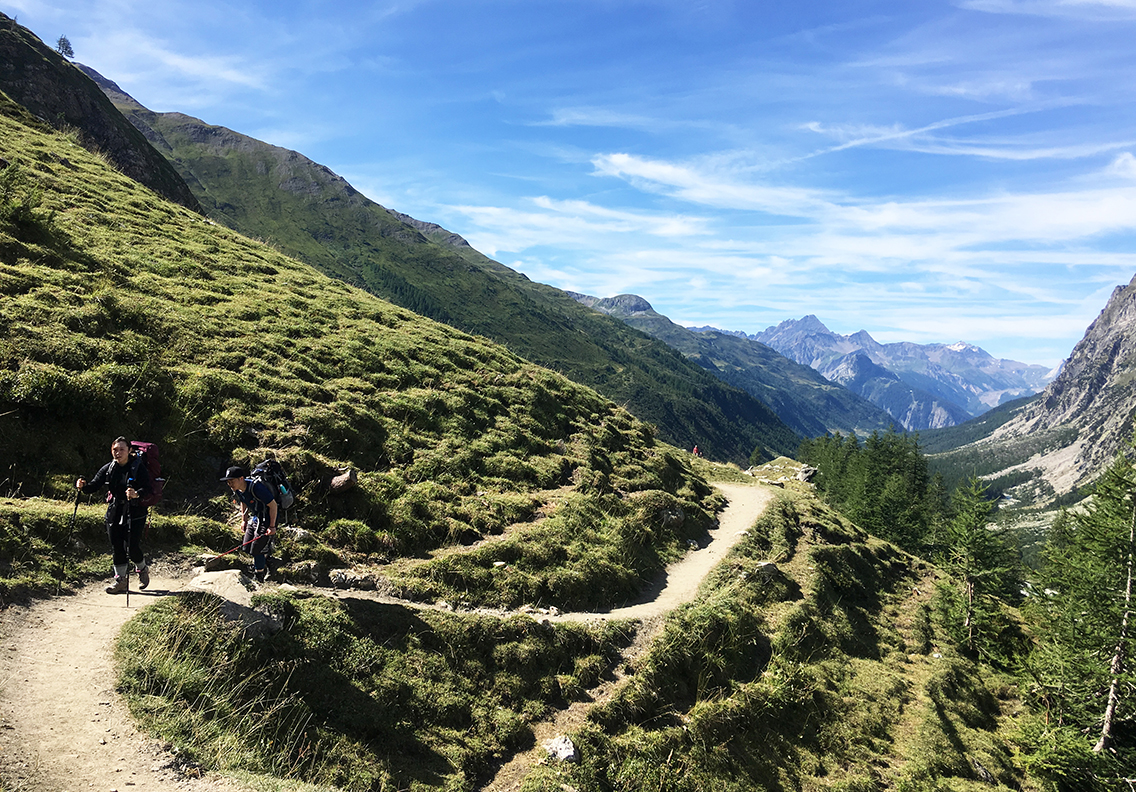 View southwest of the Val Ferret
Ploughing through the grassy hill, I kind of lost the trail for a while. It was getting hot now, I was anxious to reach the hut for a cool Coca Cola. Such a difference with a wilderness hike, where a slorp of lukewarm water is all you have. I was getting spoiled!
I met my hiking friends John and Grace again, it was good to see them. We talked for a while but then I walked on a bit faster than they did (just to meet them again at the hut). I was looking back to the mountains I came from 2 days ago. An unbelievable sight, did I really walk all the way?
Rifugio Elena
It was before noon when I reached Rifugio Elena, a big stone building that sits secluded behind a massive rock. It has a terrace with a view of Les Monts Rouges de Triolet, and the Pré de Bar Glacier (see photo at top of this post).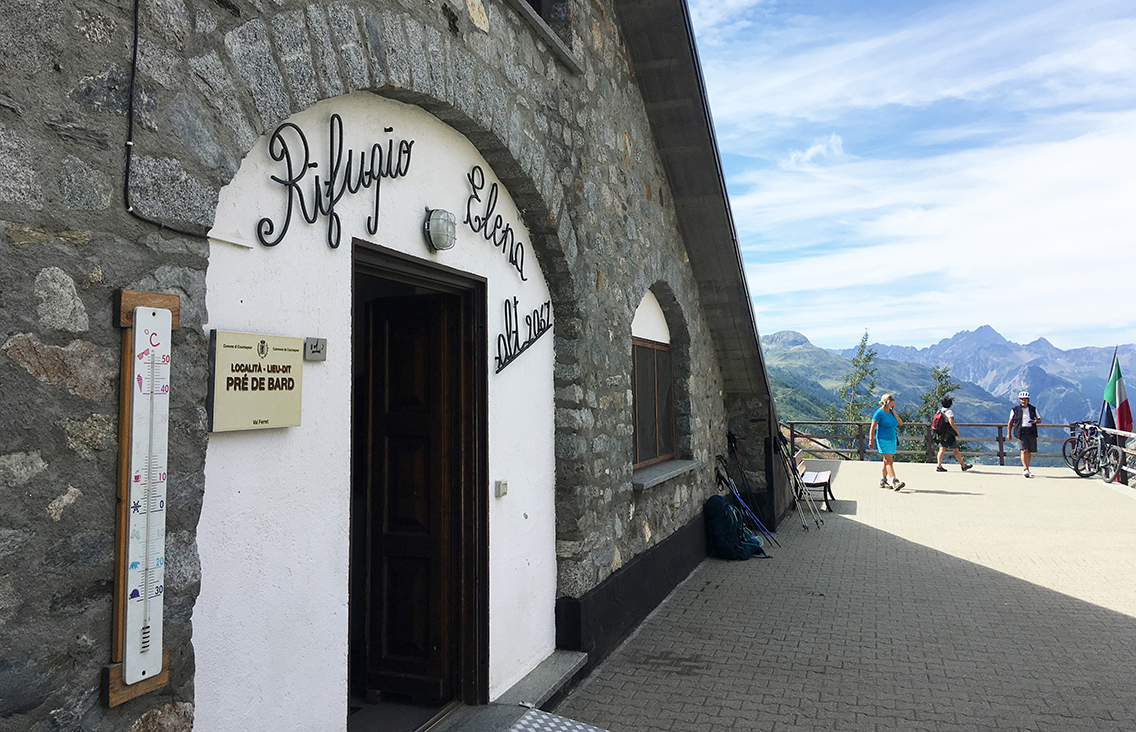 Rifugio Elena
I found Elena a very nice hut, with good food and very friendly staff. I rested for about half an hour sitting at a shady bench, and got myself two drinks and a piece of apple pie. Elena also had an excellent and clean  bathroom, with a real flush toilet, cotton towels and… a view of the pass through the window!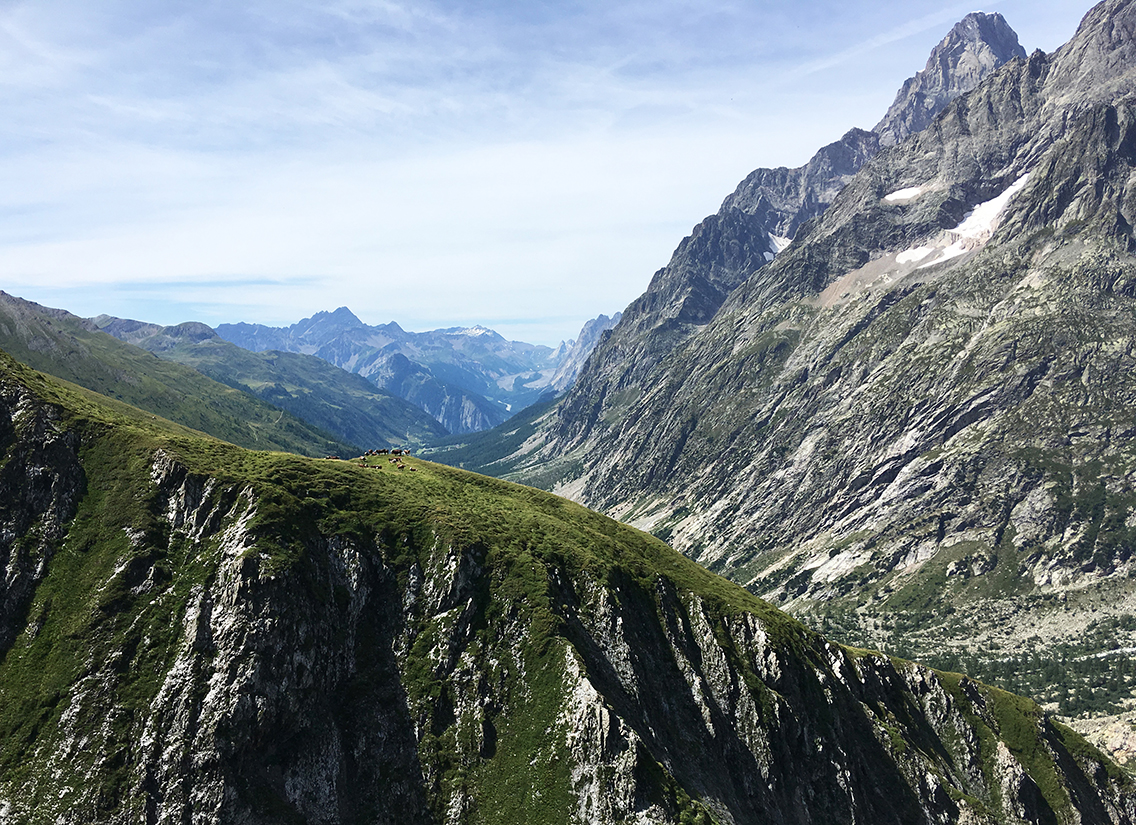 A herd of cows high op the Cresta les Econduits
Hiking up from Elena, there is a variant of the TMB going up the Petit Col de Ferret, which offers magnificent views, but is also very very steep. I didn't feel much for such a challenge today, so I chose the Grand Col, the standard route.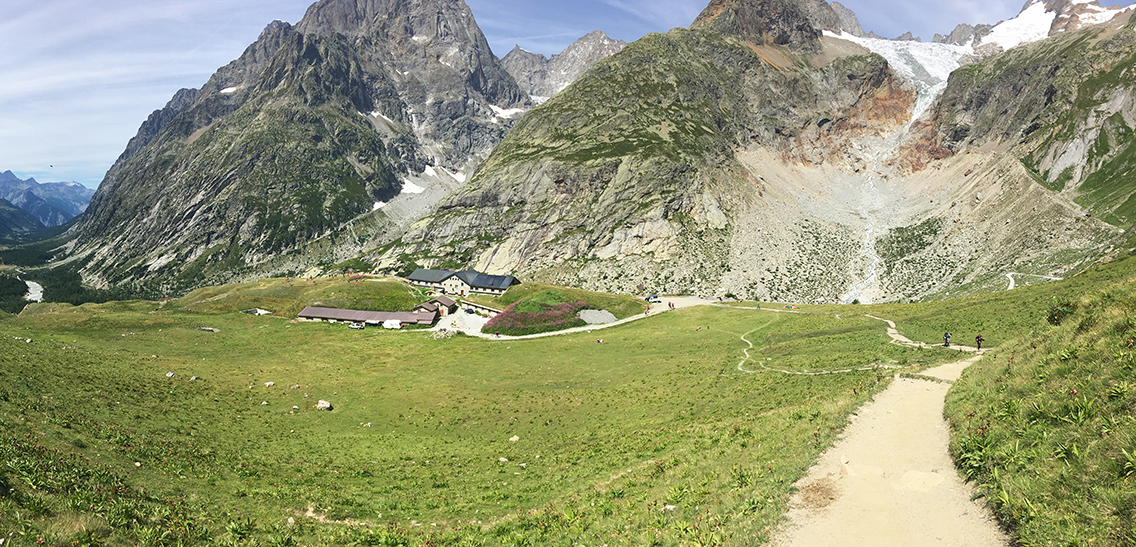 Looking back at Rifugio Elena, with Val Ferret, Monts rouges and Pré de Bar Glacier
The trail up to the col was heavily travelled, sometimes there were so many side trails, it was impossible to follow any of them. 
To the Grand Col Ferret: where is the trail?
Grand Col Ferret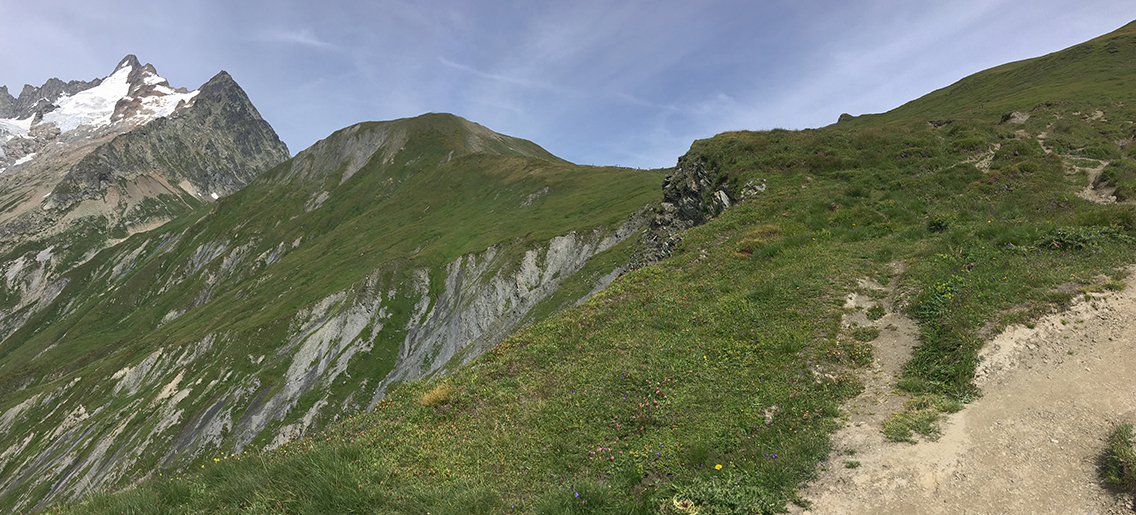 Grand Col Ferret
At higher elevation, the are was getting cooler. The col was visible in the distance for quite some time, with tiny dots of hikers on its ridge. I noticed the Grand Col Ferret is a very green col, much different from all the previous cols on the TMB.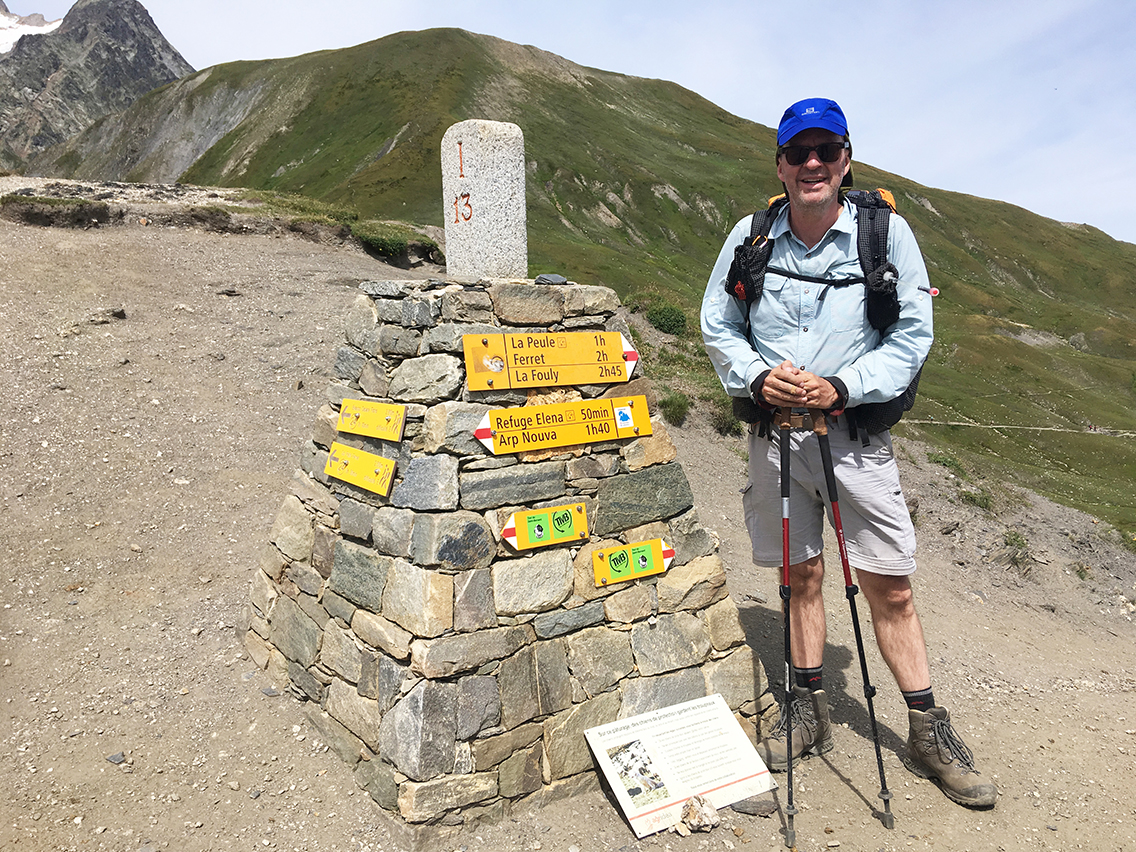 Grand Col Ferret. the border between Italy and Switzerland, 2.532 m (8,307 ft)
I was on top of the col after 1:30 of climbing. That was all the hard work for today, the rest of the trail would be going down!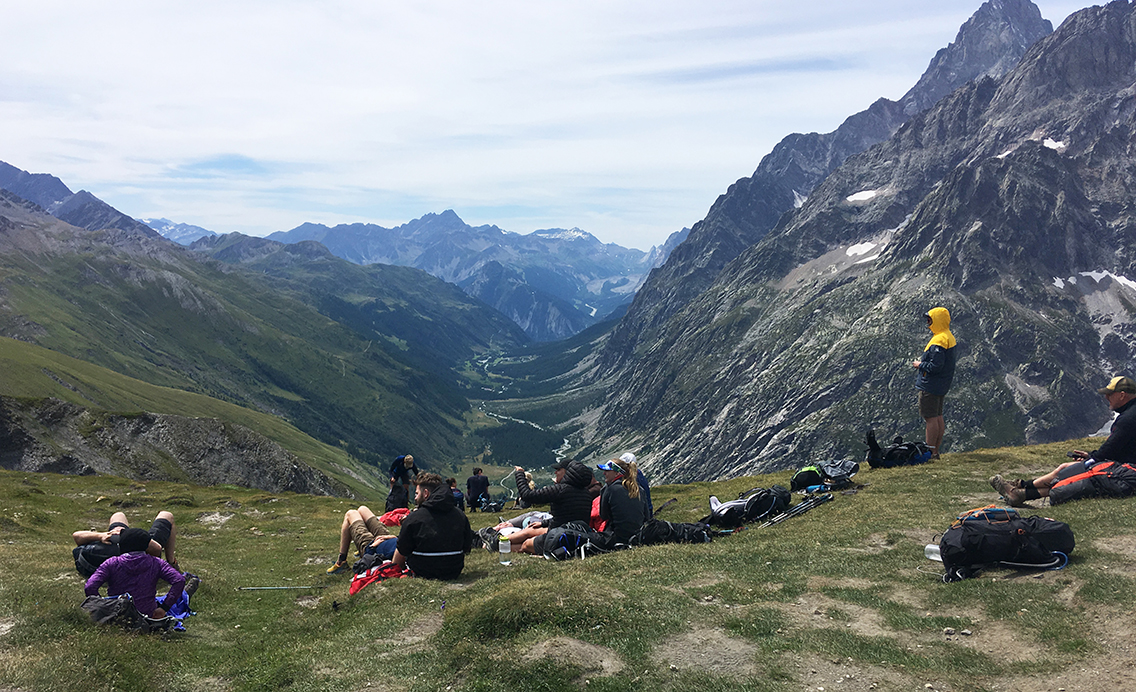 Looking back to Italy for one last time.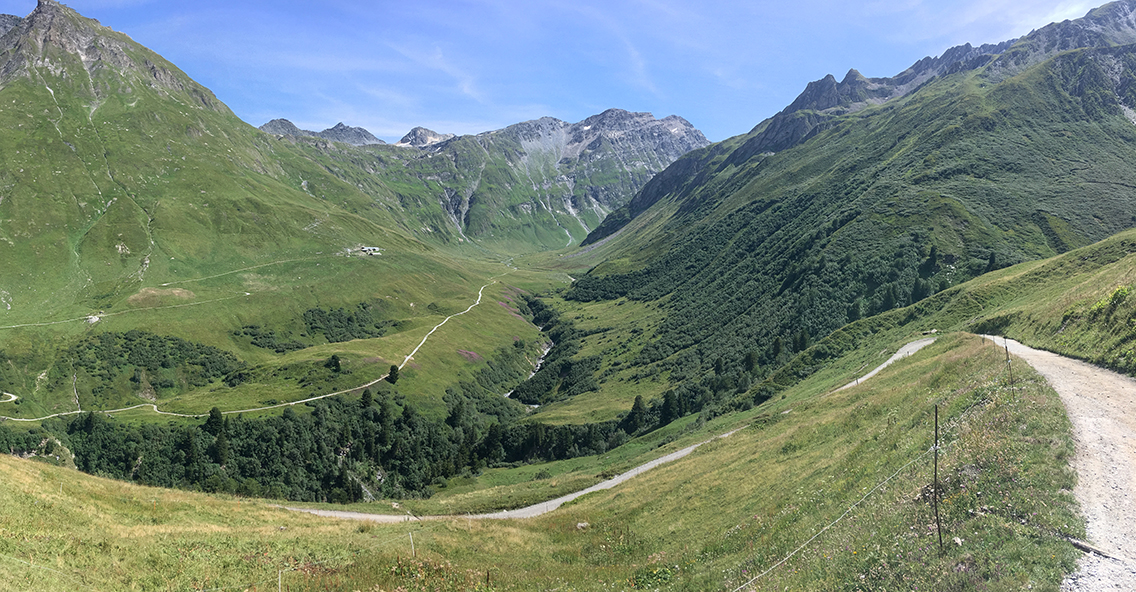 And looking to the other side of the col: Val Ferret, Switzerland
La Peule
From the col down to La Peule, the trail offers a beautiful view of the Swiss val Ferret. This is the valley where I had been 3 years ago with my son, and where I first got the idea of hiking the TMB. It was nice being up here, where I could oversee all the trails we hiked together.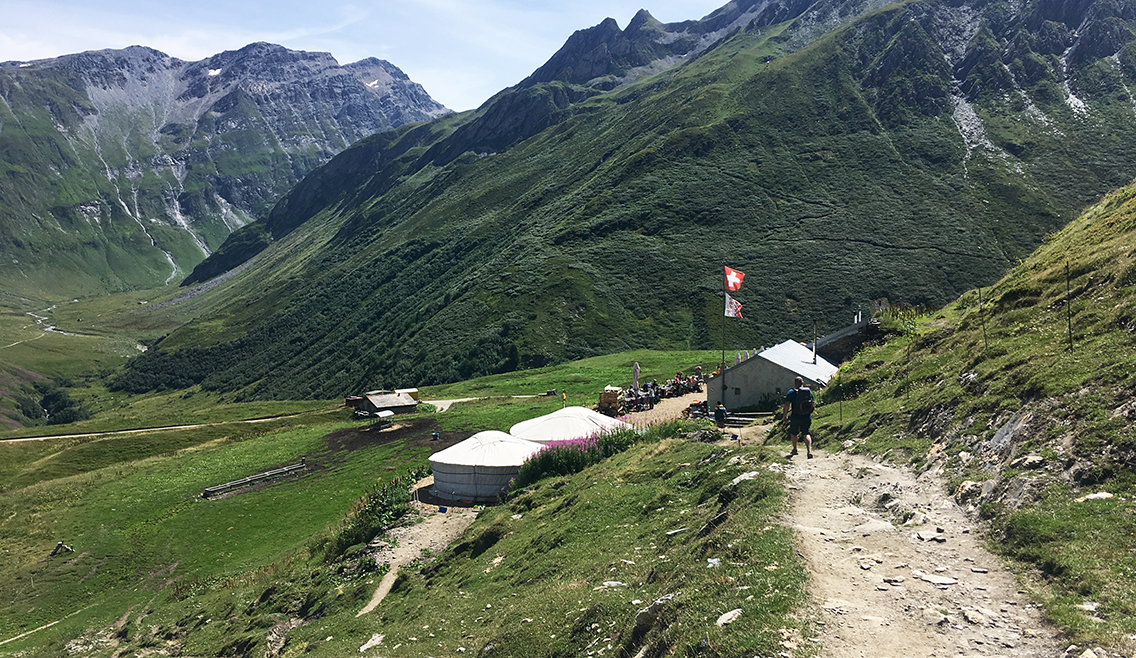 La Peule with view of the Val Ferret
La Peule is a dairy farm, a restaurant and a refuge. You can also sleep in one of the two yurts here.
When I was here 3 years before, it had a big room with wood stove, where we dried our shoes and coats from the rain. Today was so different: it was sunny and hot and the interior of the farm itself had also changed. The wood stove was no longer there, the bar had undergone some upgrading – and so had the menu. They even had milkshakes!
I found the last shady spot next to the hut to drink my cola. I overheard hikers discussing which way the 'official' TMB was, and which way the 'Variant'. The discussion got kind of complicated, when I explained that the former variant was now the official trail, and vice versa.
Anyway, I took the now official trail that starts on the south side of the farm, for the last stretch of trail to the village of La Fouly.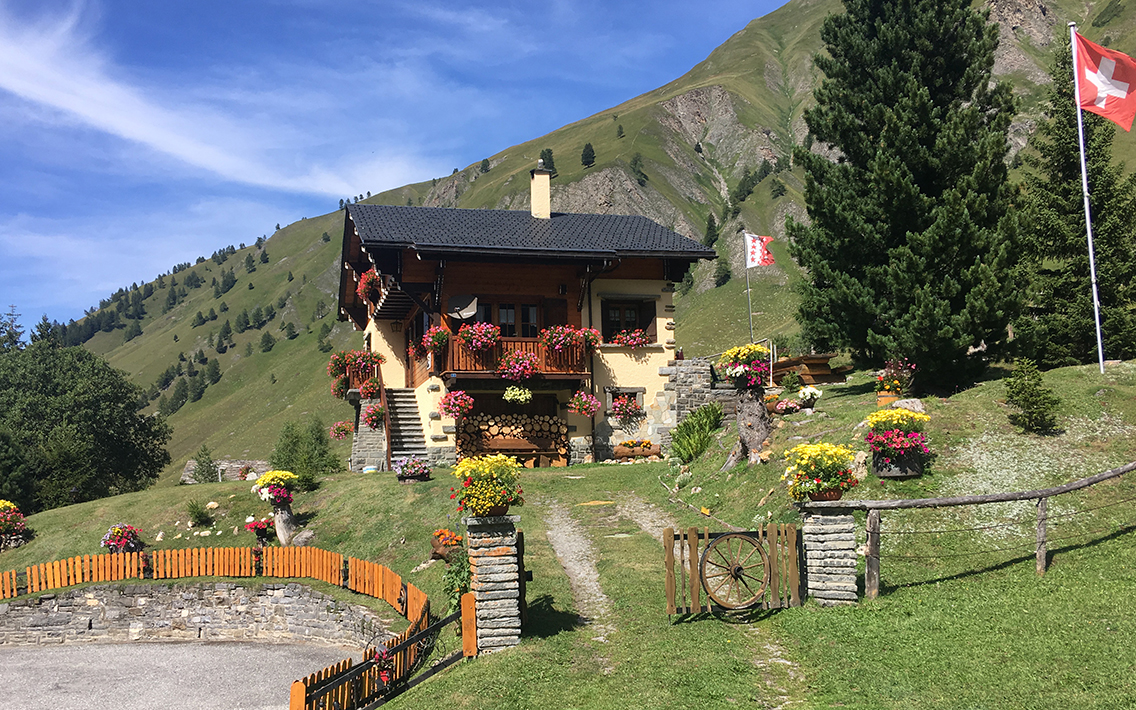 Village of Ferret
The trail followed a gravel road at first, but soon diverged into a small path down to woorden bridge over the river. From here the trail continued mostly along the river, a very easy and pleasant trail. Hiking through the Swiss Val Ferret, the difference between Italy and Switzerland becomes apparent: the Swiss streets are very neat and clean, the grass is cut immaculately and houses are decorated with flowers.
La Fouly
It felt great to be in La Fouly, Not only did I hike more than half of the TMB now, I was also back in the Swiss village that holds such dear memories of me and my son hiking there 3 years ago.
At the camping Des Glaciers I was greeted by the friendly staff. I did not make a reservation, but there was enough space on the shared 'TMB-field'. Hikers share spots with 4 or 5 tents, but because everybody has these very smal tents, it didn't really feel crowded.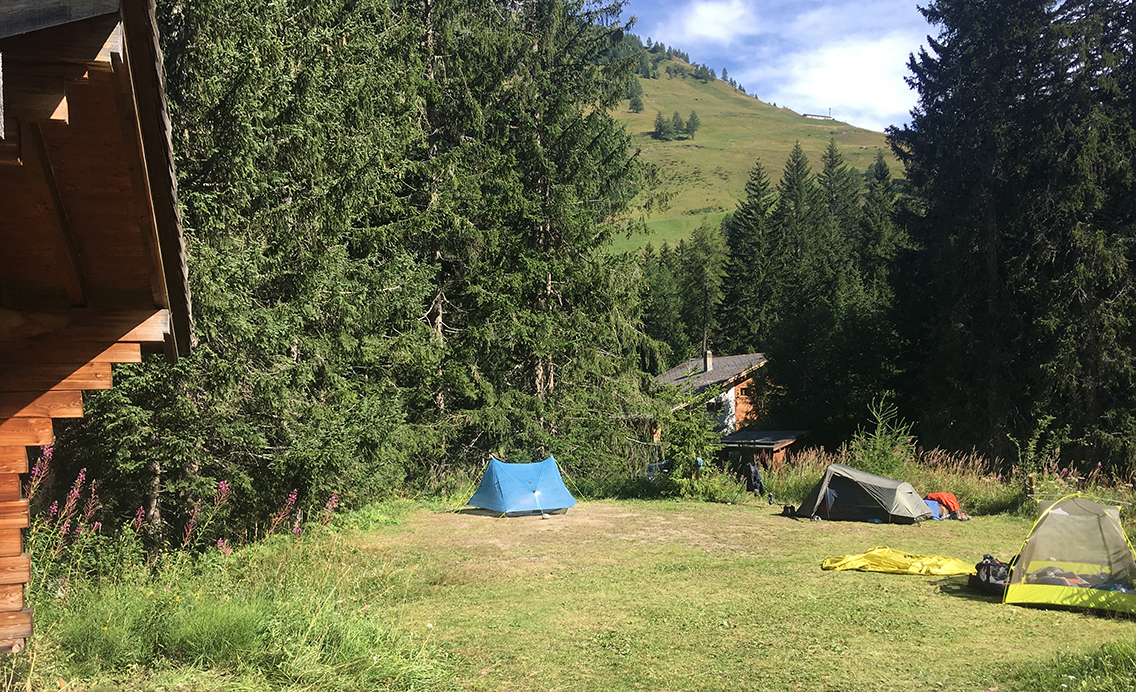 Camping Les Glaciers, La Fouly
I got a nice spot next to a wooden house 'La Grange', which had tables and chairs, electricity and was also used by a lot of hikers to cook. My neighbors were a selection of Korean, American, Eastern European and French TMB hikers, among others. All these hikers together in one big field gave the place a good atmosphere. I spent some time writing my diary, and sending some messages home and charging my phone. But first  I took a (free) shower!
The village of La Fouly has a pizzeria, but I felt more like eating at the campsite, so I bought yoghurt and fruit in the supermarket. The outdoor shop, next to the supermarket, had a quite good selection of hiker stuff for sale. I bought a new set of lightweight stakes, because I had broken one at Tronchey, when I hit it too hard with a rock. 
I was not as tired as the previous night, so I spent some time reading my book until it was dark enough to fall asleep. 
> Next, day 6: La Fouly – Arpette
< Previous, day 4:  Col de la Seigne – Tronchey