Day 5 on the Haute route was a day of rain, snow and mist. And because of poor visibility quite demanding. Especially the climb up to Cabane de Moiry on a rocky zig zag path with 29 turns in complete mist was exhausting – but beautiful.
Haute Route 5: Les Haudères to Cabane de Moiry
Start: Les Haudères, 1.464 m (4,803 ft)

End: Cabane de Moiry, 2.814 m (9,232 ft)

Distance: 14 km (8,7 mi)

Elevation gain: 1.861 m (6,106 ft)

Elevation Loss: 514 m (1,686 ft)

Highest point: Col du Tsaté, 2.868 m (9,409 ft)

Time: 6 hrs moving time; 7:30 hrs total time

Date: August 4, 2020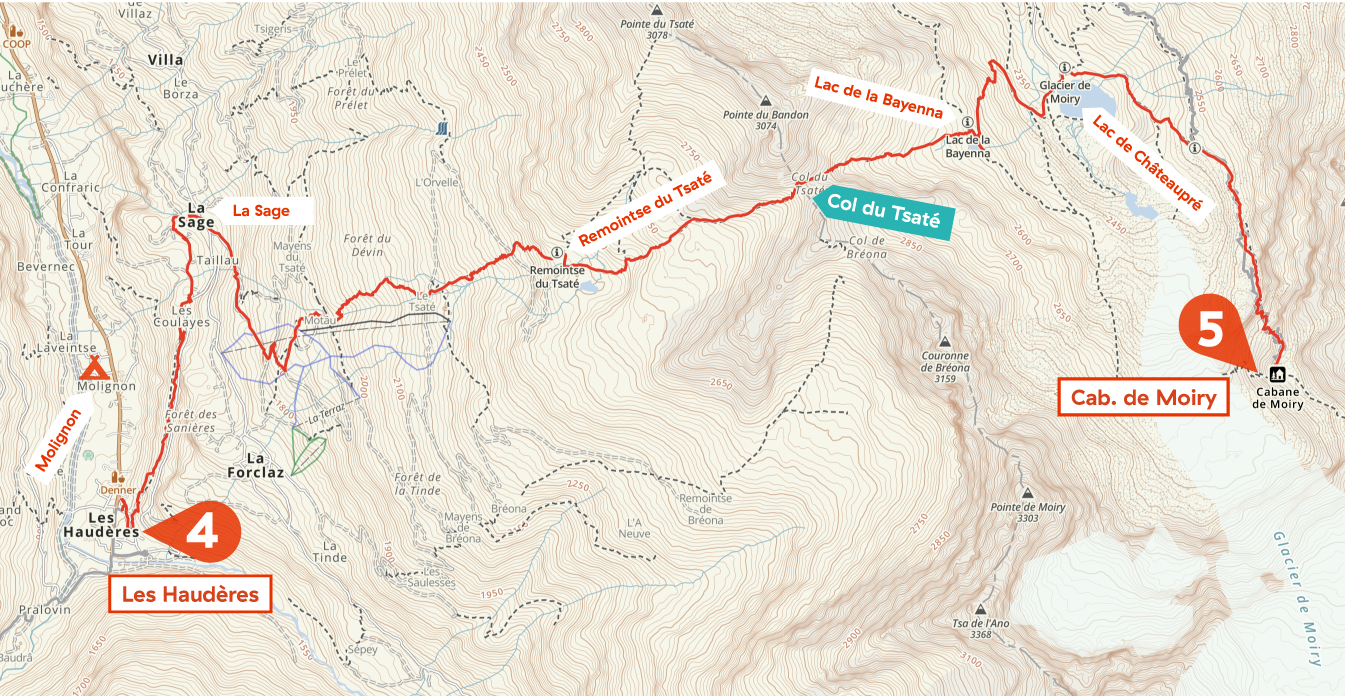 Haute Route day 5: Les Haudères to Cabane de Moiry (base map layer by Gaia GPS)
La Sage
It was 6 a.m. when I woke up in Hôtel Dents de Veisivi in Les Haudères. A simple and somewhat outdated hotel with a bar downstairs, visited mostly by local workmen. I didn't opt for a dinner yesterday nor breakfast this morning, to save money – and to be able to start my hike early. I had my own little breakfast with 2 yoghurts and 2 apricots, bought in the village's supermarket yesterday. 
I was happy to find my shoes completely dry this morning. The vast amounts of  toilet paper that I stuffed inside had worked pretty well. My socks were still a little wet, although I had kept them in my bed to dry them with my body heat. This had worked at least a bit. Because today was going to be wet, I did not bother to put on my only other pair of socks that were still dry and clean. I wanted to save them for the end of the day in the Cabane the Moiry.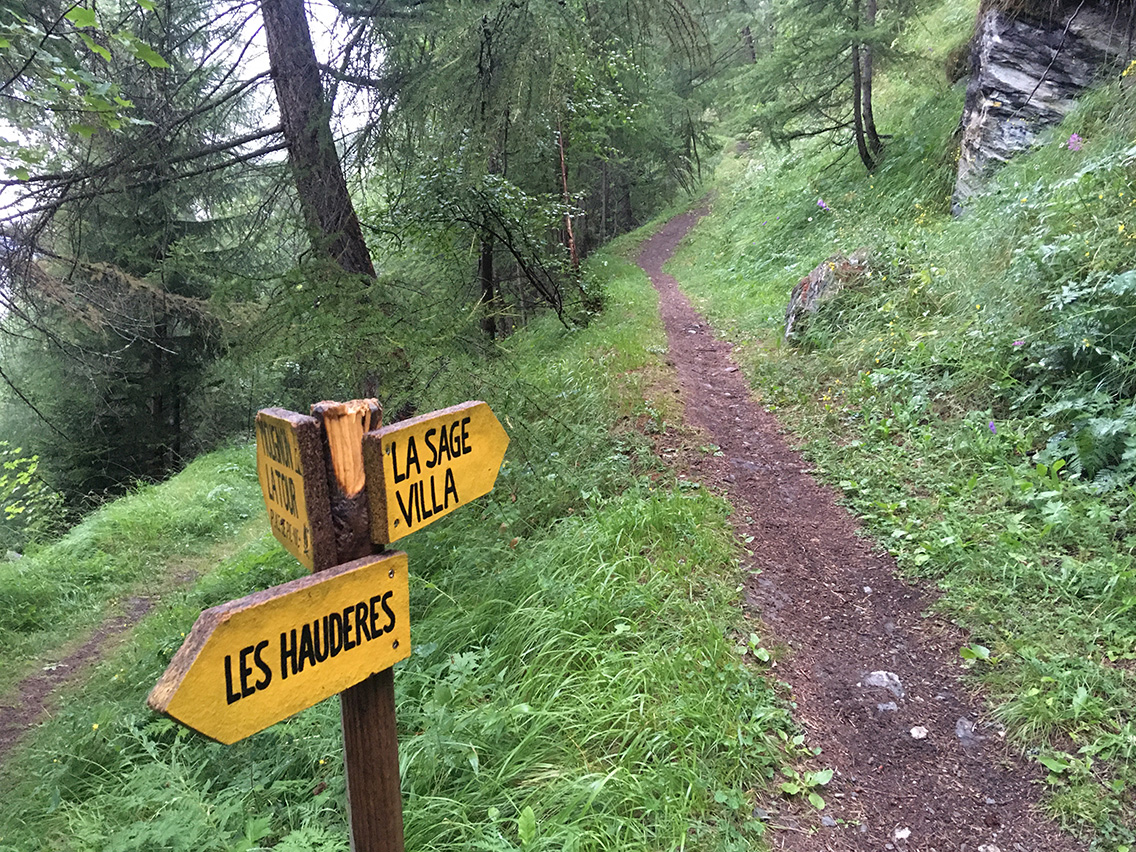 I followed the clearly marked trail from the village to La Sage. I passed the bakery, but it was still closed at at this hour (7 a.m.). Too bad, but at least I had a very spicy chunk of Gruyere cheese for lunch anyway. 
Hiking up to La Sage, the trail was just below the left the side of the main road. I had been on that road about 15 years ago, visiting La Sage in winter. Entering the village, nothing much had changed. Still the small white chapel sat on the hill on the side of the village and the dark wooden houses were scattered along the green hills.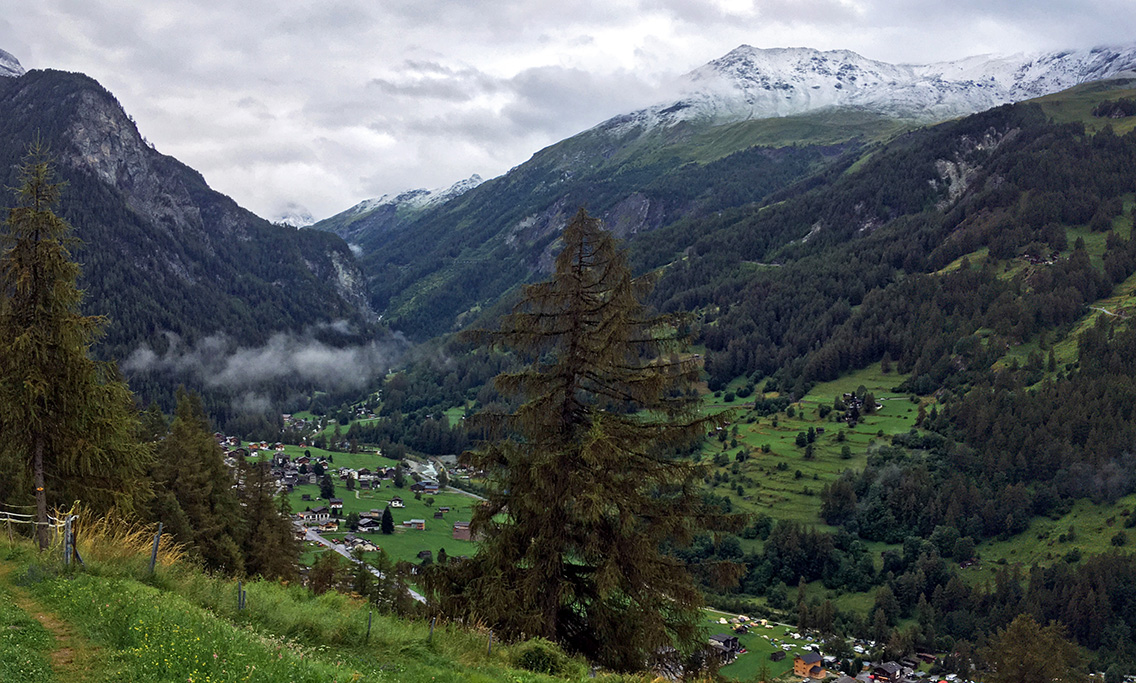 View from La Sage to Les Haudères
It did not rain yet, but the grass was full of morning dew, so my shoes began to get wet again quickly. Looking at the cloud packed sky, I knew there would be very little sunshine today.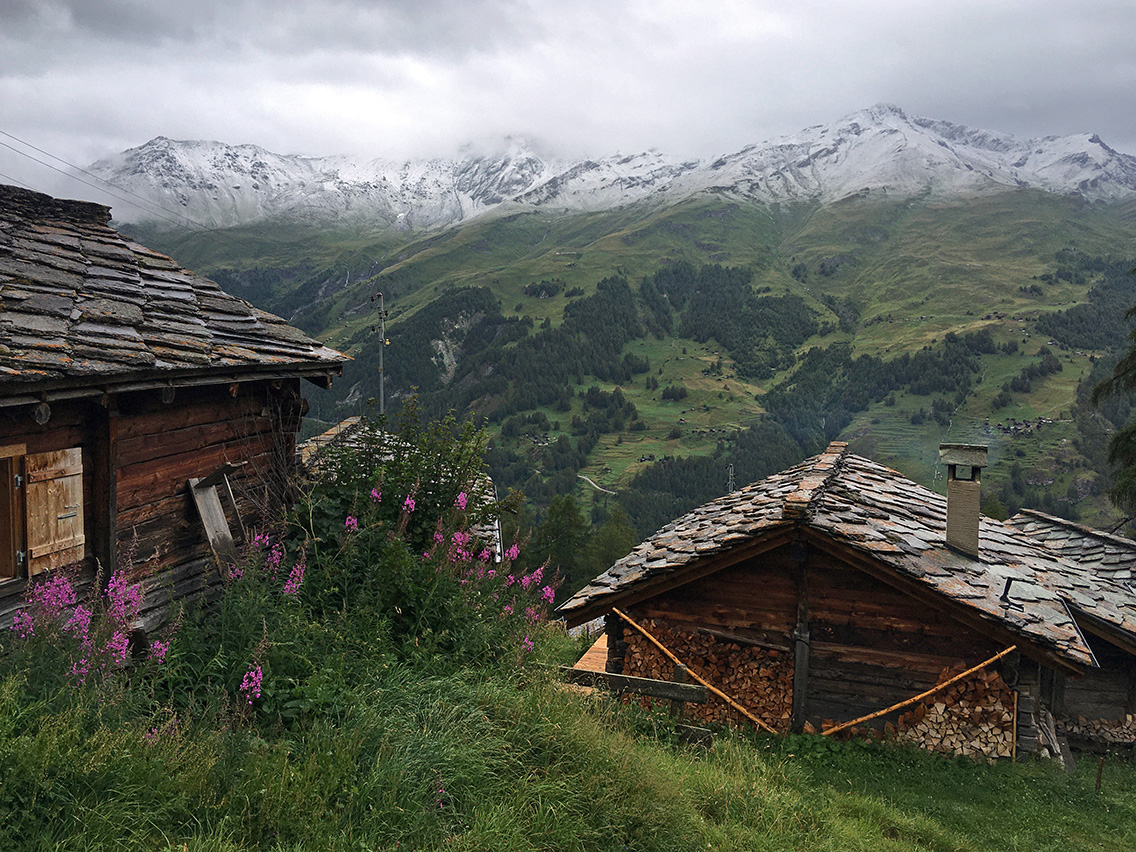 View from the hamlet of Motau
Gaining height, I had beautiful views over the mountains I left behind me yesterday. A layer of fresh powder snow adorned the mountains in a neat straight line, like a birthday cake. 
Remointse de Tsaté
After about 2.5 hours of continuous climbing I reached a grassy field just below the Remointse de Tsaté. It had started snowing, so when I passed an old wooden cowshed, it looked like a good place to have a short break and shelter from the snow. When I stepped inside, I saw the shed was full of cow manure, but I was too cold and wet to really care. It was dry inside, and I was out of the fierce wind. 
I made myself comfortable on a dirty heap of rocks and made myself a cup of Lapsang Souchong tea (I always carry this particular smoked tea, one bag for each day of hiking). My socks were wet, so I did an attempt to dry them out, to no avail. So when I stepped outside again after half an hour, my feet were now wet and cold.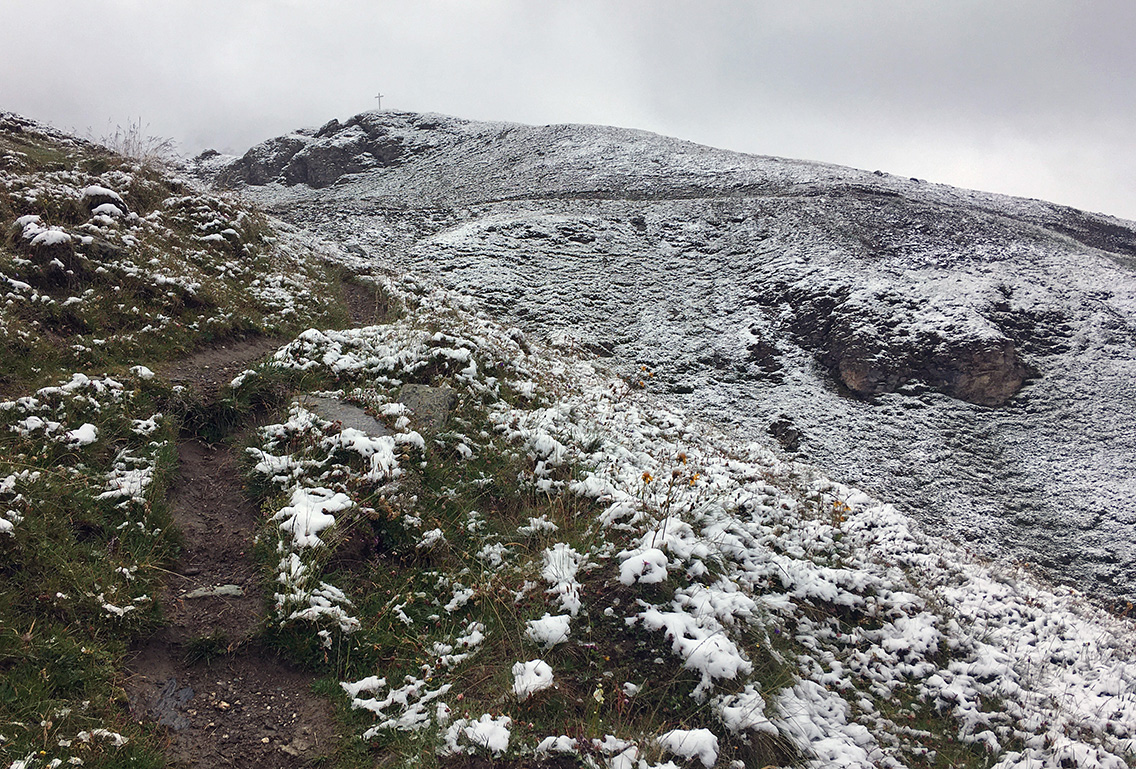 Approaching the Remointse de Tsaté
On the trail again, it was snowing more heavily and I reached the part of the mountains that was covered in clouds.  I put on my raincoat and rainpants, my possum gloves, and for the first time since I bought them more than 2 years ago, my Zpack Vertice Rain Mittens. They kept my hands dry and warm very well. I was happy to use them today.
In the local dialect, so I have read, remointse means a high altitude mountain pasture where cattle and sheep can graze in the summer. This description does not really match the old empty cow shed and clutters of abandoned farmers tools I found here.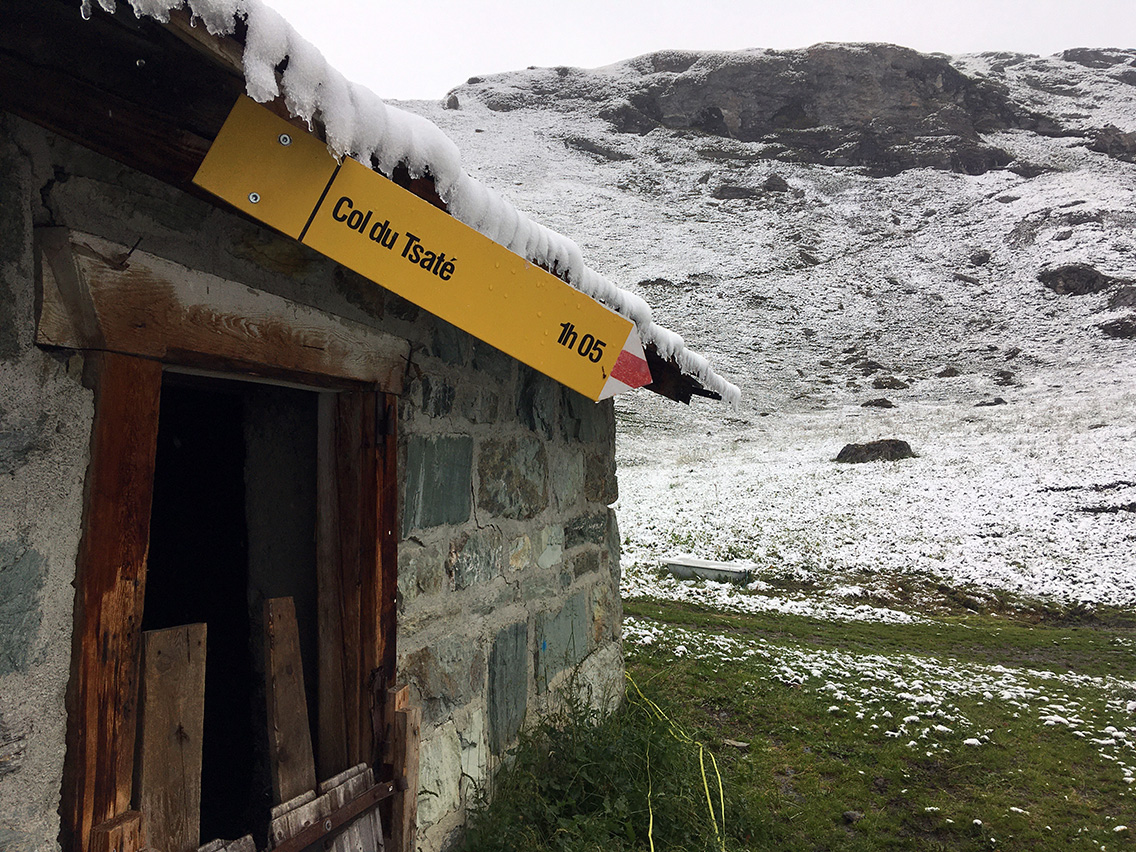 Remointse du Tsaté on a cold summer morning.
I seemed to be in a winter wonderland, with icicles hanging from the roof of the shed, and  the surroundings getting totally white with snow, leaving the trail almost invisible.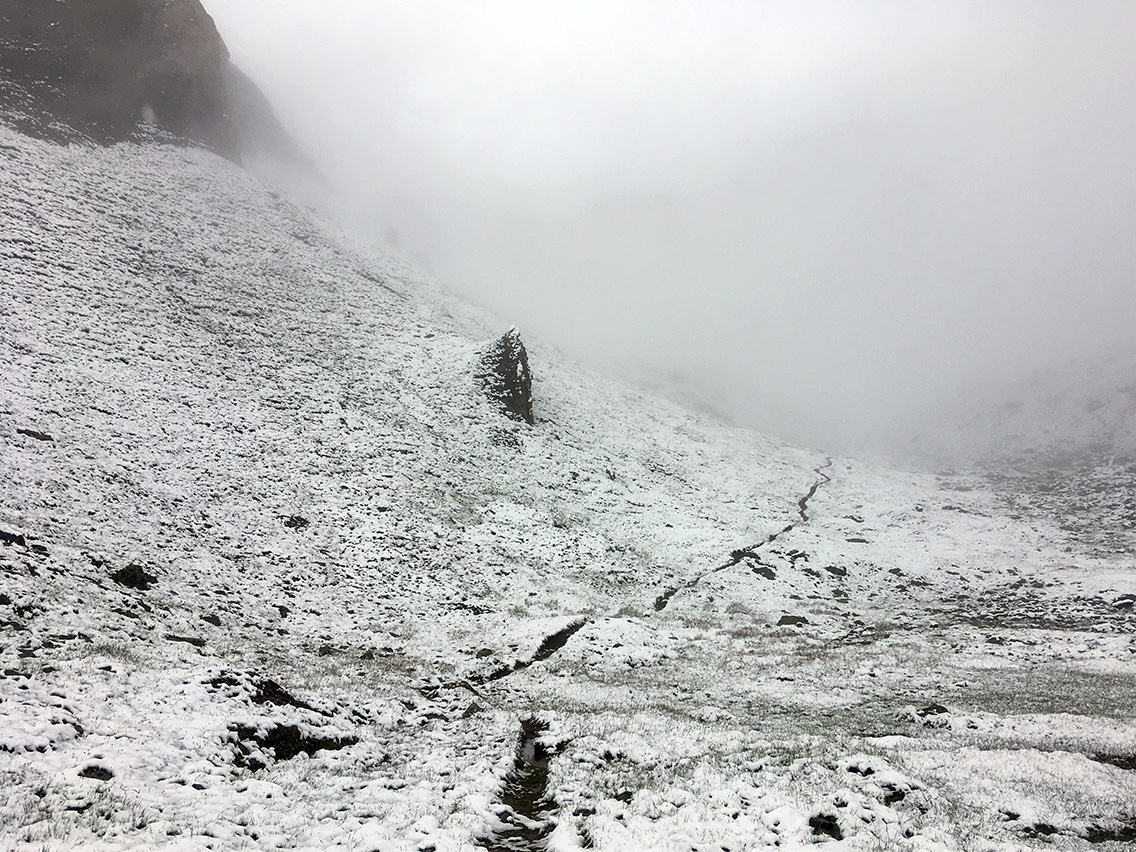 There was 5 cm of snow on the ground now, I couldn't see more than 2 of 3 meters in front of me. To keep on track I had to look for the red red-white blazes on rocks that stuck out above the snow. Despite the harsh conditions, this was a beautiful experience. All was silent, and I was completely alone (or so I thought).
Because of the bad visibility, I expected to be on the col every time I reached a top of a hill. But these were all 'false cols' as I have named them. It would take a good hour of hiking from the remointse to the actual Col de Tsaté.
Col de Tsaté
The snowfall was getting so heavy now that the trail disappeared completely. But just before I thought I would get lost, I saw fresh footprints in the snow. At least one person was in front of me and luckily I could follow his track. And after more than 4 hours of hiking I reached the col.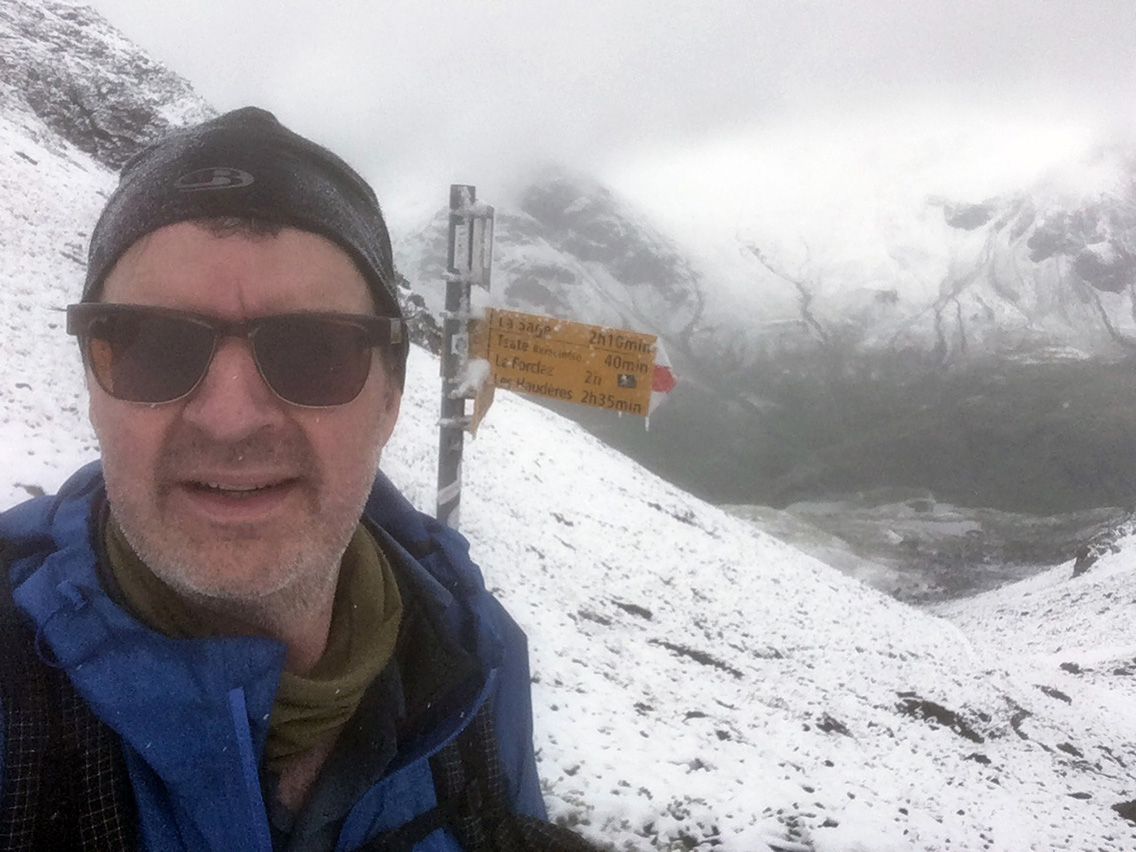 On top of Col du Tsaté
At 2.868 m (9,409 ft) the Col du Tsaté is a bit higher than yesterdays Pas de Chevres (2.855 m / 9,367 ft). But because the trail to Col du Tsaté is so much easier (even in these snowy conditions), it didn't seem to be so high at all.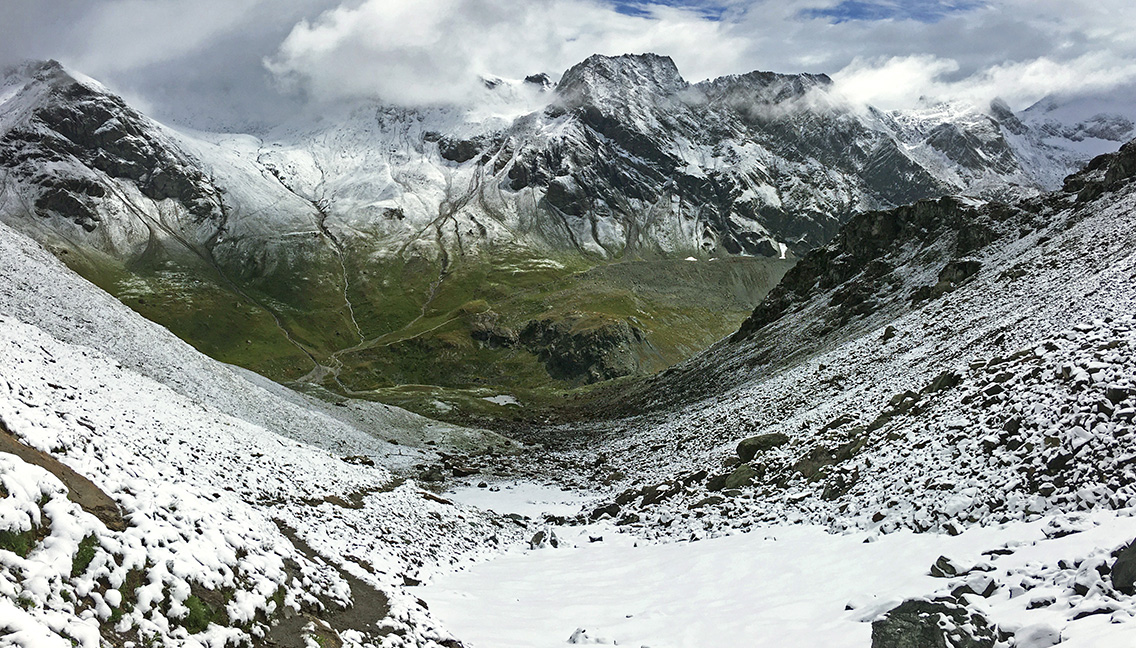 Descending Col du Tsaté, view of  Val de Moiry and the Aiguilles de la Lé
Standing on top of the mountain pass, suddenly the clouds made way for the sun, and  the valley opened up before my eyes. An incredible view. I met a Belgian hiker coming up from the other side of the col, who pointed out the zigzag path to Cabane de Moiry in the distance. I couldn't believe I would be hiking that far today. 
Hiking down further I saw the magnificent Glacier de Moiry all white and shiny to the right of me.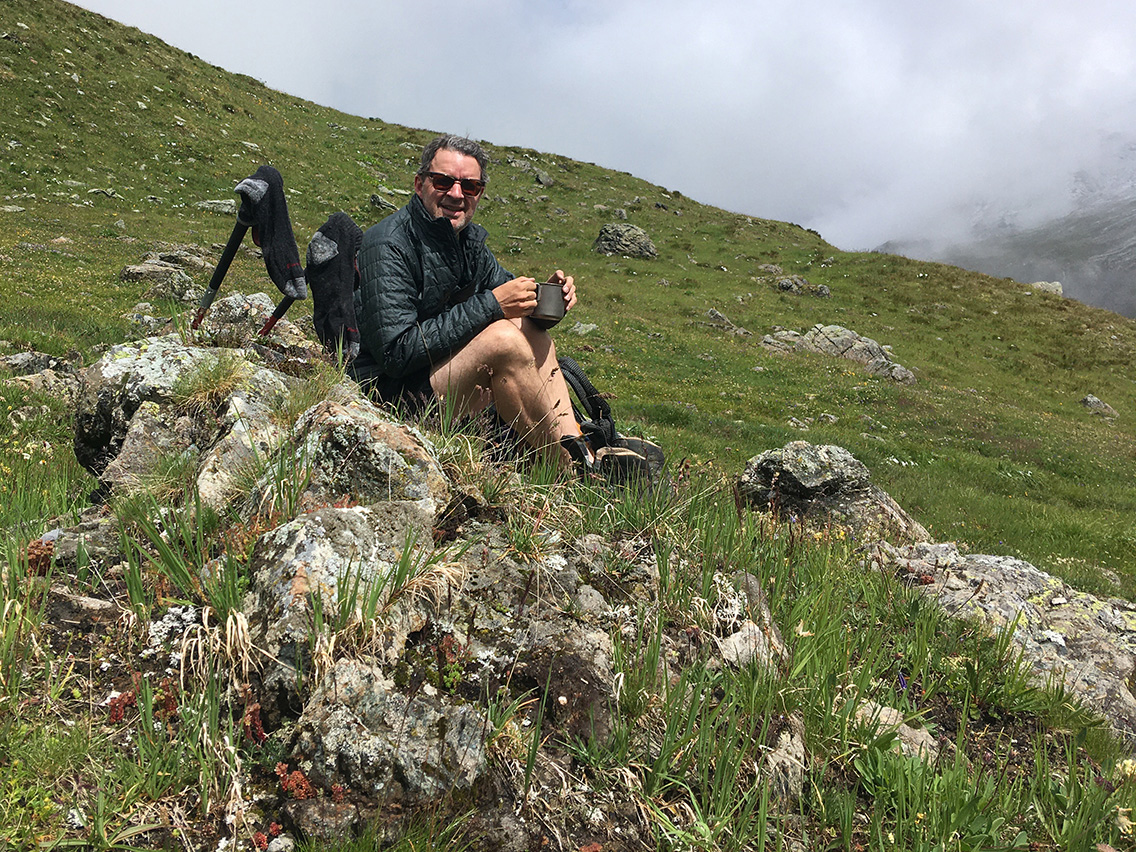 Pasture close to Lac de la Bayenna
I reached a green pasture and with the sun shining for a moment now, I took the opportunity to have a break. making myself an electrolyte lemon drink and  a cut off a chunk of Swiss cheese. Of course I did another attempt to let my socks dry, hanging them on my hiking poles.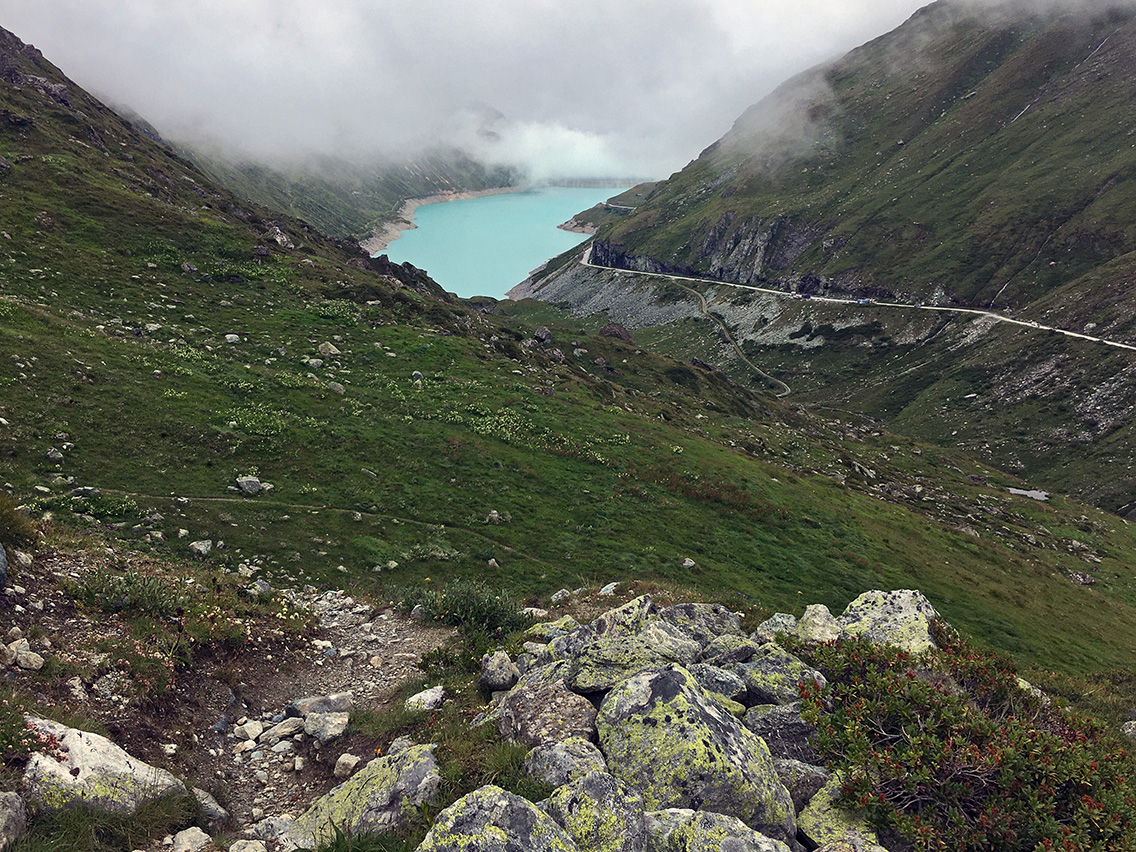 Lac de Moiry
Val de Moiry
When the clouds returned, I continued my hike. To the left I saw the big Lac de Moiry, another water reservoir of immense volume, this one more turquoise of color. Tomorrow I would be walking on the right side of this lake towards a next mountain pass. For now I concentrated on the last part of today's trail, up to the glacier. 
Buvette du Glacier with fitting typography.
When I came down to the glacial lake at the snout of the glacier, I was looking forward to warming up with a hot drink, and rest for a while at the Buvette du Glacier. Unfortunately, the buvette was closed; it seemed to be abandoned for a while. This was bad news, because I was thirsty and tired. The other bad news was: there was not even a fresh water source here. Today was not a hot day, but if you would hike this trail in the heat, be prepared: there is no water source between La Sage and the Cabane de Moiry.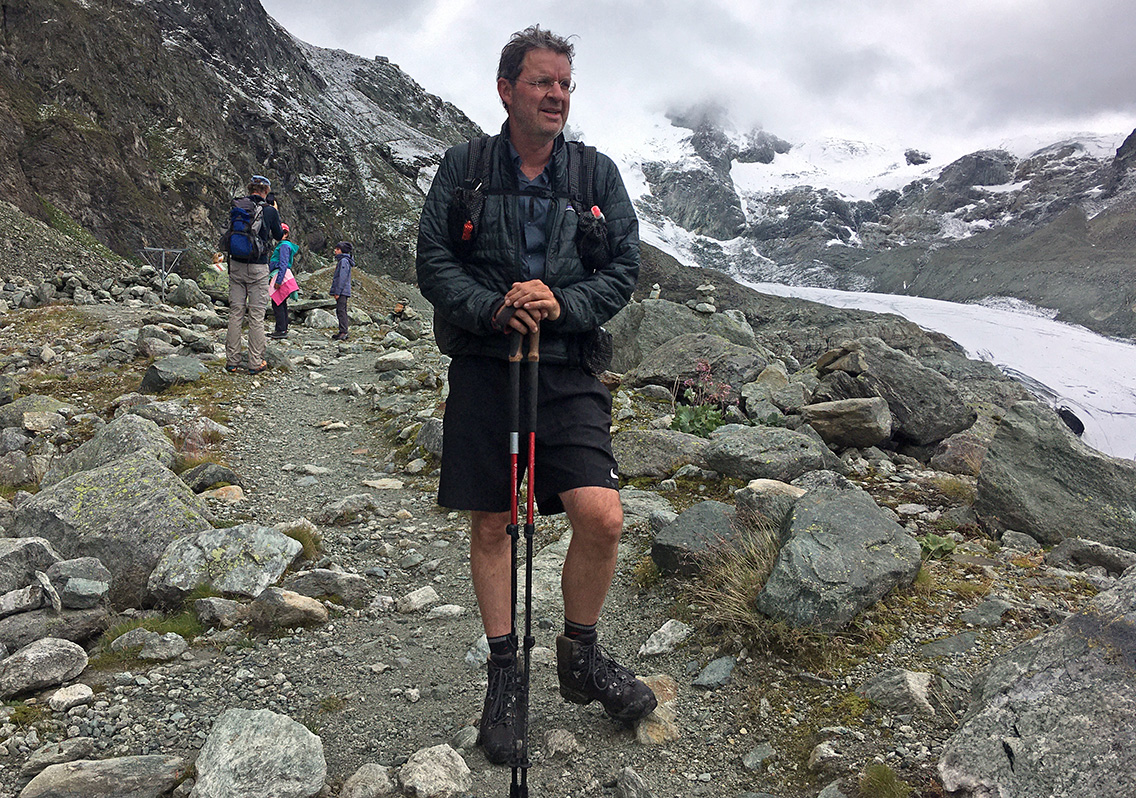 Cabane the Moiry on top of the black rocks next to the glacier
Up a steep and black rock in the distance, the zig zag path that leads to the Cabane de Moiry was clearly visible. It looked really frightening. In the end it would take me about 1.5 hours to reach the hut.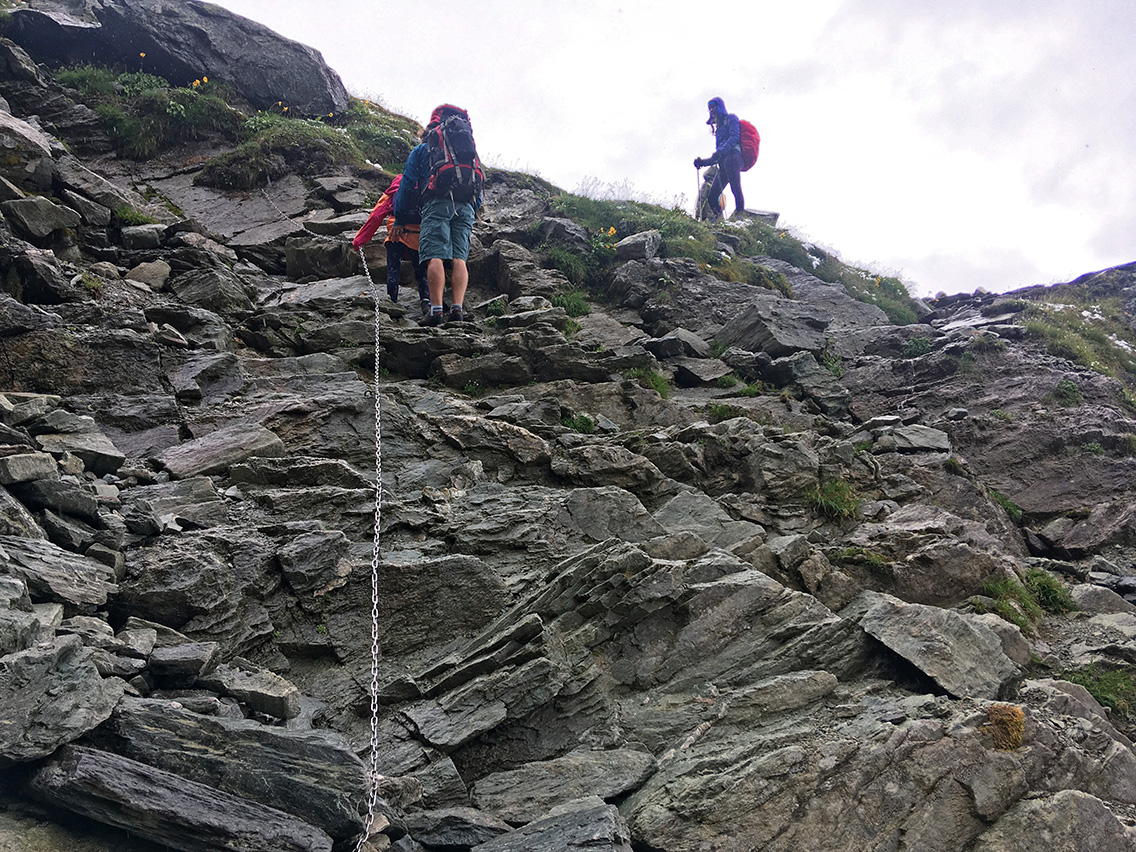 A short nearly vertical climb during the final push to the Cabane de Moiry 
Traversing a patch of snow at the end of the morenes, I reached a short almost vertical part of trail, that was secured with metal chains. Surprisingly, I saw a lot of children climbing down this trail (with their parents).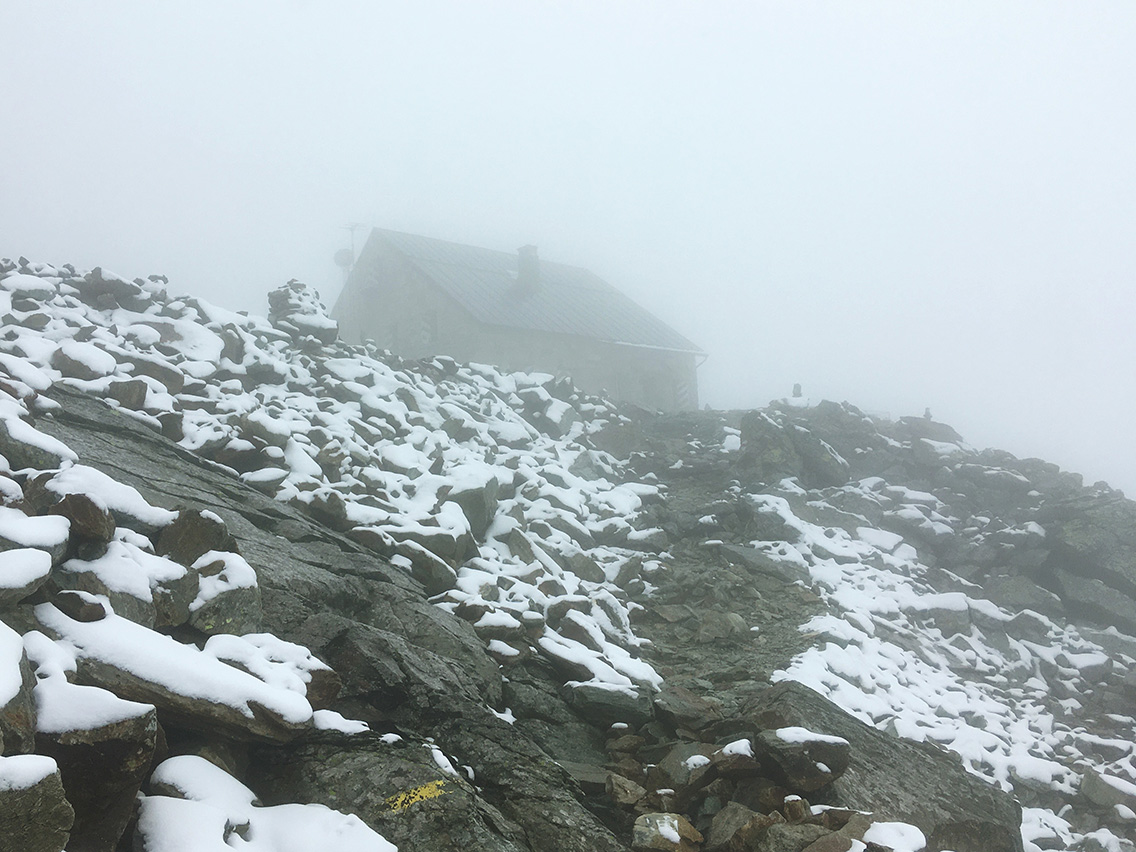 Cabane de Moiry
It was now hailing and the mist was so thick, I could not see the next turn of the trail, no more than 20 m. in front of me. Just to give myself a feeling of orientation, I started counting the zig zag turns all the way up. When I counted number 25, I stepped on a few big slabs of brown and black rocks that finally led to the Cabane, looming in front of me like a phantom ship in a black ocean.
I pushed open a heavy wooden door. Inside, I lowered my backpack, took off my wet boots and put on my slippers before I entered the modern part of the hut. It was as if I was transcending into another world. It was light, clean, and warm. People chatting, reading books, drinking hot liquids on light wooden tables. It took me some time to adjust to this otherworldly place.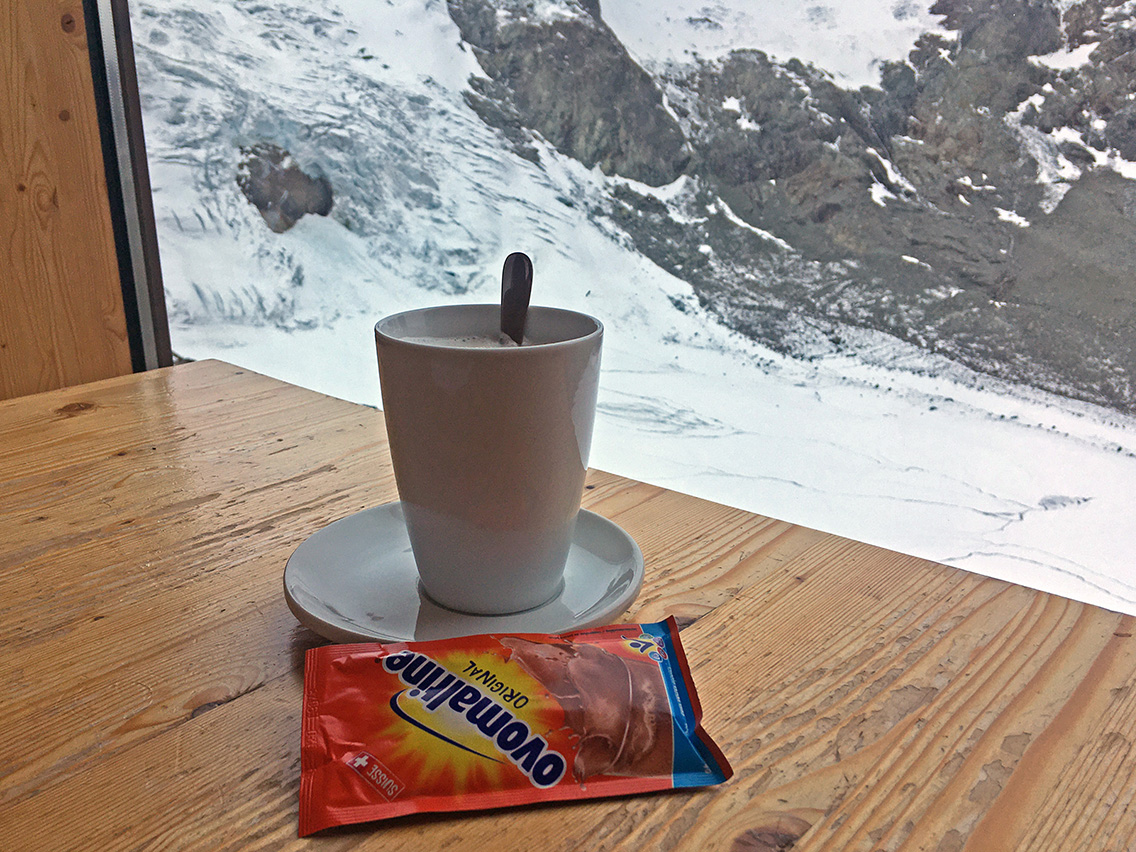 Ovomaltine in the Cabane de Moiry
After I was given my room number by the friendly staff, I started organizing my stuff. Filling my boots with toilet paper, hanging out my wet socks and other wet clothing (as far as it was possible it the tight space of the 4-person room). I took a shower and with clean and dry socks I made myself comfortable in the common room, reading, keeping my diary and studying the map, until the weather cleared and I finally got to see the glacier up close.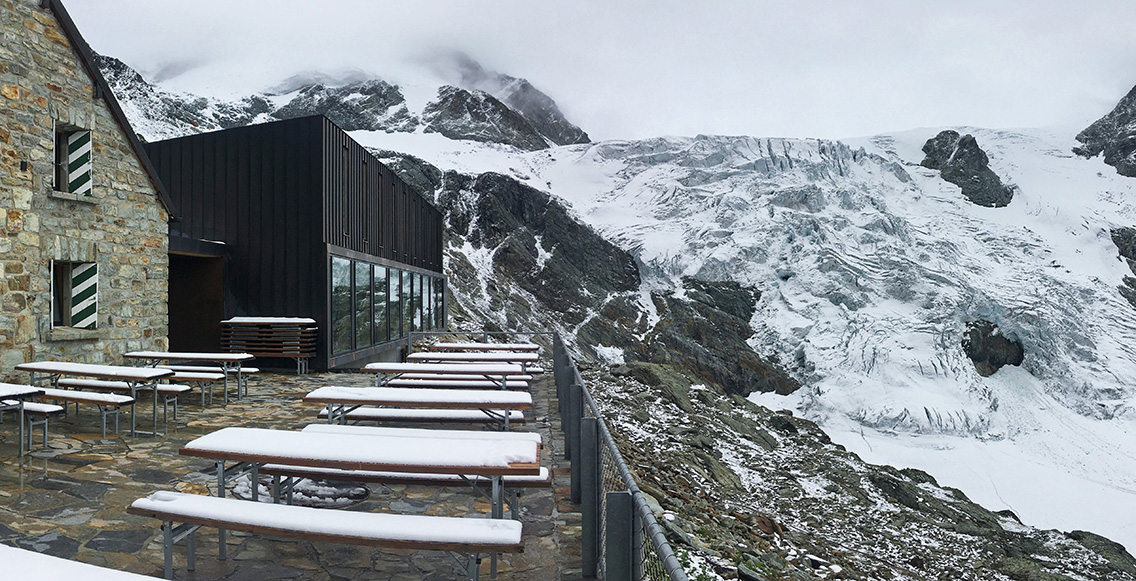 Cabane de Moiry is situated right next to the Glacier de Moiry 
Although the hut is very modern, it should be noted that is does not have drinking water. They do sell expensive bottles of water and boiled tea-water, but the water from the taps is eau non potable. I was happy that I brought my water filter, so I spend some time filtering 2 liters of water. It is not that I blame the hut that drinking water and all the other food and beverages are so expensive. Image the costs of getting it all up here.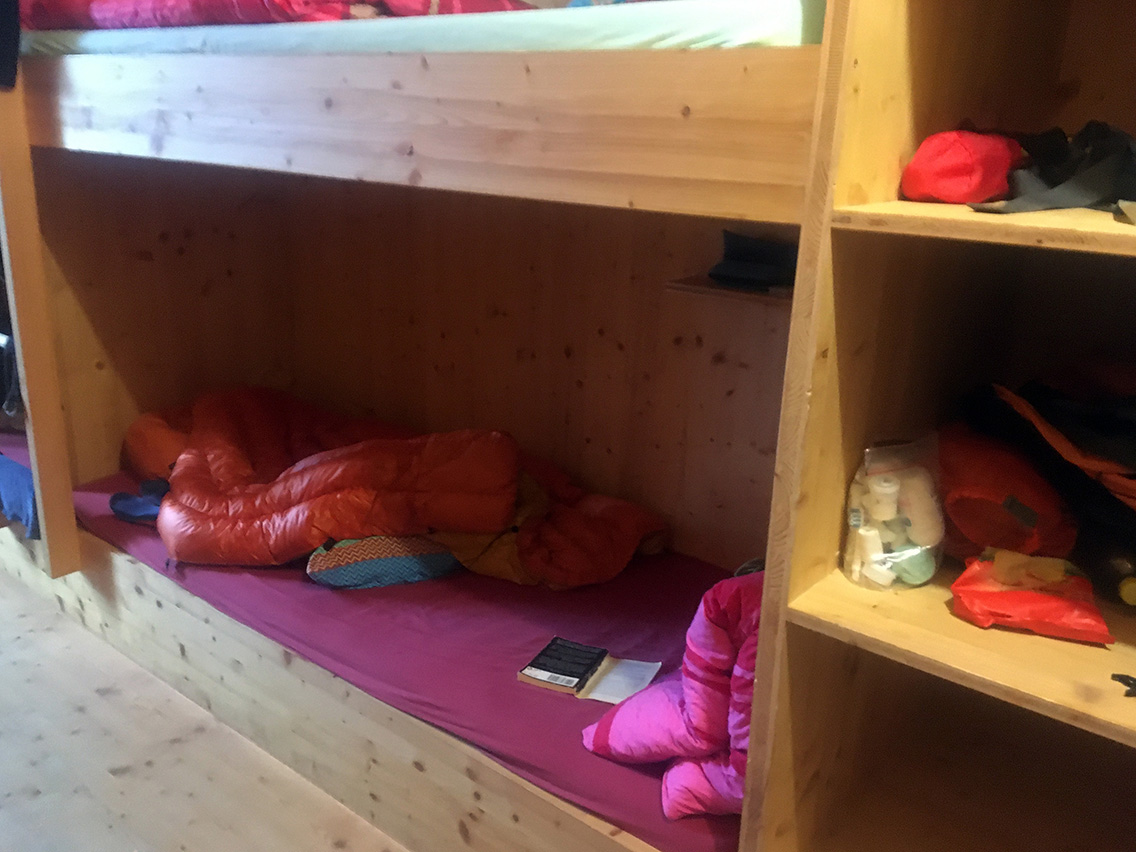 At dinner I was placed at one of the big wooden tables with another 7 hikers of different ages and nationalities. We had a really good meal together: hot soup and lots of pasta.
I was quite happy with the 4-persons room. It was designed to give everyone just a bit privacy and space, and it was very clean and convenient. I went to bed early (just like everybody else), tired from this exhausting but very special day in the mountains.
< Previous: Haute Route 4: Les Haudères
> Next: Haute Route 6: Zinal