A demanding fourth day on the Haute Route. After an easy stroll along Lac des Dix, a steep ascent took me to rough and misty terrain full of rocks, under heavy clouds – with sometimes no trail at all. Halfway I encountered the challenging ladder section at Pas de Chèvres. After that, it was all the way down for hours.
Haute Route 4: Lac des Dix to Les Haudères
Start: Refuge des Ecoulaies, 2.568 m (8,425 ft)

End: Les Haudères, 1.464 m (4,803 ft)

Distance: 28,1 km (17.5 mi)

Elevation gain: 951 m (3,120 ft)

Elevation Loss: 2.073 m (6,801 ft)

Highest point: Pas de Chèvres, 2.855 m (9,367 ft)

Time: 8:30 hrs moving time; 10:10 hrs total time

Date: August 3, 2020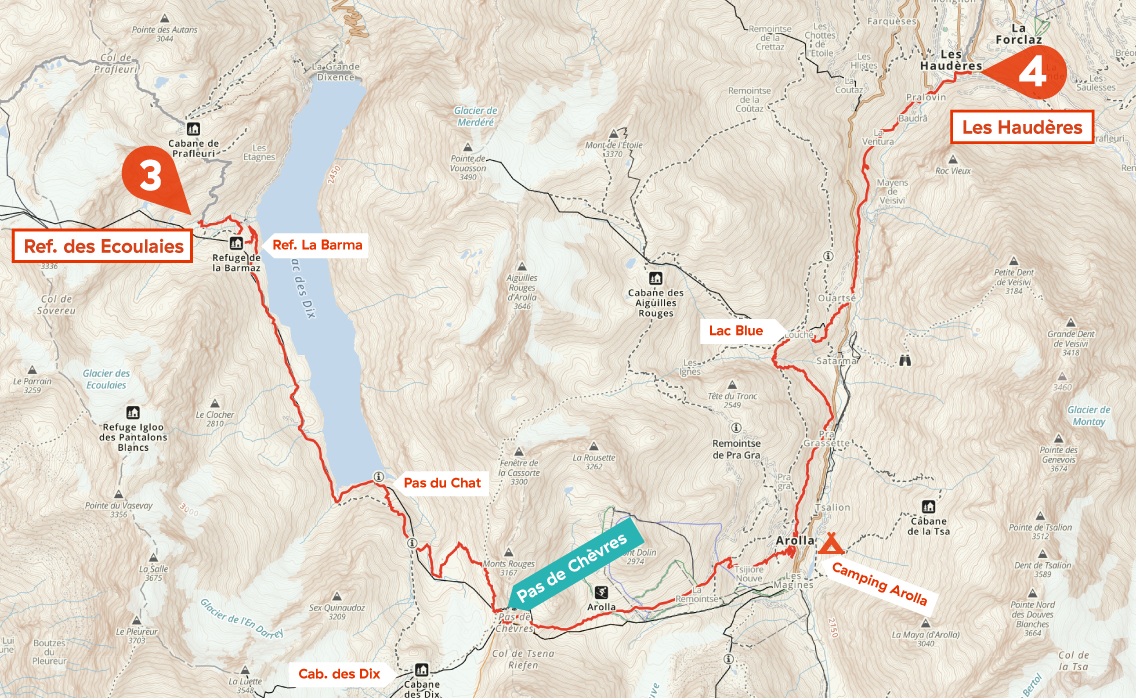 Haute Route day 4: Lac des Dix to Les Haudères, base map layer by Gaia GPS 
Lac des Dix
I woke up at 5:30 a.m. in the refuge des Ecoulaies. The unmanned hut at the Lac des Dix was still very dark and silent. I got out of the simple wooden bunkbed to wash, brush my teeth and have a breakfast of tea and self-made rehydrated muesli. It was nice to be up this early and enjoy a breakfast without having to hurry. And nothing more on my mind than the trail ahead of me.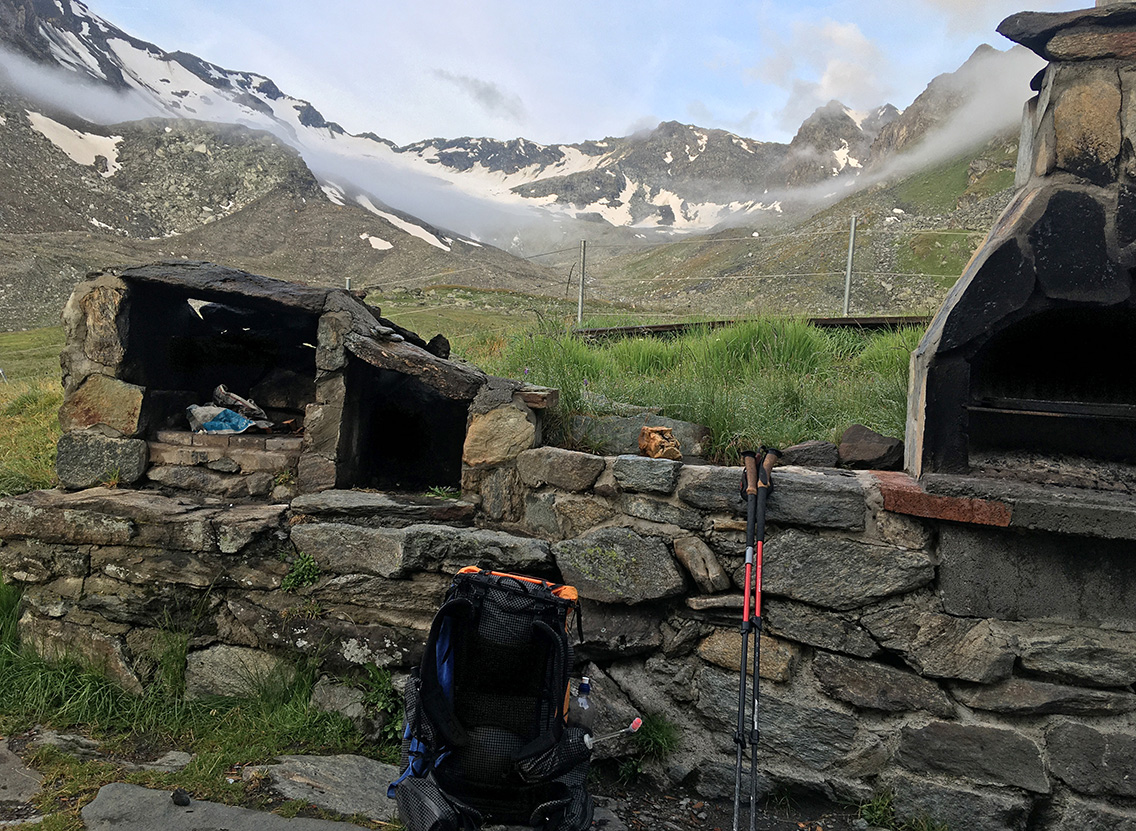 Early morning at Refuge des Ecoulaies, ready to go.
Today I would hike with my fellow traveller Keimpe again – at 6:45 we were ready to hit the trail.
We followed the trail down to the lake and passed the second unmanned hut La Barma at Lac des Dix, where other hikers were also getting ready to go. A herd of big black cows was grazing close to the trail and every now and then one of the cows would stand still on the trail. In my childhood I used to play close to cows in the pastures around our house. It had been some time since I last met a cow this close.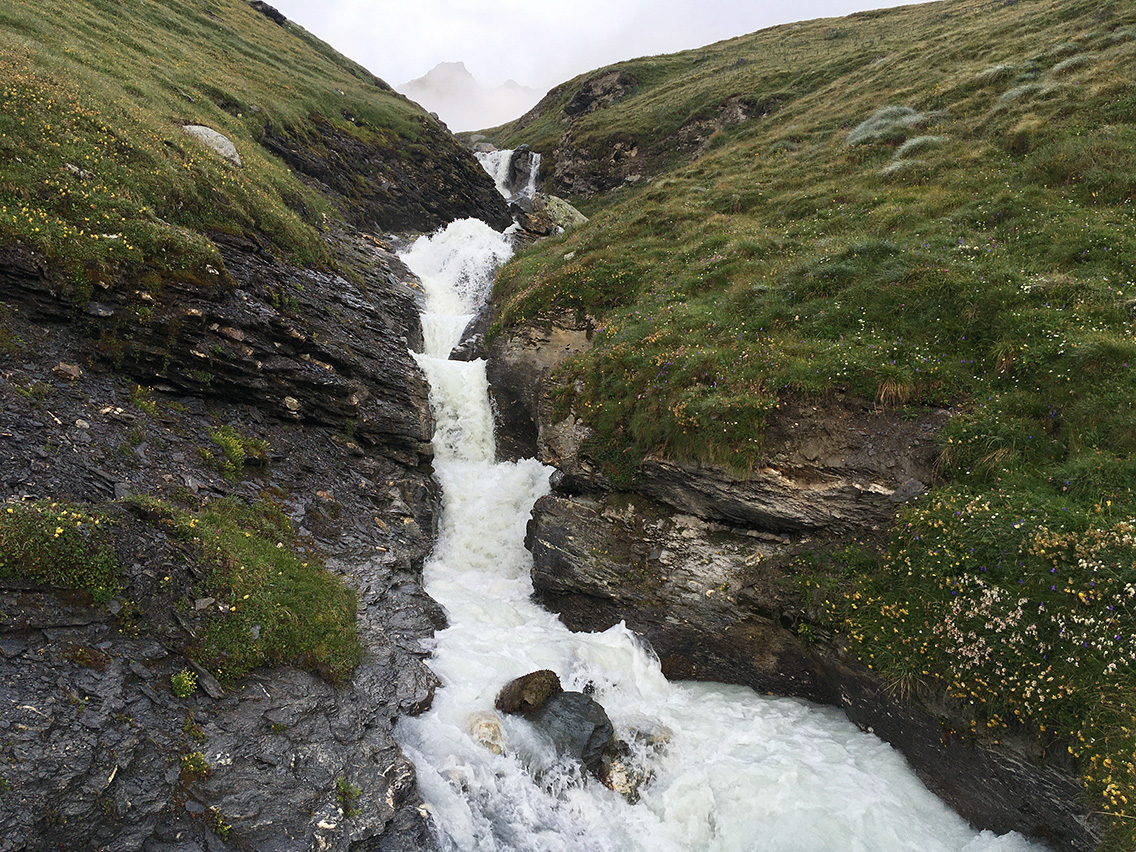 Waterfall flowing down into Lac des Dix.
Pretty soon we reached the flat trail alongside the lake. The next hour or so was an easy stroll, a contrast to the difficult trail that was waiting ahead.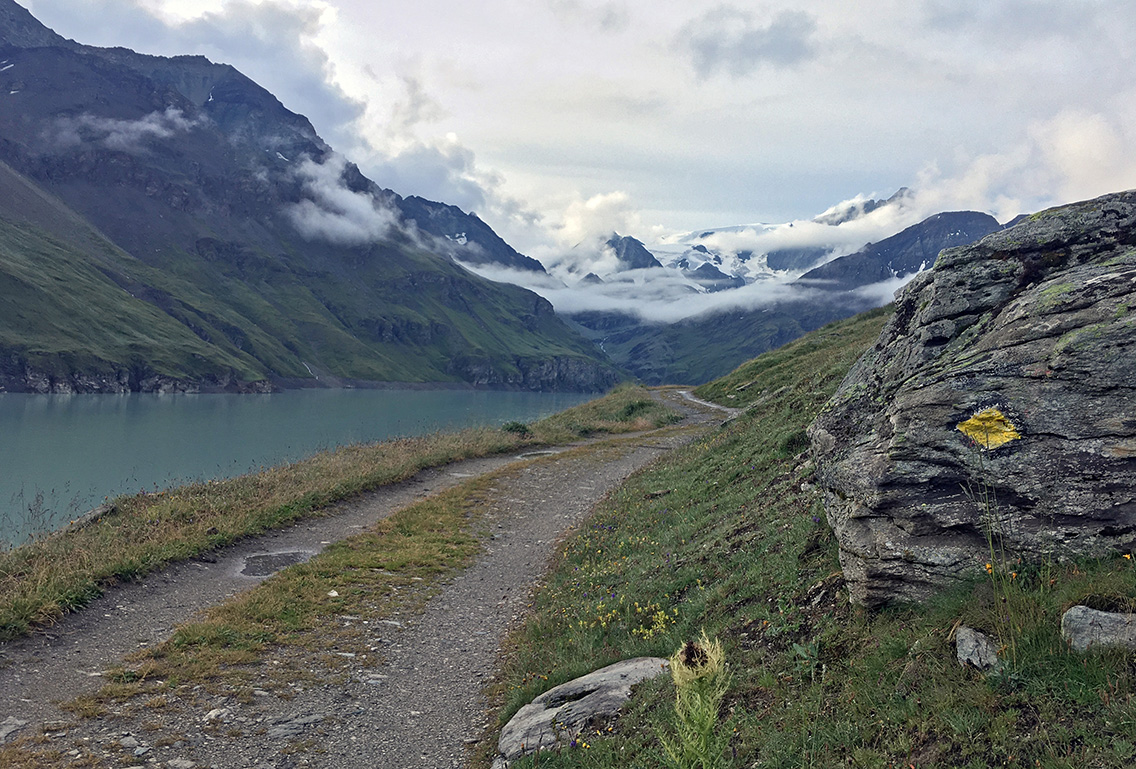 Looking south we tried to figure out where the next pass would be, in the misty mountains ahead of us. 
At the southern end of the lake the trail ended at a steep and rocky wall: Pas du Chat. To the left there was a water inlet where immense volumes of water were roaring fiercely into the lake. A yellow sign was pointing up to the right, where a path rose up steeply.
Pas du Chat
Climbing up, the terrain was full of wet grass, and the mist surrounding us now made everything even wetter. Just like yesterday my shoes were getting soggy on the inside, which worried me a lot.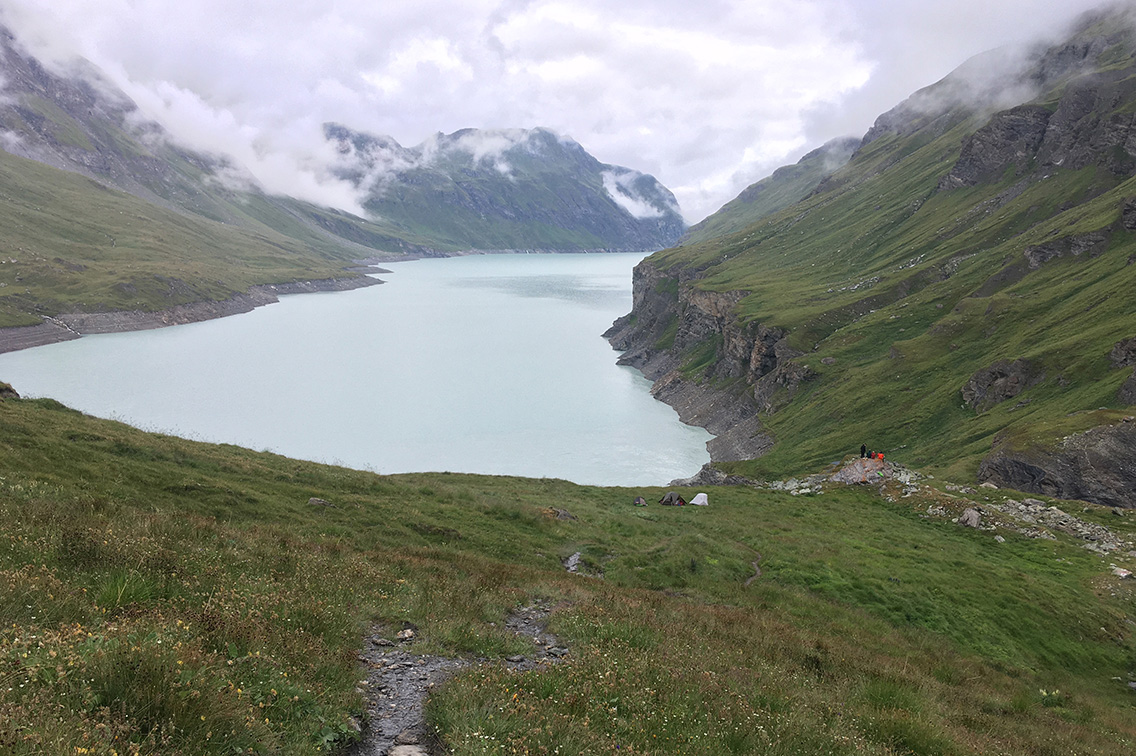 Up the Pas du Chat a group of Dutch hikers had set up camp.
On top of the Pas du Chat we met a group of hikers having breakfast at their tents. After exchanging a few words in English, we recognized each other as fellow Dutchmen and continued in our own language. They were doing a short two-day tour around the lake, and had camped in the meadow of Pas du Chat, on one of the few spots around Lac des Dix that you could call more or less horizontal.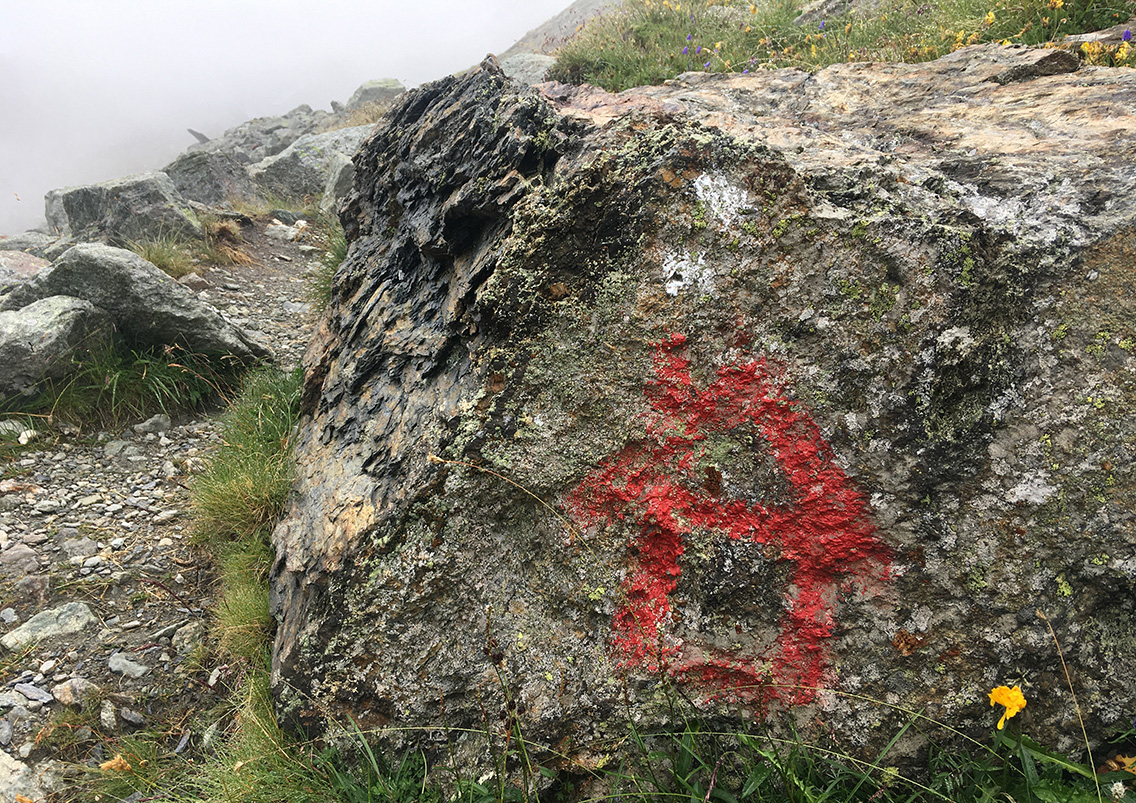 Cabane des Dix hieroglyph on the rocks
The trail continued on very steep rocks for a while, until we came to a so called lateral moraine, a heap of rocks pushed aside by ancient glaciers. The path along this crest eventually takes you to the Cabane des Dix, but at the signpost we turned left to go directly to the Pas de Chèvres.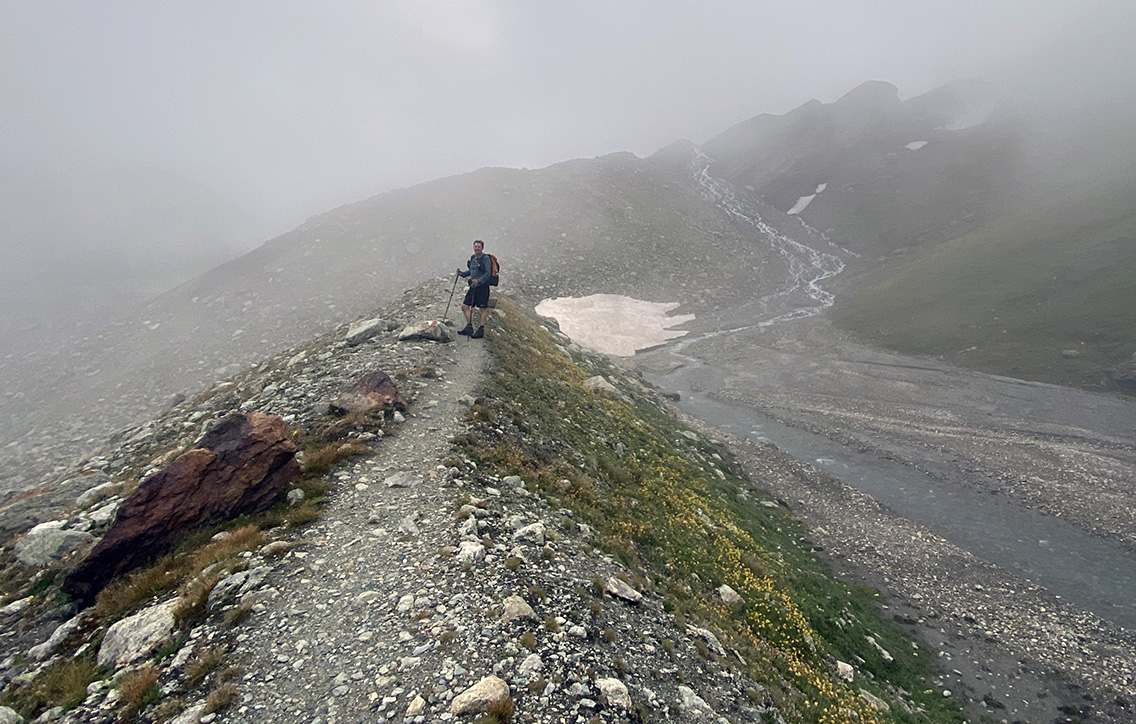 The trail on the lateral moraine
Moving on we crossed the glacial stream on a metal bridge, where the rocks had a purple hue. From this point the trail became steeper. Climbing higher and higher, we were now hiking in the clouds. We couldn't see any of the spectacular mountain tops (like the Mont Blanc de Cheilon) but we did see another herd of ibex.  A group of four, including one unicorn – a poor ibex that broke off one of its horns.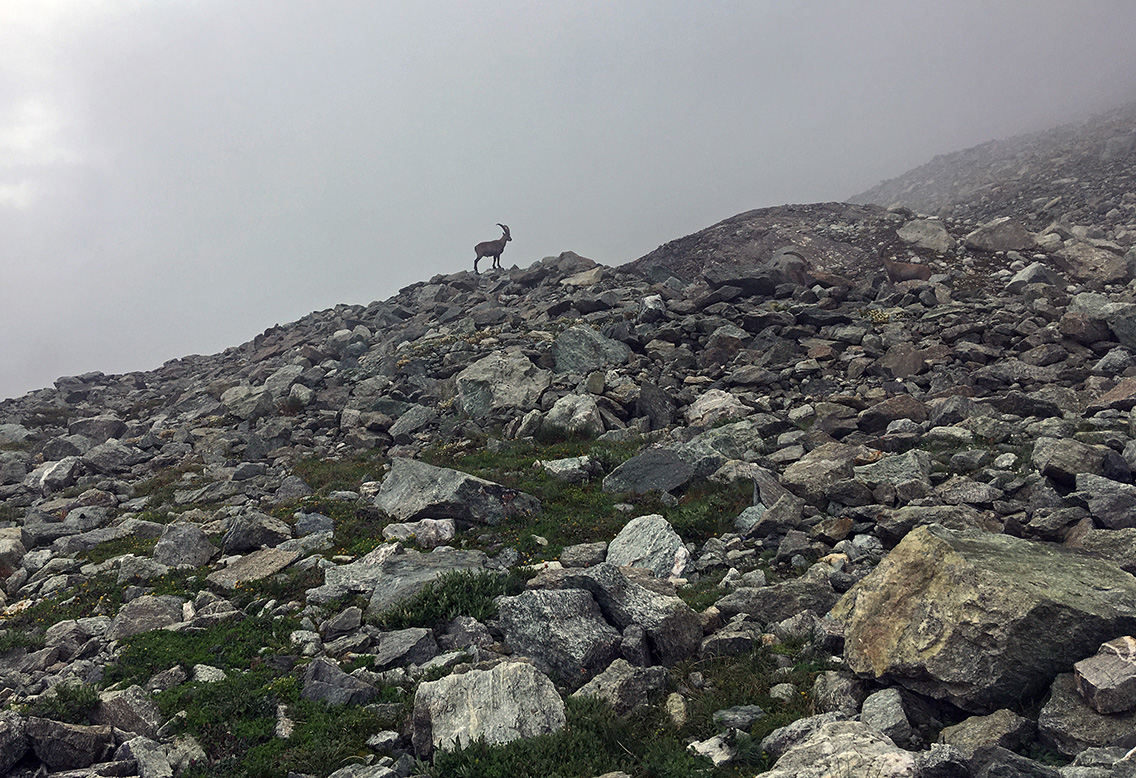 Ibex on the trail to Pas de Chèvres
Pas de Chèvres
The final part of the trail to Pas de Chèvres was extremely rough. The mist was getting worse and visibility got quite bad. The trail was muddy from the rain last night and rocks were lying very loose, especially in the steep part leading up to the ladders of Pas de Chèvres. I needed both of my hands to stabilize myself, so I packed my tracking poles and went up, occasionally swearing and shouting when I was about to slip off the rocky slope.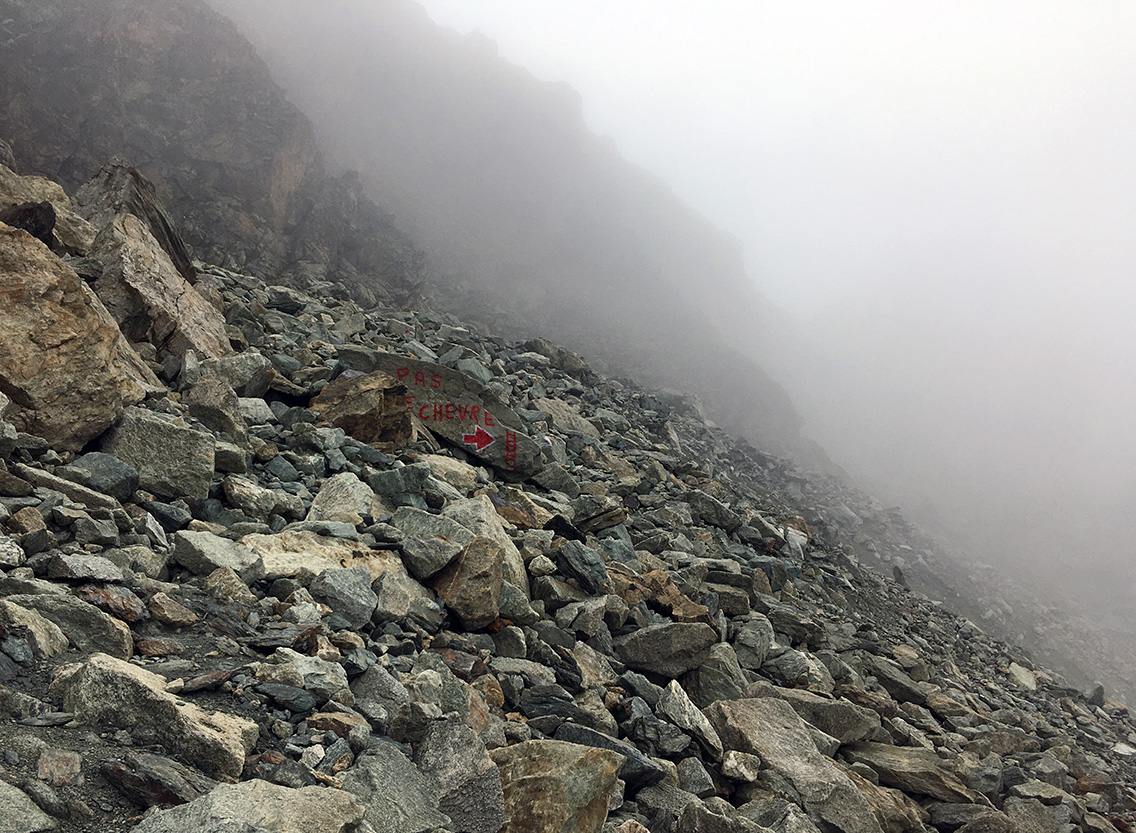 Halfway the scree I saw the sign painted on the rocks, pointing to the ladders.
The difficulty of the trail had in official terms gradually changed from T1 at Lac de Dix, to T3 now: a demanding mountain hike. No path was really visible and exposed sections were fitted with chains. The terrain reminded me very much of the climb up to Forester Pass in the High Sierra – but then without the trail. It was scary, but at the same very exciting and beautiful.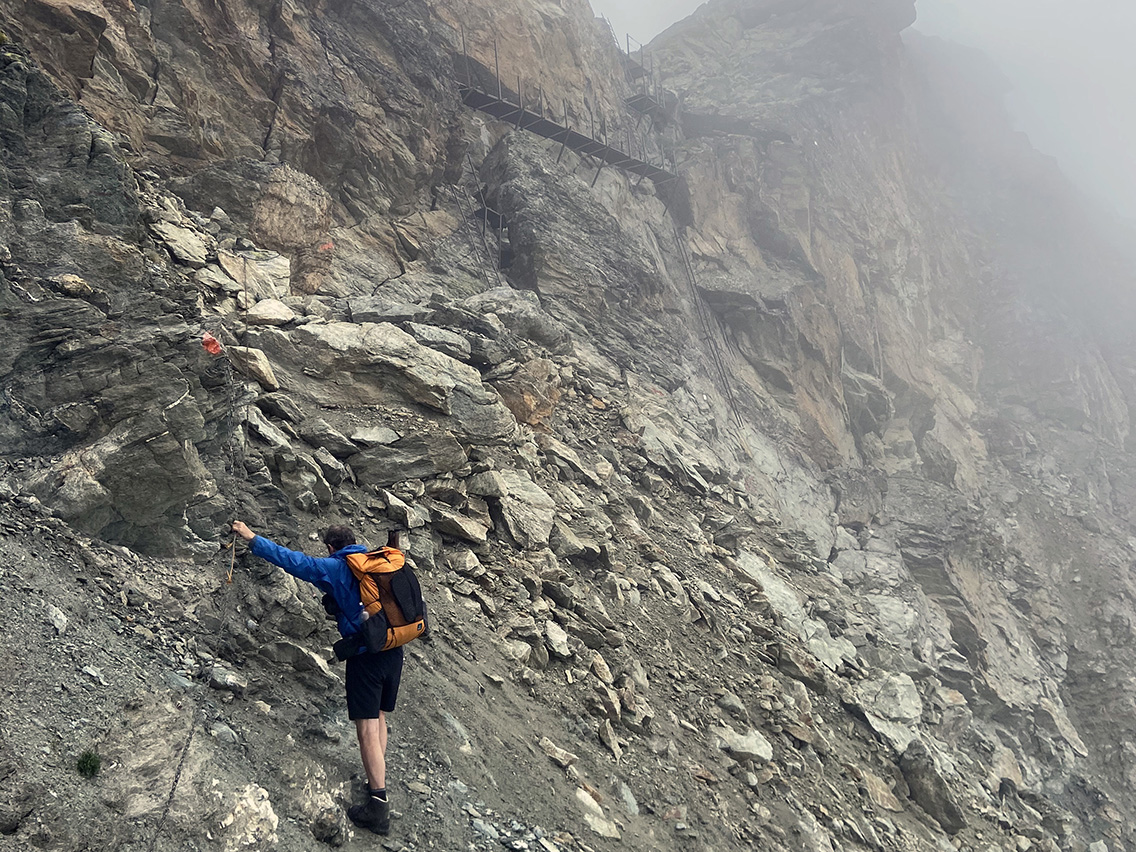 The metal chains were the only indication that I was actually on a trail
I was happy to hike this part of the Haute Route together with Keimpe, for moral support. And thankful for my trusted hiking boots. I have said it before, and I will say it again: I would certainly recommend old fashioned class B/C hiking boots on the Haute Route instead of the more populair trail runners. This ain't no well maintained trail like the JMT in the High Sierra or the Tour du Mont Blanc.
Close to the ladders, about 20 minutes before the top of the pass, there was a possibility to turn left to Col de Riedmatten, another mountain pass, very close by. Even though this route avoids the vertigo arousing ladders, this looked even scarier, so we kept to our plan to climb up the ladders.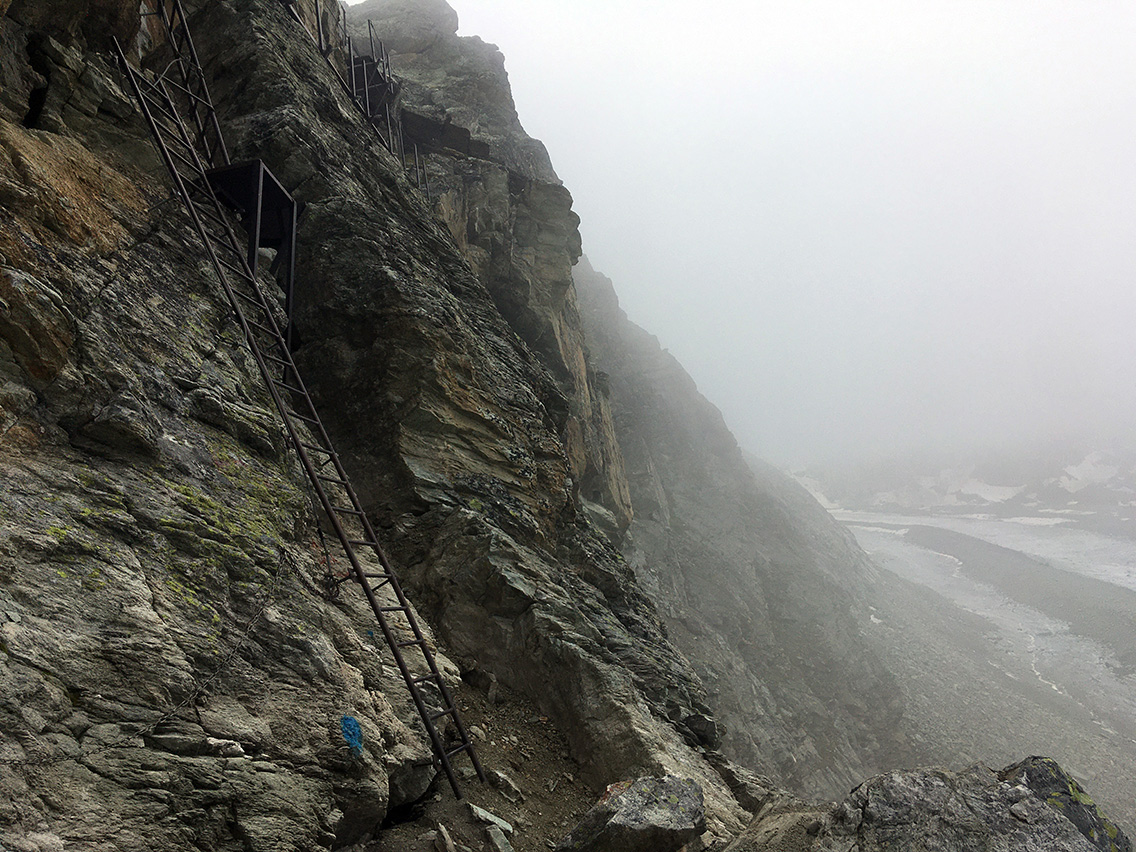 A glimpse of the snout of Glacier de Cheilon below the ladders to Pas de Chèvres
And there they were: the ladders to Pas de Chèvres (2.885 m / 9,367 ft). Today even more frightening because of the rain, mist and the threat of a thunderstorm. The 90 rungs of the 4 ladders were wet with rain, so I ascended the 20 vertical meters very slow and carefully. I wondered how on earth people have been able to build this construction in this inaccessible environment.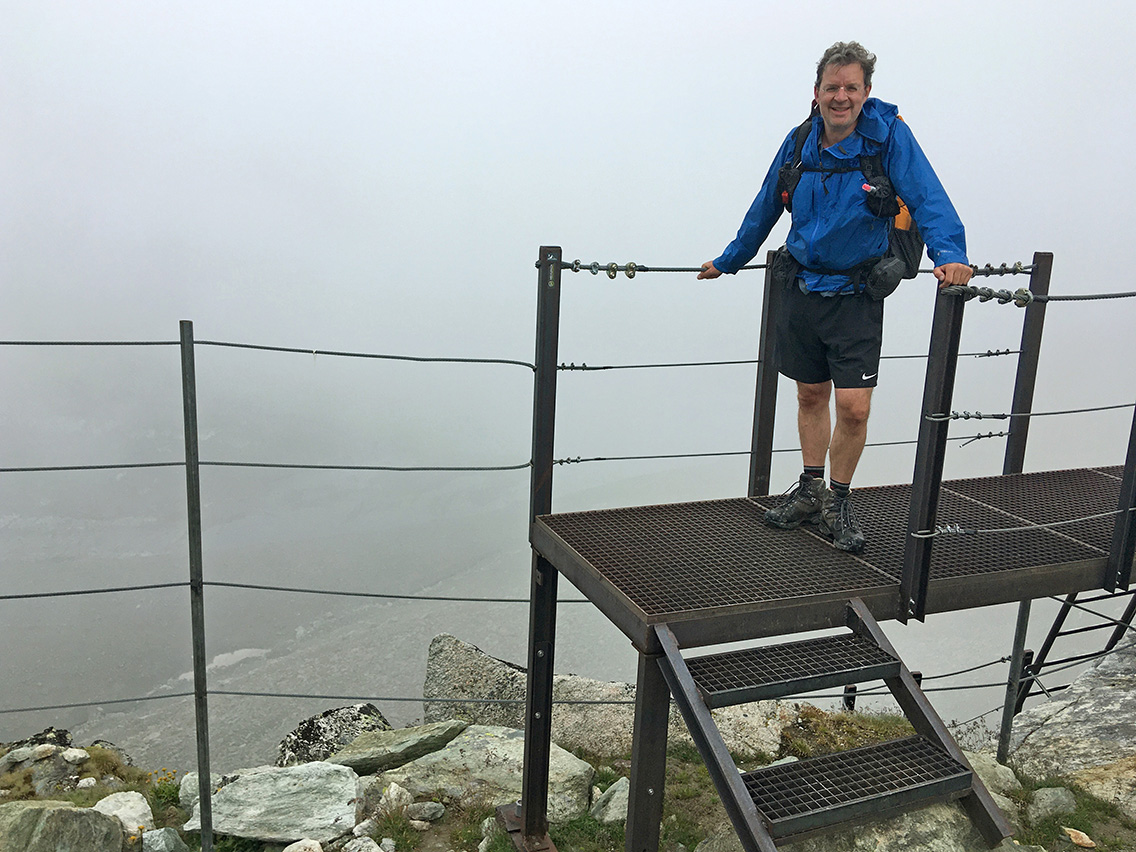 Finally on top of Pas de Chèvres
Arriving at the top of the pass was a such relief! We stopped for a while for a food and water break. On a clear day the view from the col should be wonderful, with the top of the Matterhorn visible for the first time on the Haute Route. But now clouds made it impossible to see beyond the moraines right in front of us: giant slopes of grey rock everywhere. The misty atmosphere was just as wonderful though. As my brother once remarked: even in the worst weather there is beauty in the Alps.
Arolla
When we descended to lower elevation, the sky was a bit less cloudy, and we reached greener surroundings.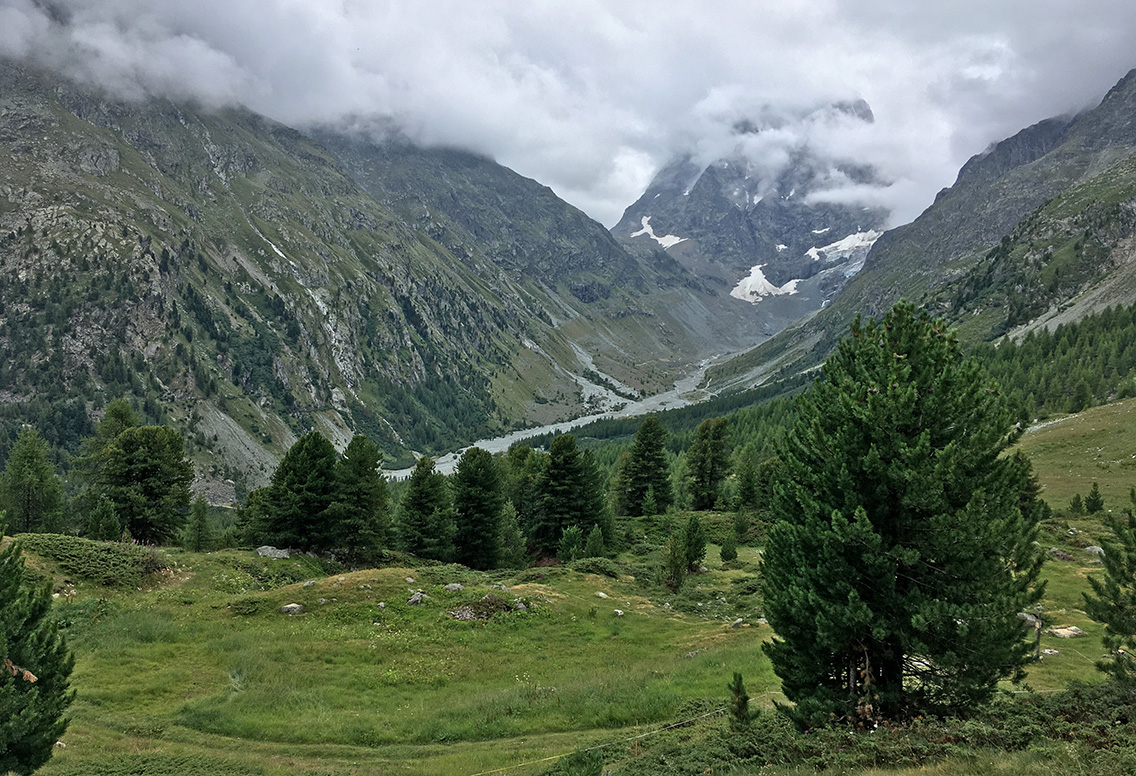 Hiking down to Arolla, looking back to Les Monts Rouges 
The rest of the day would be easy now, hiking down to Arolla and I considered to hike further on to Les Haudères. The trail followed ski pistes, passing ski-lifts that marked our slow return to civilization.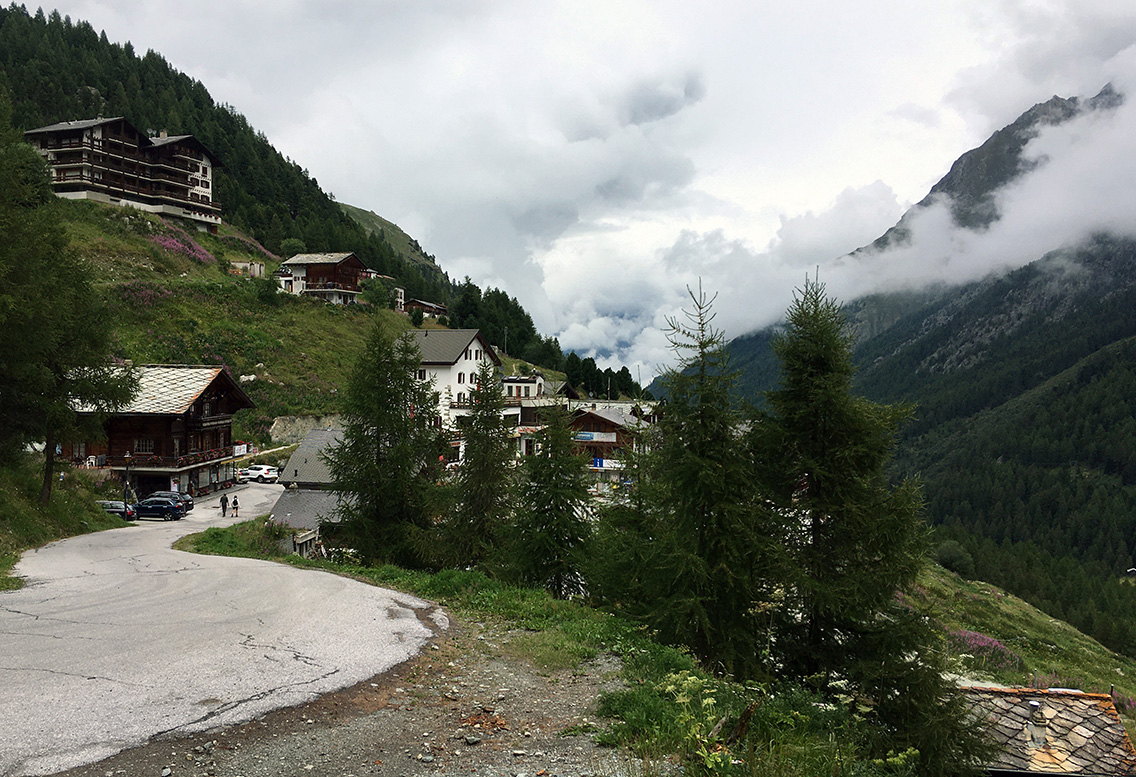 The nice little village of Arolla with the second highest campground in the Alps at 2006 m (6,581 ft)
It was 1 p.m. when we finally reached Arolla. When our shoes hit the tarmac leading into the village, all I could think of was drinking a coke Zero together to celebrate our successful ascent of Pas de Chèvres.  
Originally I had planned to camp in Arolla and hike to Cabane de Moiry from here the next day. But it was really too early and I didn't not look forward to an entire afternoon of sitting in a damp tent. So although there was a campsite in Arolla that seemed to be quite good, we both decided to push on to Les Haudères, where there would be another campsite.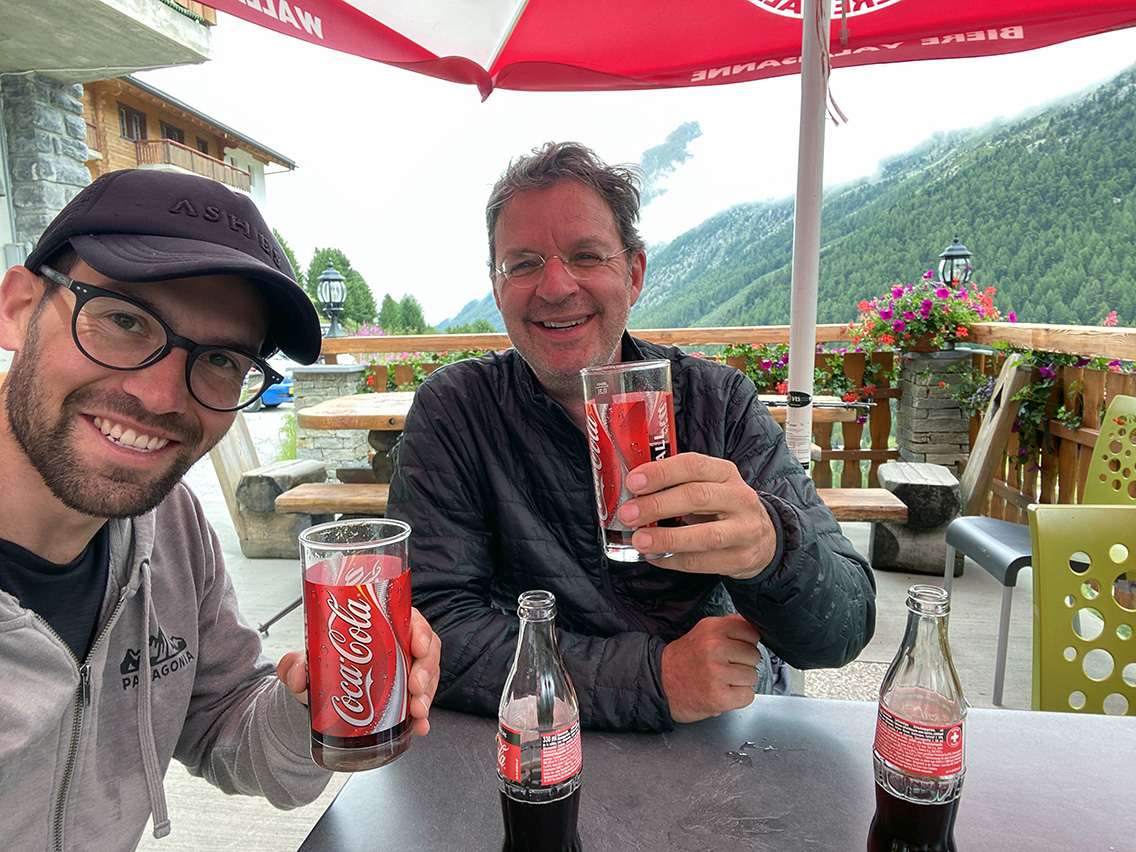 We had decided to hike on separately, because I wanted to take my time to buy and write postcards first.  So after eating a delicious lunch from the small supermarket (yoghurt, cheese, chocolate) and writing postcards to my family, I put on my backpack again for the final stretch to Les Haudères. 
Lac Bleu and Les Haudères 
It was 2:15 p.m. now and a drizzle of rain had now begun. The minute I walked away, the Swiss Postbus marked LES HAUDERES was about to drive away too. For a moment I hesitated, but I decided, of course, to walk al the way. Hikers pride. The rain would not stop for the rest of the trail (another 3 hours).
Although the trail from Arolla to Les Haudères seemed to be rather straightforward, I got lost on the side trail to Lac Bleu. I seemed to go down all the way to the main road, where I met Keimpe again, who was lost just like me! On one of the crossroads we both had picked the wrong one.
The rain was getting worse now, my shoes and socks were soaked and suddenly I didn't feel like putting up my tent and be wet until the next day. I picked up my phone to and searched for a hotel, and I was lucky to find one with a room available (for Les Haudères is said to be fully booked all summer).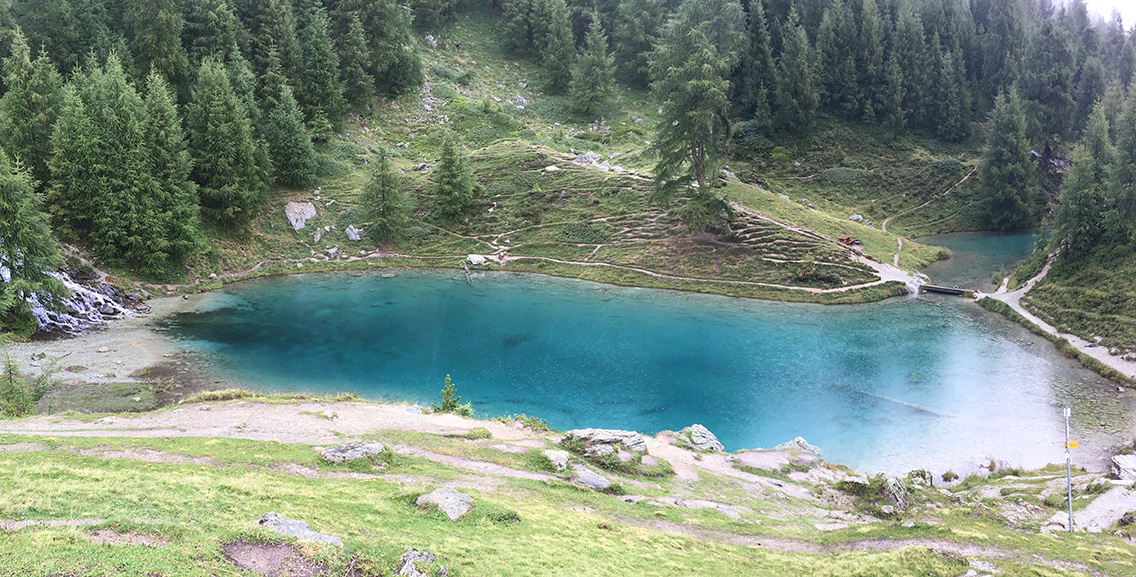 With the prospect of a warm bed, shower and possibility to dry my shoes and clothes, the last part of the rainy trail was much easier. When I finally reached Lac Bleu, it was misty and wet and I couldn't see  beyond the trees around the lake. But it was very beautiful, maybe even more than on a summer's day, with the silent and mysterious atmosphere hanging around the water.
Leaving the blue lake, I came down to group of houses known as La Gouille. The trail continued on the main road now, with cars passing by, which confused me, but soon enough a footpath continued on the right side of the road.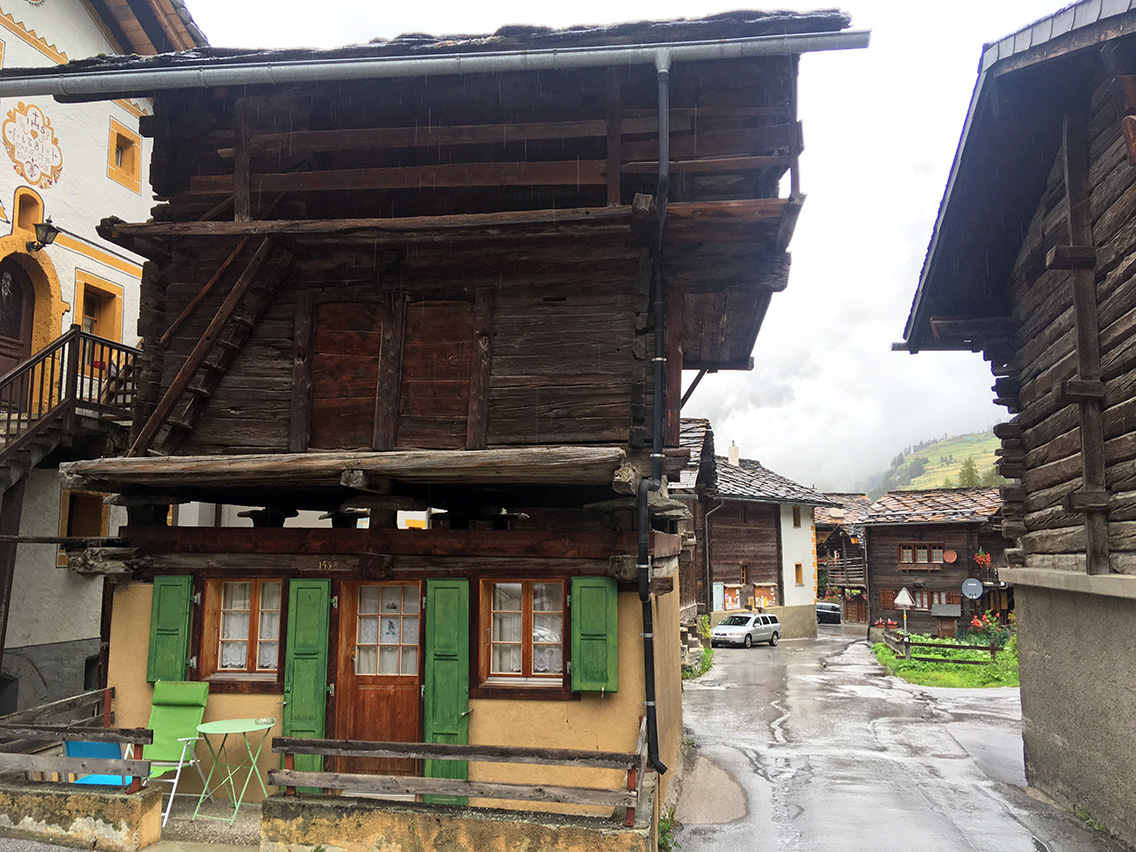 Les Haudères: this house was built in 1558, the barn on top being twice the size of the part where people lived.
By the time I reached Hôtel Dents de Veisivi in Les Haudères my shoes and socks were completly wet, and so were all my clothes underneath my expensive rain gear. As technically advanced my raincoat might be, the sweat underneath still soaked my clothes. I was tired and hungry and happy to let myself fall on the hotel bed, after more than 10 hours of hiking.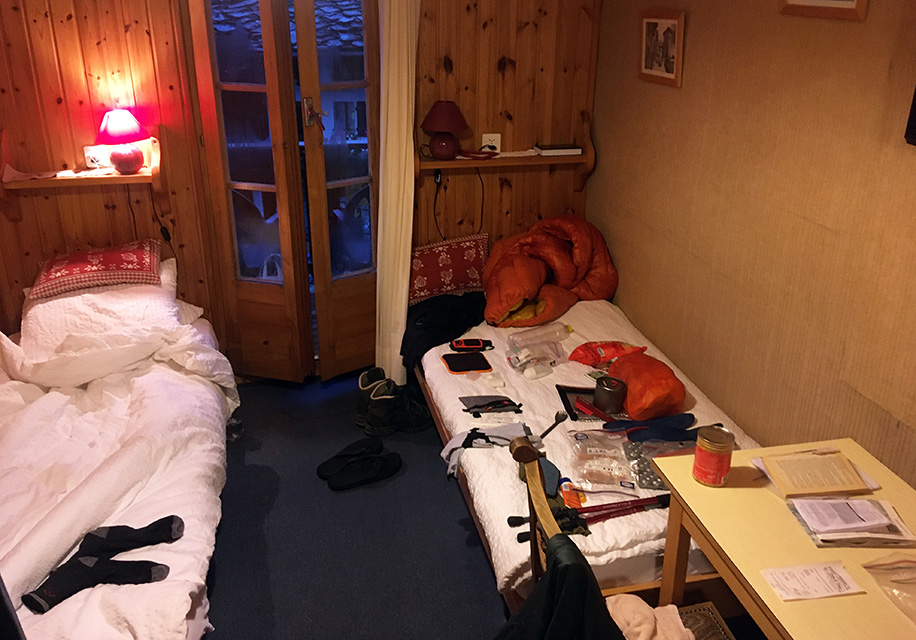 Is there anything better than a hotel room to dry out clothes and shoes after a long day of hiking in the rain?
After a hot shower and dry towels I went outside to lok for a supermarket, which I found a Denner shop close by. It was a strange combination of a clothing shop, a supermarket, a bar and what have you not. I bought two mayonaise-based cold salads that totaled 3000 Kcal, enough to compensate for this extremely long day.

< Previous: Haute Route 3: Lac des Dix
> Next: Haute Route 5: Cabane de Moiry