The second day of my SEKI Loop took me to the really High Sierra. Despite four days of acclimatization, the altitude still slowed me down to half my normal hiking speed. But I did climb Forester Pass: the highest point on the John Muir Trail and Pacific Crest Trail and the border of Kings Canyon and Sequoia National Park. 
Day 2: Upper Vidette Meadow to Tyndall Creek
Start: Upper Vidette Meadow, John Muir Trail (Wenck JMT guidebook nr. 11.10)

End: Tyndall Creek campground (Wenck JMT guidebook nr. 12.06)

Distance: 12.6 miles (20,3  km)

Elevation gain: 3,337 ft (1.019 m)

Elevation loss: –2,343 ft (–713 m)

Highest point: Forester pass, 13,138 ft (4.004 m)

Time: 6:50 hrs moving time; 9:45 hrs total time

Date: August 31, 2018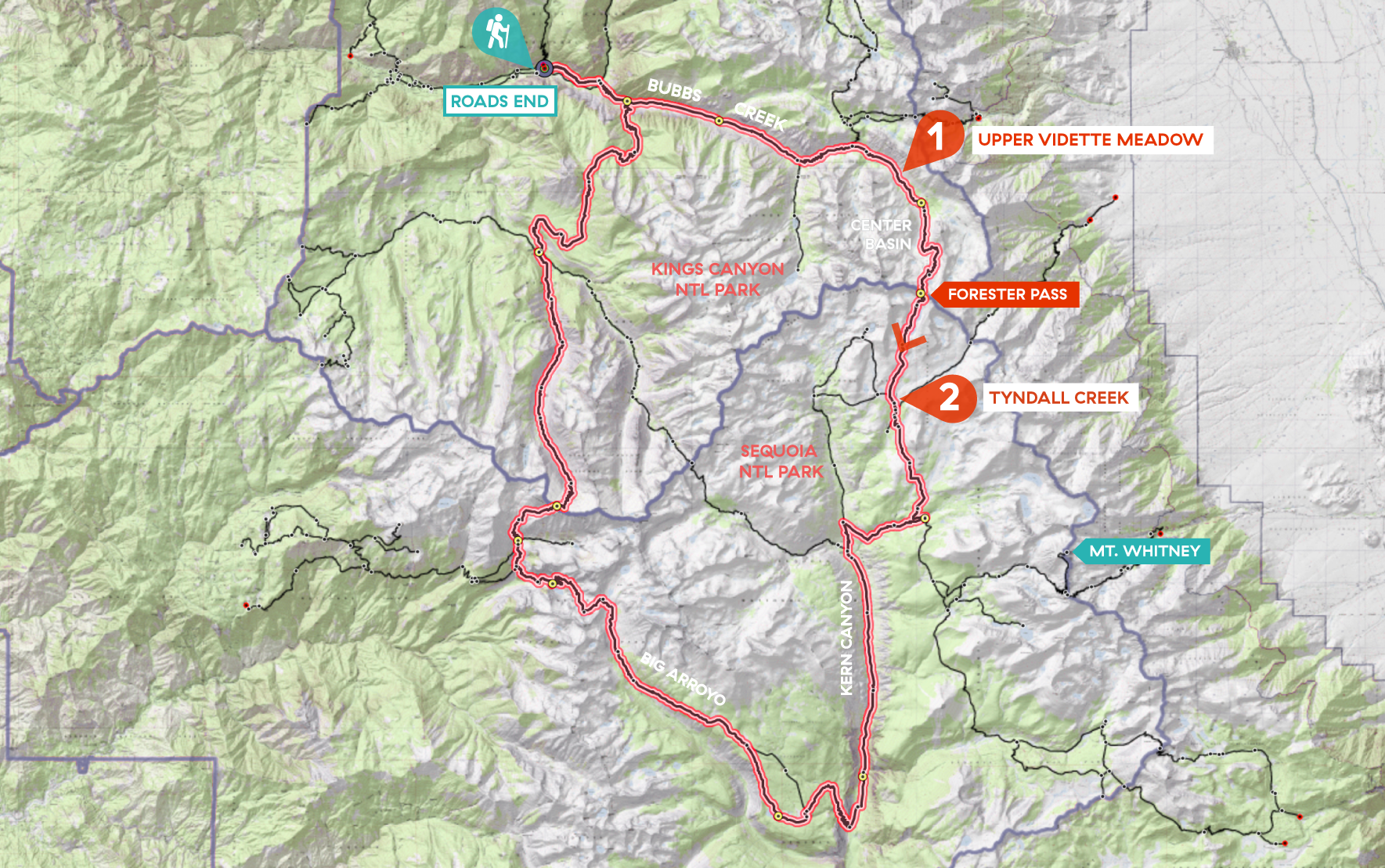 Day 2 of my SEKI loop, map base layer by Sierramapper.
Leaving Vidette Meadow
The second day of my thru-hike started after a quiet and moonlit night at the Upper Vidette Meadow camp site. Waking around 6 am, it took me more than an hour to break up camp, eat breakfast until I hit the trail at 7:15 am.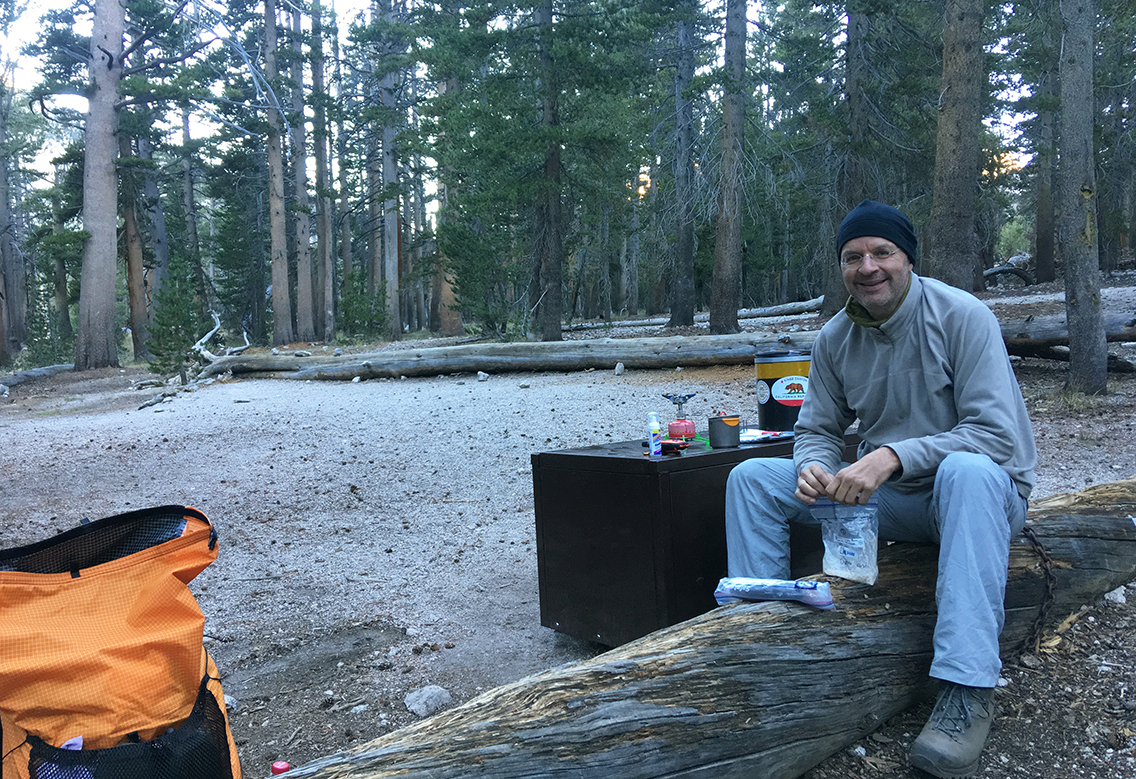 Day 2, 6:50 am. Everything packed, except what I needed for breakfast: Adventure Medical Kits Alcohol-Free Hand Sanitizer; Snowpeak Litemax stove; MSR IsoPro 4 oz fuel canister; Optimus fuel can stabilzer; Evernew Ti Ultralight 0,5L Mug Pot; Snowpeak Hotlips; self made cook pouch; bic lighter; Bearikade Weekender full of food; 1 L ziplock with freeze dried rice pudding; Sea to summit spork; 3 L garbage ziplock.
At  ± 9,850 ft (3.000 m) it had been a chilly night and the morning started cold. I was happy with my Zpacks possum down gloves the first mile of trail, as I was leaving the lodgepole forest. Every step higher revealed more and more of the mountain tops that lay in front of me – and behind me.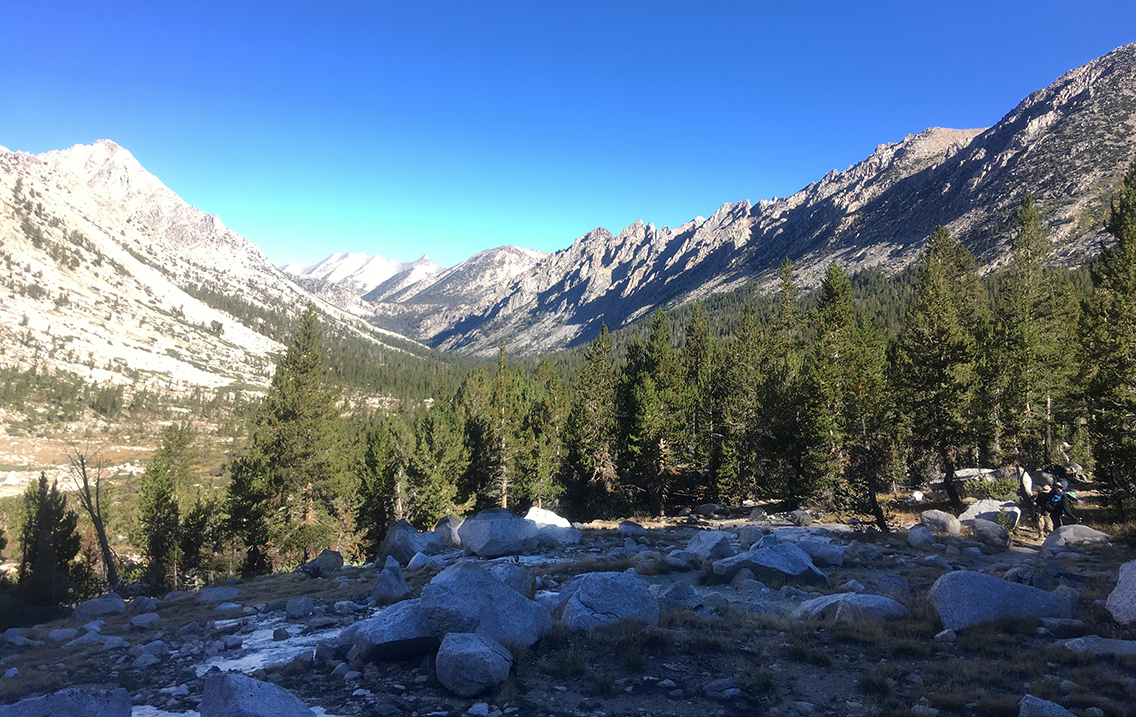 On the John Muir Trail, looking back North to Vidette, with Kearsage Pinnacles.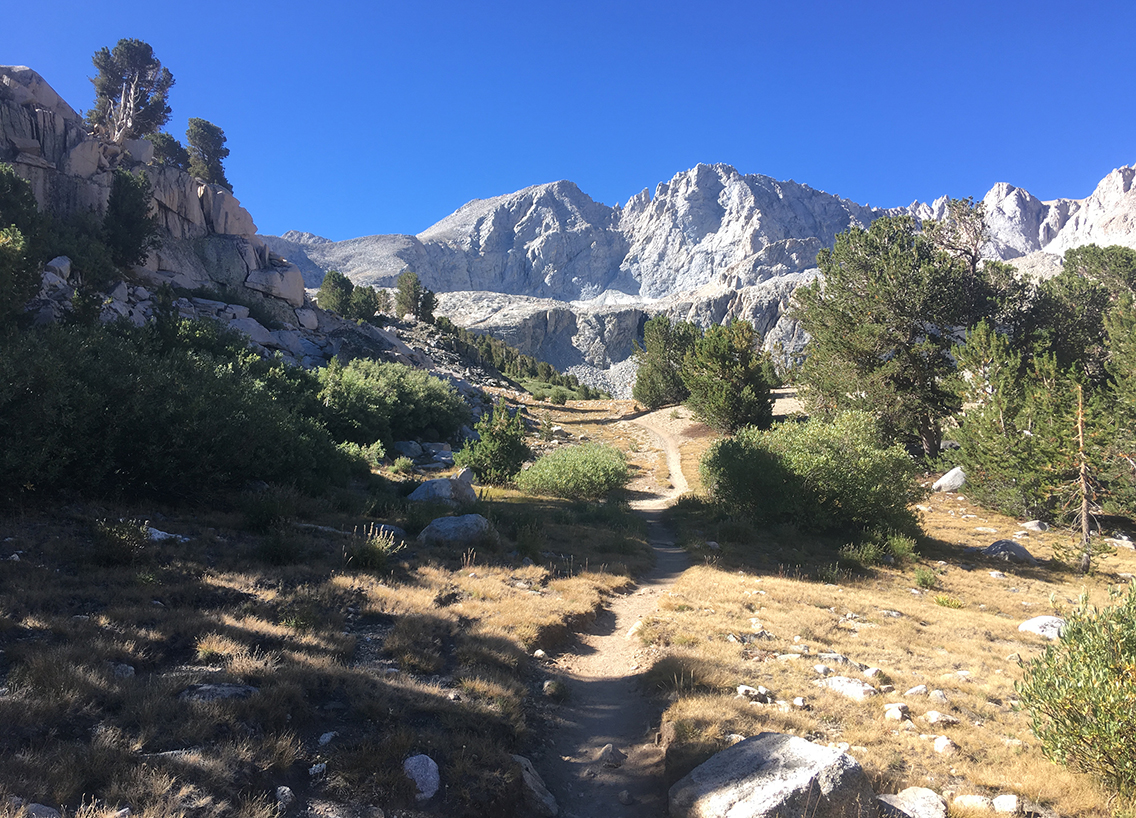 View South from John Muir Trail towards Center peak and Kings Kern Divide.
Looking at the immense granite walls, I wondered where the Forester Pass would be located. I couldn't imagine a trail up those mountains. Even this early in the morning, the first hikers were coming down from Forester Pass. One of them told  me the pass would be invisible until the last mile or so.
Higher altitude and a silent lake
After a steady climb of about three hours I reached the relatively flat meadow with a couple of beautiful lakes, where the trail makes short bend East. A good place to have a break, eat some M&M's and drink water in the shade of a big rock.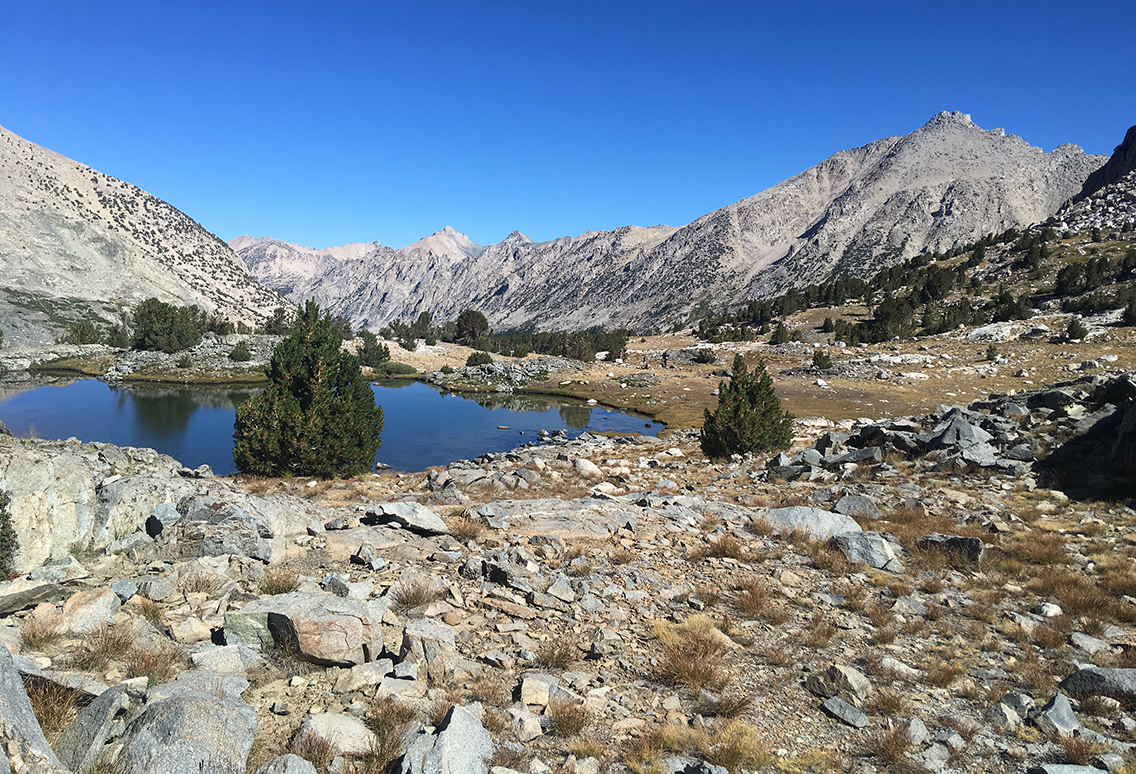 Lakes Southwest of Center Peak, just before the trail leads you to a few miles of steep switchbacks.
When I reached the switchbacks to the pass, the trail was getting busier. Instead of the handful of people I met in the morning, now a steady stream of hikers would come hiking up, or down, the pass.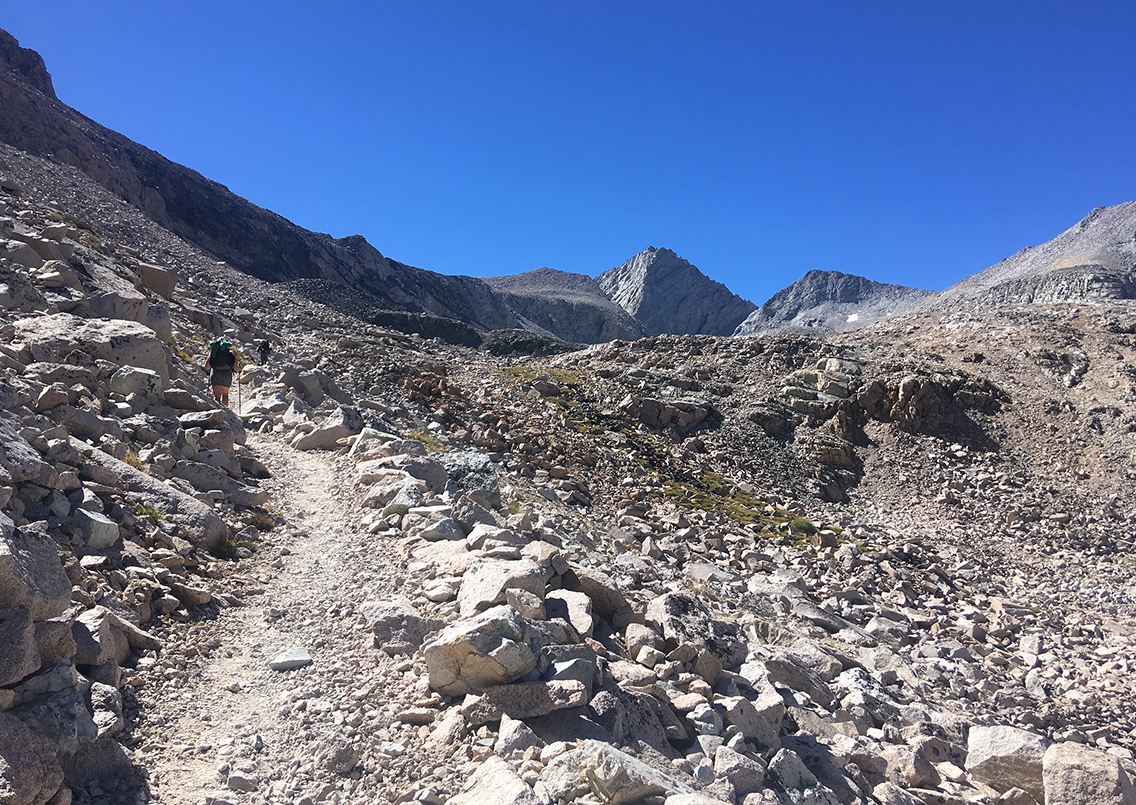 Going up towards Forester Pass (still not visible).
Already at ± 11,500 ft (3.500 m), the altitude with its low oxygen was slowing me down. I still had about 1,700 ft (500 m) to climb. This wouldn't be a problem at lower elevation, but for the first time I got really slow, my heart beating like I was running. Very soon all the other hikers had outrun me, leaving me behind in perfect solitude and silence, which wasn't bad at all.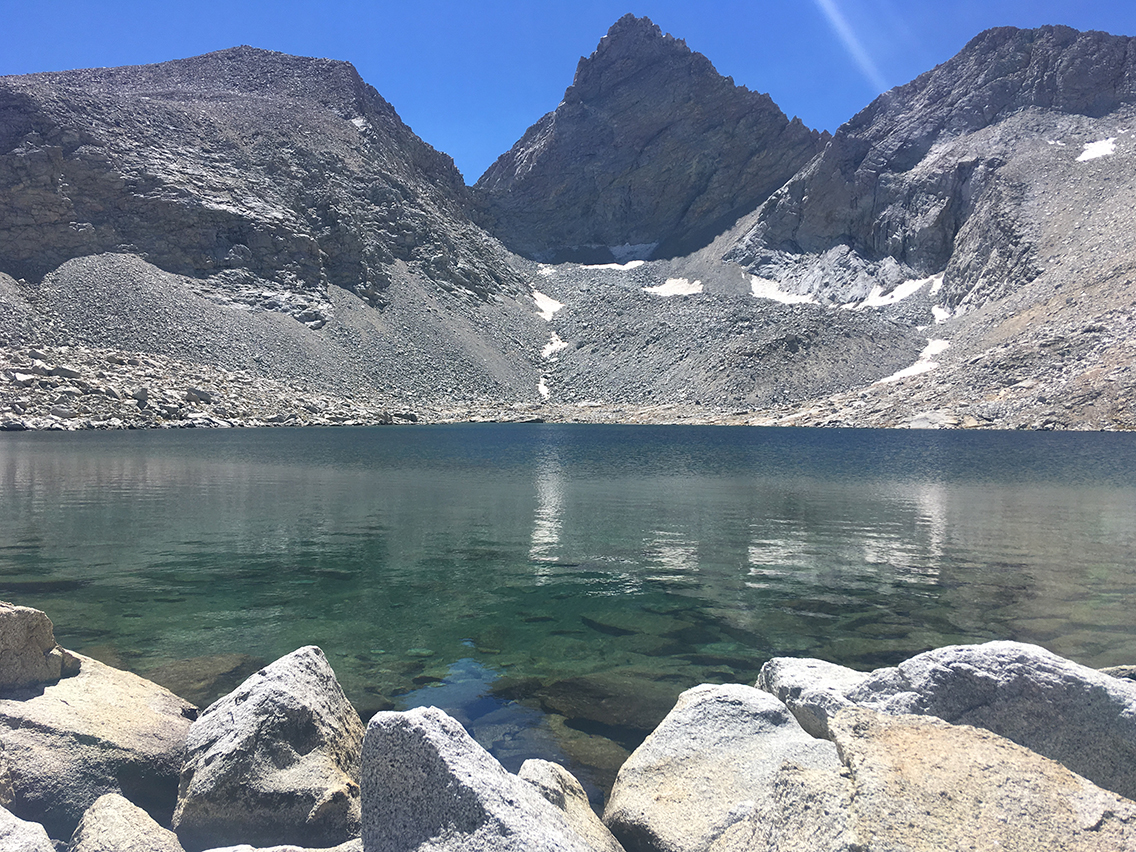 Lake at 12,250 with Junction Peak.
Pushing on, step by step, I reached the 'Lake at 12250' (not an official name, I believe). I took another break here to fill up on my water. The dry air gave me a constant thirst: I had been drinking about 2.5 liters of water since this morning, the fresh 2.5 liters I got from the lake would almost be gone by the time I reached the south side of the pass.
The crystal clear lake was so beautiful and so silent. Not a sound was to be heard, except for a light trickle of water. No picture can capture the sensation and magnitude of moments like this. I just sat there, like hypnotized, gazing at the water and listening to the empty silence around me.
Forester Pass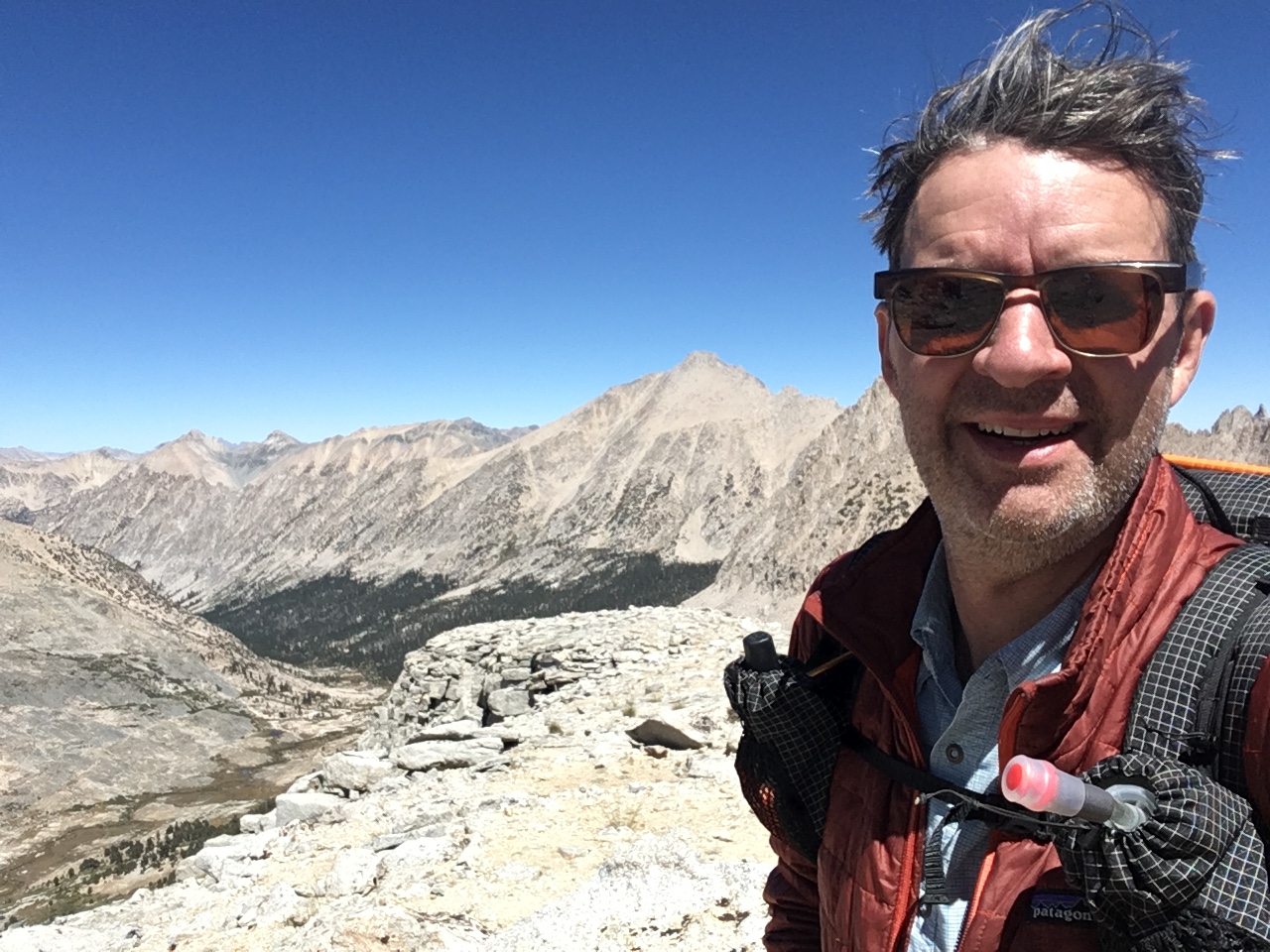 At 12,400 ft (3.780 m) I had this magnificent view back North to the valley I came from that morning.
With no more than a 1,000 ft (300 m) to go up, I still couldn't see Forester Pass. I couldn't even see the trail for more than a short distance. All around me just a great mess of loose rocks.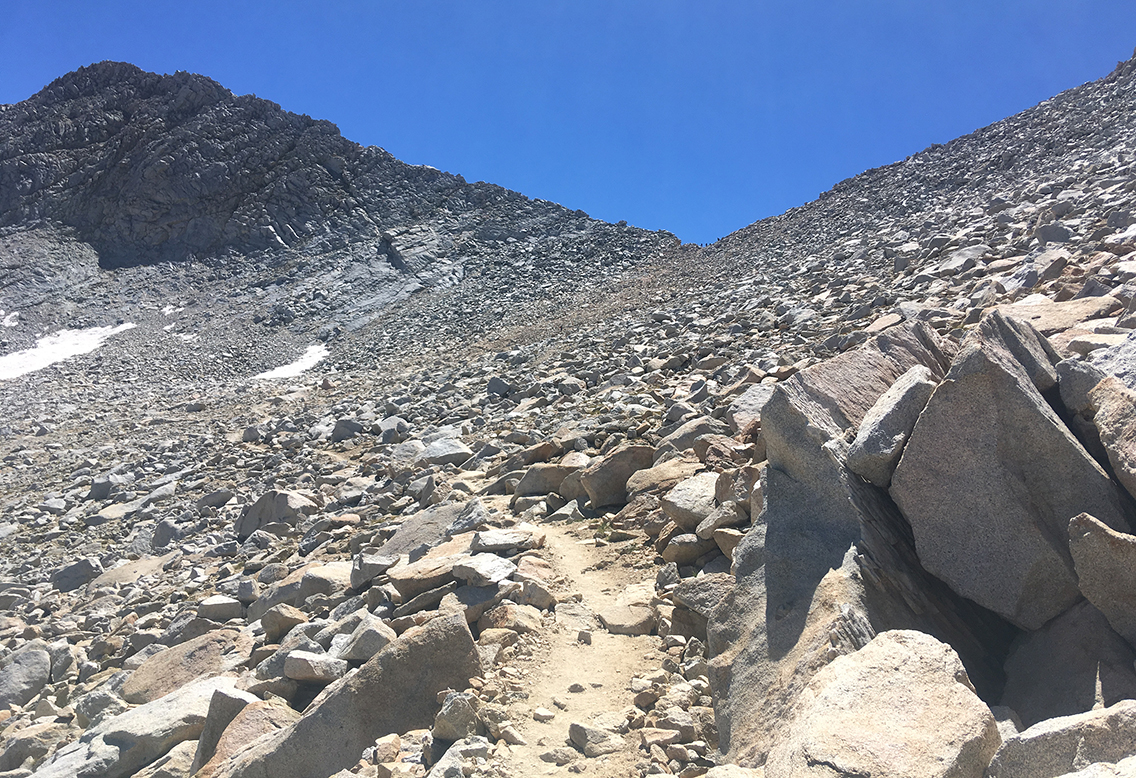 But finally I had the first view of the actual pass. Just at the lowest point between the mountain tops I saw the silhouettes of hikers.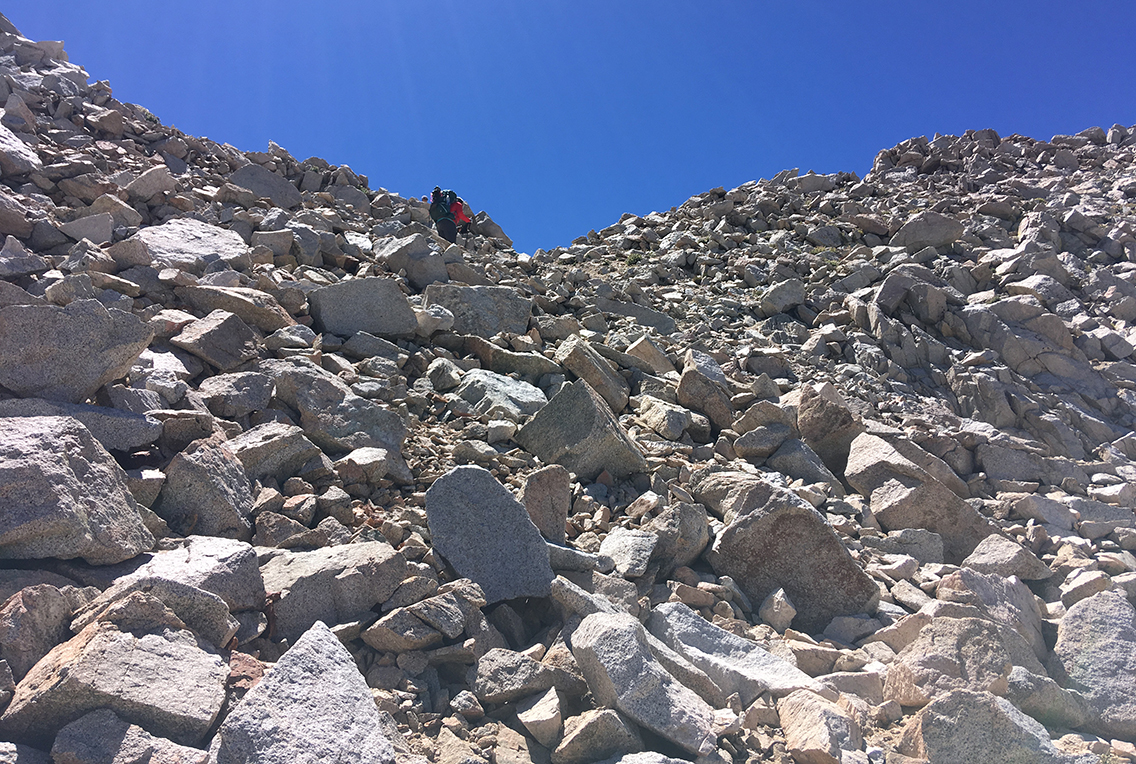 At the last series of switchbacks I had to adjust my speed more and more, until I almost stood still after every step. I felt no pain in my feet or legs, I wasn't actually very tired, but I experienced the lack of oxygen. Living at sea level my whole life, my body apparently is not well suited for these elevations. My heart was beating like crazy and my breath was heavy.
But still: I listened to my body and kept on going as slow as it had to be. I felt kind of comical as numerous hikers were moving down so swiftly.  'These are the days that character is built' one of them said.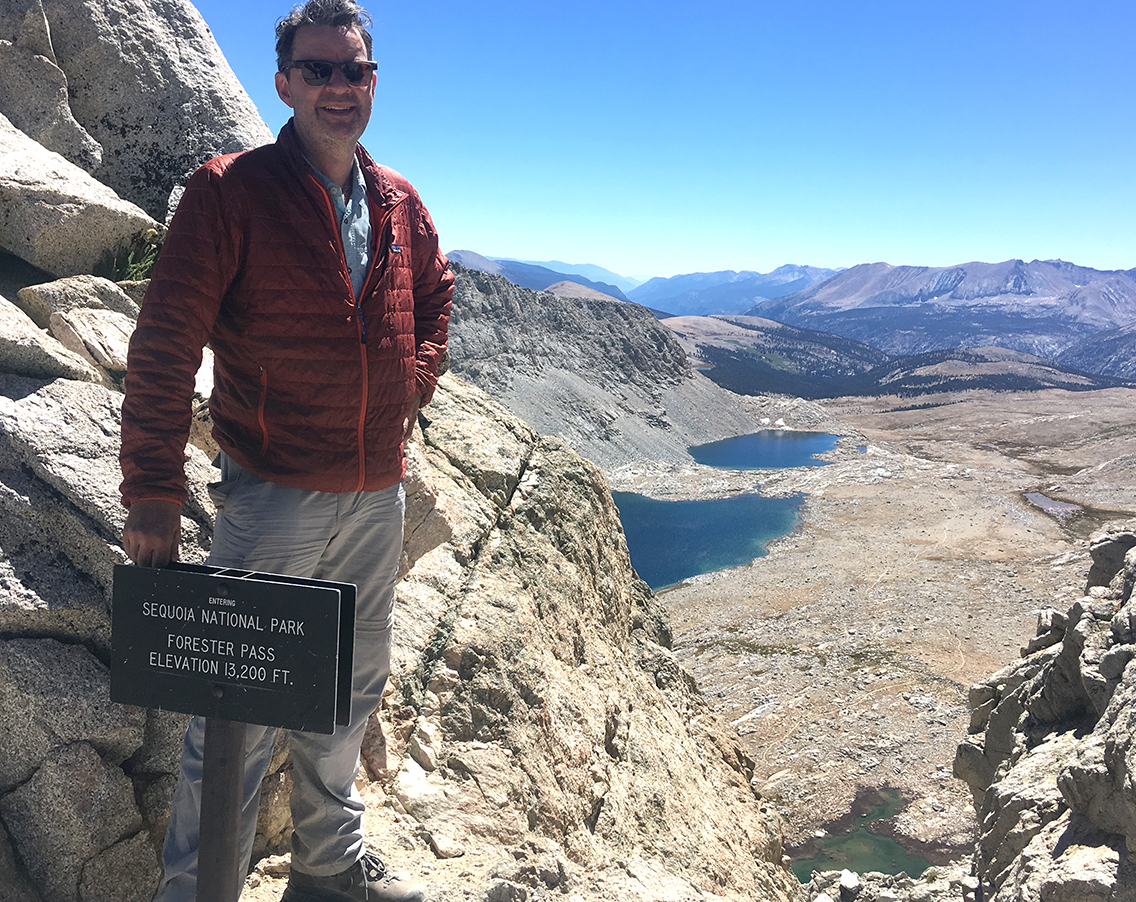 Never trust the signs: Forester pass at 13,114 ft (3.997 m), looking South to the Tyndall Creek area.
And so I reached Forester Pass at 2:15 pm, after 7 hours (including breaks). Two other hikers had just reached the pass and were gazing over the amazing valleys South and North, just like me.
The pass itself is very small, no more than a handful of people would fit there. Helping each other making photographs at the sign, we had to be constantly aware of the steep and deep abyss on both sides (don't step back!).
Then my hiker friends from Upper Vidette, Dev and Lily (in the middle below), made it to the top just a few minutes later. They started late this morning, but they caught up with me just now.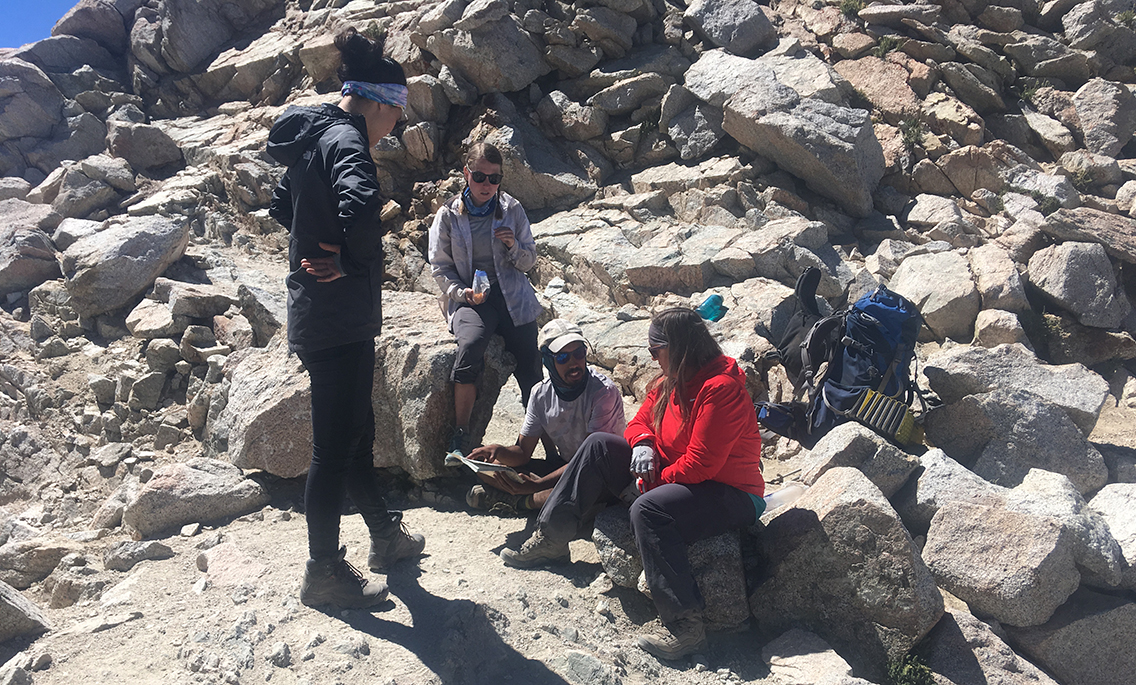 Everybody was eating chips, nuts and other salty snacks now and drinking lots of water. In the mean time I checked the altitude on my Gaia GPS app. Although the pass is officially 4.009 meter high, according Gaia the pass is 3.997 meter (never mind the official sign which is at least 50 ft off). To make sure I would really be on the elevation of at least 4,000 meter (yes, I live in a metric system), I climbed a rock until Gaia indicated 4.004 m (13,138 ft ).
To Tyndall Creek
 The South side of Forester Pass is quite different from the North: very steep and exposed switchbacks (with immense views) bring you down to a plateau very quickly. I wouldn't want to climb the pass from the south! Although you'd have the advantage that the pass is better visible from the trail, long before. Or maybe that is a disadvantage, I don't know.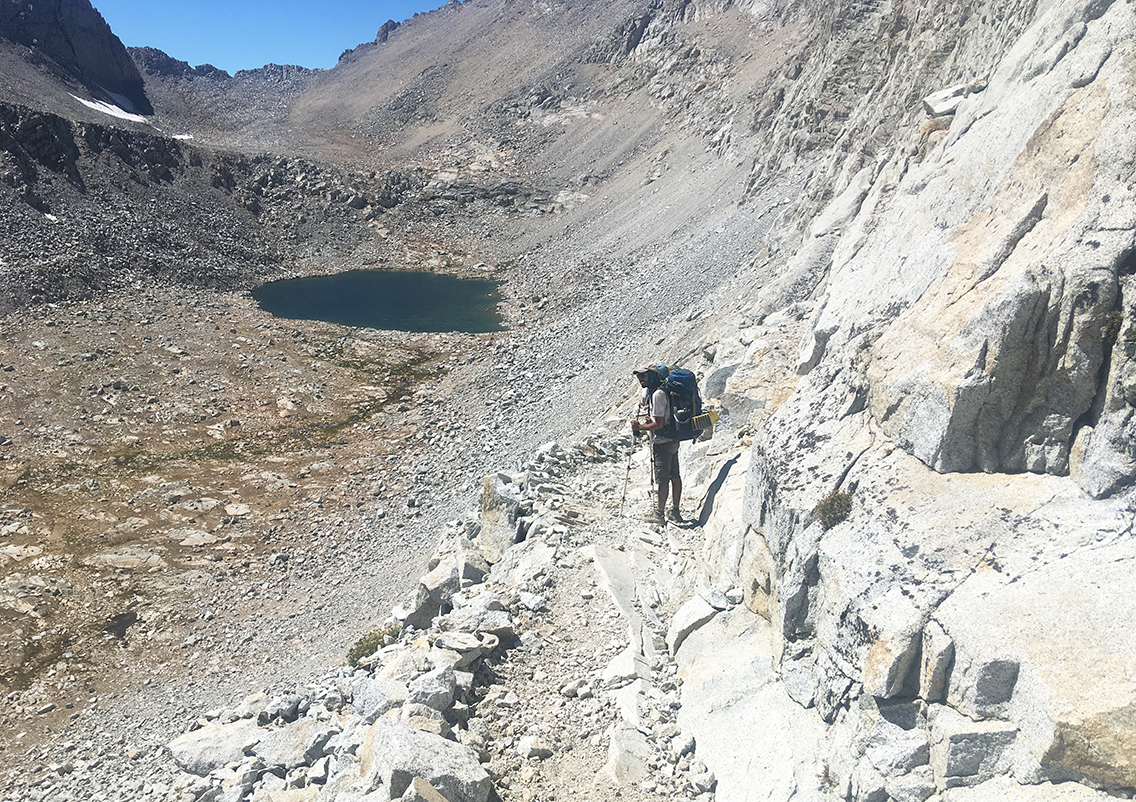 After the switchbacks, there was a nice lake to fill up on water. The 5 miles to Tyndall Creek were over a relatively flat terrain and fairly easy now. And since every step took me to a lower elevation, much better for my heart and lungs, it soon became even more easy.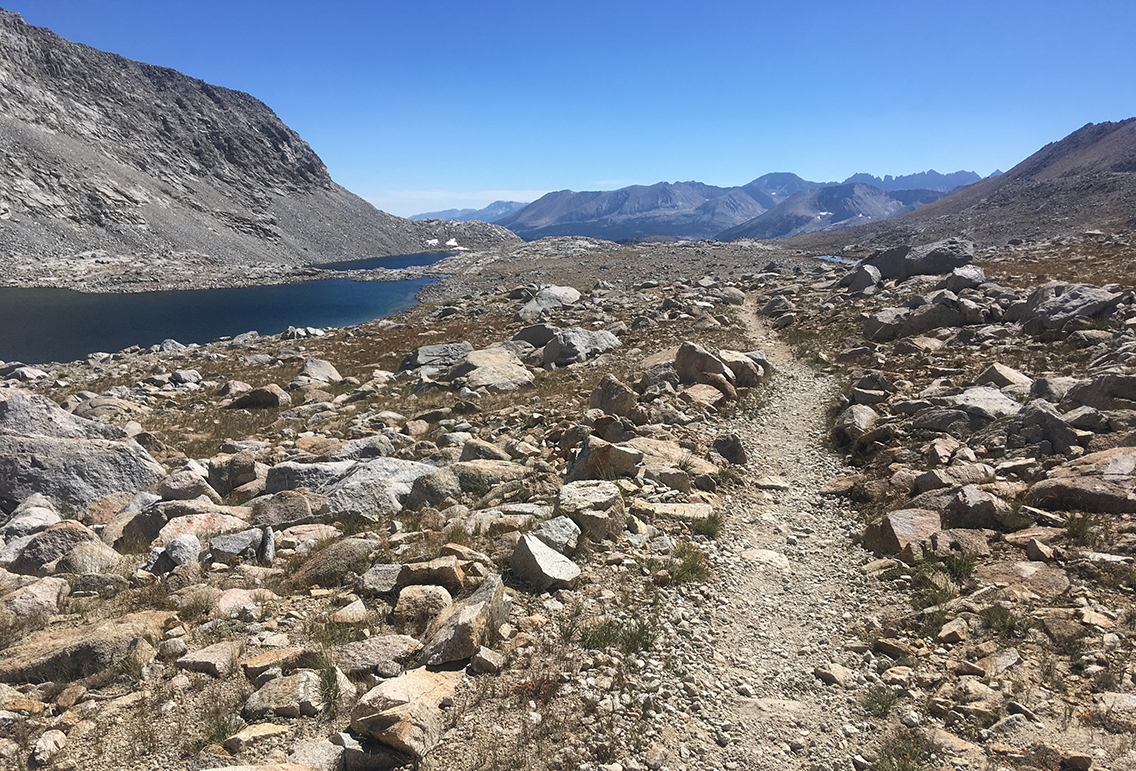 The camp site (with bearboxes, which I did not see or use) is just before the crossing of Tyndall Creek. Filling up on water here and cooling of my feet (and most of the rest of my body) with the cold creek water is one of the best things ever! Energized again, I put up my little blue tent and built myself an outdoor kitchen. I was already beginning to feel home in the wilderness with all my gear.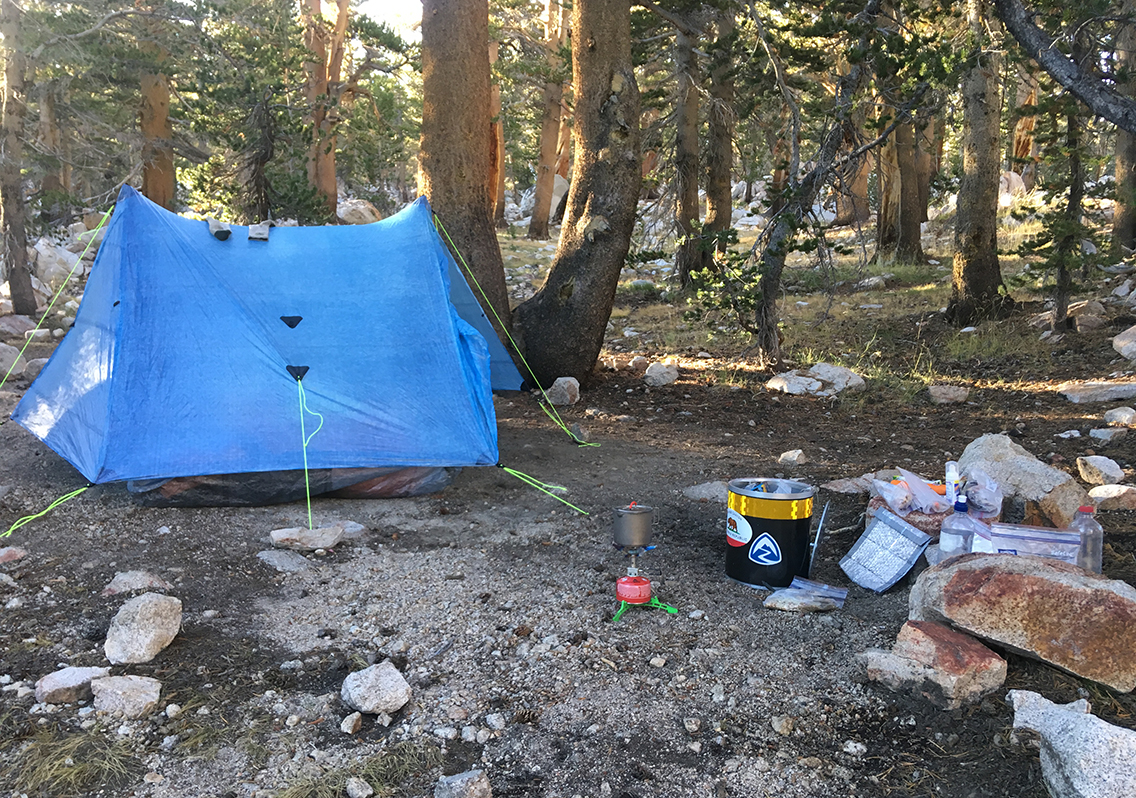 This day the altitude forced me to walk as slowly as 1 mile per hour and the 12,6 miles (20,3  km) took me almost 7 hours of hiking. But I climbed 3,337 ft (1.019 m) to the highest elevation I ever was: 13,153 ft (4.009 m). And I was still almost one day ahead of my plans. Not bad for a second day in the High Sierra!
< Previous: Day 1 – To Upper Vidette Meadow