Day 8 on the Haute Route was a hot and very tough day. From the Meidsee down to Gruben, ascending again to the Augustbordpass and then all the way down to the village of Sankt Niklaus. A total of more than 2.600 meters of exhausting descent.
Haute Route 8: Meidsee to Sankt Niklaus
Start: Meidsee, 2.664 m (8,740 ft)

End: Sankt Niklaus, 1.110 m (3,642 ft)

Distance:  24 km (14.9 mi)

Elevation gain: 1.099 m (3,606 ft)

Elevation Loss: 2.636 m (8,648 ft)

Highest point: Augustbordpass, 2.895 m (9,498 ft)

Time: 9 hrs moving time; 11:45 hrs total time

Date: August 7, 2020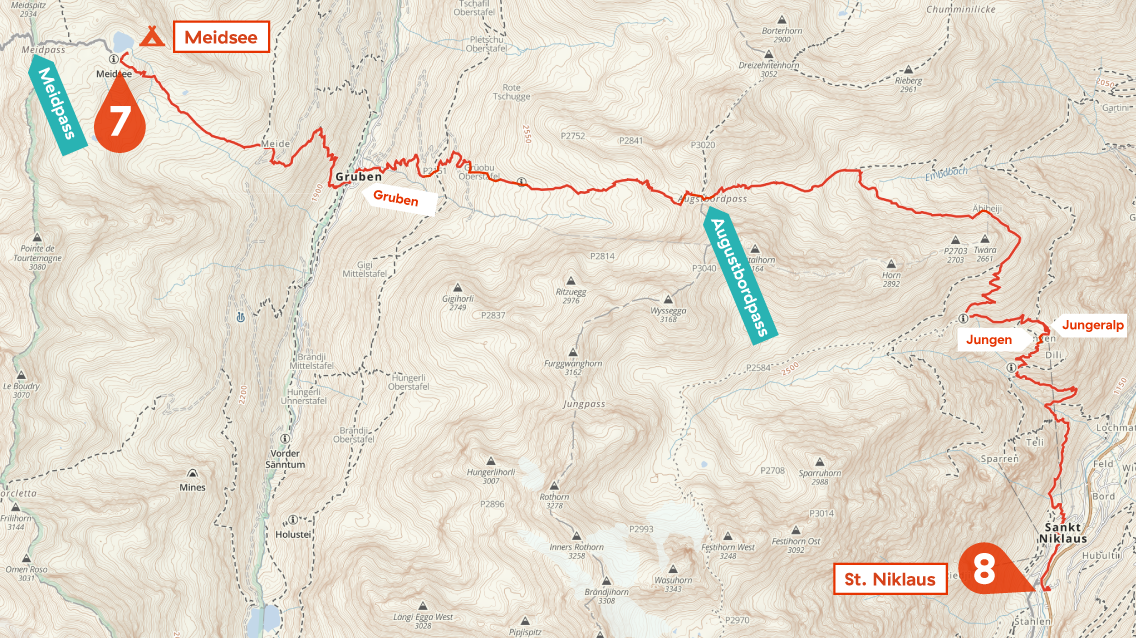 Haute Route day 8: Meidsee to Sankt Niklaus (base map layer by Gaia GPS)
Meidsee to Gruben
Despite the fantastic surroundings, my night at the Meidsee was restless. I had not pitched my tent very well, and certainly not on a level spot. After my hike yesterday, I had been too tired to taken my time pitching my tent. A lesson for the future, because this night I was slipping off my sleeping pad all the time. 
I was wide awake at 4:30 a.m. A full moon was shining through the thin tent fabric. Everything was so quiet. No wind at all, contrary to what I had expected. At 5 o'clock I decided it was time to get up and move on. Outside my tent the air was fresh and cold, under a dark sky where I could see four planets. One of them was easily recognizable with the red color: Mars.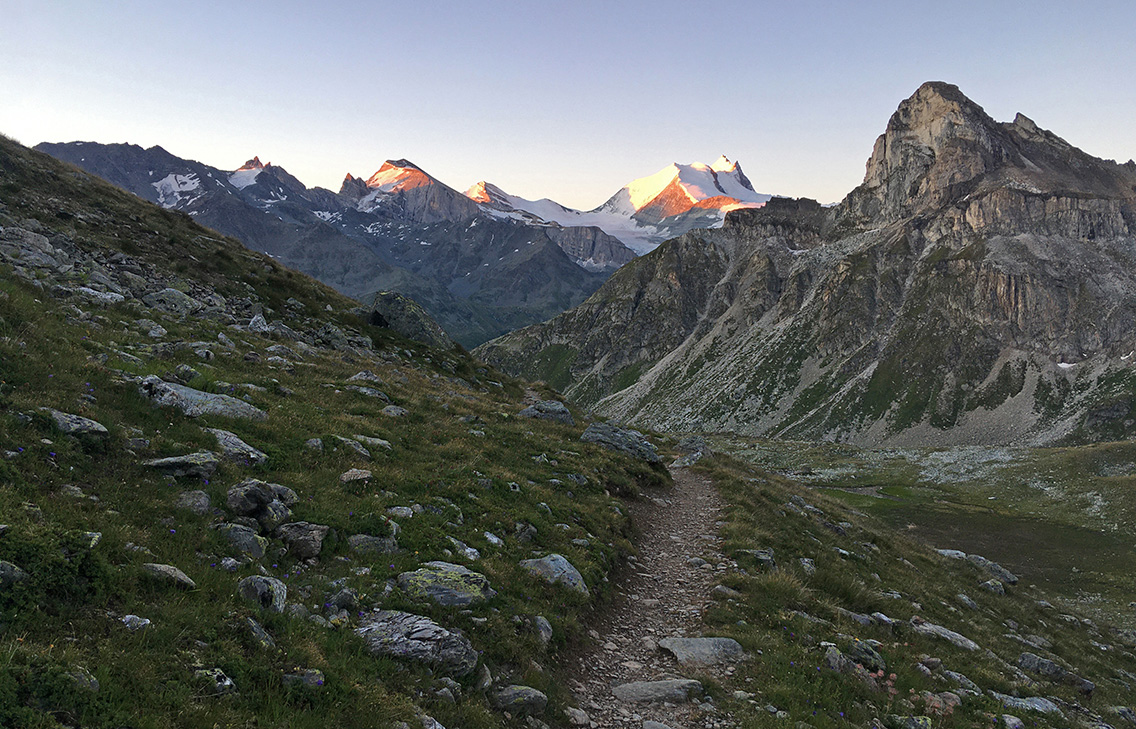 The Weisshorn catching the first rays of sunlight
For some reason it took me about an hour of packing my things, before I was on the trail again. And I did not even have a breakfast – it was too early for that. And I wanted to find a more level place to sit. So at 6 a.m. I was on my way to the village of Gruben down in the deep, still invisible, valley.
I passed two small hamlets with old wooden houses on the high plateaus above the dark and narrow valley. In one of them stood two tall tipi's, which was a strange sight in the Swiss Alps. If I tried my best, I could imagine being in the Rocky Mountains of Colorado.
When I reached the tree line, the trail dropped down very steep to Gruben. I reached the village in just 1.5 hours, at 7:30 a.m.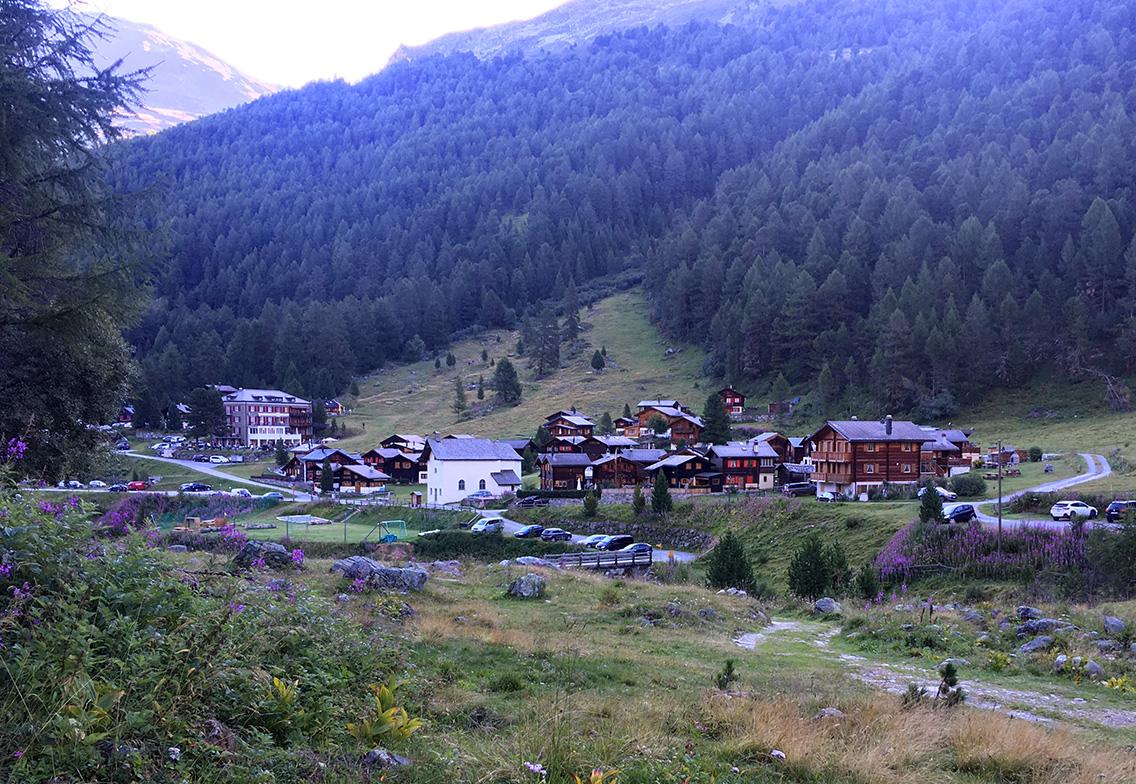 Gruben in the early morning shadows
Now it was time to have my breakfast. There was a nice wooden bench just where the trail came out of the woods, with a view of the tiny village. I rehydrated my breakfast of muesli, scrambled eggs and drank a cup of tea. I was amazed about how close the civilized world actually was to the lake where I camped. Inside my tent it had felt like the outside world did not exist anymore. It was just me, my tent and the mountains, the rocks and the lake.
At 8 a.m I was ready to climb up the next – and last – mountain pass on the Haute Route. I dumped my trash in a garbage can, filled my water bottles en hiked on.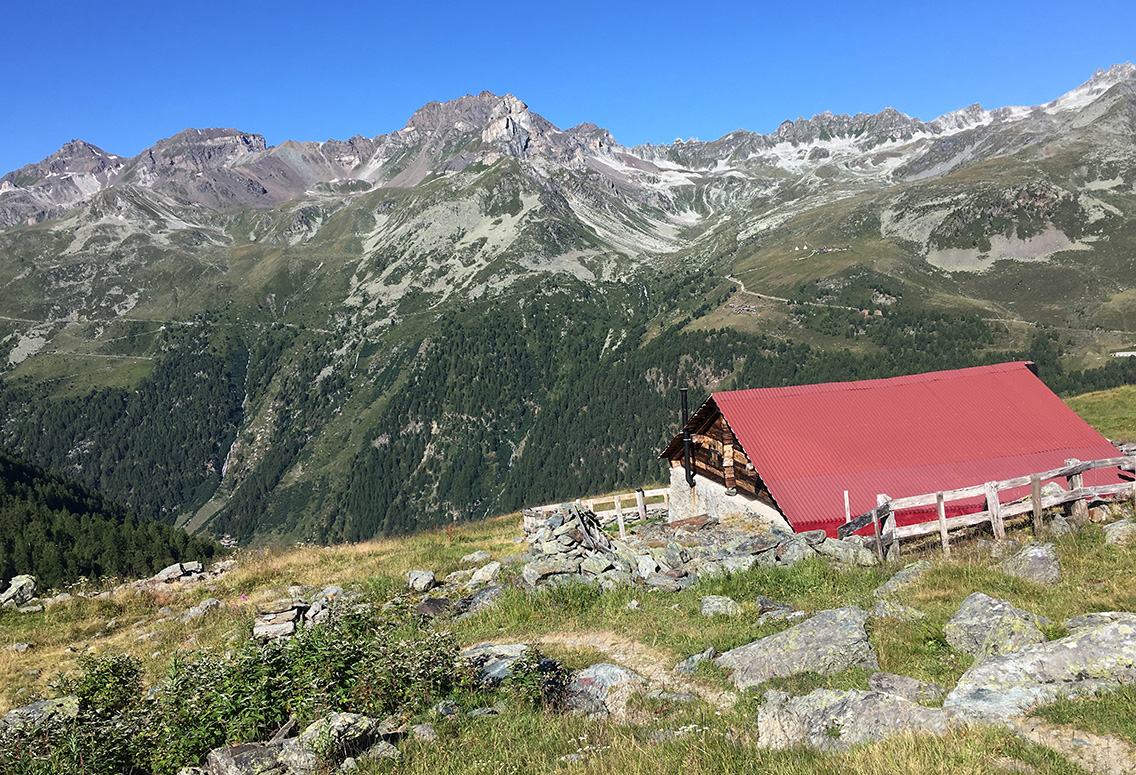 Looking back to the Meidpass (on the right), from the meadows of Oberstafel
The Augustbordpass
Just having descended about 1.000 m (3,200 ft) from the Meidsee, in the next few hours I would have to work hard to regain all that lost elevation. I climbed out of the village and hiked up through the woods. Soon I reached a grassy meadow. 
In my original plan I had devised to spend the next night somewhere in the fields before the Augustbordpass (I already abandoned the plan yesterday at the Hotel Weisshorn, where I had called ahead to the hotel in Sankt Niklaus). How I could have thought that would be a good idea, was unclear to me now. Not only would I have arrived here way too early, now that I was in this meadows called Oberstafel, there were other reasons not to camp here. The stream that had looked so good on the map, was hard to reach in a steep trench, and level spots were rare. Besides, it was extremely hot and without any shadow, spending an afternoon here would have been unbearable.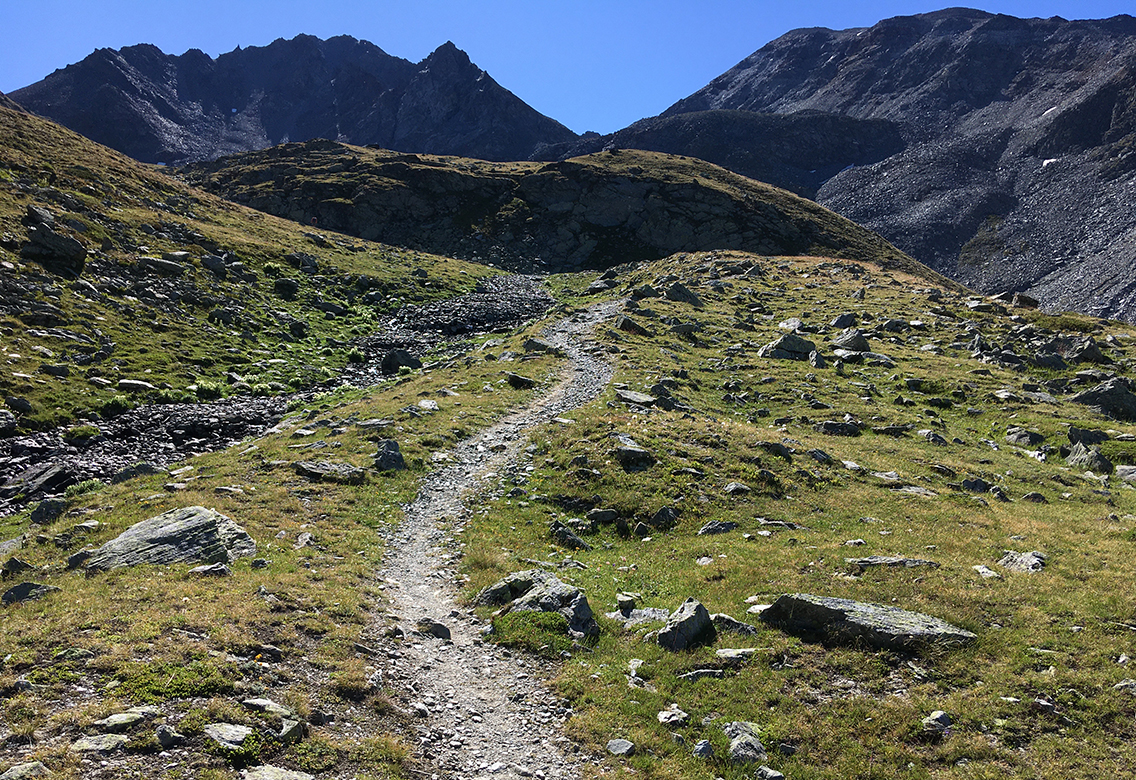 Approaching Augustbordpass
Every now and then I crossed a very shallow stream (sometimes merely a trickle), just enough to wet my hat and my shirt. This was the only way to cool down and avoid overheating, because there was no shadow at all (and would not be until the final descent to Sankt Niklaus, many hours later).
Before the last stretch to the pass, there was a herd of cows on the trail and I met one couple of other hikers. But most of the time I was completely alone on this trail.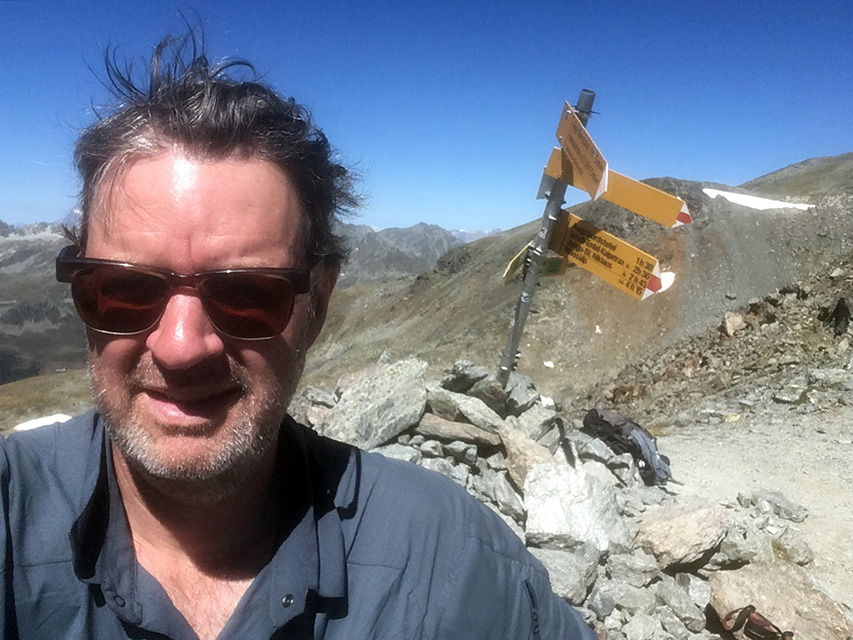 Augustbordpass (2.895 m / 9,498 ft) with the yellow sign to Sankt Niklaus almost falling down.
It was about 11:30 when I reached the col, 3.5 hours from Gruben.  There were a few other hikers coming up from the other side. The altitude brought some cooling wind, which made sitting down bearable. I ate my last supply of crisps and drank a cup of electrolyte lemonade.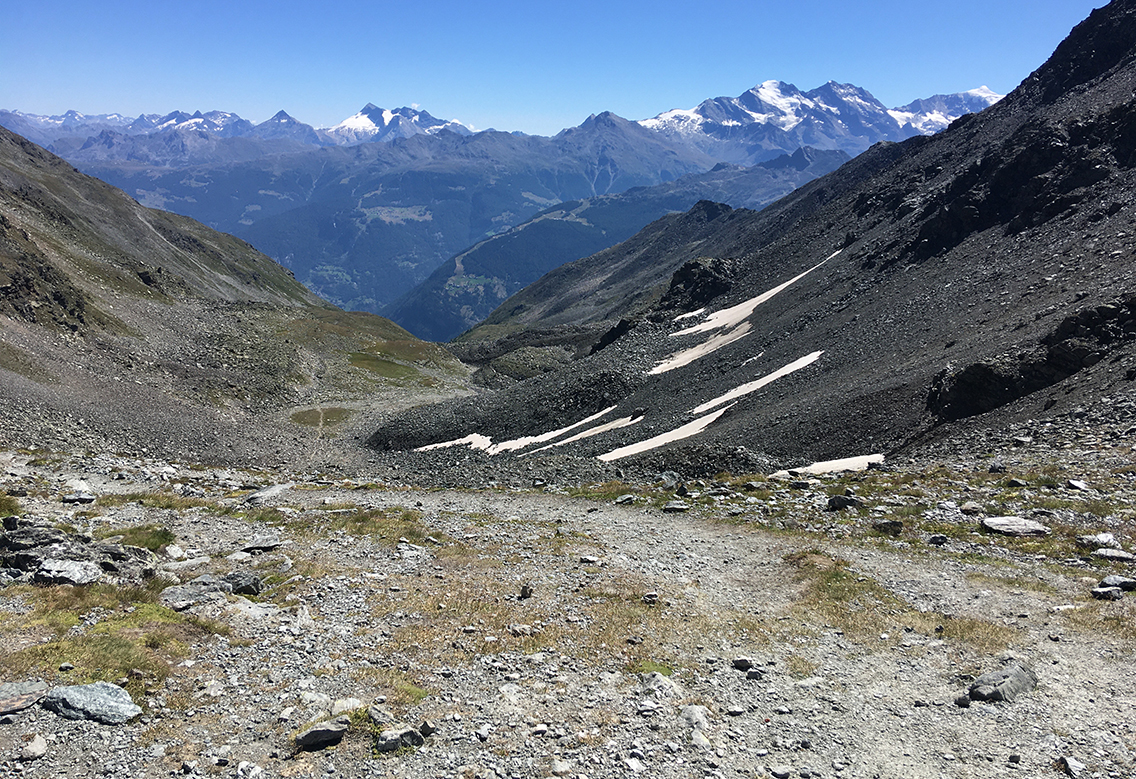 View from Augustbordpass
Descending the Augustbordpass, I followed a trail that was hot, dry – and very long. The fist part was steep and rocky. I was amazed by the herd of sheep that I passed: why did they come to this dry and rocky terrain, with hardly any plants or grass to eat?
I met a young man carrying a bike on his back, climbing up to the Augustbordpass. I asked him what he was up to and he said in a very relaxed voice: 'Ein bisschen spazieren, und dann… Zouff!' (a little walk, and then, Zoof!). He must have been climbing for a couple of hours already – with his bike!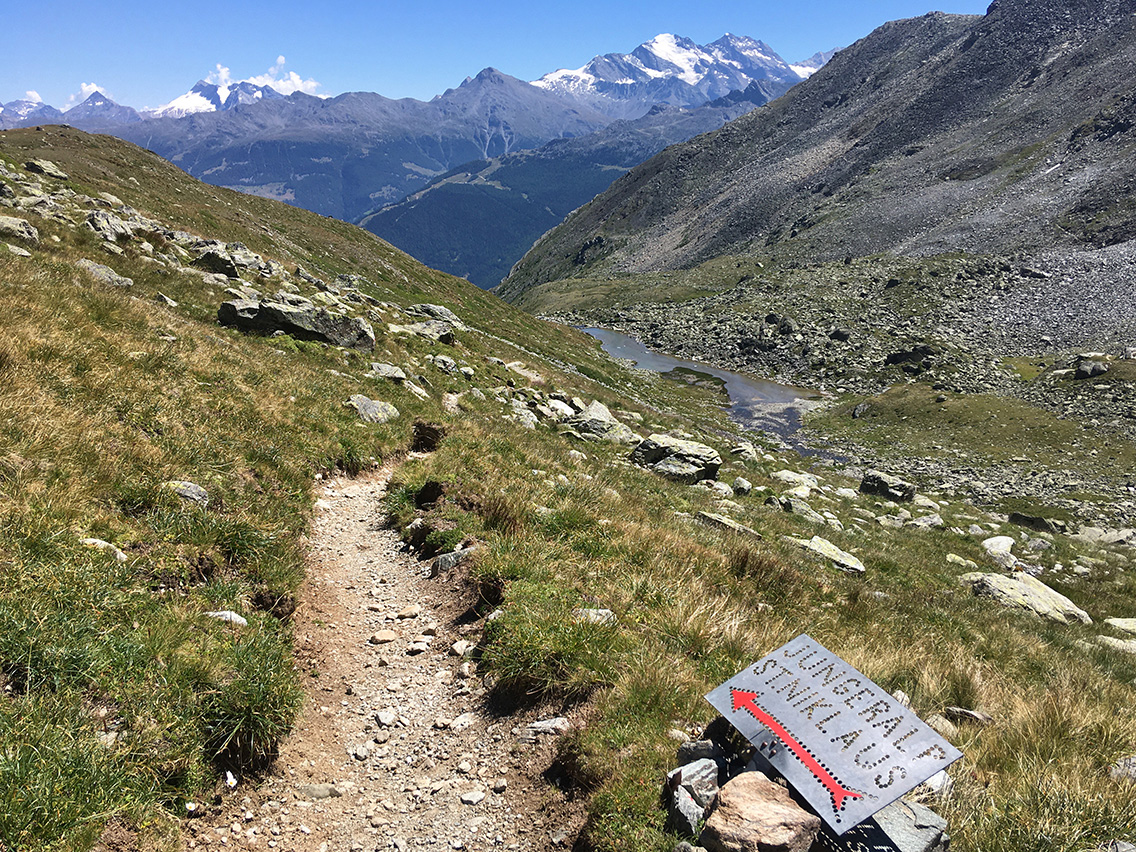 Trail to Sankt Niklaus
The trail down to Sankt Niklaus had one surprise: it was not going down for quite a while. I had to climb up huge piles of black rocks, very steep and unstable, where the trails curved around a mountain called Twära. I found a bit of snow and stuck some under my hat to keep cool in the blazing sun. I was also running out of water now. All the way from Gruben to Jungeralp, there is no serious water source, except the hard to reach stream in Oberstafel. 
It was about 2 a.m. when I reached the 'corner' of the mountain, 2 hours from the pass. Little did I realize I still had more than 2 hours of hot descend to go.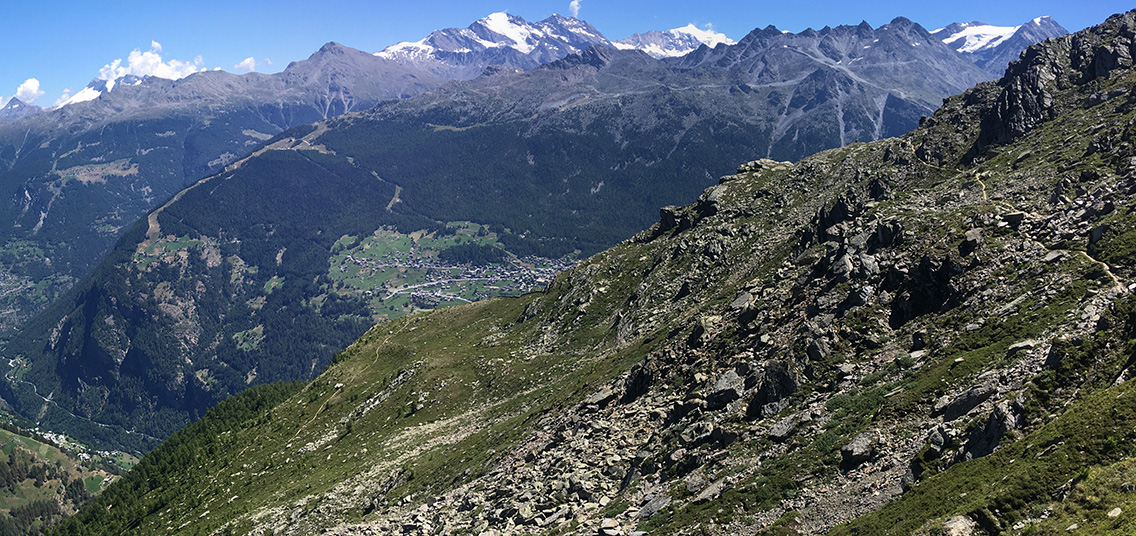 First view of the Rhône valley to the left, and the Mattertal to the right.
Reaching the corner, I finally had a view of a valley again, which boosted my morale al lot. The views were fantastic from here, so much higher than from any other part of the Haute Route it seemed.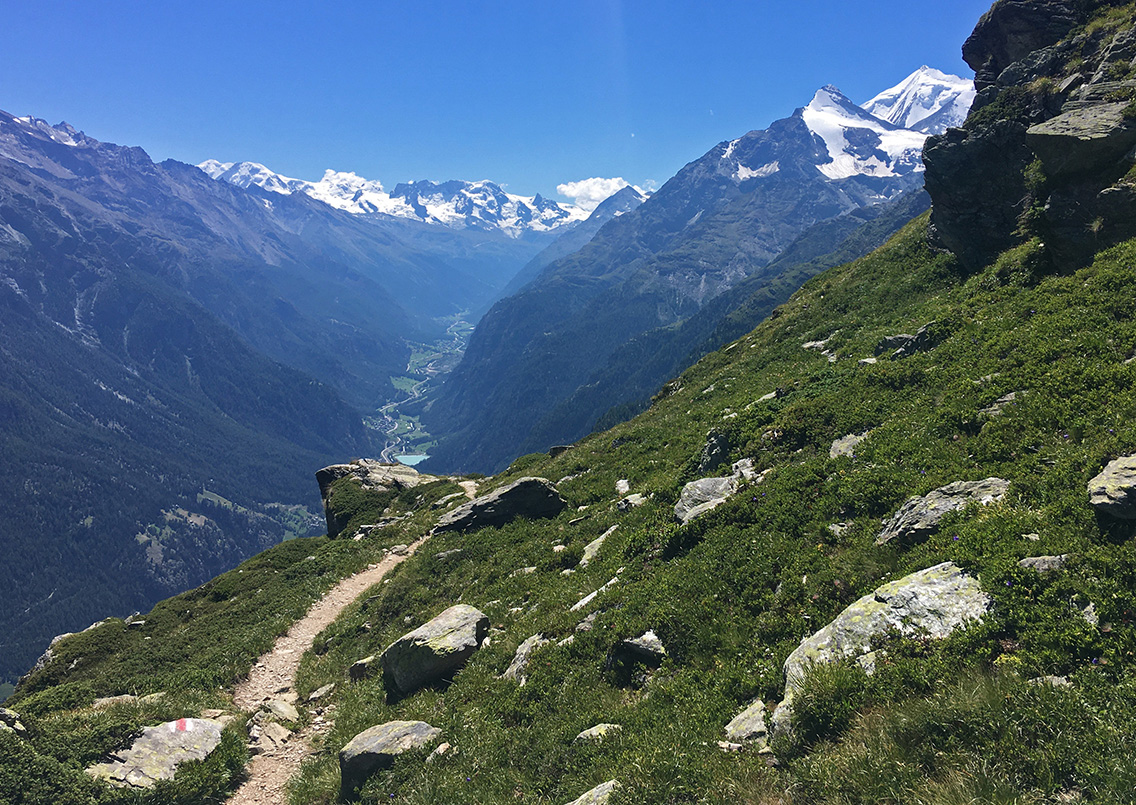 View of the Mattertal
In the distance lay the green Mattertal, but Zermatt and the Matterhorn were still around a new corner. 
Jungeralp and Jungen
In Jungeralp there is a restaurant, mostly visited by cable car tourists, with an excellent view. For me it was a true oasis of cold water. Having hiked down in the sweltering heat with almost no water left, I was as happy as can be with the tiny pond to cool my feet, a water pump to cool my head, and a spot in the shadow to sit down, which I did for over an hour. I refilled my bottles and drank a cold drink from the restaurant.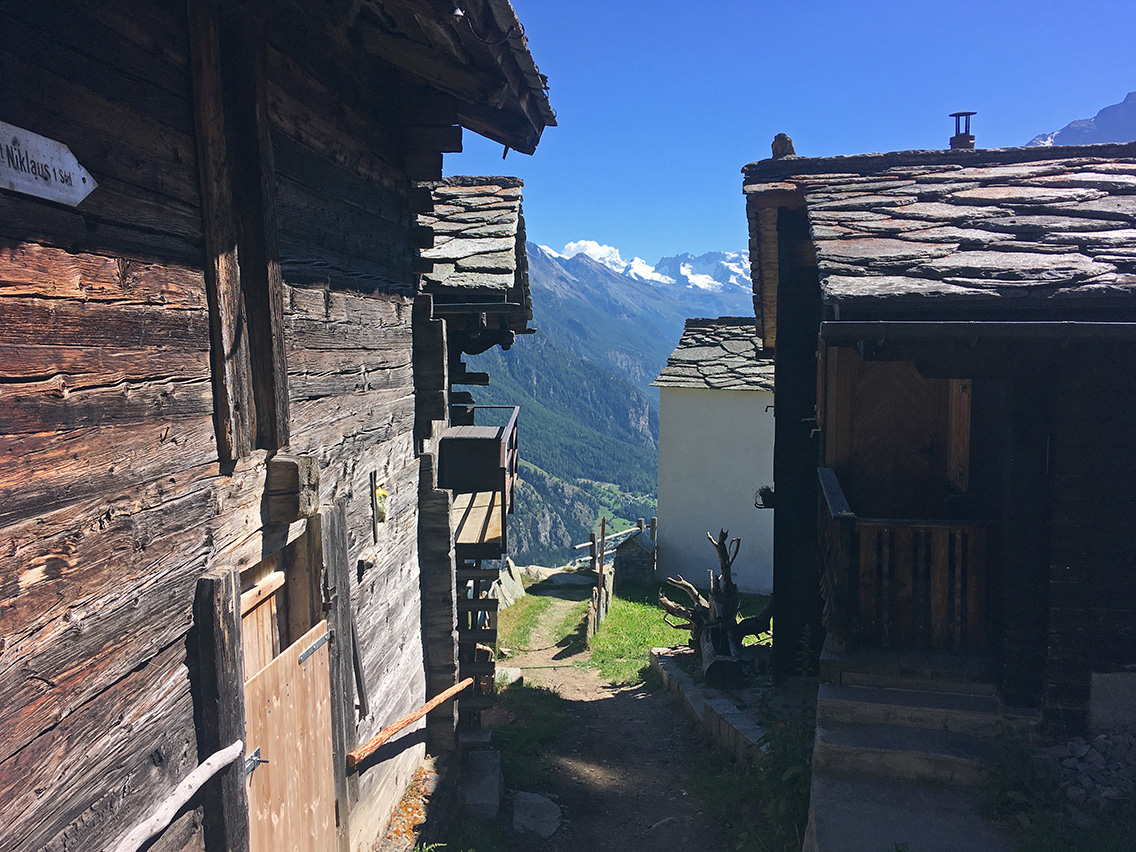 The hamlet of Jungen
Jungeralp is sitting on top of a bluff above the village of Jungen. I hiked down to this tiny wooden village, the trail continued straight through the narrow paths between the houses. Between them was an amazing view of the valley. 
Then came a hellish part of the trail. It was steep and every step down it was getting hotter. I really think I got a heat stroke the hour it lasted. The trees were thinning out, so there was less and less shadow, and I never felt the sun shine so fiercely on my skin. Finally the trail curved around another corner and I reached a shady trail down to Sankt Niklaus, almost crying with happiness from being in the shadow.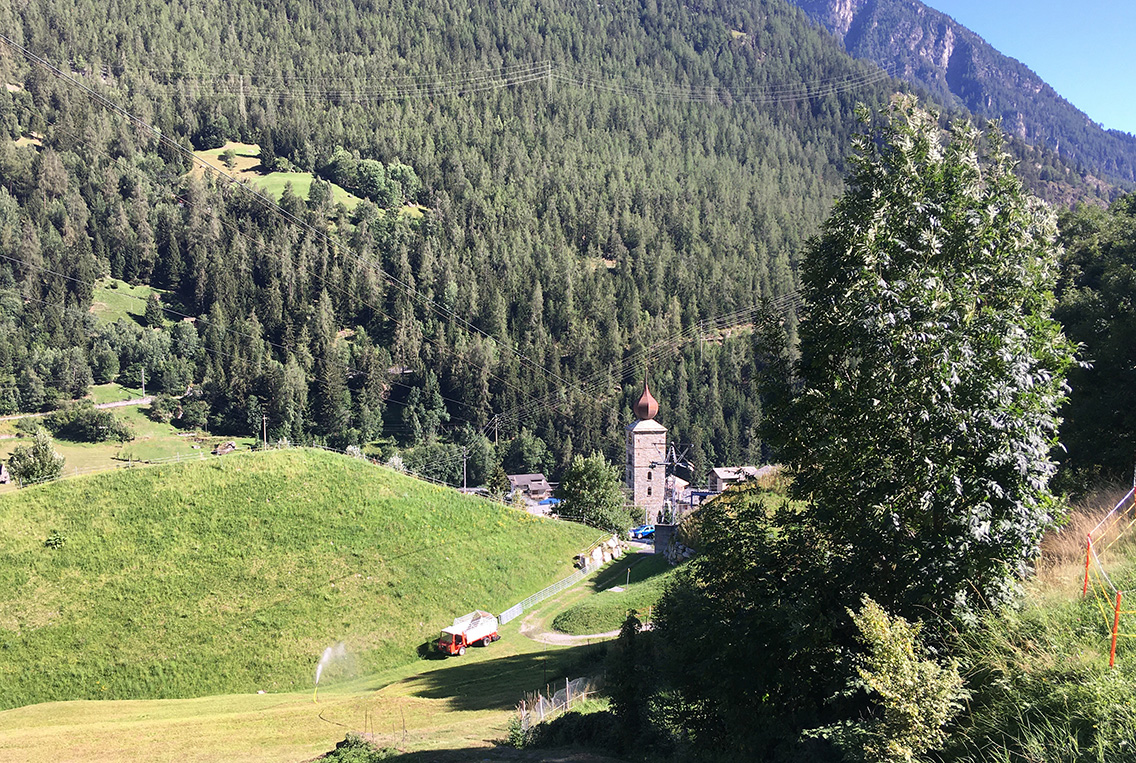 The first sight of Sankt Niklaus, coming out of the woods
Sankt Niklaus
Walking in the shadow now, I hiked on in good spirit and very soon I was in Sankt Niklaus. To reach my hotel, I had to cross the village. In doing so I passed a small Denner supermarket, where I bought some cheese and yoghurt. Tonight I would have dinner in the hotel, so no more groceries were necessary.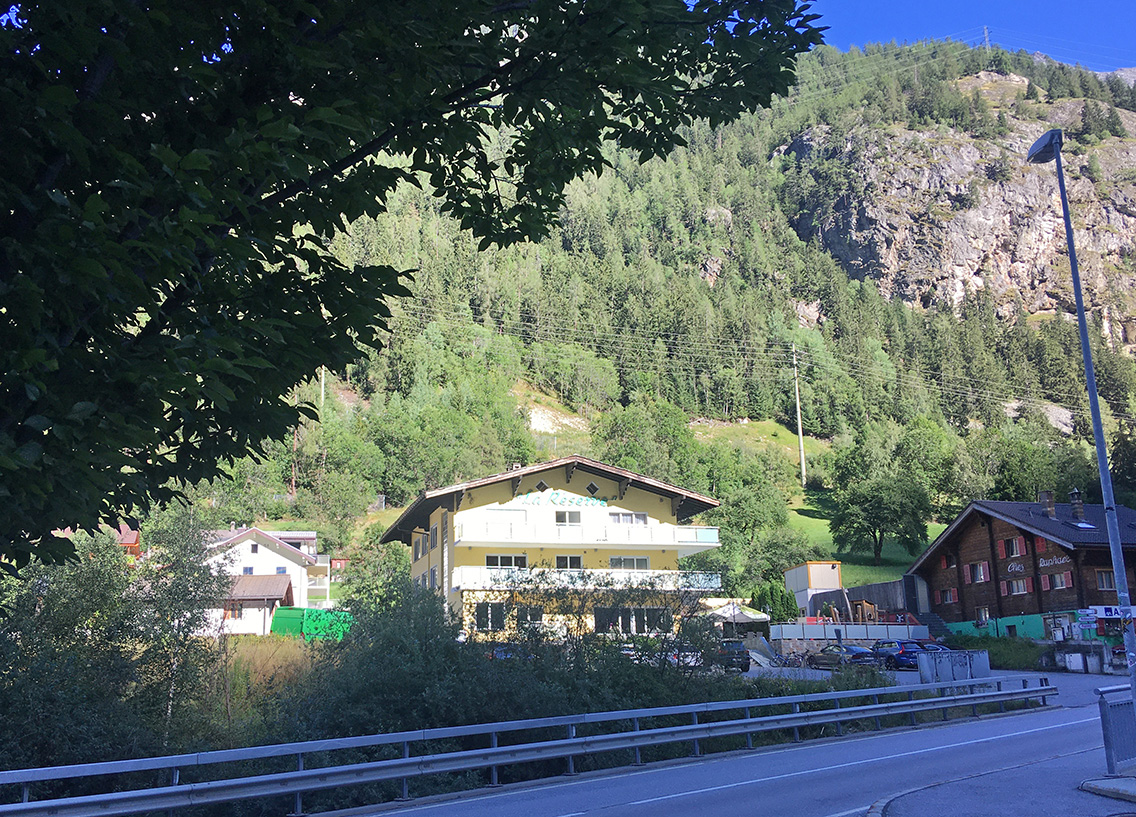 Hotel La Réserve in Sankt Niklaus
When I stepped into the small lobby of hotel La Réserve, it was almost 6 o'clock, about 12 hours after I started this morning at the Meidsee. First thing I did was taking two cold showers succession. Did I mention I thought I had a heat stroke? Then I fell on the bed and then slept until it was time for dinner (they served a very good pizza and salad).
With a total of 9 hours of moving time, this was the longest day on the haute Route. As a result I had arrived one day earlier in St. Niklaus than planned. For the hotel this posed no problem, but now I was a day too early for the next stop, the Europahütte. I called the hut, but it was booked full and impossible to change my reservation. So the next day I had to take a zero day. Being tired as I was, this was actually a fine idea with me.
Day 8a: a zero day
With a good night's sleep, I felt a lot better the next day. At breakfast the hotel warden brought me a postcard from Christine, my love back home, which made for an excellent start 0f the day.
It was kind of strange to spend a day doing almost nothing – only two days before the finish. I walked around in the village for a while. Due to Covid, the Bergführermuseum (Museum of Mountain Guides) was closed, regrettably. I did discover there was also a huge supermarket Migros at the north side of the village. But most of the day I spent the reading, listening to some music, and writing.
< Previous: Haute Route 7: Meidsee
> Next: Haute Route 9: Europahütte